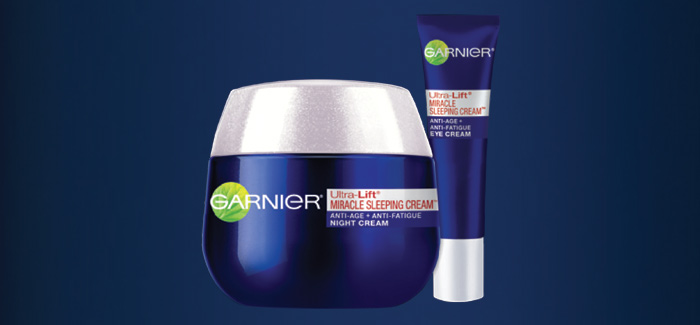 As a busy mom of three I can tell you I neglect myself quite often. I fail to eat three meals a day, to be quite honest, most days I eat one meal and snack the rest of the day when I feel hungry. I can't recall the last time I had my hair or nails done and I am horrible for remembering my beauty routine. To be quite honest though, some beauty routines have too many steps, too many products to use and I am lucky if I remember to brush my hair most mornings let alone wash my face, use toner, moisturize and so on! This is something I think most moms can relate to, the putting ourselves and our needs far behind all the needs of our families.
Well let me tell you how happy I am to share with you today about an amazing new category of night care for our tired, neglected faces! After all, the best time to care for our skin is while we are sleeping because during the night our skin naturally regenerates cells and recovers from the numerous beatings it takes during the day.
Garnier's new Ultra-Lift Miracle Sleeping Night Cream is the first of its kind to provide results from the first overnight use and it continues to improve the look of our skin over time. It combines the hydrating and recharging power of a facial mask with the light and refreshing feel of a cream. I was amazed to wake up to much smoother, rested-looking skin after just one night of use. It was especially amazing because lets face it this winter has not been a walk in the park for our skin. I had very dry and flaky skin so to see that kind of improvement after one night was impressive!
Garnier Ultra-Lift Miracle Sleeping Night Cream visibly reduces signs of fatigue, wrinkles and rejuvenates your skin, even after just one night's use. It's texture is auto-smoothing for anti-aging results and the best part is that it doesn't transfer onto your pillow. I really dislike creams that leave me feeling greasy or make a mess of my clothing or pillows and this cream  did neither. Garnier Ultra-Lift Miracle Sleeping Night Cream contains 7 active ingredients such as Hyaluronic acid, LHA and Lavender Essential Oil, these ingredients are powerful on their own and transformative together. Using it alongside the Garnier Ultra-Lift Miracle Sleeping Eye Cream will give you even better results.
I like simple. I don't have time for complicated or extensive beauty routines and this is why I can't applaud Garnier enough for their amazing new products that have not only simplified my beauty routine, they have actually had me sticking to my beauty routine. It honestly doesn't get any easier than washing my face with my cleanser then applying the Garnier Ultra-Lift Miracle Sleeping Night Cream and if my under eyes are looking a bit dark and tired, popping on some Garnier Ultra-Lift Miracle Sleeping Eye Cream for an added boost. My skin hasn't felt this good or looked this good in a long time, thank you Garnier!
Both of these amazing products are available in retail stores across Canada and their average retail price is $24.99. As a frugal momma, this brings joy to my wallet as some beauty care products can be very costly. I am sure we might also see some coupons for this product in the near future too which would be awesome! Ladies, Miracles do Happen Overnight! So I urge you to try the Garnier Ultra-Lift Miracle Sleeping Night Cream for yourself so you too can experience an overnight miracle. For more first morning results check out #morningselfie on Twitter!
Disclosure: Although this post has been sponsored by Garnier Canada, the opinions and language are all my own, and in no way do they reflect Garnier Canada. Any product claim, statistic, quote or other representation about a product or service should be verified with the manufacturer, company, provider or party in question.