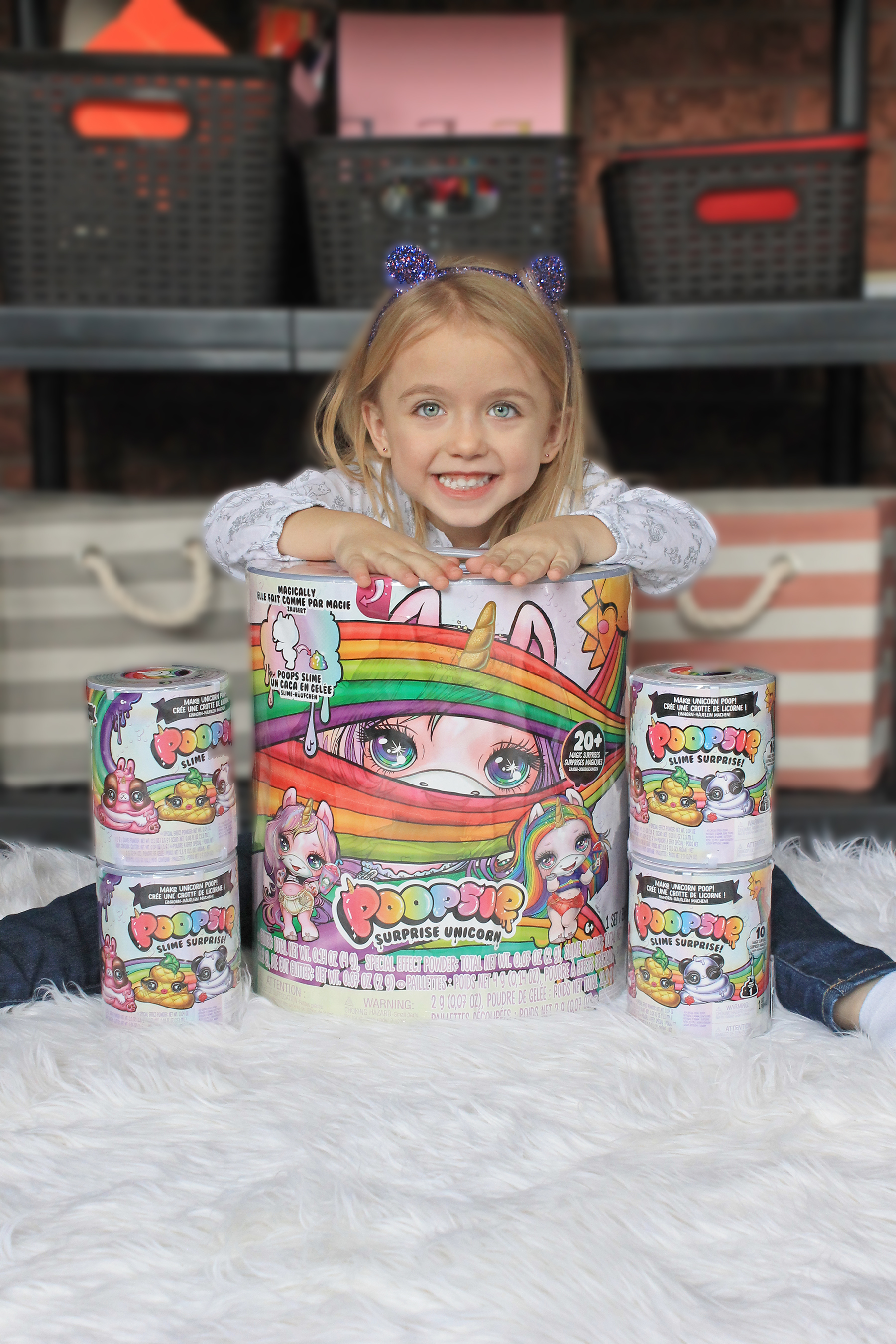 Looking to create some magical excitement? Look no further than Poopsie Surprise Unicorn and Poopsie Slime Surprise!
Alright, I am back with the first post for the MGA Entertainment Fall/Winter Toy Box Program.
If you've been following me since at least the spring, then you will know this program comes with giveaways – deep breaths folks!
So, normally I do individual review + giveaway posts, but this year I am changing it up.
I will still be doing four individual review posts, however, I will be doing ONE BIG GIVEAWAY for a $500 prize pack!
The giveaway widget will be at the end of each review post, so you can enter to win on any of the posts, but look for BONUS entries added to the widget with each new post for commenting on that new post.
Phew, now that all the red tape is over with, let's get on with this post, shall we?

Poopsie
Unleash the magic of unicorns and slime with Poopsie!
Honestly, what is better than unicorns and slime?
There are 4 Poopsie Surprise Unicorns to collect; Rainbow Brightstar, Oopsie Starlight, Whoopsie Doodle and Dazzle Darling.
They are seriously all adorable!
There are also 18 Poopsie Slime Surprise, filled with fun magical surprises, to collect.
PLUS an ultra-rare unicorn sparkle to find.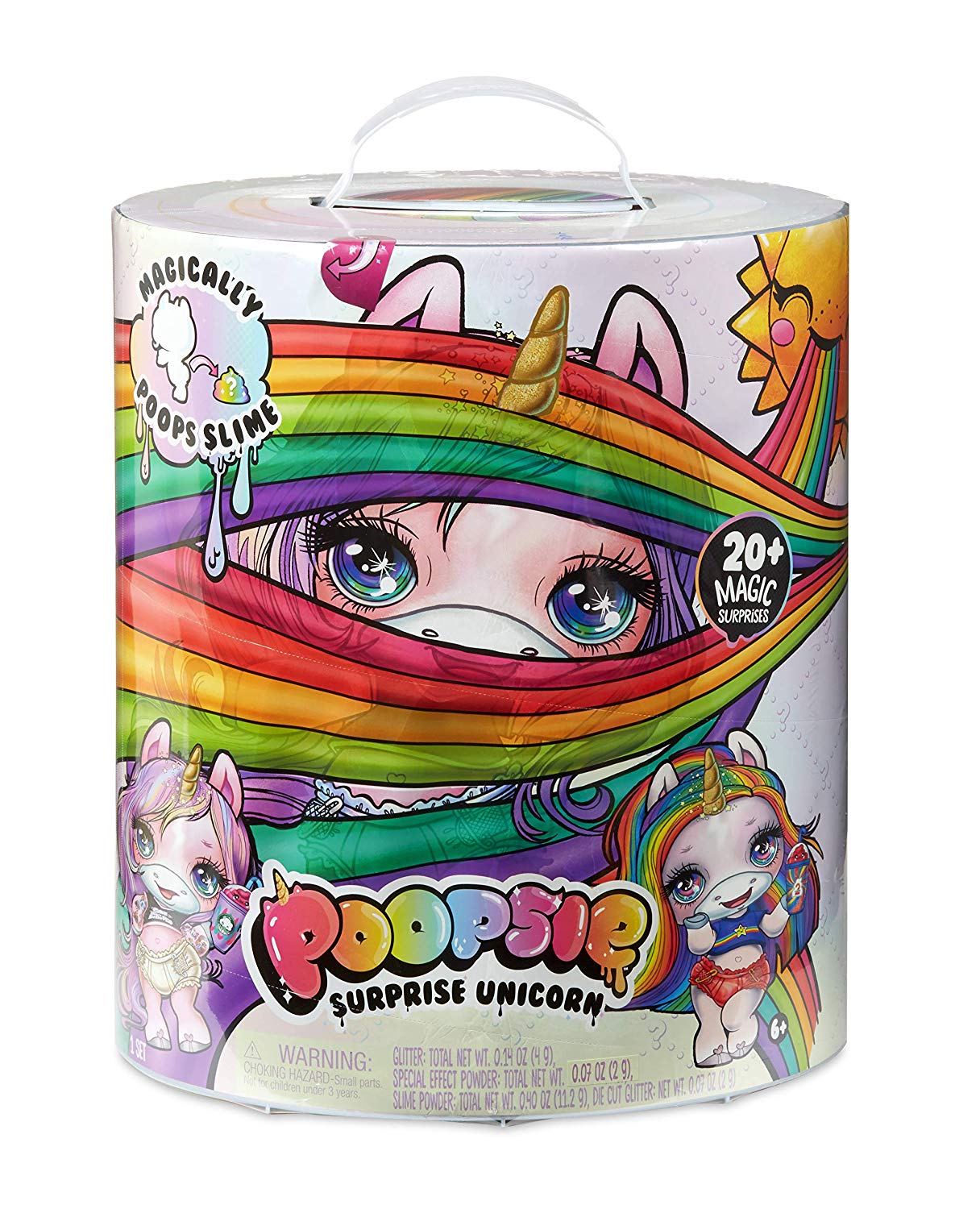 Poopsie Surprise Unicorn
Each Poopsie Surprise Unicorn has over 25 magic surprises!
Included:
1 unicorn
1 glitter potty
4 unicorn food packets (slime powder), 4 unicorn magic packets, 1 unicorn sparkle packet
1 exclusive bottle and 1 exclusive poop character keychain
1 unicorn shirt & diaper, spoon, hairbrush, cleaning tool, and measuring cup
Funny story, so as I was editing the photos for this post I went to the Poopsie website to grab some info and I noticed we were missing a few things …
Thankfully I recycle and our recycle pick up was a few days away, so I went outside in the darkness with my flashlight.
Low and behold in the box was one blind bag Bella had missed!
Inside that blind bag was the unicorn sparkle and two unicorn magic packs – phew!
Let's Unbox With Bella!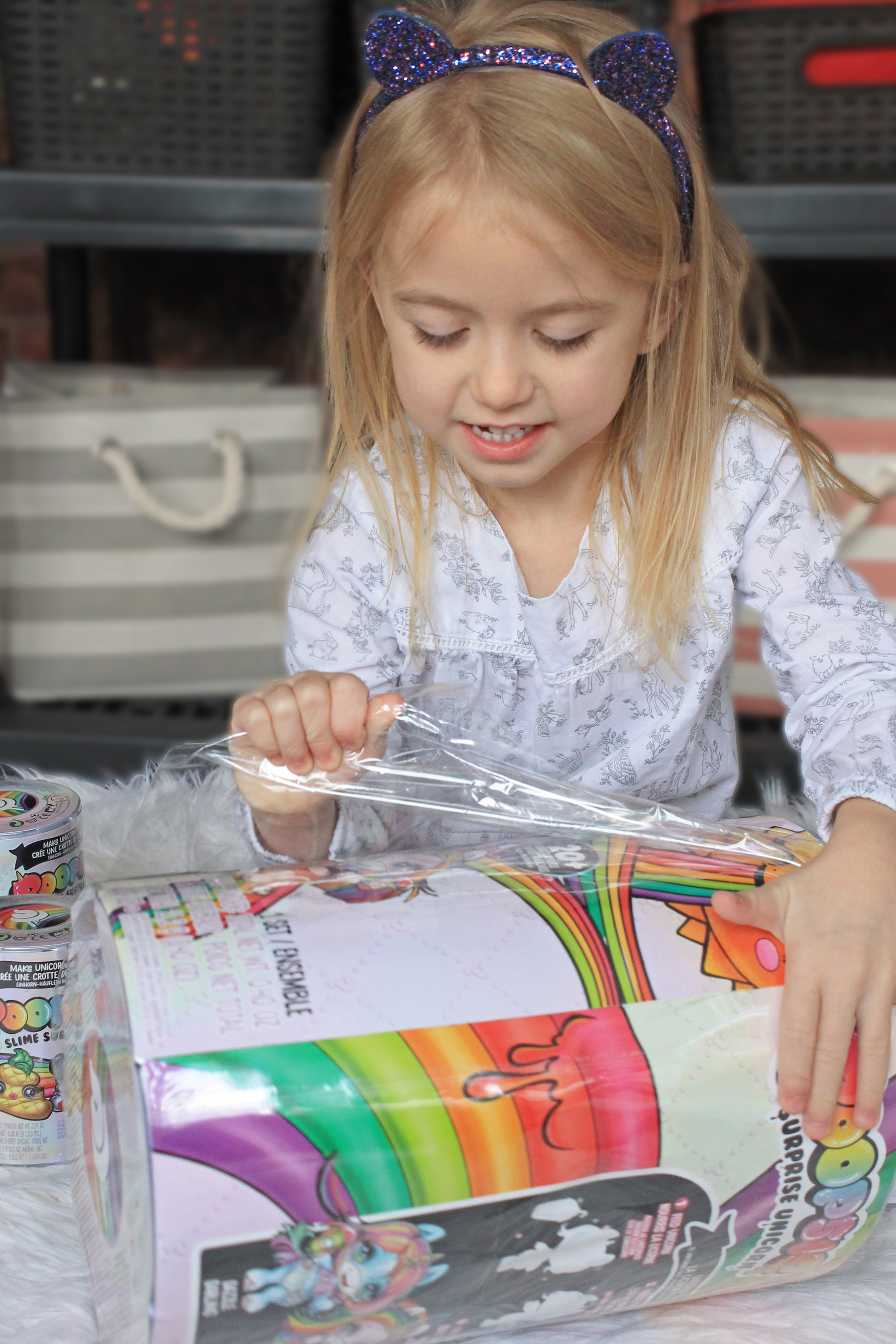 Bella couldn't wait to rip open that package I tell you!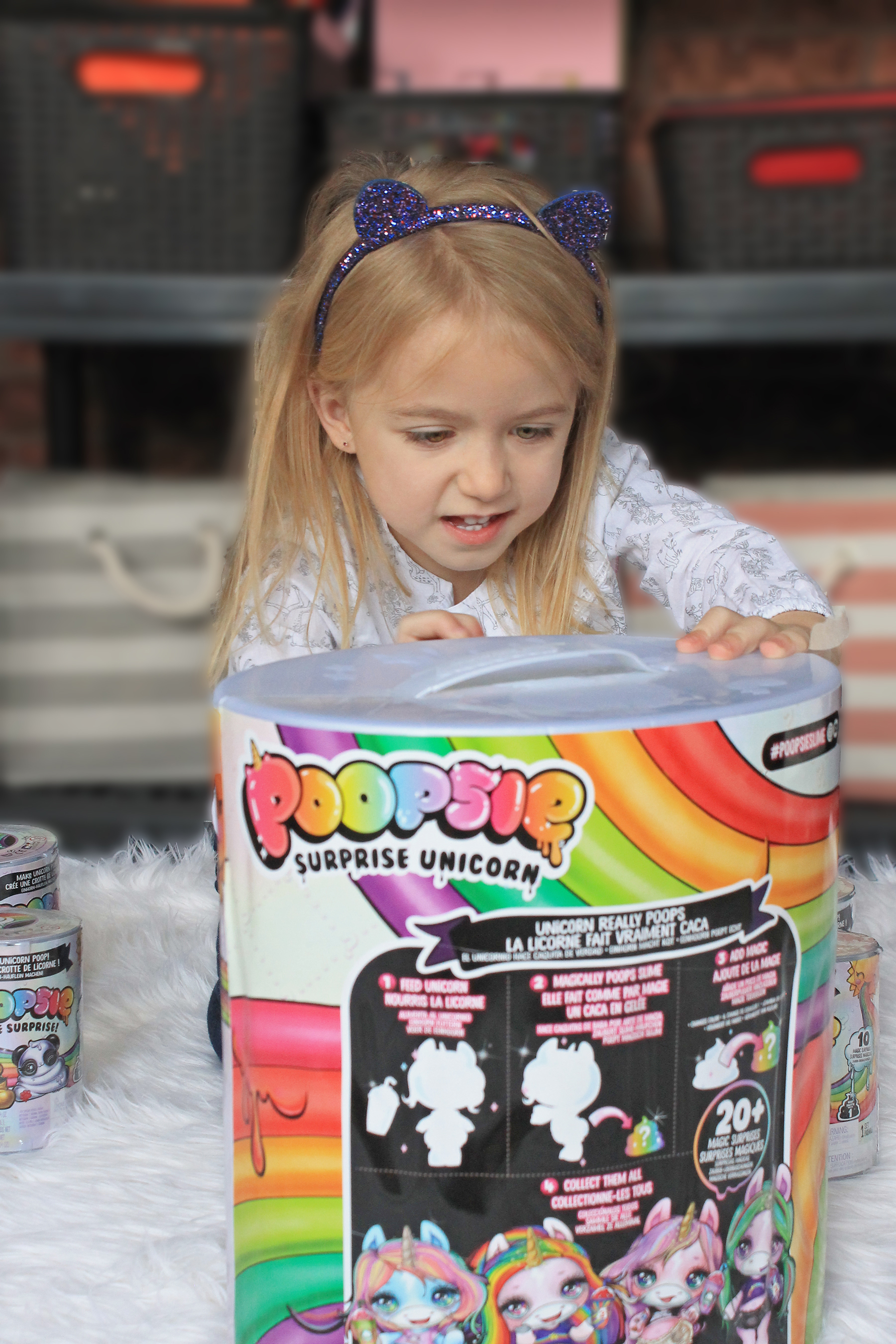 Her concentration was met with her fierceness of wanting to see which Poopsie Surprise Unicorn was inside.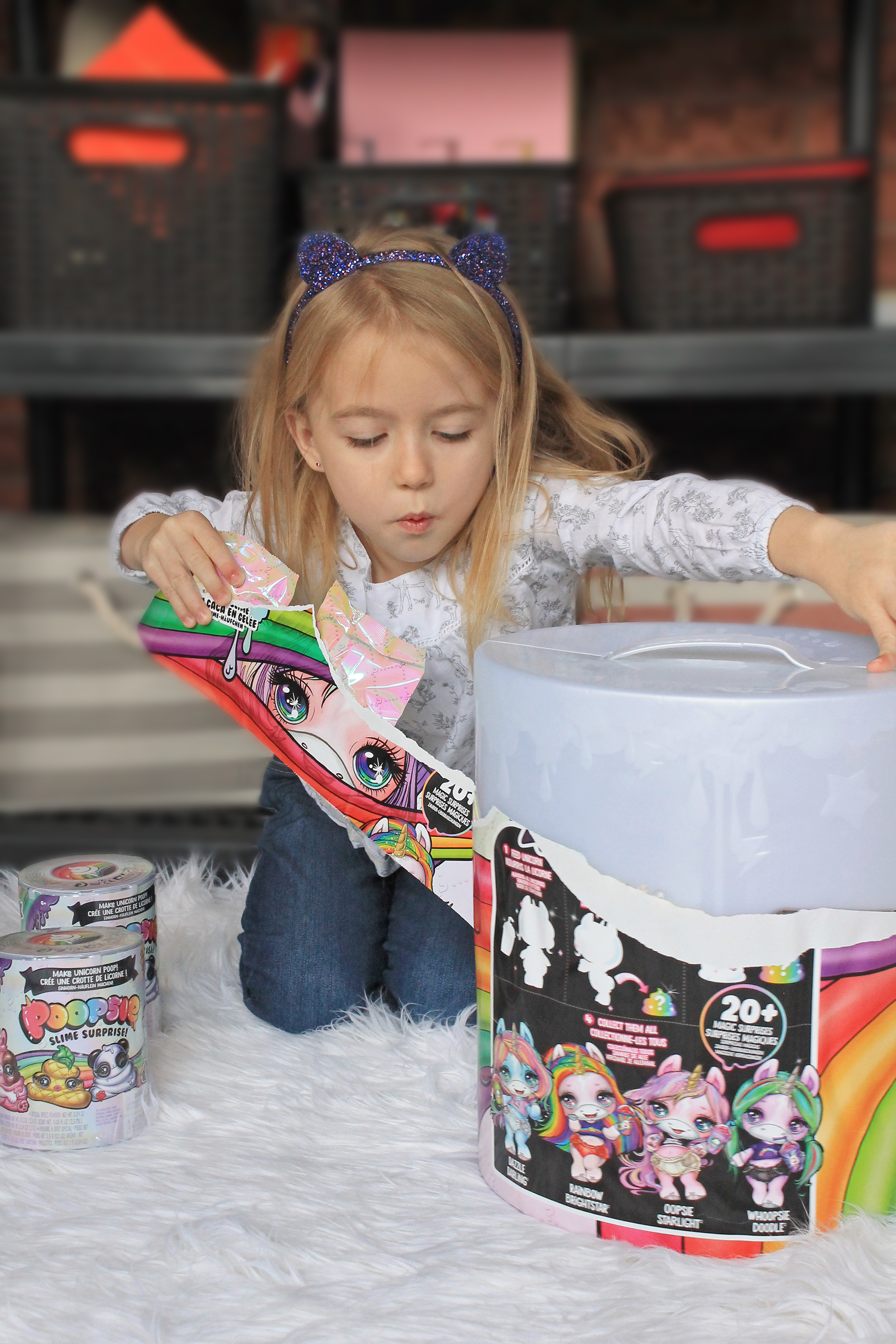 The look on her face when she sees the first glimpse of blind bags!

Followed by utter excitement … calm down Bella.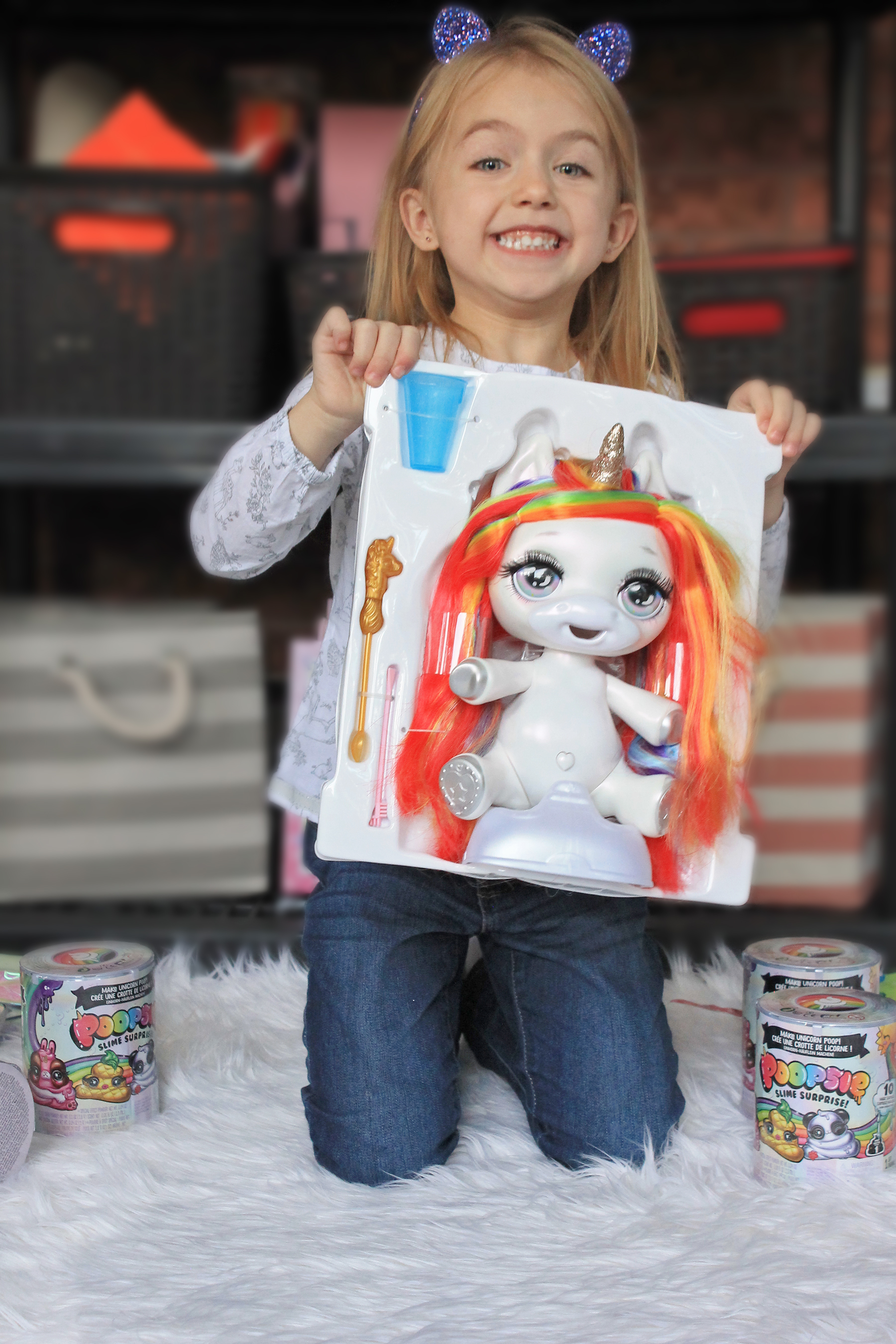 The look of excitement never left her face as she revealed Rainbow Star.
She is quick to correct me every single time I call it Poopsie Surprise, "mom, her name is Rainbow Star".
4 going on 14 folks!

Once she got Rainbow Star on the potty it was time to open the blind bags.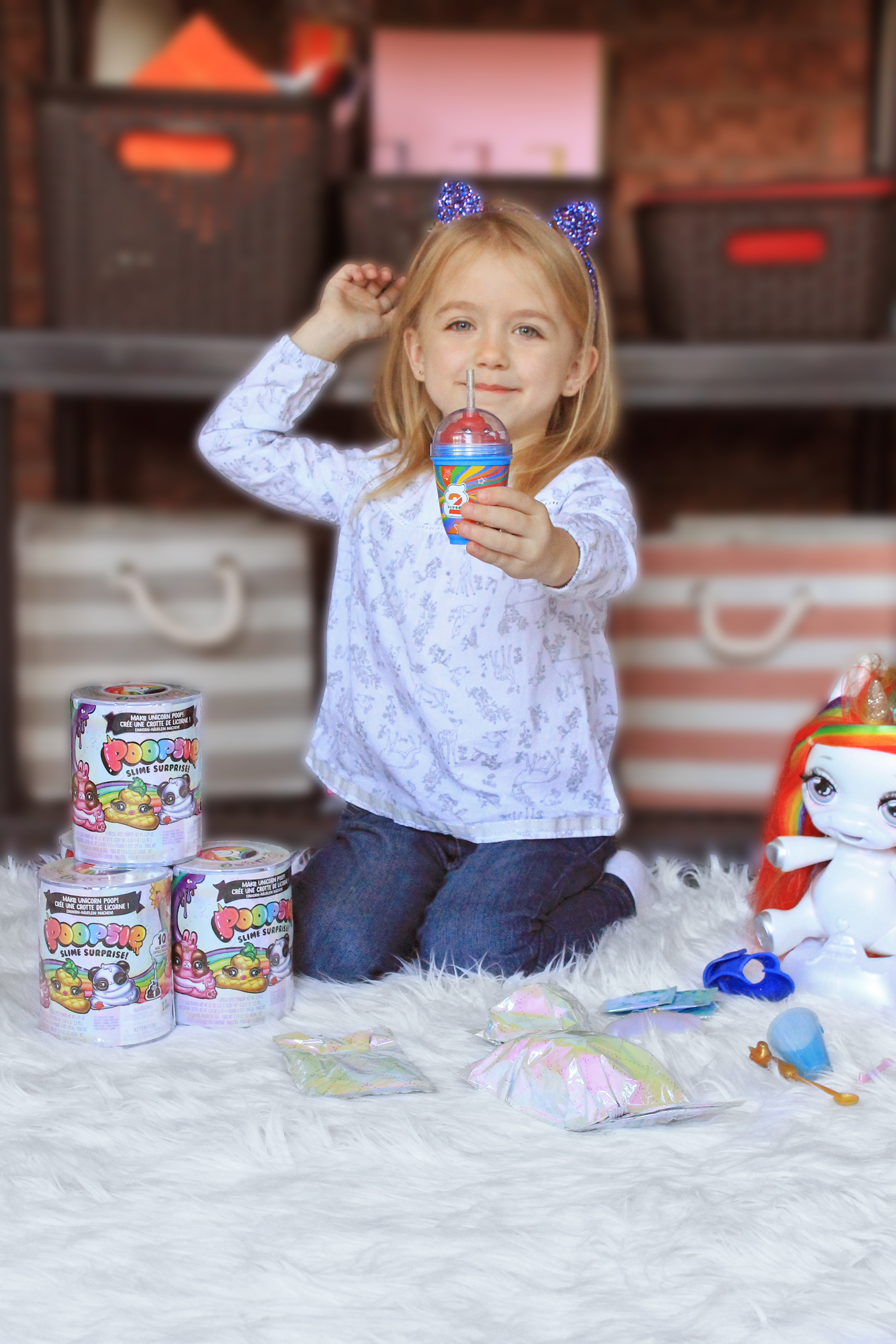 Inside were clothes, a cup, unicorn shimmer, unicorn food, a little Poopsie keychain, hairbrush and some other trinkets!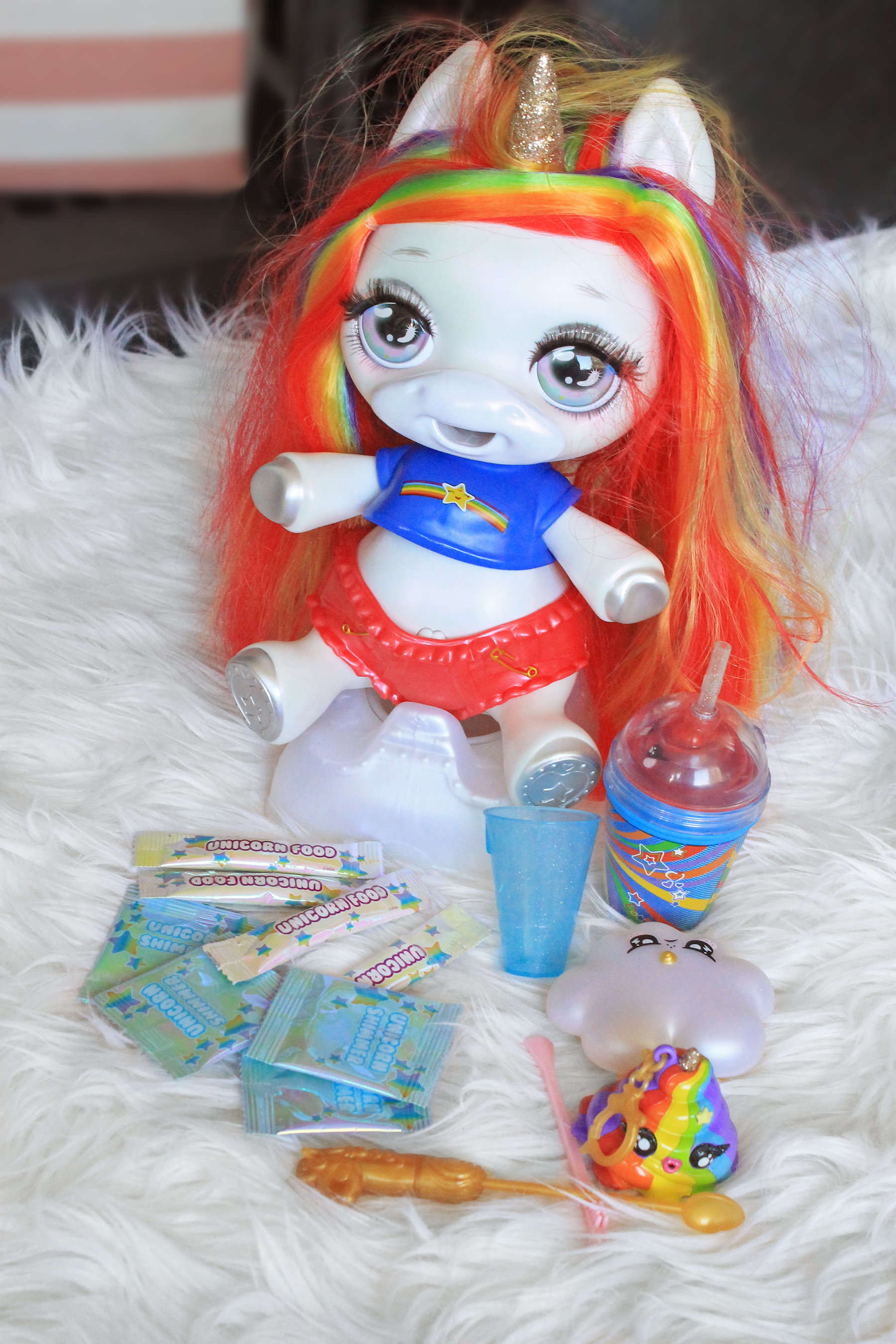 Above is everything that came in her Poopsie Surprise Unicorn!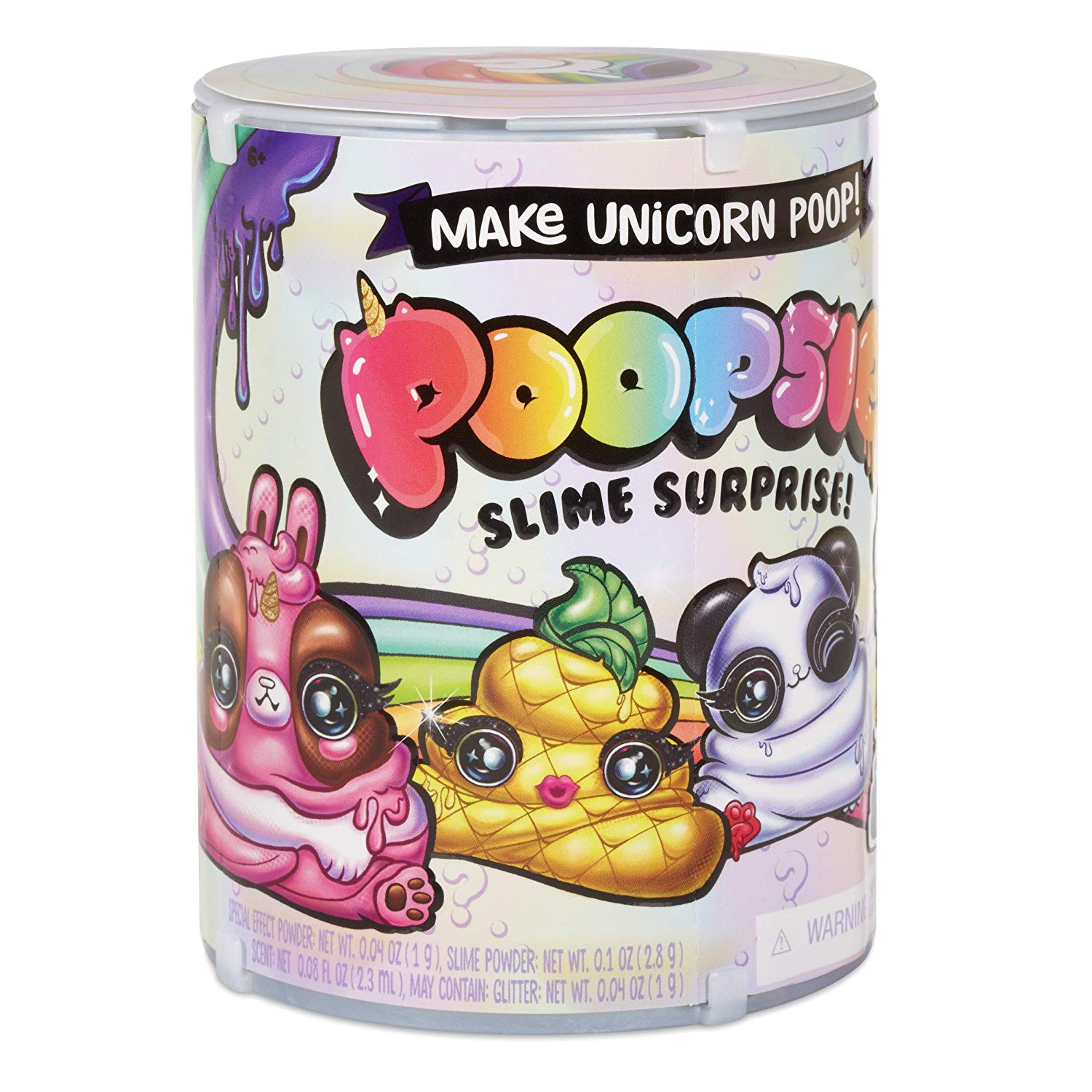 Poopsie Slime Surprise
There are 10 magical surprises to find in each Poopsie Slime Surprise!
Included:
unicorn food packet (slime powder) and unicorn magic packet
collectible bottle and poop character keychain
When they're done playing with their slime, store it in the collectible Poopsie keychain!
Let's Unbox With Bella!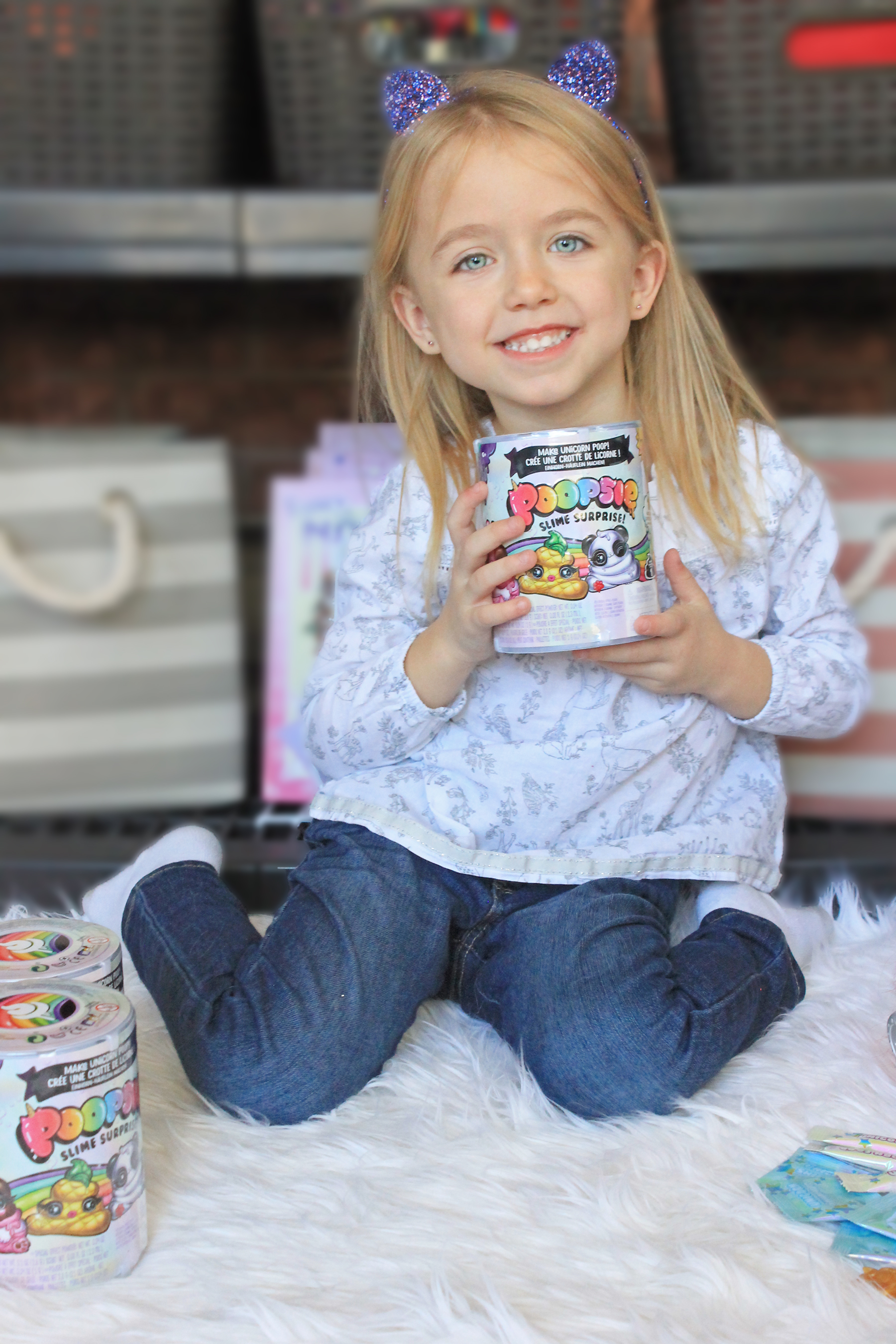 Slime lovers unite with Bella, this kid was very eager to open her first Poopsie Slime Surprise!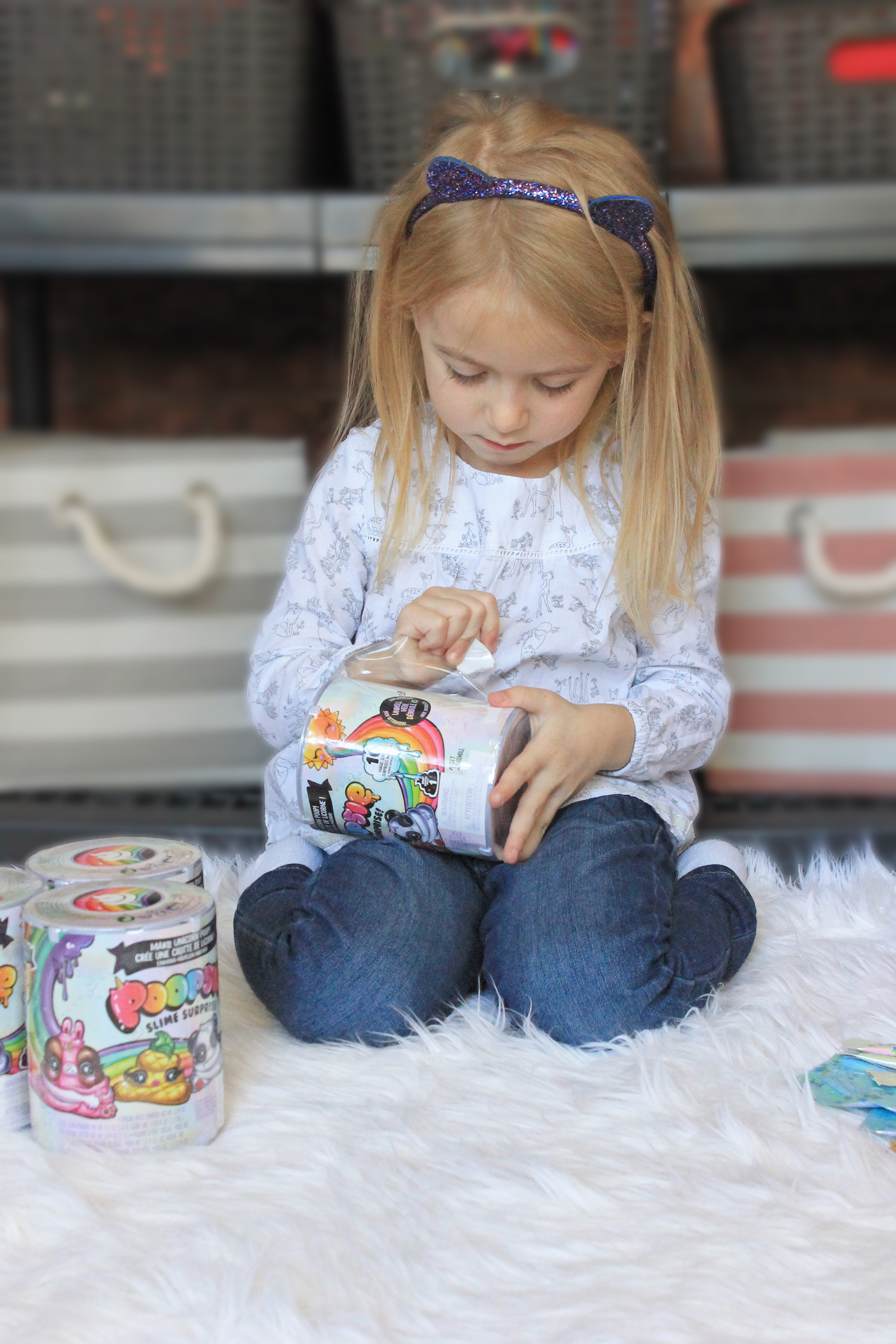 The amount of focus these kids can pay to the opening of toys compared to cleaning them up is hilarious.
Bella has a 2-second attention span for cleaning, but she sure as heck can sit and open/play with toys all day long!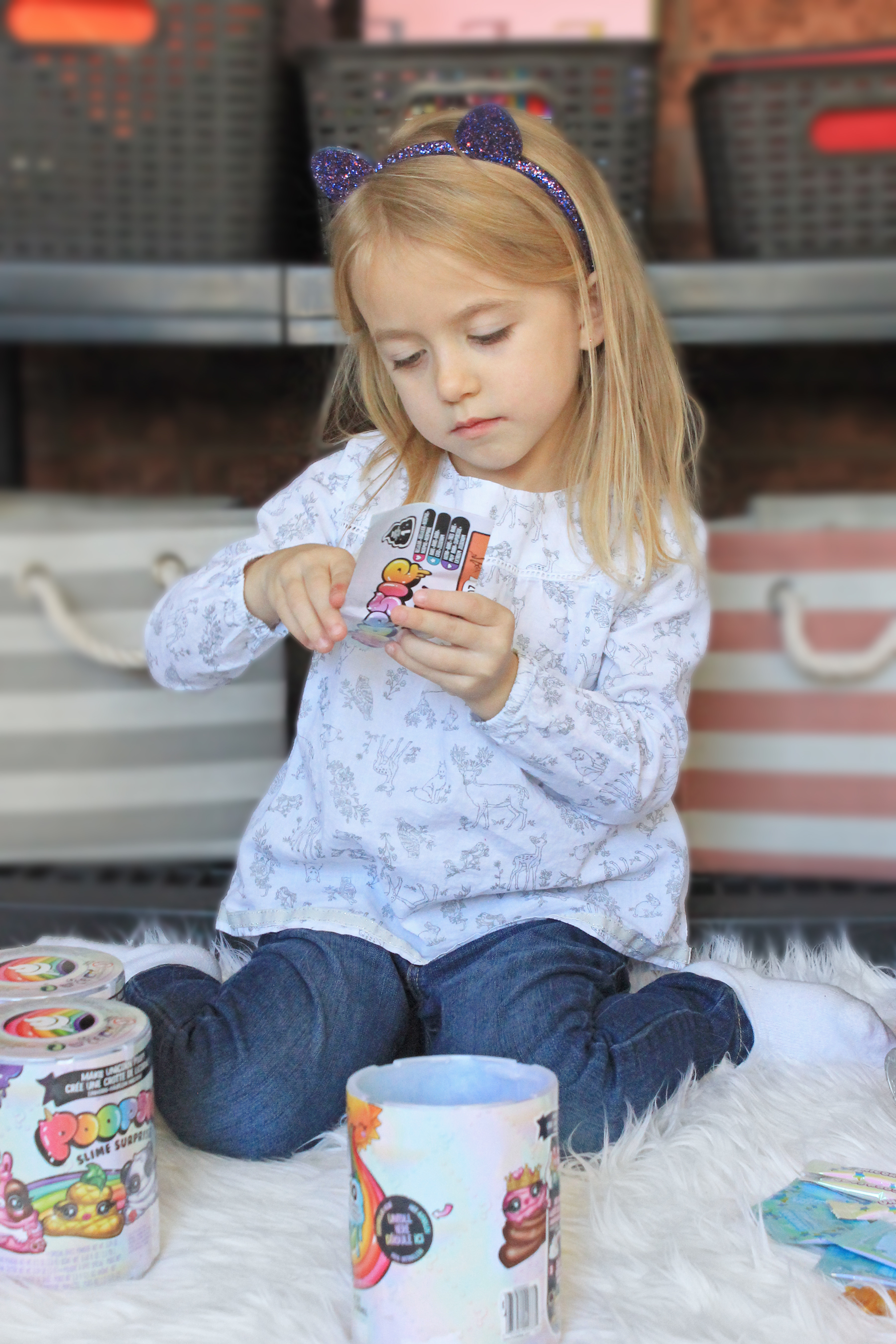 The collector guides are a very important part to kids and Bella fully inspects each collector guide she gets!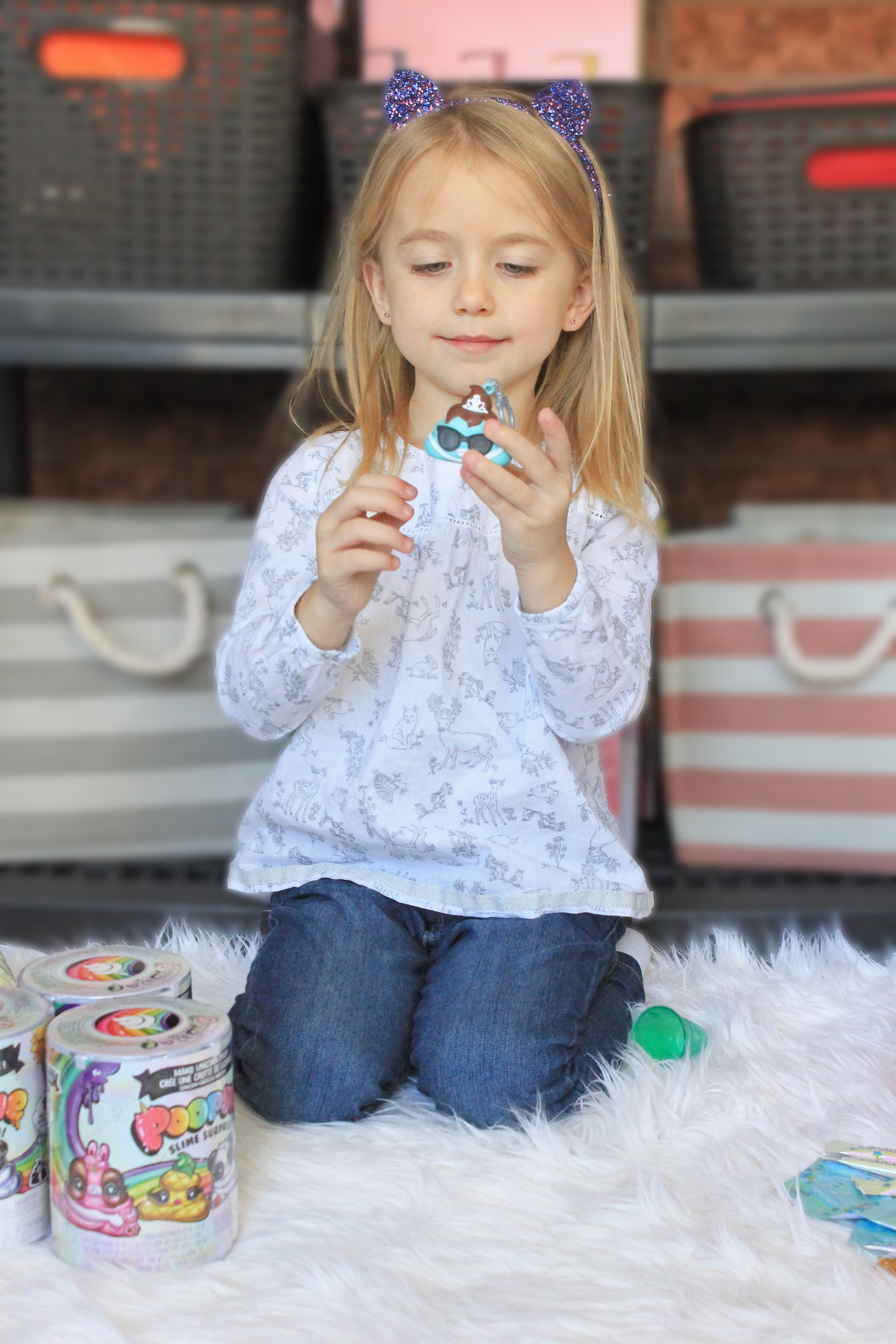 Surprise! A Poopsie keychain.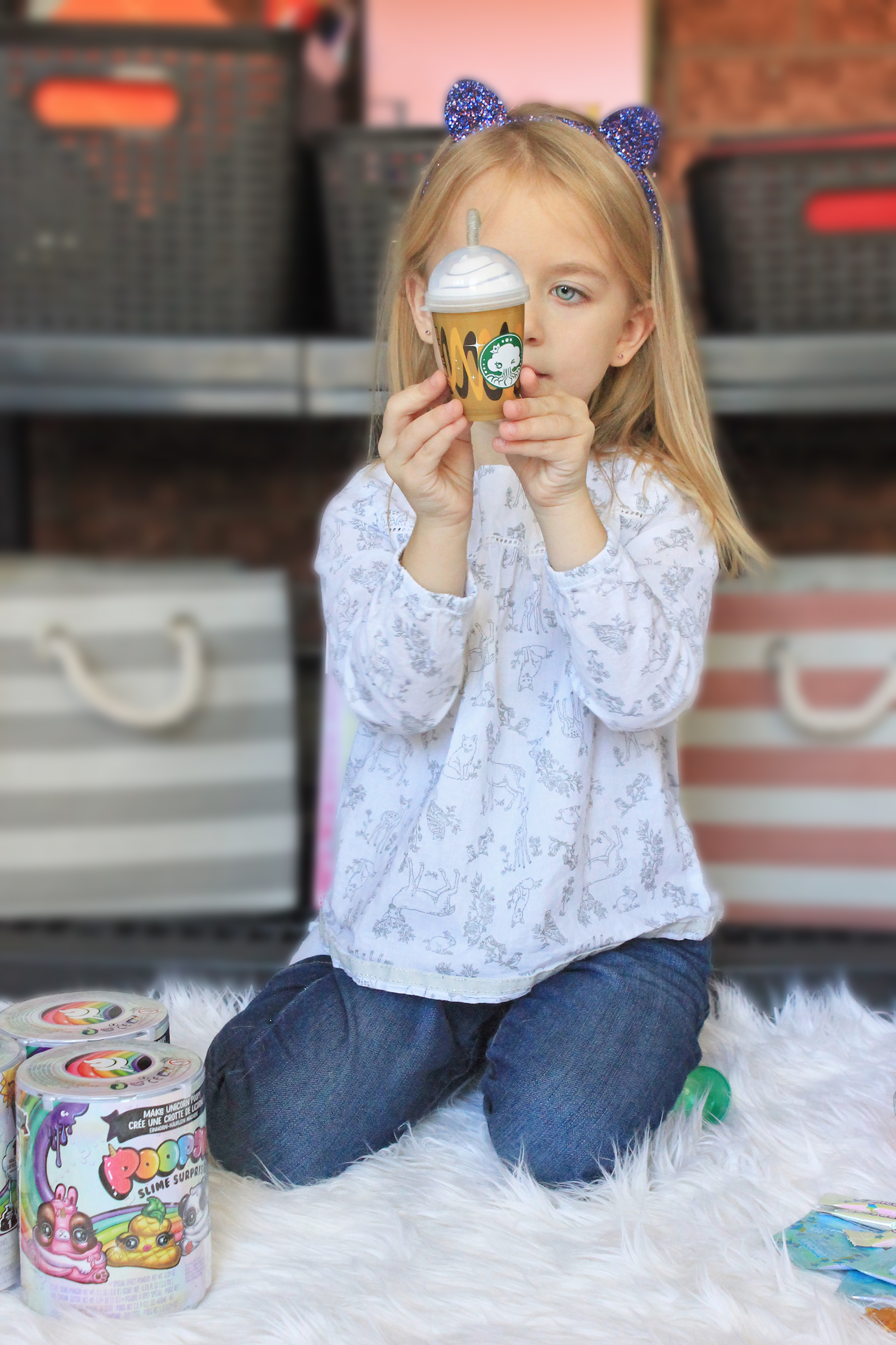 And another cup.
We didn't make the slime right away, I left that as a daddy/Bella activity.
The slime was super easy to make and she enjoys playing with it.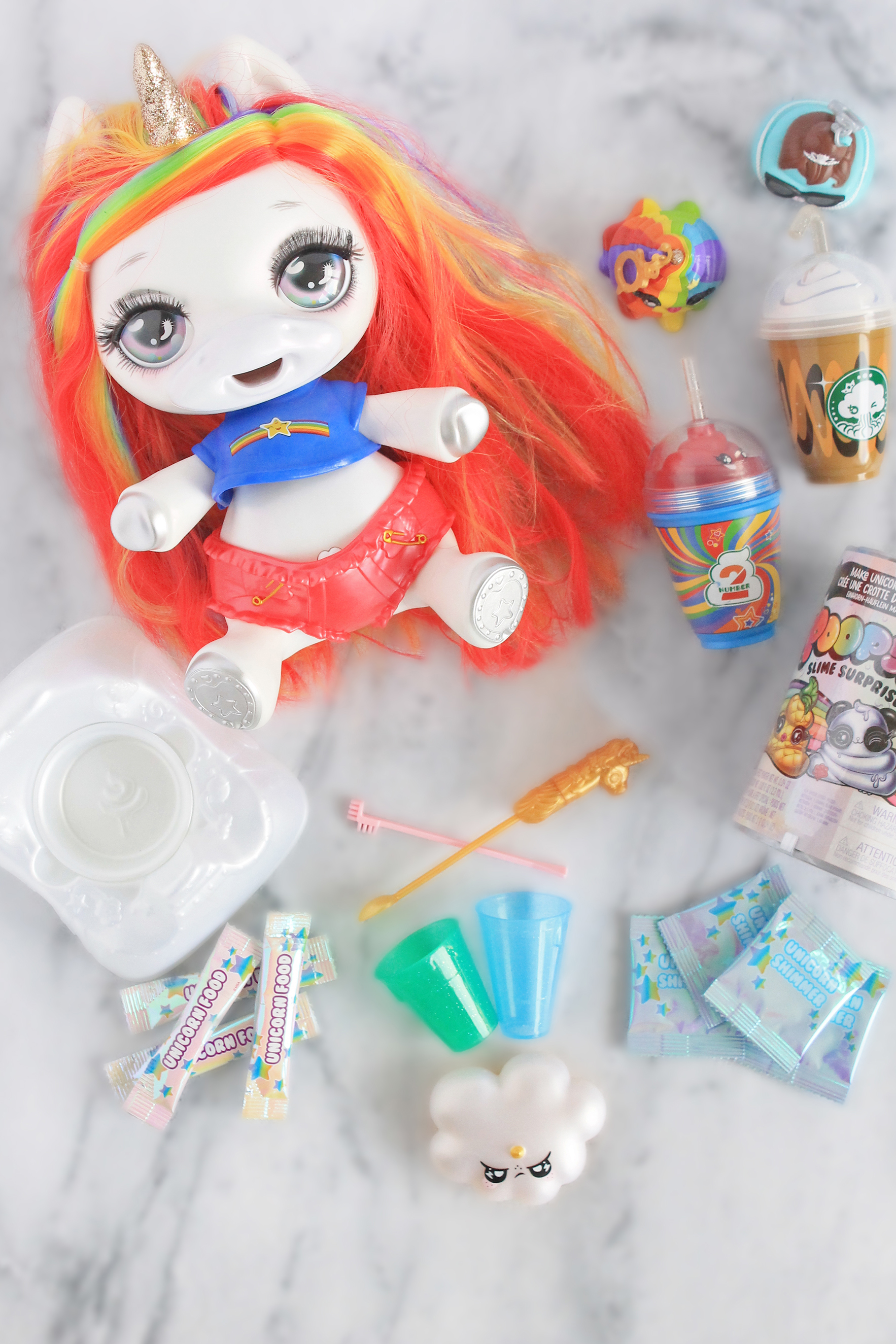 The Poopsie Surprise Unicorn and Poopsie Slime Surprise are the perfect gifts for any small unicorn lover!
Where To Buy Poopsie Surprise Toys:
Canada buy on Amazon.ca, Well.ca and Indigo
US buy on Amazon.com, Walmart.com and Target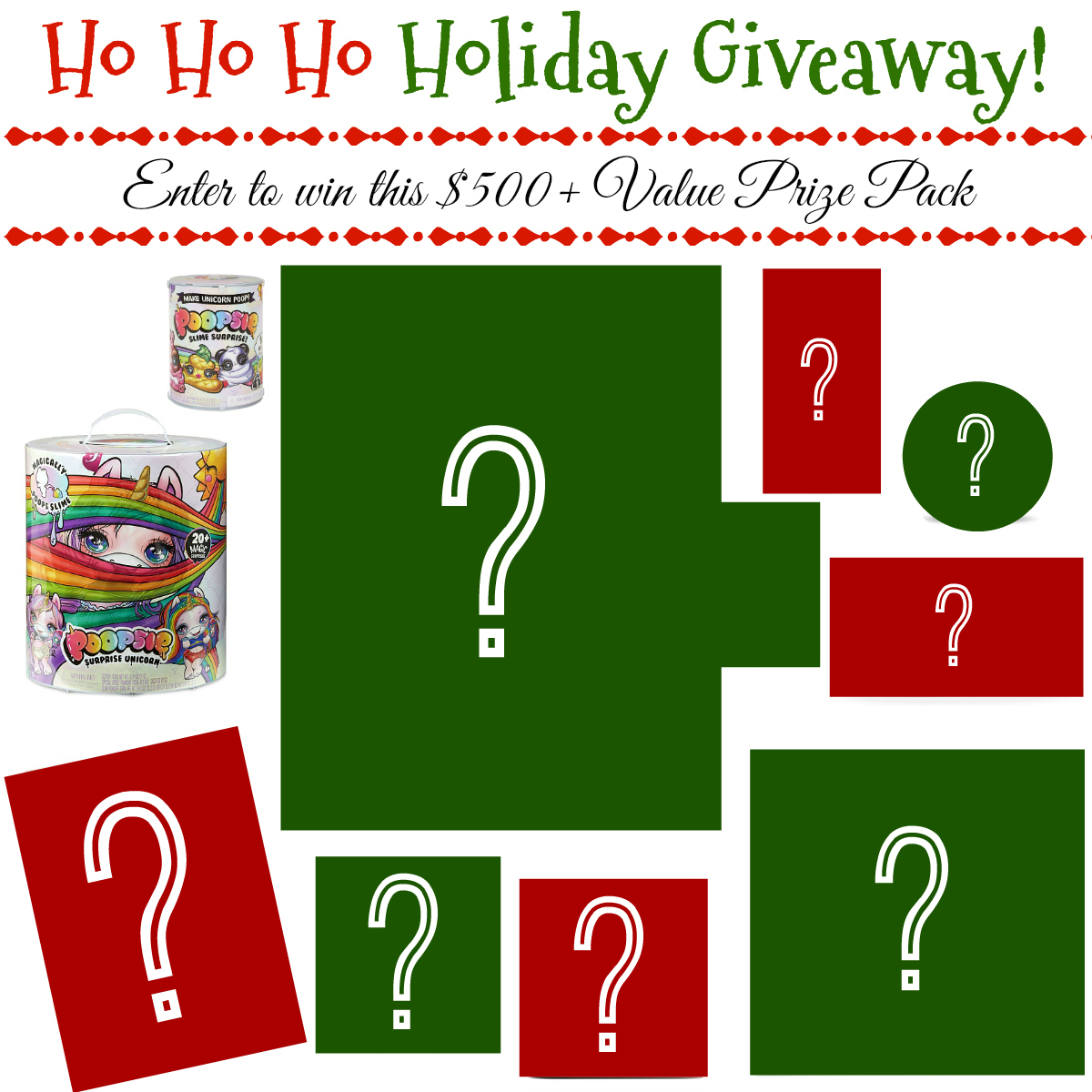 ENTER TO WIN A $500 HOLIDAY TOY PRIZE PACK
MGA Entertainment has generously sponsored an amazing $500 giveaway for my audience – THAT'S YOU!
Since this is the first post I will only be telling you what Poopsie products will be in the holiday toy prize pack.
PRIZES:
(1) Poopsie Surprise Unicorn – $79.99 retail value
(1) Poopsie Slime Surprise – $14.99 retail value
Stay tuned for the rest of the review posts to find out what other amazing toys will be included!
This giveaway is open to Canadian residents who have reached the age of majority in their province.
To enter the giveaway complete the mandatory entry options in the giveaway widget below. Once you have completed your mandatory entries you will be able to complete additional non-mandatory entry options. Complete those for additional ballots in the giveaway!
This giveaway will close on December 6, 2018 at 11:59 PM EST. A winner will be drawn from all eligible entries and contacted via email on December 7, 2018. The winner will have 24 hours to respond to the email and claim their prize.
Please note that ALL entries are verified and if you submit an entry without completing it you will be ineligible to win
.
Disclosure: Although we were sent product for review consideration, the opinions and language are all my own, and in no way do they reflect MGA Entertainment. Any product claim, statistic, quote or other representation about a product or service should be verified with the manufacturer, company, provider or party in question.