Chocolate Lovers Mini Banana Bread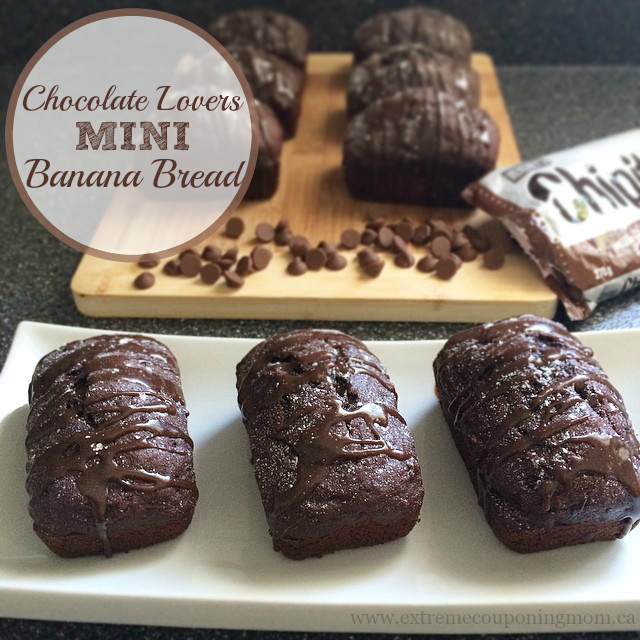 I think we can all agree that chocolate is good, I mean REALLY good! It is kind of like bacon, adding chocolate to things almost always makes them better right?
Well I have taken my most popular banana bread recipe and put a serious chocolate twist on it for those times when our little chocolate devil on our shoulder is screaming for something sweet, rich and delicious!
Lets just say that my better half walked in the door today just as these bad boys and my chocolate drizzle was cooling to top them. He insisted that I immediately drizzle the warm chocolate all over one before he exploded! He loves my banana bread and loves chocolate even more so it was very hard for him to resist! He seriously puts chocolate on everything …. we won't get into the time he also used caramel dip meant for little donuts from Swiss Chalet as "gravy" for his french fries and chicken! He has a serious sweet tooth when it comes to baked goods.
Now before you start licking the screen lets get to why you are here, the recipe!
Chocolate Lovers Mini Banana Bread Loaves
These chocolate lovers mini banana bread loaves are a try decadent indulgence and a fun switch up from the traditional banana bread!
Print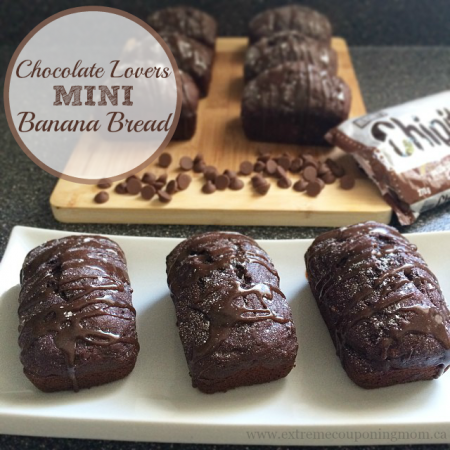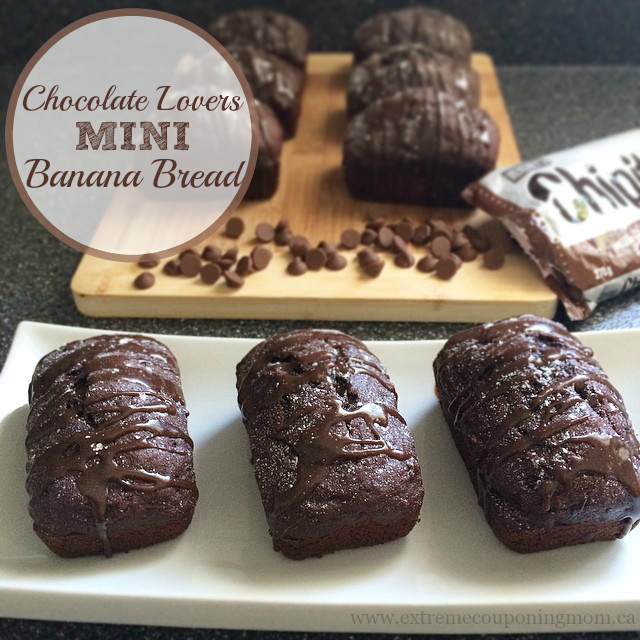 Chocolate Lovers Mini Banana Bread Loaves
---
Author:

Prep Time:

10 mins

Cook Time:

30 mins

Total Time:

40 minutes

Yield:

8-10 loaves

Category:

Dessert
Description
Indulge in a decadent spin on the traditional banana bread with my delicious chocolate lovers mini banana bread loaves.
---
Ingredients
Chocolate Lovers Mini Banana Bread Loaves:
1 1/2 cups flour
1/2 cup cocoa powder
1 tsp baking soda
1/4 tsp salt
1/2 tsp vanilla
1/2 cup butter
3/4 cup brown sugar
2 eggs
5 medium well ripened bananas
1/2 cup chocolate chips
*Optional* 1/2 cup chopped walnuts for on top
Chocolate Drizzle Topping:
1/4 cup half & half cream
2 tbsp brown sugar
1 tsp butter
1/2 tsp vanilla
1/2 cup chocolate chips
*Optional* icing sugar
---
Instructions
Chocolate Lovers Mini Banana Bread Loaves:
Preheat your oven to 350 degrees.
Grease your pan of choice with butter. I used a mini loaf pan but you can do a full loaf pan as well you would just adjust the cooking time.
In a separate bowl, combine your flour, cocoa, baking soda and salt then set aside.
In your mixer on low speed (or another bowl if you do not own a mixer) cream together your butter and sugar until it is nice and fluffy. Then mix your eggs in, once combined then add in your vanilla and bananas. Mix until you reach the consistency you like – chunky for bread with banana pieces in it or smooth for no banana pieces.
Pour your dry ingredients into your wet ingredients and with a spatula mix until fully combined. Your mixture should be thick, not runny. Then add in your 1/2 cup chocolate chips and mix in.
Place your mixture into your greased loaf pan, if using nuts you can sprinkle them on top at this point. Place on middle rack of your oven and for mini loaves cook 20-30 minutes checking often with a toothpick to not over cook. If baking a full loaf bake for 40-50 minutes also checking often with a toothpick so you do not over cook it.
Once done remove and let cool completely on a cooling rack.
Chocolate Drizzle Topping:
In a small saucepan over medium heat warm your half & half cream with the brown sugar until it dissolves and little bubbles begin to form around the edges.
Add in your butter and vanilla and stir until butter is melted. Turn off your heat at this point.
Pour in your chocolate chips and let stand for about 2 minutes. After standing whisk together until your mixture is smooth.
Allow your chocolate drizzle topping to cool so it thickens then drizzle over your loaves. You can sprinkle on some icing sugar if you like to finish it off or serve alongside a nice scoop of vanilla ice cream!
Notes
Generally this recipe will yield about 9 mini loaves however, this will depend on the size of your bananas. You may get an extra loaf or be short one loaf if your bananas are bigger/smaller than what I used in my recipe.
Don't forget to use the social buttons below to pin or share this recipe with all the chocolate lovers you know!