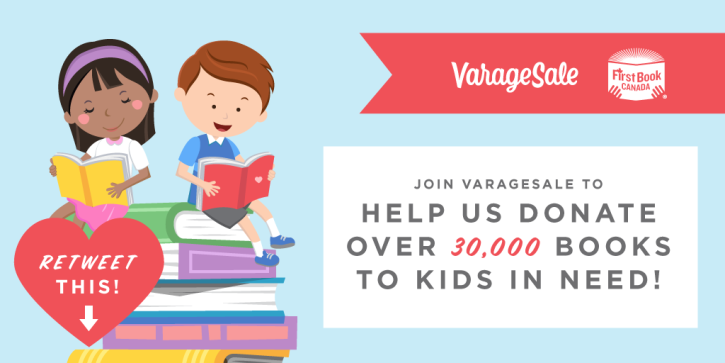 I am SO HAPPY to share with you today an amazing partnership between VarageSale and First Book Canada that has the potential to bring literacy to kids in need!
Over the past few months I have introduced you all to my love of VarageSale. VarageSale is a platform where local and interest based groups form communities to buy, sell and hangout. Members of the groups list items for sale, comment on them and discuss whether they want to purchase. It's a really fun way to meet people within the community and it's less threatening than other forums where you purchase from complete strangers. VarageSale counts over a million members all over the world!
I am a member of many communities in my local area as well as in my hometown of Hamilton. I have found some amazing deals as well as unloaded a lot of things we no longer need all while meeting some amazing people in my community!
VarageSale Partners With First Book Canada!
First Book Canada is thrilled to announce a partnership with Toronto-based startup,VarageSale. This is an exciting new way to get more books into the hands of children in cities all across Ontario. Reading is an important part of school and growing up, I loved to read as a child and having access to books fostered that love!
VarageSale is a free and friendly marketplace app where families buy and sell affordable secondhand items with their neighbours. Founded by an elementary school teacher, it's no surprise that VarageSale makes helping kids in need a priority.

First Book provides access to new books for children in need. To date, First Book has distributed more than 100 million books and educational resources to programs and schools serving children from low-income families throughout the United States and Canada. First Book is transforming the lives of children in need and elevating the quality of education by making new, high-quality books available on an ongoing basis.
Starting July 22nd, for each of the 60 local VarageSale communities in Ontario that adds 1,500 new members, VarageSale will donate $2,500 to local schools through First Book Canada—that's 600 books in each city, or 30,000 books across Ontario. I can only imagine the amount of children that will benefit from this amazing partnership with our help!
VarageSale Wants You To Help!
     SPREAD THE WORD
Visit the VarageSale website or download the FREE iPhone or Android app.
Join your nearest VarageSale community in Ontario.
Spread the word to drive more book donations!
Click to share on Facebook: http://on.fb.me/1TOGmln

Click to share on Twitter: http://varage.me/34a30f33
I am hoping all of my amazing fans will help make this wonderful partnership a success for all Ontario children. The ability to have access to reading materials is key to fostering not only a love for reading, but learning and literacy skills that are so essential to the academic success of our children. 
Disclosure: Although this post has been sponsored by VarageSale, the opinions and language are all my own, and in no way do they reflect VarageSale. Any product claim, statistic, quote or other representation about a product or service should be verified with the manufacturer, company, provider or party in question.