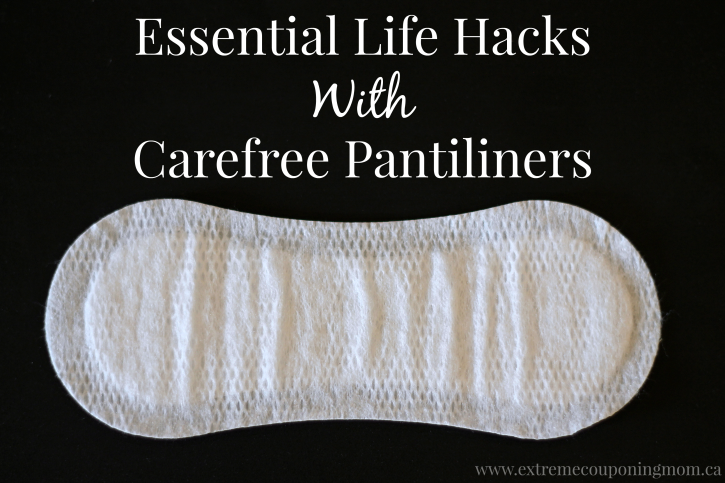 How many of you ladies have pantiliners in your home? Well, as an extreme couponer, I have all sorts of feminine products in an abundance. For a matter of fact, I have two whole shelves in my stockpile dedicated to feminine hygiene products. You may even find me with a buggy full of them on any given week if an amazing deal comes along that I can pair with a coupon or a rebate. I mean, they don't expire, I am a mother of 3 girls and a woman myself.
Now of course we know what pantiliners are used for, they are great as an extra barrier during your period should your tampon or period cup leak. They are also amazing for the few days leading up to your expected period so you don't ruin that favourite pair of pants. Keeping fresh and clean is also a perk to using pantiliners when not on your period as they help absorb any sweat from this summer heat!
Do you know that pantiliners have a gazillion other uses? These thin, little wonders of the world are amazing and their many uses is one of the other reasons I have an abundance of them in my stockpile!
CAREFREE TWITTER CHAT & CONTEST
Carefree knows all about these amazing panty liner life hacks too and to celebrate the launch of their new Canadian Twitter handle they are hosting a month-long contest as well as an awesome Twitter party. The hashtag to follow for the Twitter party and month-long contest is #CarefreeContest.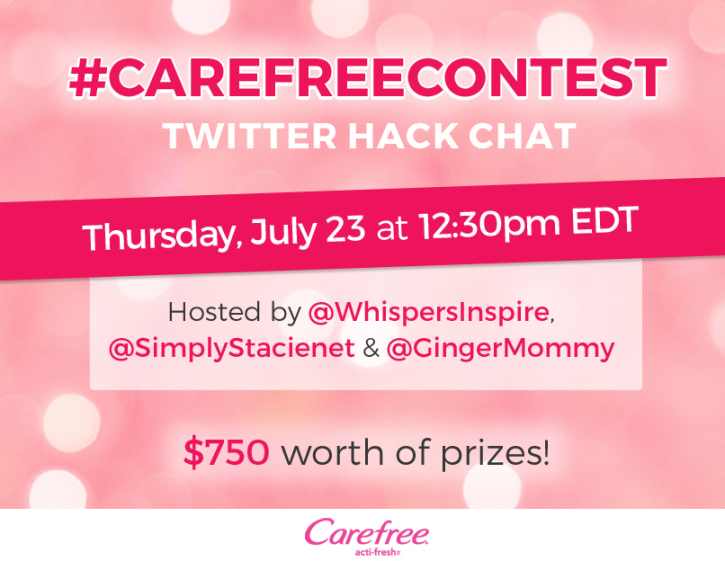 The Carefree Hack Chat/Twitter Party will be held on July 23, 2015 at 12:30pm EST. There are some amazing prizes to be won at the Twitter Party!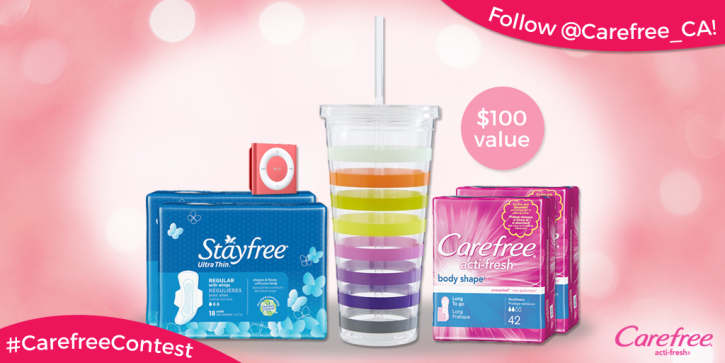 5 lucky winners at the #CarefreeContest Twitter Party will win an amazing prize pack worth $100. The prize packs include; Stayfree and Carefree products, a super cute tumbler and a MP3 Player!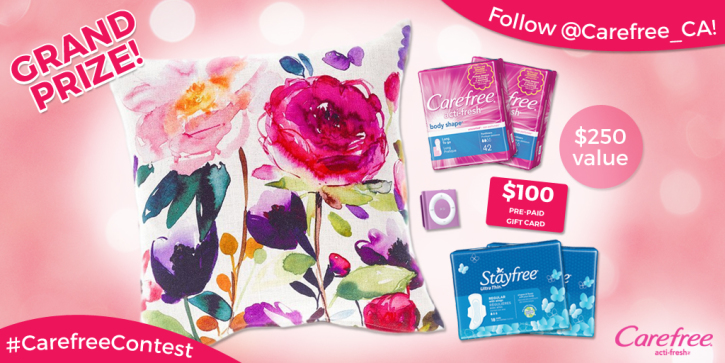 The prizes don't end there, ONE lucky winner will walk away with a prize pack valued at $250!!!! This prize pack includes; Stayfree and Carefree products, a gorgeous throw pillow, MP3 Player and a $100 Pre-Paid Gift Card!
RSVP for the Twitter Party NOW!
Carefree will also be hosting a month-long contest on Twitter from July 27th to August 21st. Each week they will pose a question for you to answer by 5PM on Friday. By answering the question using the hashtag #CarefreeContest you will be entered to win some fabulous prizes!
Be sure to follow them at @carefree_ca for more fun and to watch for those questions!
5 ESSENTIAL PANTY LINER LIFE HACKS
So, I have a million ways to use pantiliners other that their intended use, but we would be here all day so I am just going to share my top 5 essential life hacks. Then you can enter to win a prize pack by sharing your panty liner hack down below!
1. NAIL POLISH REMOVER: Did you know that you can throw away those annoying cotton balls that fall apart and barely take the polish off one nail while dripping fluid down your hand? Yup you sure can because pantiliners make the BEST nail polish removing pads! One panty liner can literally do both hands and feet. Think of all the money you can save using pantiliners vs cotton balls or round pads!
2. FACIAL CLEANSING: Those facial cleansing pads can get expensive and they are small which if removing a face full of makeup means using more than one. Try using a pantyliner and your favourite makeup remover to get the job done.
3. FRESH & COMFORTABLE SHOES: Place a pantyliner in your shoes to give you extra comfort. Wearing heels or flats? Know how stinky those can get because of bare feet? Stick a pantyliner in them to have clean, dry and fresh shoes thanks to its awesome absorbent powers. Lastly you can cut and place parts of the pantyliner in places in your shoes that cause blisters. I like to put some on either side and the back area of my heels.
4. TECH CLEANING: I like to use a pantyliner and a few spritz of WHOOSH! Tech Hygiene to clean my computer, iPad and iPhone screens. It it gentle on the screens and doesn't scratch them but gets the job done leaving it streak free!
5. SWEAT BLOCKER: I tend to sweat a lot, more now than before I had my children and it can be embarrassing to have wet marks under my arms when at an event or even on one of my TV appearances. As much as I look comfortable on TV I tend to get super nervous which makes me sweat even more than I usually do so how to combat this? I place a pantyliner in the armpit areas on my shirts to keep that sweat at bay!
ENTER TO WIN 1 OF 6 CAREFREE EVERYDAY KITS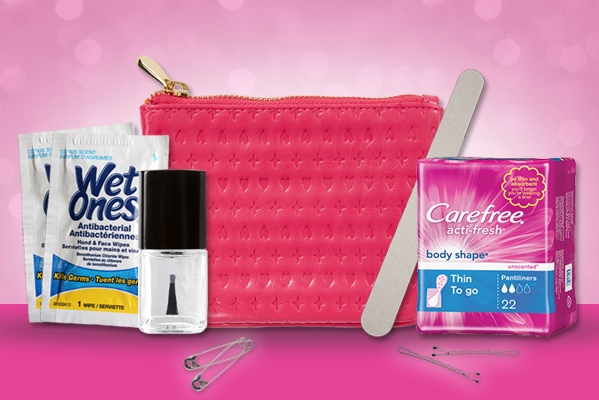 Enter through the giveaway widget below for your chance to win 1 of 6 Carefree Everyday Kits, a perfect purse-sized pouch that contains Carefree liners and other must-have items to avoid style or beauty mishaps on the go!
In order to be eligible to win you MUST follow @carefree_ca on Twitter and put forth a life hack idea (incorporating pantiliners is a bonus) which are the first two mandatory entry options in the widget. Once you complete your mandatory entries the widget will open up and give you additional entry options for bonus entries into the contest.
Disclosure: Although this post has been sponsored by Carefree, the opinions and language are all my own, and in no way do they reflect Carefree. Any product claim, statistic, quote or other representation about a product or service should be verified with the manufacturer, company, provider or party in question.