DIY Charcoal Face Mask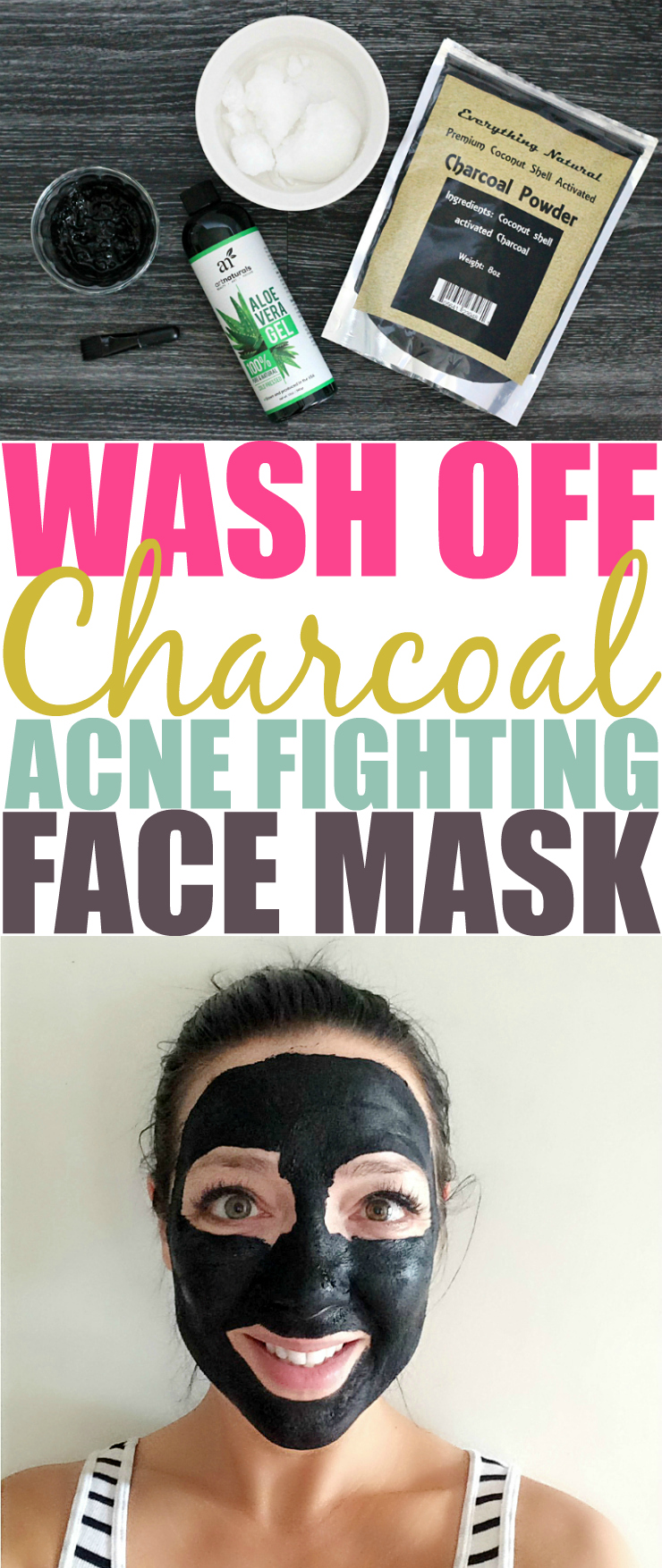 If you follow me on Instagram you have probably come across my face mask posts.
Taking care of my skin has become a huge priority for me. This is due to battling severe hormonal acne after giving birth to Bella.
I honestly felt so hopeless. At my lowest point I had tried so many products and nothing was working. Many of them actually made my problem worse.
The biggest downfall for me is I scar extremely easy. I seriously can get a pimple or a bug bite, not touch it at all, and I will still scar.
As a child they thought I may have diabetes, apparently that is a symptom, but all tests were negative.
It wasn't until I started to use a nearly all natural DIY to cleanse my face that my acne started to clear.
My DIY Makeup Removing Wipes not only remove makeup, they double as an amazing cleansing pad. I use them to cleanse my face each morning, as a refresher or to remove makeup during the day, and to cleanse my face before bed.
I still have scars left behind. However, I am happy to say that other than one or two "monthly" pimples, my hormonal acne is a thing of the past!
Another weapon in my quest to keep the hormonal acne at bay and my skin looking fab is charcoal masks!
Over the past year or so I have tried many different brands and kinds. My absolute favourite peel-off charcoal mask is from Shoppers Drug Mart by their Life Brand.
Not only is it budget friendly, it also gives awesome results! I suggest doing a peel-off mask 2-3 times per month and the wash off mask 3-4 times per month.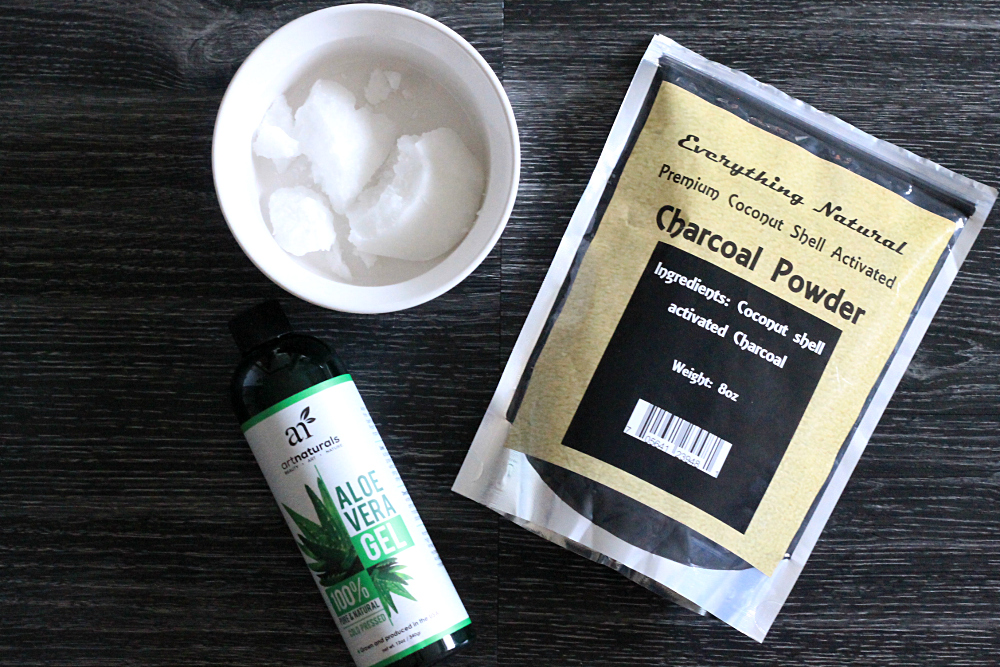 Wash Off DIY Charcoal Face Mask
One of my favourite wash off charcoal masks is the Blackout Mask. It is made in Australia and while it is wonderful it is pricey. Especially since you have to pay an additional fee for international shipping.
The Blackout Mask is only made of 4 ingredients. This means it is super easy to replicate at home for a fraction of the cost!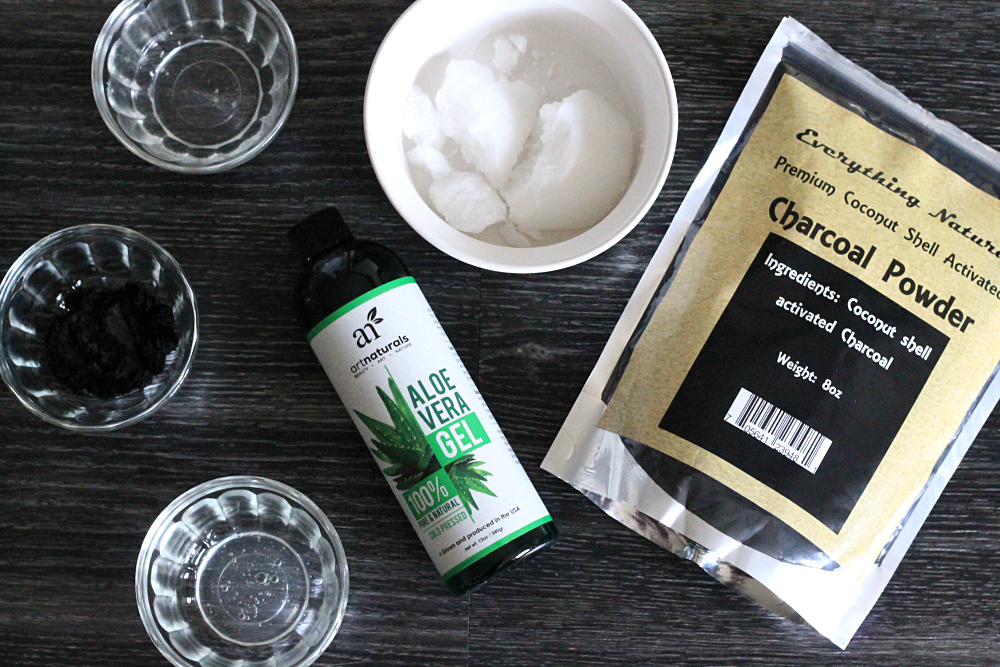 What you will need to make your own wash off DIY Charcoal Face Mask:
Coconut Oil – I use either the PC or Grace brands from my local grocery store.
Distilled Water (or bottled water if you don't have distilled)
Above I have linked to the products I use and purchase on Amazon. Both the Aloe Vera Gel and the Activated Charcoal Powder will last you a long time and many, many face masks!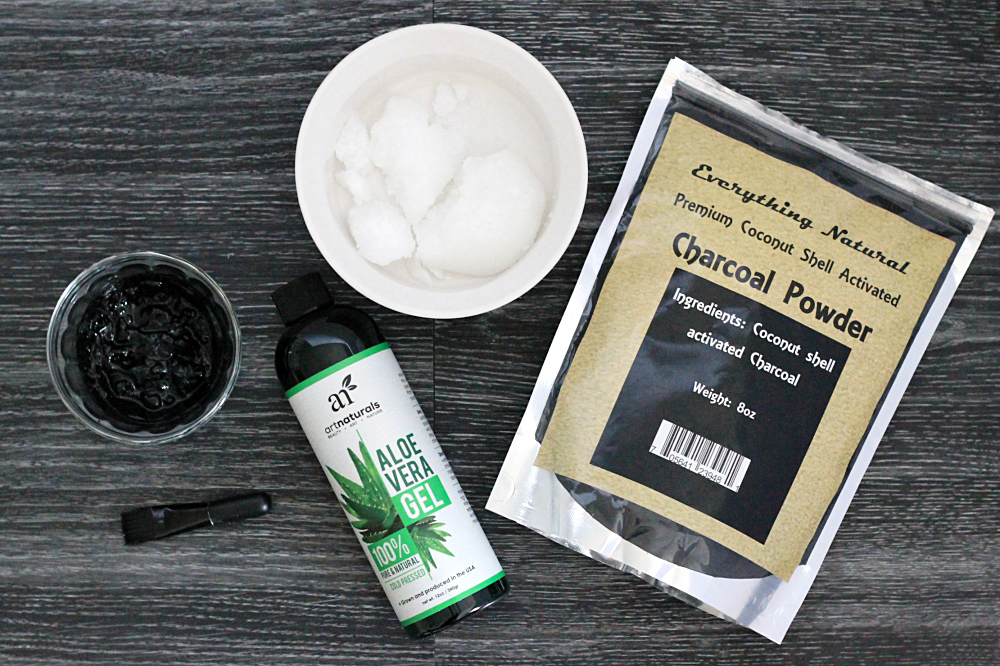 You will simply mix the ingredients together until fully mixed.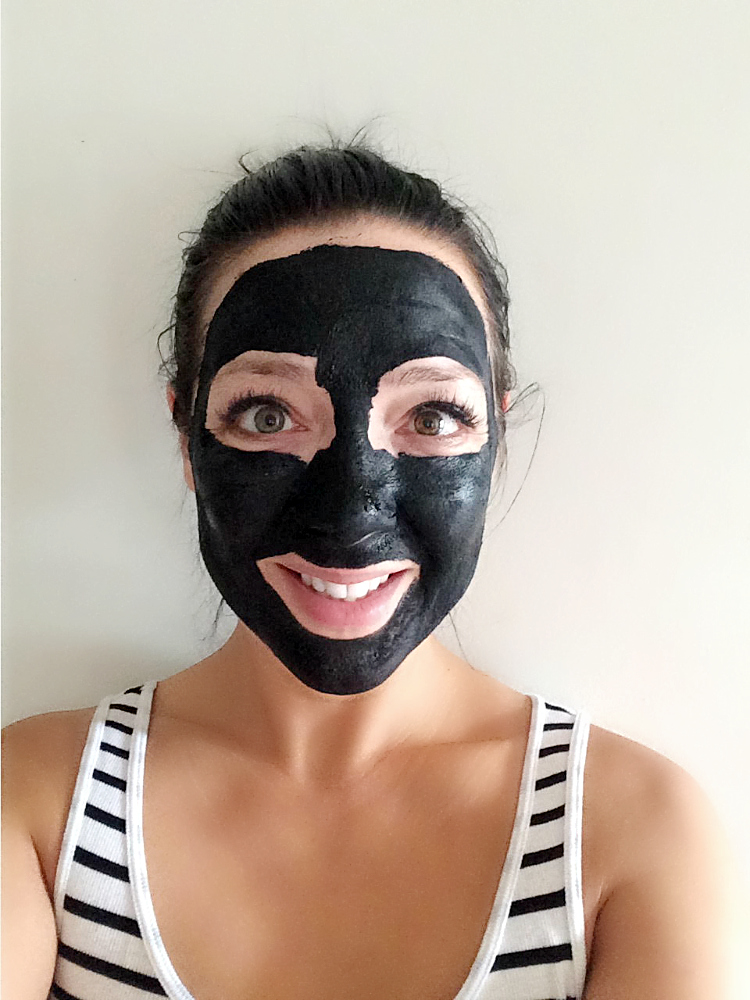 Then you apply a thin layer of the mask using a makeup brush to a cleansed face. Be sure to avoid your eye area as you do not want to get it in your eyes!
After applying you will want to wash your brush immediately.
Leave the mask on until it is dry, this usually takes about 15-20 minutes.
Once the mask is dry, using warm water and either paper towel, a dark face cloth, or these expandable throw-away towels, remove the mask.
DIY Charcoal Face Mask Recipe
The recipe below is for a single-use face mask. If you are making a mask for more than one person feel free to double or triple the ingredients. This mask is amazing for spot treatments too.
Activated Charcoal Powder will pull toxins from metals so please ensure you do not use any metals to mix or measure your mask.
Print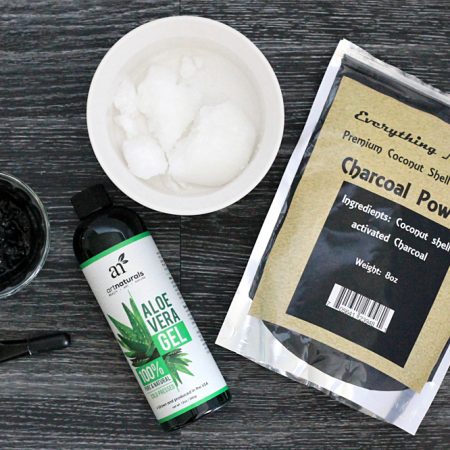 Wash Off DIY Charcoal Face Mask
---
Author:

Prep Time:

2 mins

Cook Time:

20 mins

Total Time:

22 minutes

Yield:

1

Category:

Beauty
Ingredients
DIY Charcoal Face Mask
---
Instructions
DIY Charcoal Face Mask
Using a small microwave safe dish melt some coconut oil. I usually place a spoon full in there and whatever is not used I pour back in my jar. This is to ensure I get a full 1/4 tsp of coconut oil.
In a non-metal dish add in your Activated Charcoal Powder, Aloe Vera Gel, Distilled Water, and Coconut Oil.
Using a plastic spoon mix together all the ingredients until fully combined. The mixture should not be too thick or too runny. It should be the consistency of a hand or body cream. If it is too thick simply add in a tiny bit of water at a time. If too thin, mix in a bit more charcoal powder.
Once mixed, take a makeup brush and apply the mask to your face. Please avoid your eyes. See my photo above in this post for how I apply the mask.
Leave mask to dry for 15-20 minutes.
When the mask is dry, using warm water and either paper towels, a dark face cloth, or disposable expandable towels, remove the mask.
If using paper towels, fold towel in half, dampen, and wipe to remove the mask. Repeat until face is fully clean.
Should you wish to use a dark face cloth (because charcoal stains) simply wet the cloth with warm water, ring out, and start to remove the mask. Repeat this until your face is clean.
If you choose to use the disposable expandable towels you will need to use a few of them. Simply wet with warm water, ring, and wipe face. Repeat this until your face is clean.
Notes
Please Note that charcoal powder will stain. Placing a paper towel underneath where you will be mixing together your mask is a great way to prevent stains.
Activated Charcoal Powder will pull toxins from metals so please ensure you do not use any metals to mix or measure your mask.
Also remove any metal facial piercings prior to putting on the mask.
If you try out this mask please come back and leave a comment below to let others know your thoughts! Use the social share buttons below to share with your friends & family.

Aimee is a suburban mom of 3 and resides in Richmond Hill, Ontario. She enjoys sewing clothing for her small handmade clothing business, baking, DIY projects both big and small, travel, and finding creative ways to save her family money.

Latest posts by Aimee Geroux (see all)