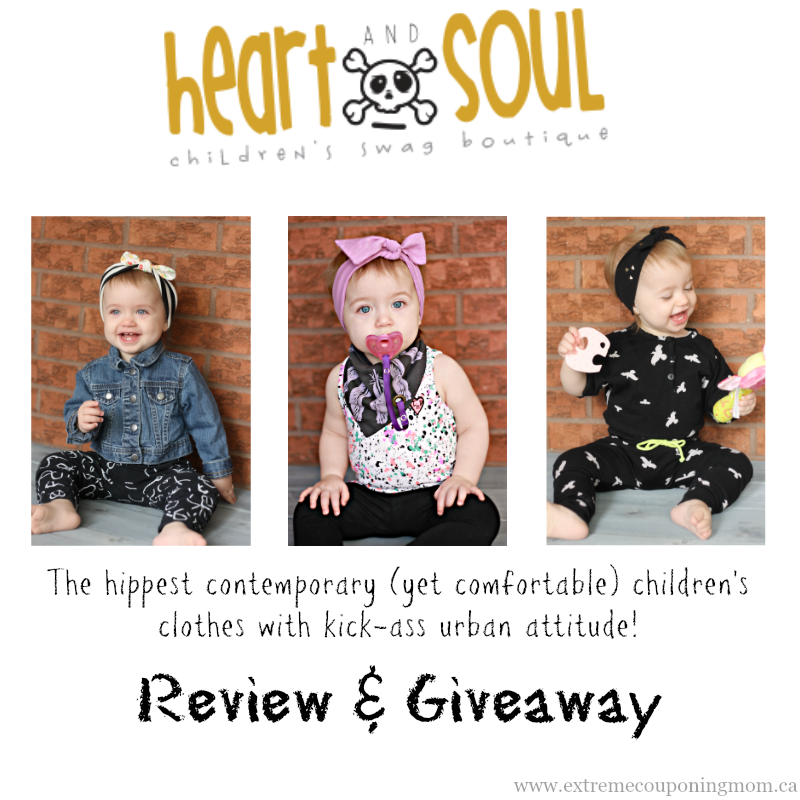 As most of you know I LOVE to dress up Bella, I love even more to dress her up in funky, unique, and quality clothing that will outlast the playground and her crawling around. Yes, she is still not walking yet – hands-free that is!
When I heard of a new trendy, kick-ass kids clothing company called Heart N' Soul Kids opening up (in my area) and online I was excited to say the least!
They stock the hottest, trendiest, high-end kids fashion brands such as Munster, Salt City Emporium, Tumble 'N Dry, electrik kidz, nununu, mói, which are just a few of my personal faves, and so many more!
Of course these are high-end brands which means they do come with a price tag, they are not your every day Carter's/Osh Kosh, Old Navy type of clothes. You may say "BUT Aimee, you are Extreme Couponing Mom, why in the world would you spend that kind of money on clothing for your kids?" and to that I would reply, this is exactly one of many reasons I coupon, I work hard every single day/week/month saving on our necessities so I can enjoy luxuries in life! My couponing, frugal, budgeting ways allow for me to splurge every now and again on my family. Whether we take a weekend vacation, buy a few high-end statement pieces for the kids wardrobes or that $80 bikini my 13 year old HAD TO HAVE, saving money elsewhere allows us to enjoy a few luxuries here and there! Not to mention these clothes hold their value and you can certainly get 50-75% of the cost back when you resell once your kids grow out of them.
Now for us these clothing pieces are additions to Bella's regular wardrobe. I would have to hit the lottery to dress her every day in high-end fashion and lets be honest, I am not Kim Kardashian, I have yet to win the lottery and well being a blogger pays the bills but I am not "rich" from blogging.
I am a huge online shopper and find myself spending time scouting out unique clothing for the kids. I love that Heart N' Soul Kids is based in Toronto, which for me means I can do local pick up and not pay shipping. However if you are not local their shipping is very reasonable and because they are in Canada you are not paying the sometimes outrageous duties and brokerage fees we face when shopping with US stores. They offer FREE shipping to Canada with a minimum purchase of $75 before tax and to the Continental US with a minimum purchase of $125 (CDN) before tax.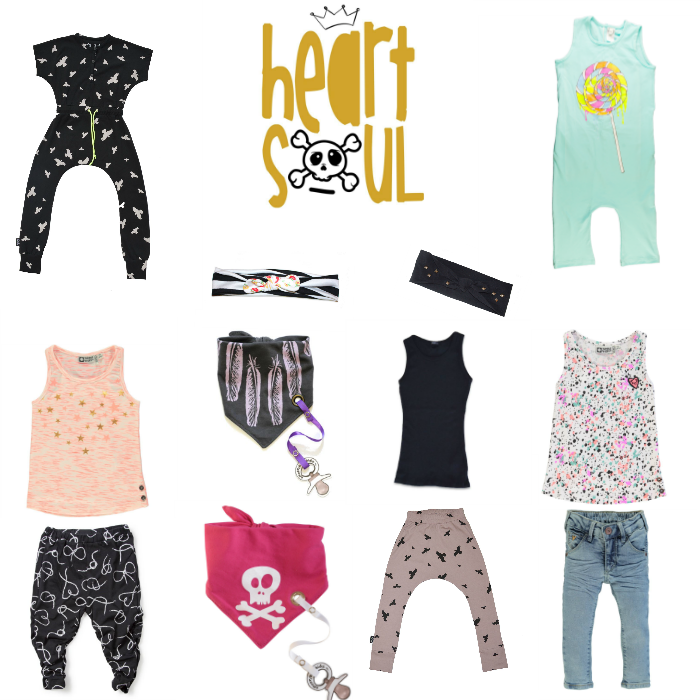 I was thrilled when I was approached to review a few items and hold a giveaway for my readers, which is at the bottom of this post! I picked out a couple items to review and have since purchased quite a bit more during their Friends & Family sale. I am absolutely in love with the clothes they stock! They often have great sales, so definitely keep your eyes out for those!
The clothes can be great additions to your child's wardrobe and many pieces pair great with everyday wear that you already have! The clothing is top-notch quality, I wash everything in hot water and dry on high heat and not one thing has faded or shrunk. They are tough enough to have taken a beating from all of Bella's crawling without showing any wear in the knees either. If I had to choose my fave out of everything I have from Heart N' Soul Kids it would be a tough call. I truly adore everything I already own and plan to continue to purchase pieces as Bella grows. Here are some photos I have taken of Bella rockin' out in her swag from Heart N' Soul Kids: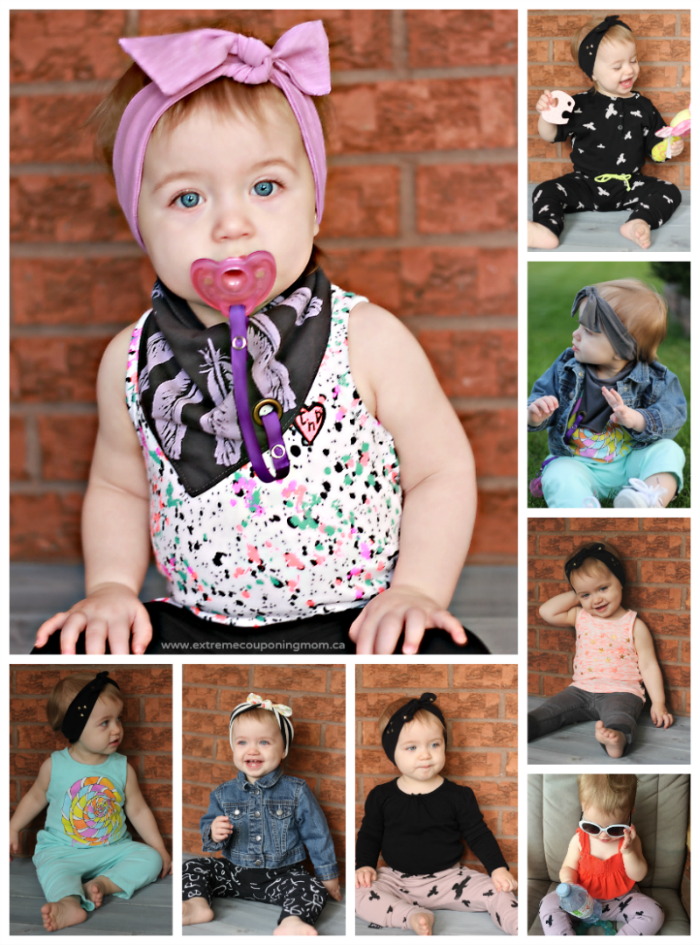 Heart N' Soul Kids pride themselves on having brands that nobody else does and they only stock the best children's clothes that are totally trendy for sizes newborn to 6 years. They also have their own line of clothes which are amazing! As mentioned a few times already they always have great sales and you know me I love a good sale! I was impressed that their website is extremely easy to use and navigate through, this makes shopping easy and fast, especially when we are under crunch of nap time! They ship within Canada and  even ship to the US, if you are local to Toronto you can even pick up your order by selecting local pickup at checkout to save on shipping costs!
They also just recently announced they now have a permanent showroom for a personalized shopping experience. You can book an appointment to shop with them by emailing info@heartnsoulkids.com
Enter To Win $50 To Shop Heart N' Soul Kids:
Starting June 3, 2015 until June 30, 2015 at 11:59 PM EST you can enter to win $50 to shop at Heart N' Soul Kids by completing tasks on the giveaway widget below.
Entry is open to both Canadian and US residents who are 18 years of age or older. Skill-testing question for a Canadian winner will be required to claim prize.
Winner will be drawn at random from all eligible entries, contacted via email and will have 48 hours to respond before another winner is drawn.
Don't miss a Heart N' Soul beat – follow them on Facebook, Twitter, Pinterest and Instagram to stay connected and be the first to know about special promotions and new stock!
Disclosure: Although this post has been sponsored by Heart N' Soul Kids, the opinions and language are all my own, and in no way do they reflect Heart N' Soul Kids. Any product claim, statistic, quote or other representation about a product or service should be verified with the manufacturer, company, provider or party in question.