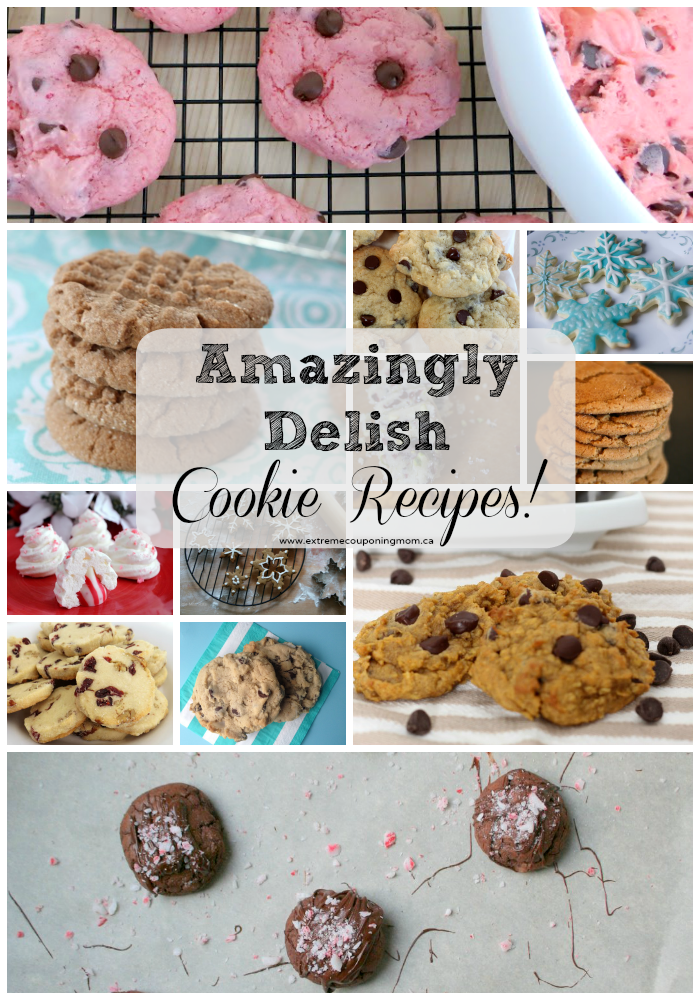 Cookie Monster approved! Well, not the blue one on Sesame Street but the Cookie Monster that resides in my home. He is the only male besides Reggie in our home and we all know that cats can't (or shouldn't) eat cookies, nor can they talk! To say he was drooling as I was going over the recipes that I was going to include in this round-up is an understatement. He definitely let me know these are all on my to-bake list and he would be expecting something freshly made when he returns from work today!
I don't know about you but I am not a huge store-bought, bagged cookie type of girl. I mean, there are a few I will indulge in, but I fully prefer the soft, chewy, oh-so-good, homemade kind of cookies!
Get your mixers ready and aprons on to bake some of these amazingly delish cookie recipes below.
Amazingly Delish Cookie Recipes
1. Strawberry Chocolate Chip Cookies
3. Soft Sour Cream Sugar Cookies
4. Junior Mint Thumbprint Cookies
5. Peanut Butter and Jelly Cookies (without the peanuts)
6. Peppermint Meringue Cookies
7. Chewy Coconut Chocolate Chip Cookies
8. Chewy Chocolate Chip Cookies
9. Chocolate Chip Oatmeal Cookies
10. Chocolate Peanut Butter Cookies
11. Peanut-Better Gingersnap Cookies
12. Chocolate Peppermint Cookies
15. Milk Chocolate Chip Cookies
16. Oatmeal Raisin Coconut Cookies
17. Whole Grain Chocolate Cookies
18. Whipped Shortbread Cookies
21. Low-Fat Greek Yogurt Sugar Cookies
22. Mint Topped Chocolate Cookies
24. Cranberry White Chocolate Cardamom Cookies
25. Ultimate Peanut Butter Cookies
26. Oatmeal Everything Cookies (Vegan)
27. Pumpkin Spice Cookies with Maple Icing
28. Acorn Sugar Cookie Decorating Tutorial
29. Best Ever Chocolate Chip Cookies
30. Snickerdoodles
31. White Chocolate Chunk Cookies
32. Almond Flour Chocolate Chip & Pecan Cookies
33. No Bake Dark Chocolate Easter Egg Nests
I hope you all enjoy whichever cookie recipe(s) you decide to make, with 33 of them you sure have your work cut out for you! Now that I am done bringing you all these amazingly delish cookie recipes, I better get my butt in the kitchen and bake a few for my Cookie Monster before he comes home.
Leave me a comment below, let me know which amazingly delish cookie recipe you want to try first!