New Year's Resolutions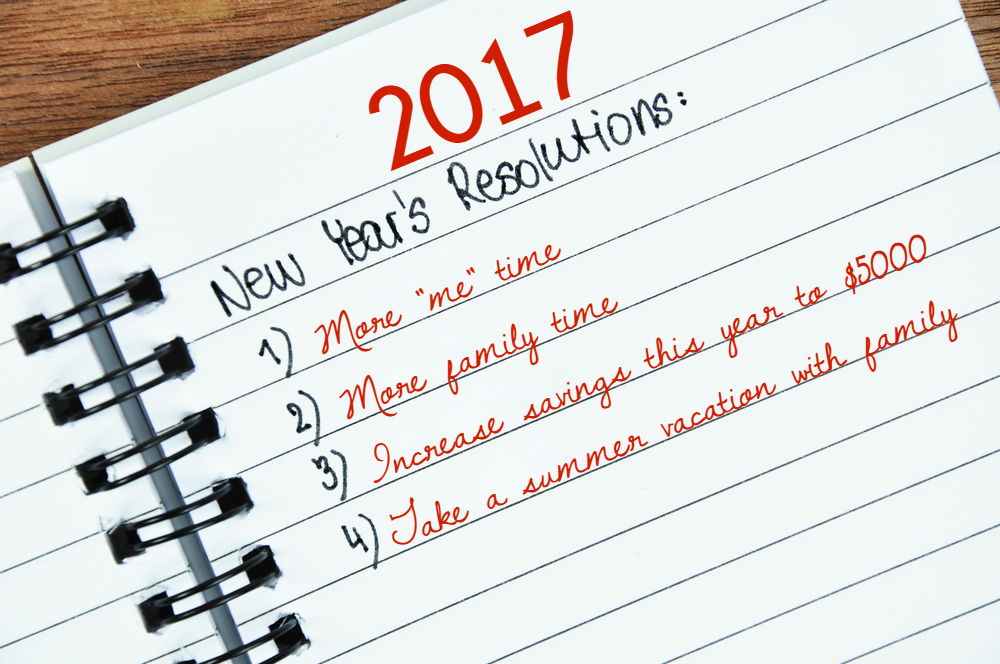 A lot of people, myself included, tend to make New Year's Resolutions they can't keep. I have been there, many times over but, after numerous failures at keeping up with my resolutions I have learned a thing or two.
I try to make my resolutions much like I do my short term goals. This way I am not making unrealistic resolutions that are likely to fall through and leave me feeling like a failure.
One of the biggest reasons many New Year's Resolutions fail is because they are too vague, too grand, and too focused on the result and not the cause. If you make your resolutions more specific eg: go on a 30-minute walk, 3-4 days a week vs work out, you may see better results as you have a specific task to stick to.
2017 New Year's Resolutions
I thought I would share with you my New Year's Resolutions and I will update you throughout the year on how I am doing!
More "ME" Time
This year I want to focus on myself a little more. As a mother I tend to always put myself last and it has led to a few bouts of depression in 2016. I have set a goal to take 1 hour each day to myself to do something I love to do but have not because I am always putting others first. READ! This year I want to read more. My poor Kobo is collecting dust and that ends with 2016. I have added a "What I'm Reading" area under the Family Menu on the blog and plan to update it with what great books I am enjoying!
More "Family" Time
Even though I put my family first this doesn't mean we spend a lot of time together. I find between my extremely heavy work schedule on the blog and for Little Rebelz, my partners work schedule, and the older girls visitation with their dad we have just been moving from one day to the next. I want to spend more quality time with my family as a family. In 2017 I will be enlisting a family game night on Wednesdays. We only have all 3 girls two weekends each month so I will be planning a family day one Saturday each month where we go out to do something fun.
Increase My Savings
Prior to Bella's early birth I had a very healthy savings account. One I was very proud of since back in the day I was pretty bad with money. I didn't care how much things cost, I never saved, and I was always in debt. Thankfully I am no longer like that. Bella's early birth and the Ice Storm of 2013 really killed my savings account. Actually, it literally drained me of any savings I had. Three years later and while I have some savings it isn't where I want it to be or know it can be. So, this year I am putting the pressure on myself. I want to get my savings account to at least $5000.00 on top of what is already in there. This of course is going to take some budgeting adjustments but it is totally doable if I work at it!
I will be using my 52 Week Money Saving Challenge as a starting point!
Summer Vacation
This year I WILL go on a summer vacation with the family. Whether we just hit up a cottage for a weekend or rough it out camping, we will do this! Honestly, I feel like summer just flashes before my eyes. The older girls spend 2 weeks with their father during the summer and then every other weekend which sometimes makes it difficult to plan things. This year, no more excuses! I am already looking into planning our summer vacation so that their dad can plan his 2 weeks around us instead!
Give Back
This one for me is always easy to keep. Helping others in need is something that is really important to me. It is also something that I include my children in as I want them to grow up with compassion for others. Any one of us could fall on hard times in an instant and be in a position where we rely on others giving hearts. In 2017 I want to increase the number of families I sponsor at Christmas time as well as increase the amount of donations I do, both monetary and of goods.
Some New Year's Resolutions that are fairly easy to keep:
Learn to take risks
Forgive people
Be a nicer person
Step out of your comfort zone – try new things
So remember, when making your New Year's Resolutions:
be as specific as possible
keep them realistic
if making a resolution that is a longer term goal insure you make short-term checkpoints to stay on track
What are your New Year's Resolutions? Share them with me in the comments below!