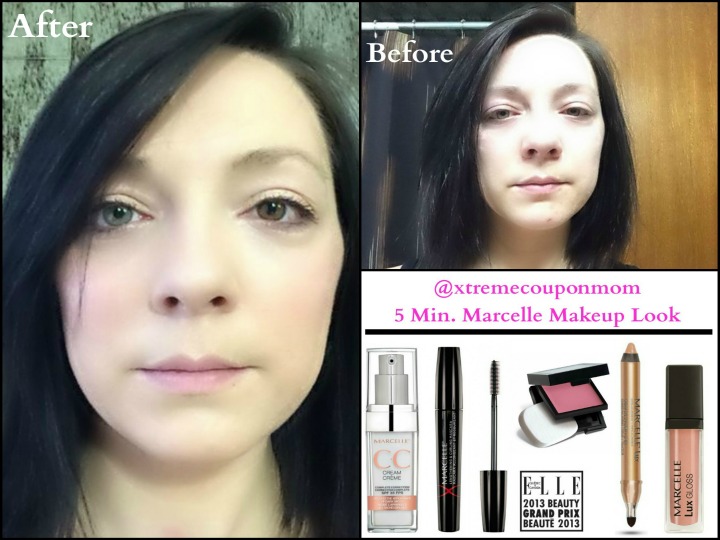 As a busy new mom and mom to two older children my "me time" is very limited. I often find myself going days without getting out of pajamas or sweats, I am lucky if my hair gets brushed daily and even more luckier if I get more than 5 minutes to quickly shower.
Since the birth of Bella, my third daughter, I didn't even want to think of makeup because I honestly didn't think I had the time to perfect a look that was worth the time and effort it would normally take me to do my makeup. This all changed when I was asked by #MarcelleMoms Stacey of This Lil Piglet and Julie of Sober Julie if I would like to join in on the promotion of a great giveaway (which you still have time to enter here) of two Marcelle prize packs and I would receive some great Marcelle products so I could create my own 5 Minute Makeup Look to share with my readers. I am always up for a challenge and wanted to see if indeed I could create an easy yet put together look in 5 minutes so I gladly accepted and eagerly waited for the products to arrive.
While waiting for my products to arrive Marcelle happened to have a sale online during Valentines day that I just couldn't resist. I had been following both Stacey and Julie's 5 minute looks on their Instagram profiles and fell in love with a few pieces which I knew I just had to have. I made my online purchase and now eagerly awaited both my packages from Marcelle. I was super excited both packages arrived on the same day and in record time, just a few days after placing my order.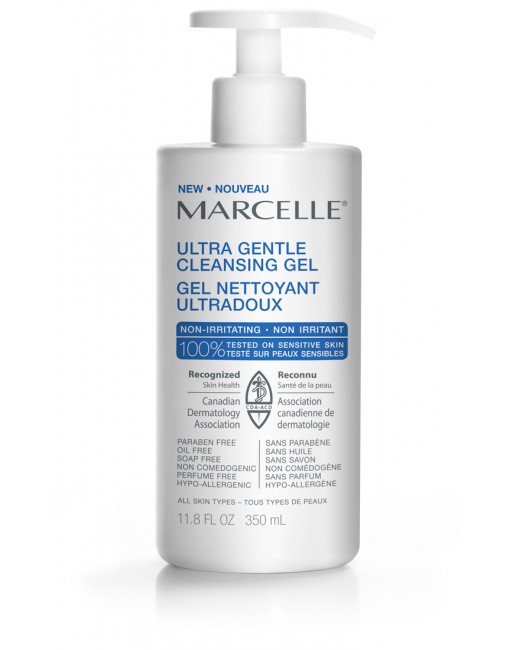 The first of the products Marcelle sent me to help create my 5 minute makeup look was their Marcelle Ultra Gentle Cleansing Gel. This amazing cleanser is gentle enough for the whole family, even my eleven and nine year old daughters have been using it daily.
A clean face is a healthy face and if there is one thing I find time for each morning and night is to wash my face, no matter how tired I am from all-nighters with the baby. Sometimes just washing my face in the morning gives me the little kick start I need to get my day going.
Benefits:

Suitable for all skin types, ideal for sensitive and dehydrated skin
gentle, hydrating and non irritating
may be used as a facial cleanser and make-up remover
formulated with aloe vera, glycerin and glyceryl oleate for superior hydration and soothing effect

Key Features:

recognized by the Canadian Dermatology Association as part of the Skin Health Program
tested under dermatological control
tested under opthalmological control
non comedogenic <– won't clog your pores!
hypo-allergenic and perfume free
devoid of: parabens, sulfate, oil and soap
This product comes in a very generous 350ml pump style bottle, it is the greatest quantity/price ration the brand has to offer, not to mention that it is at par with similar cleansers that can be found on the market!
We have been using this cleanser for a few weeks now and I have to say I have noticed a significant improvement in my skin. I have very sensitive skin so finding a cleanser that works and is sensitive enough for my skin has always been a challenge. Either the products were too harsh and would dry out my face or they were too weak and wouldn't give me a good enough clean causing me to break out even more. I have also noticed a great improvement in my 11 year old daughters face, as she enters "pre-teens" she is starting to get a pimple here and there. She has a great fear of soap getting in her eyes or anything (even water) for that matter so this cleanser has been amazing as she just rubs it gently over her skin and wipes it away with a warm cloth. Teaching my girls early about caring for their skin, especially their face has been much easier thanks to Marcelle.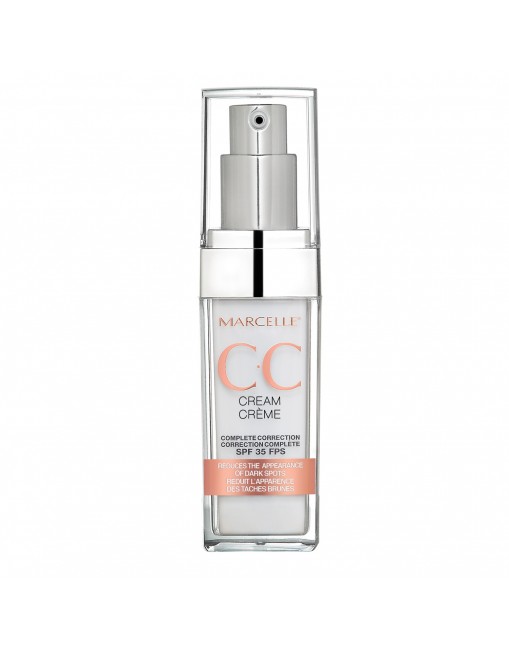 The second product I was sent was Marcelle's CC Cream in Medium to Dark, I already owned Light to Medium so I chose to have them send me the darker shade to use all over my face while using the Light to Medium afterwards to correct my dark circles under my eyes and any facial imperfections like pimples, dark spots and scars. Marcelle's CC Cream is paraben free, perfume free, hypo-allergenic and tested under dermatological control.
I absolutely LOVE their CC Cream and to be quite honest I was worried I might not. See I am not one for "thick" makeup or anything that leaves my face feeling heavy and I know with BB Creams I tried in the past they were on the heavy side so I have to admit before I tried the CC Cream I was very skeptical. Thankfully I am here to tell you if you are like me and hate anything that leaves a heavy feeling on your face fear not, Marcelle's CC Cream is light but gets the job done!
I personally have quite a few scars on my face, if you see above in my "before" picture on my chin is where I tend to break out and no matter if I don't touch the break out it will leave me scarred. I also have lovely dark circles under my eyes have since I was a child, no matter if I get a full nights sleep or stay up all night my dark circles stay put! These two "issues" have always been something that has made me self-conscious and I rarely left the house without makeup on to hide my imperfections. Of course having a new baby my "old" makeup routine of erase paste, concealer, cover up, powders etc was far too time consuming so I became a hermit lol! After Bella was born I rarely left the house, if I needed to shop or pick something up I would go when I knew the stores would be dead so I didn't have to face more people than I had to. But now I don't have to hide, I don't have to go grocery shopping at 10:00 pm because that little bottle of miracle cream has changed my life! It covers my imperfections and is only one product vs the handfuls I would use before!
12-in-1 Multi-Benefits:

corrects and helps prevent the appearance of dark spots and imperfections
offers complete coverage
evens out skin tone and texture
controls shine
provides anti-dull radiant complexion
allows long-wear hold for lasting perfection
reduces fine lines and wrinkles
reverses the signs of aging
favours and improves skin elasticity
protects skin from environmental stressors
offers immediate and intense hydrating benefits
soothes and calms dry/damaged skin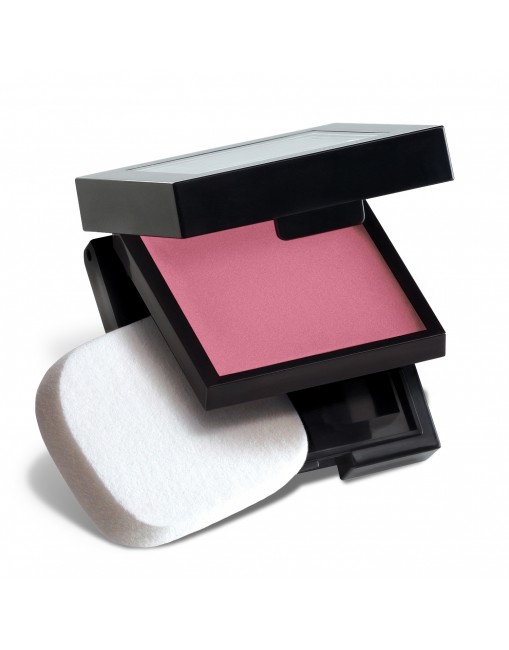 After applying my CC Cream I used Marcelle's Cream Blush in Coral which was one of the items I purchased through their online sale on my cheek bones to give me a healthy glow. I just put a little on my pointer finger and dab/blend it in, I find I have more control on the amount of product that goes on my face when using my finger vs a sponge – just my personal preference.
I have never been a fan of cream or liquid blushes as I have always used powders and found them to be more subtle but when I tried Marcelle's Cream Blush I was pleasantly surprised at how subtle it was – I didn't look like a clown YAY.

Even though I don't normally wear eye shadows and never was one who liked any type of cream based eye makeup when I saw Stacey's daughter's 5 minute look I loved the subtle look of Marcelle's Lux Cream Eye Shadow + Liner in Sunstone and was open to giving it a chance. I purchased this product during their online sale and I am happy to say I now love cream based eye shadow, well maybe just Marcelle's as I have not tried any other brand. This product was so quick and easy to apply. It is not sticky and is waterproof, the colour will not transfer and does not crease once it has set. I absolutely love the smudge tip and used it to soften my look further for a more natural looking makeup.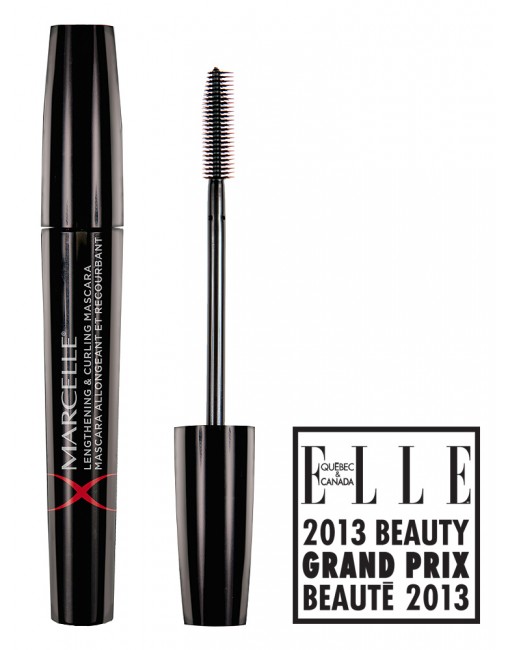 Another amazing product Marcelle sent me was their new Xtension Plus + ProLash Growth Complex Mascara in Black. Mascara has to be my #1 go-to makeup product, if all else fails I can always throw on mascara and feel somewhat put together! I have tried many brands of mascara over the years, some I didn't care for and some I loved so when I was sent this product I was excited to see if it would be a new favourite of mine.
I don't necessarily have "long" lashes but with a great mascara and an eyelash curler a woman can do some magic. Of course the key word there is 'GREAT', not all mascara's can help us women that were not blessed with long lashes. In fact if you don't have a great mascara you can end up with horrible looking eyelashes, I have found that out the hard way.
As you can see in my 'after' photo my eyelashes are looking great, they are not clumped together and they don't look like creepy spider legs <— yes you know what I am talking about! I love this mascara because it gave my lashes a nice boost without making them look fake or too done up! I also really love that this product is safe for those with sensitive eyes, I have very sensitive eyes and often find some makeup causes my eyes to get irritated leaving them itchy, watery and often with stringy goo (gross). Thanks to Marcelle they have made an amazing product that I have been wearing all day and not once have my eyes been irritated!
Key Features:

tested under ophthalmological control
safe for sensitive eyes and contact lens wearers
paraben free
hypo-allergenic and perfume free

Last but certainly not least to finish off my 5 minute look I used Marcelle's Lux Gloss Creme in Spicy Nude that I purchased along with my other items after seeing Stacey's daughter's 5 minute look! I love how natural the tone of this gloss is, it isn't too sheer but also isn't too vibrant, it is perfect for a daytime look. If I were wanting an evening look I would just pop this over a lipstick to give it a shiny coat.
I am very picky when it comes to gloss and always have a hard time finding one I like because all too often I find them sticky or tacky. I was really happy that Marcelle's gloss has a non-sticky, hydrating formula that gives your lips that wet shiny look to make them look fuller and plumper.
Marcelle also sent me two other products I have yet to use as they are more for an evening look so I will be saving those to do another 5 minute look when I get a date night, hopefully in the next few weeks. So stay tuned as I will be bringing you another look to finish showing you all the amazing products I received from Marcelle!
Stay in the loop with Marcelle:
Leave me a comment below letting me know how I did with my 5 minute makeup look, do you like the natural look? Also let me know if you have any beauty routines of your own that make your makeup application quick!

Disclosure: I was sent some of the products mentioned in this post in order to create my 5 minute makeup look. Even though I was sent products I always give my honest opinions, findings, beliefs, or experiences. The views and opinions expressed in this post are purely my own based on my research and experiences. Any product claim, statistic, quote or other representation about a product or service should be verified with the manufacturer, company, provider or party in question.