Little Tikes Fun Zone Packs BIG Indoor/Outdoor Fun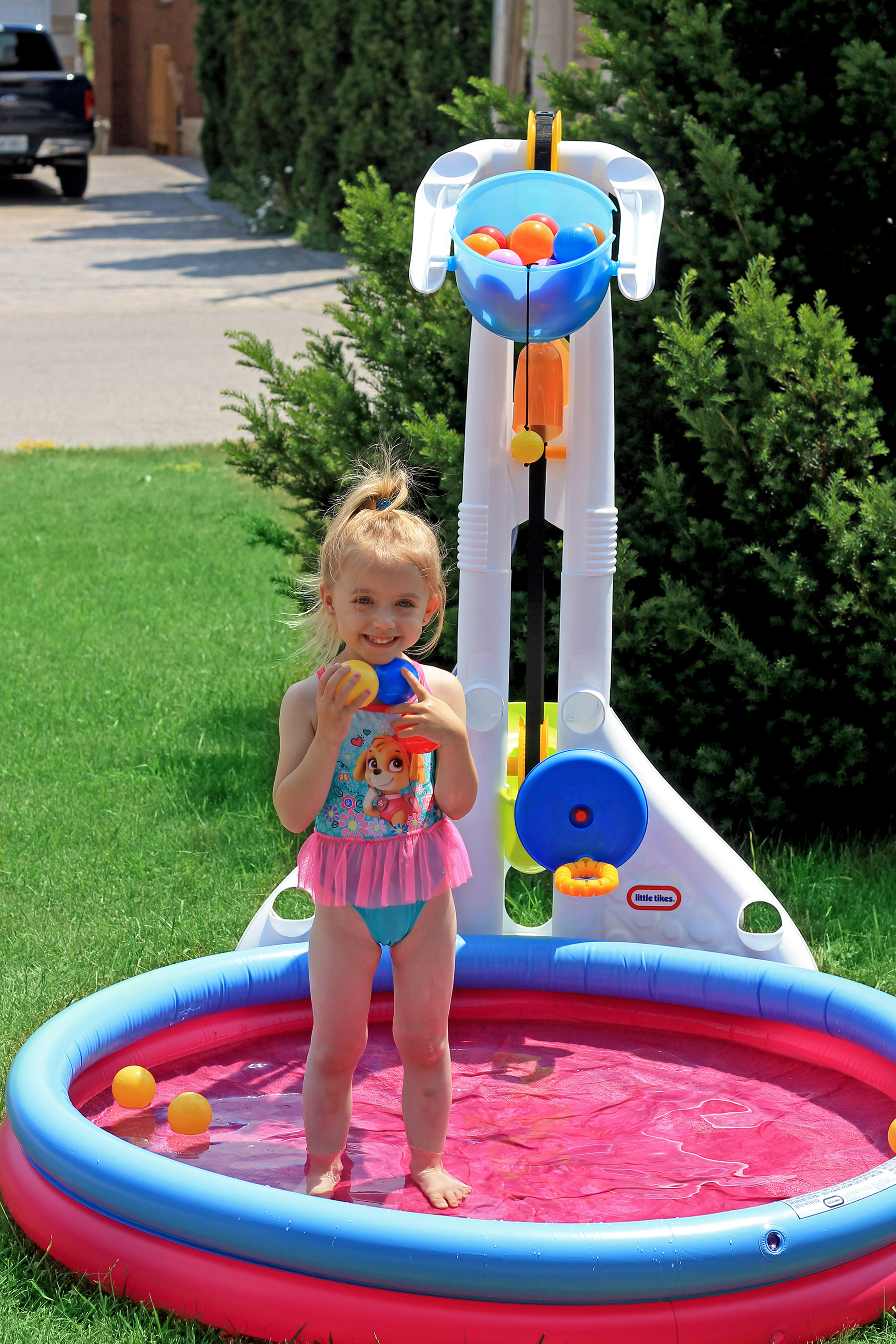 Tomorrow is the official first day of summer, YAY!
I can't even begin to tell you how much I love summer time. Although, I will admit I have grown used to not having any kids at home during the week since Bella started school this past September.
With that said, I am sure I will adjust as I we have lots of fun activities planned, and we have lots of things to keep them busy when at home!
If you saw my recent Num Noms review + giveaway post, you will know that I have partnered up with MGA Entertainment again this year for their Spring/Summer Toy Box Program.
We have such a blast checking out the latest toys, and letting you know what we think of them.
Today I will be sharing our review on three of the new Little Tikes Fun Zone toys.
And of course it wouldn't be a Toy Box Program review without an amazing giveaway, so be sure to enter at the end of the post!

LITTLE TIKES FUN ZONE
Bring the thrill and excitement of a theme park to your home with Little Tikes Fun Zone!
Most of their new innovative toys are specially designed to encourage active play all year-long.
That means many of the Little Tikes Fun Zone toys can be used indoors and outdoors!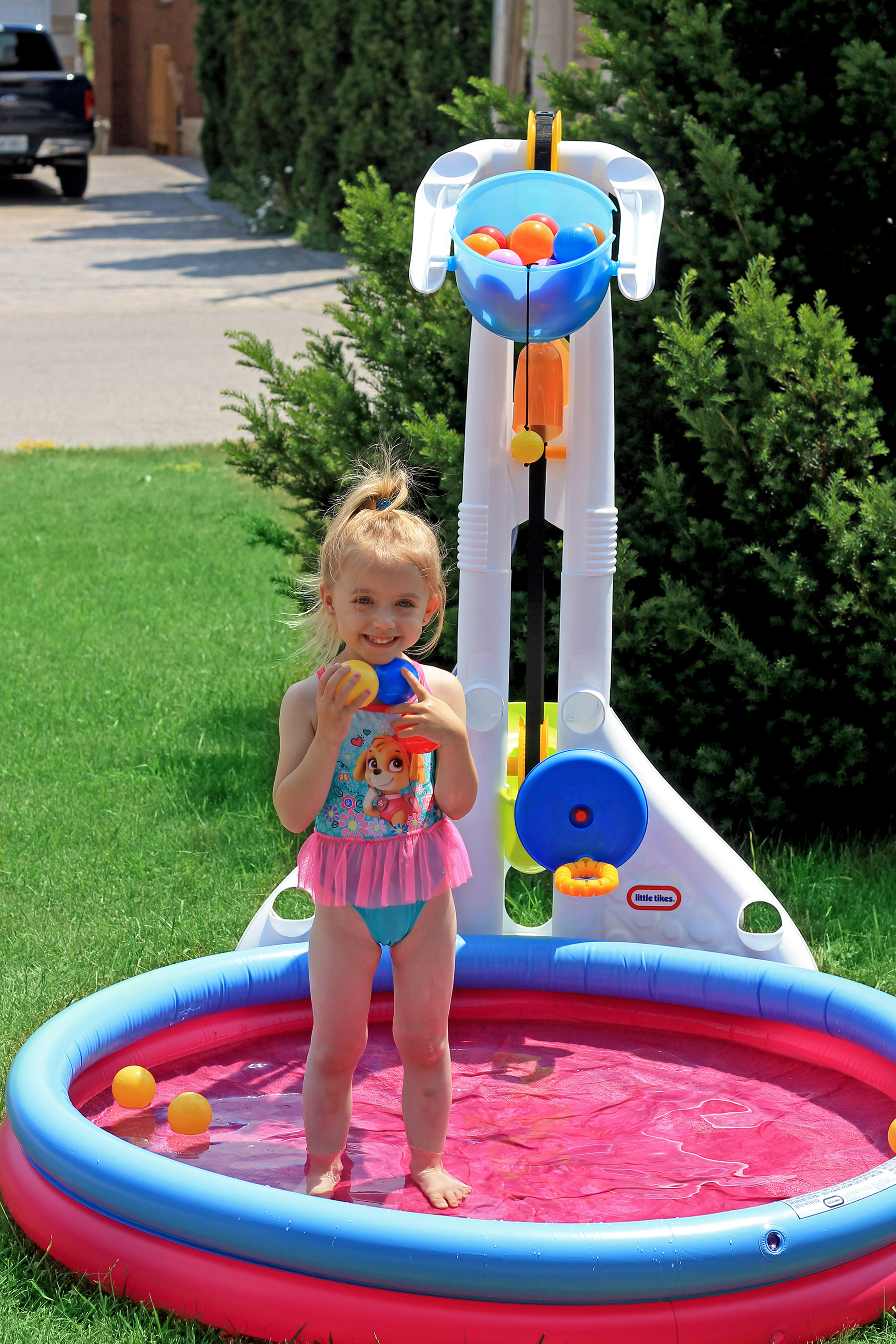 FUN ZONE DROP ZONE
Drop Zone is the perfect way to bring the theme park action to your home! This versatile ball pit and wading pool can be used inside or out.
Inside, load up the conveyor belt with balls to fill the bucket overhead. Just one quick pull of the bucket cord and the Drop Zone starts living up to its name.
Want even more action?
Take the Drop Zone outside, attach a water hose and trigger the double waterfall!
Kids will love playing with the water and balls in the inflatable pool.
Features:
Control water flow to fill splash bucket or activate double waterfall
Kids power the ball/water conveyor
Once the bucket is full, it will tip over to pour the water or balls into the wading pool
Vinyl splash pool is 5ft. in diameter and 8″ tall
Great for indoor or outdoor play
Includes 25 plastic balls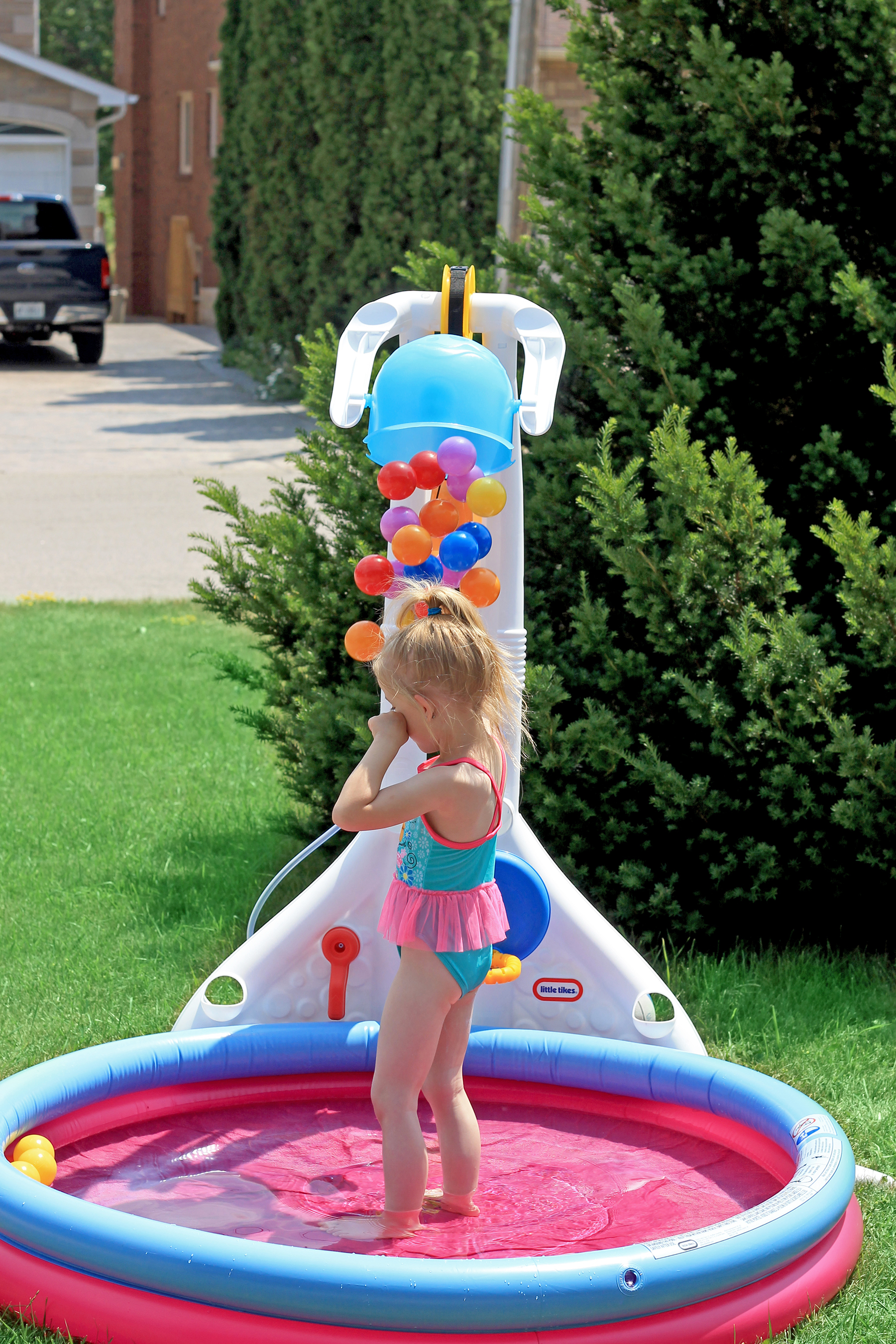 Bella couldn't get enough of the balls dropping on her.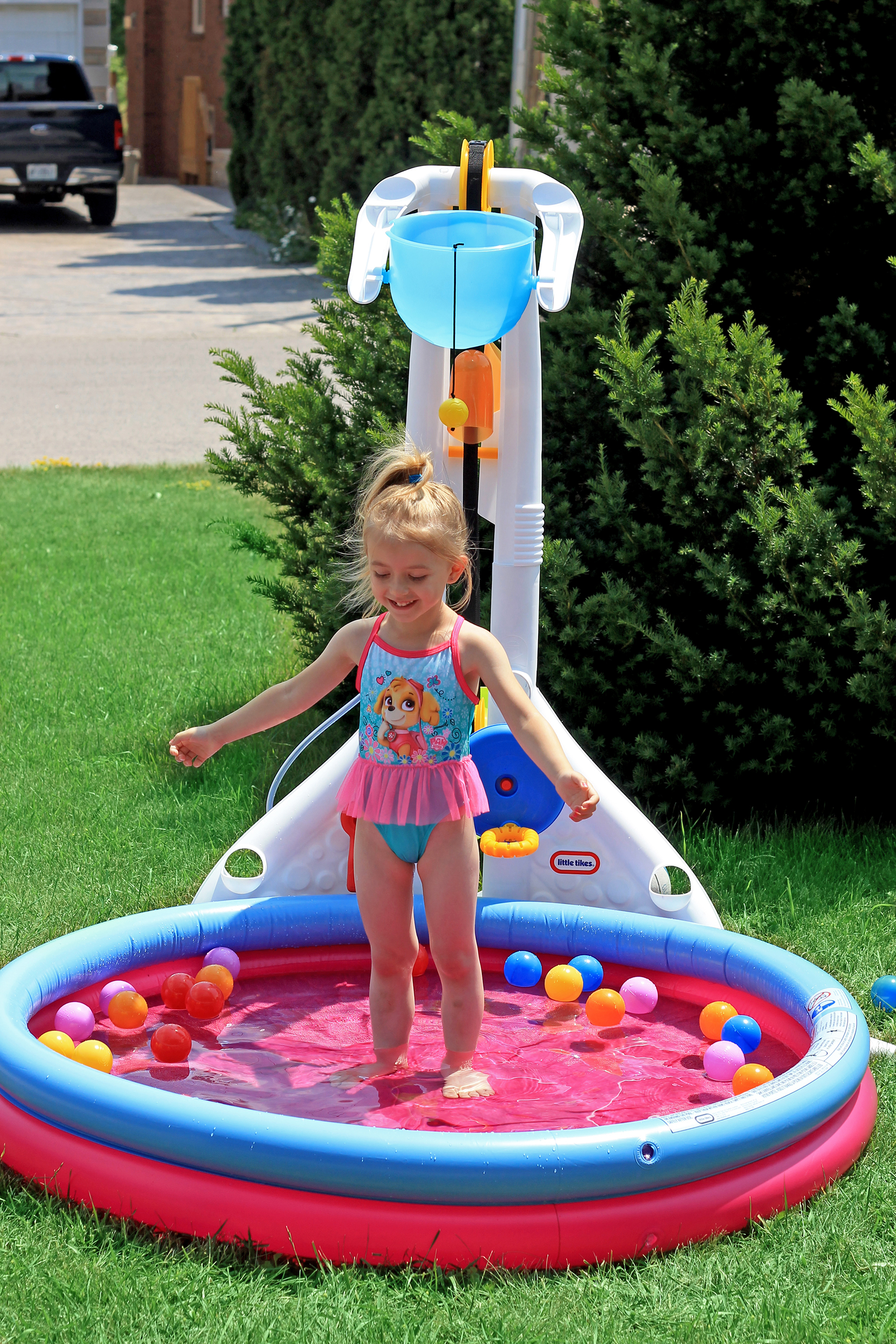 So proud that she dropped all the balls into the pool.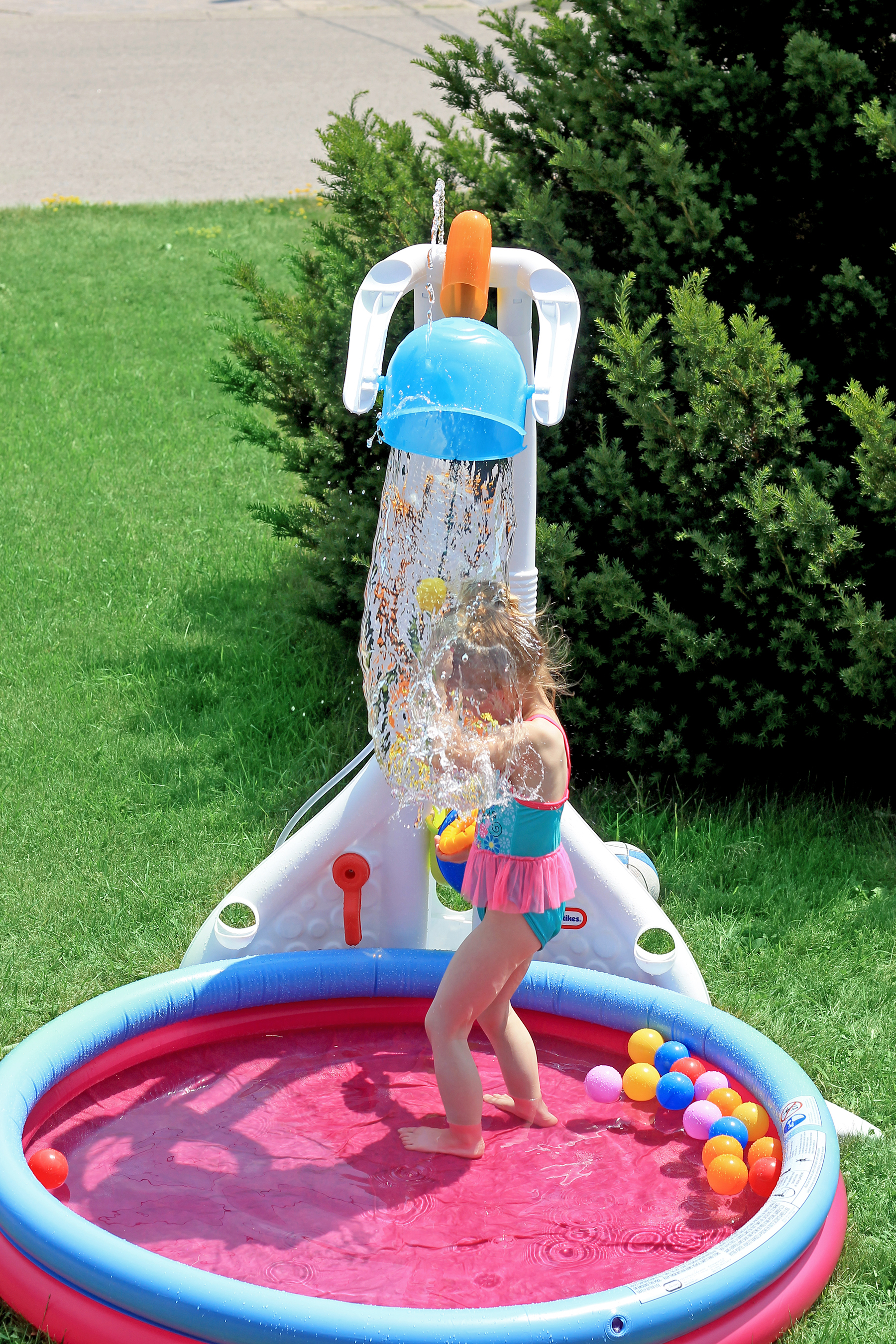 We attached the hose and turned on the water to fill the bucket.
This was hilarious! She didn't fully understand what she was getting into, but she thought it was the best!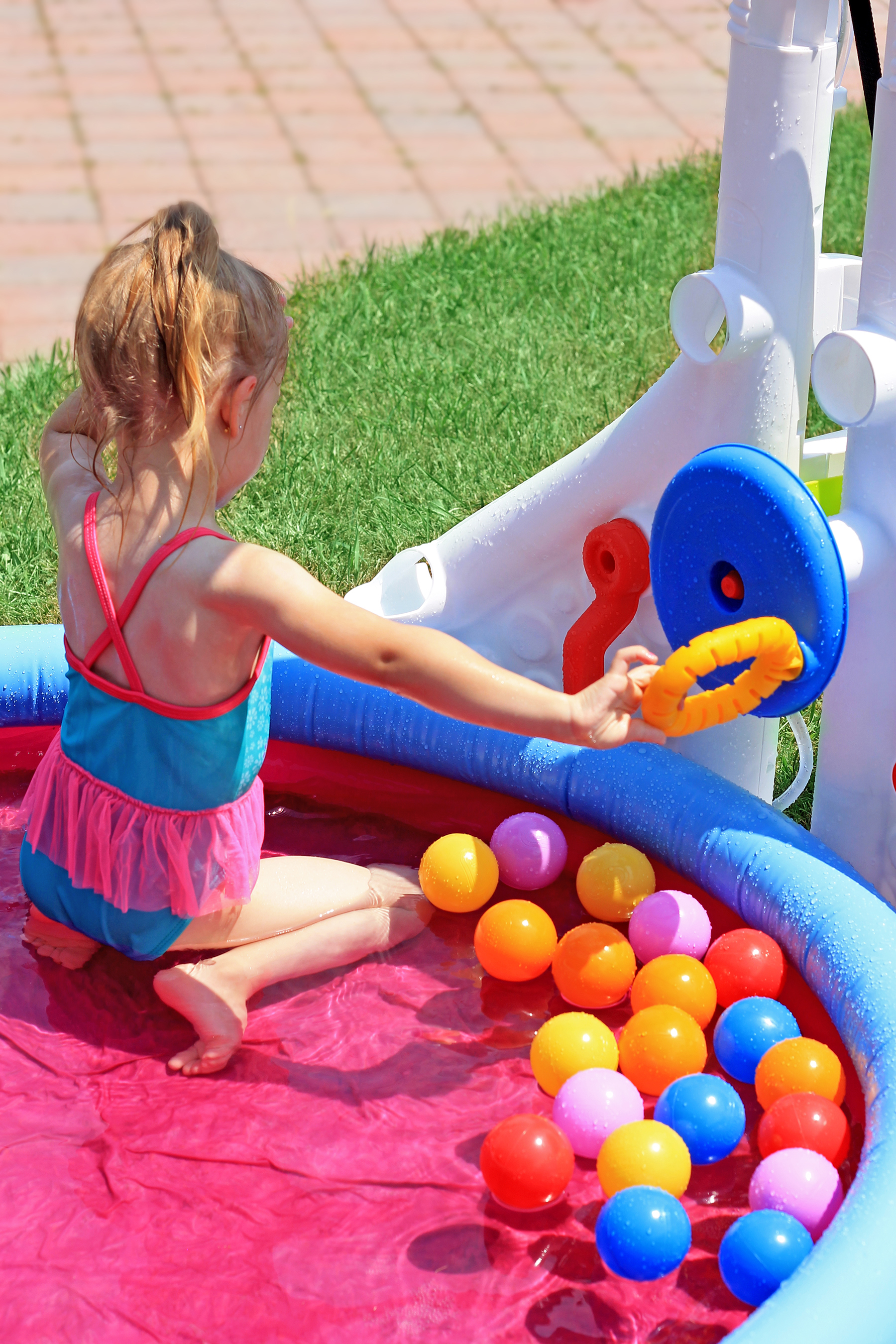 Bella enjoyed filling up her bucket with the balls using the conveyor belt.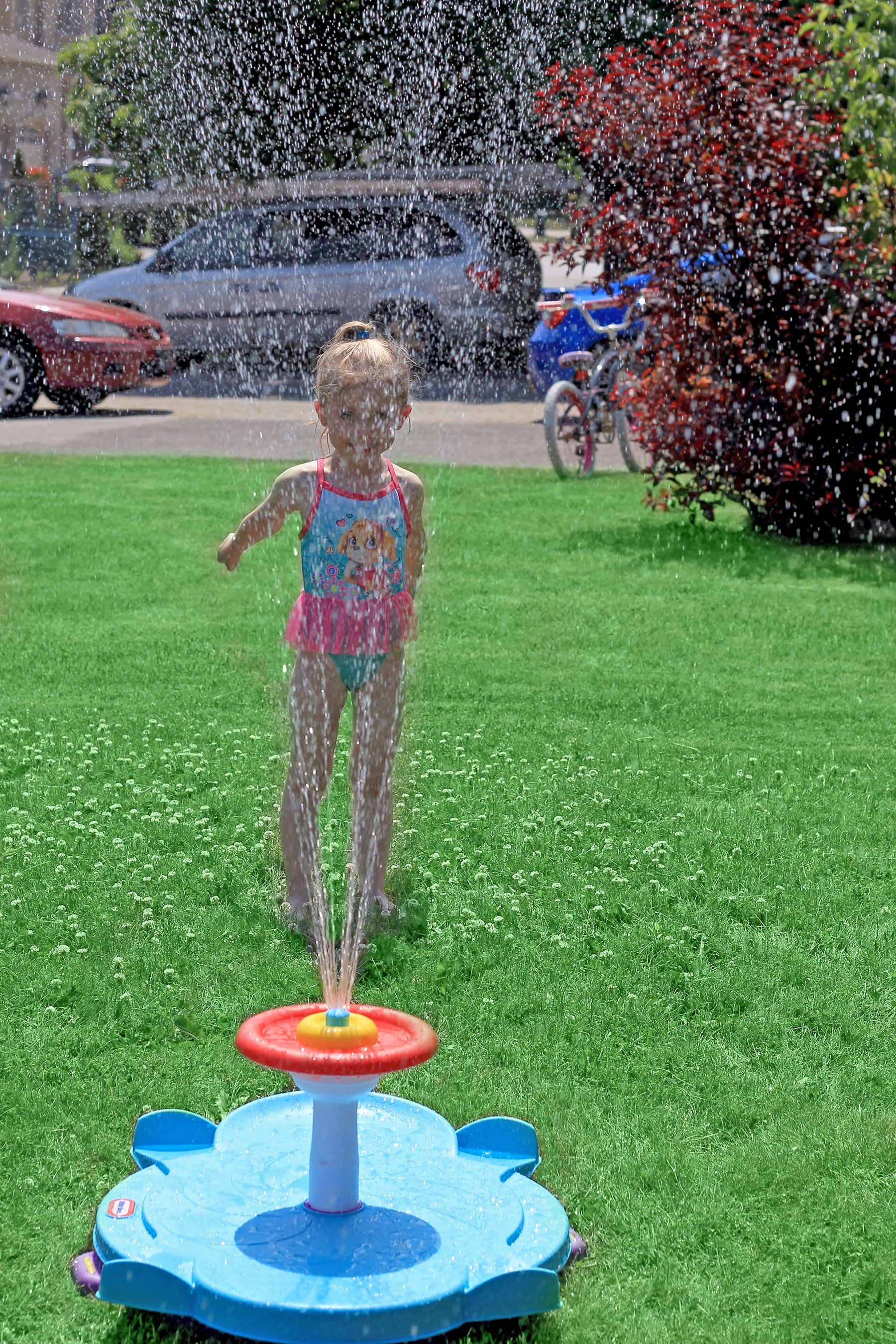 FUN ZONE DUAL TWISTER
Bring the thrill of the theme park home with Little Tikes Fun Zone toys!
The Dual Twister gets kids spinning round and round with a friend or on their own.
Want more action?
Take it outside, attach the garden hose and now you've got a wet 'n wild Dual Twister!
For added fun, kids can change the water spray direction with a touch of the activation button in the center of the wheel.
The Dual Twister is perfect for every season! It can be used wet or dry, inside or outside with one or two children.
Features:
Seated spinner can accommodate one or two children
Twister can be used wet or dry
Water will spray from the center wheel or outside edge
Great for indoor or outdoor play
Maximum weight: up to 50lbs. per child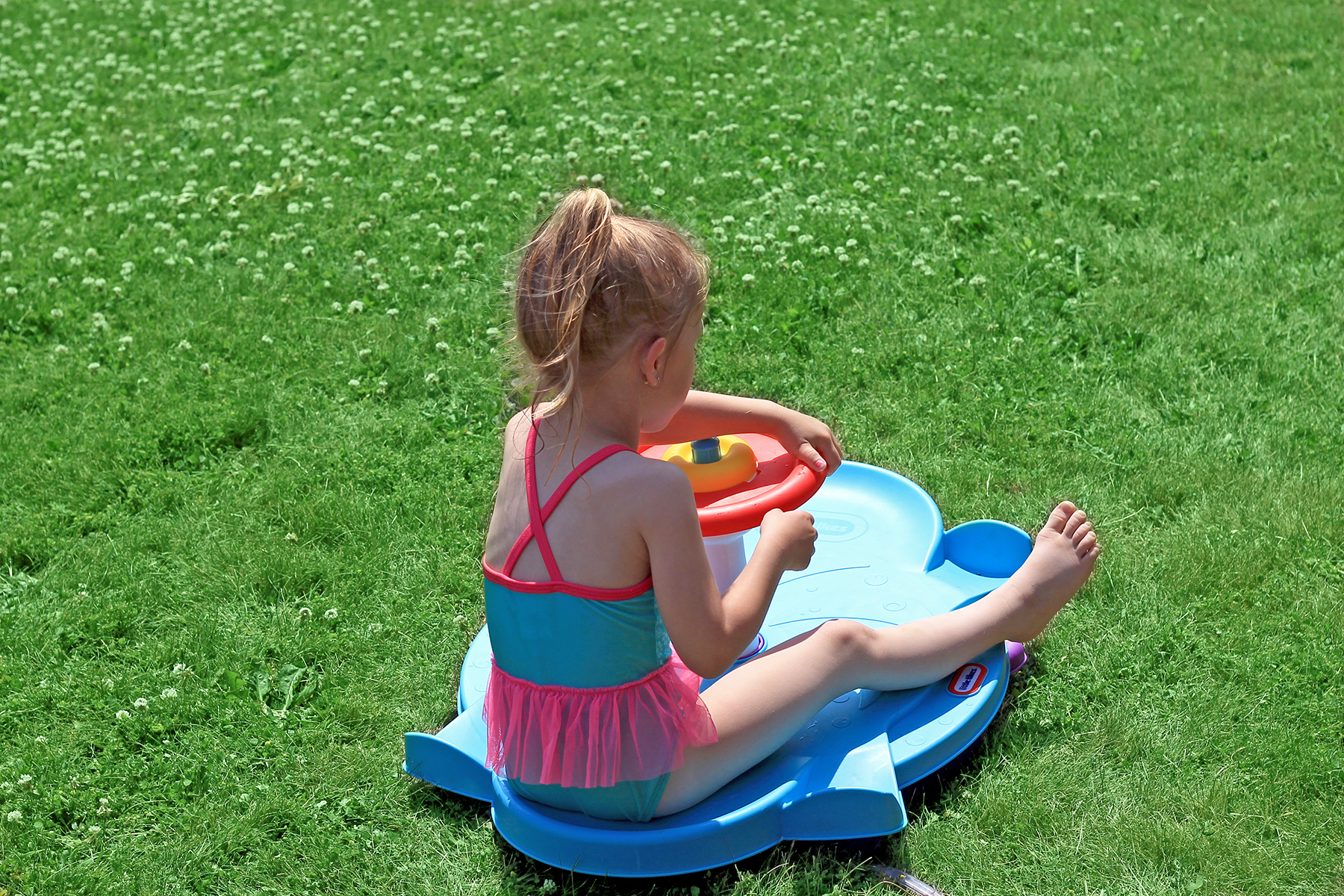 Bella has been playing with this indoors long before the warm weather arrived.
Her cousins came over for Mother's Day and they all loved it.
Her 3-year-old cousin Luka loved it so much, he used his birthday money to buy it for himself.

Bella was spinning so fast that most of my photos turned out blurry.
Thankfully this video can give you a great look at how it works indoors and outdoors!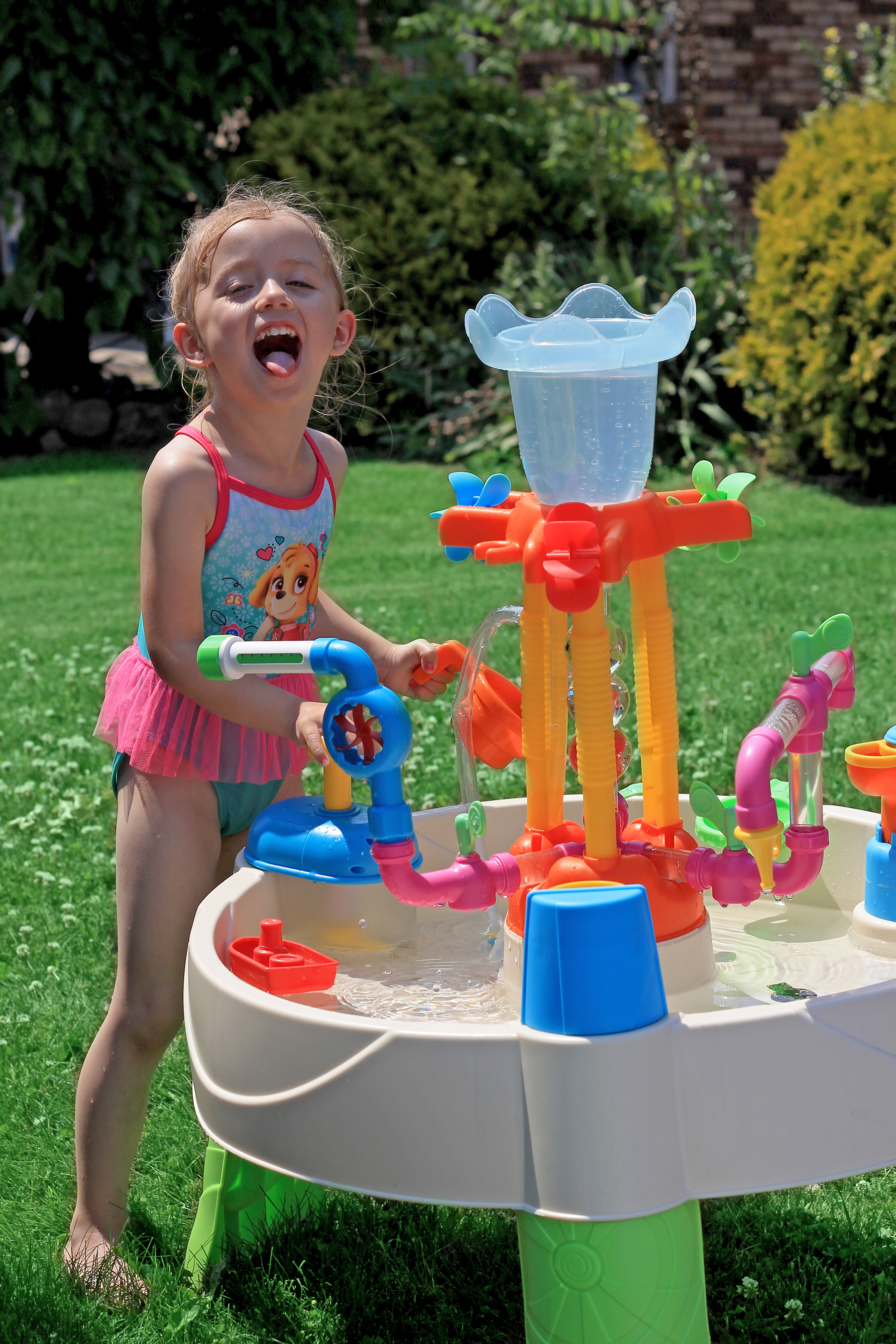 FUN ZONE FOUNTAIN FACTORY WATER TABLE
This fun kids' water table is loaded with features and ways to play.
With interchangeable pipes and fittings the Fountain Factory Water Table will improve your toddler's fine motor skills, sharing skills and their imagination.
This way, that way, which way should the pipes go? Any way your child would like it to, the plumbing pipes can be rearranged and used with multiple faucets.
Features:
Kids will use their imagination as they build each section with the pipes
Pipes and fitting can be rearranged many different ways
Water pump sends the water up to the tower
Water can be channeled into any of the 3 fountains
Hold 7 gallons of water (not included)
Includes 3 fun accessories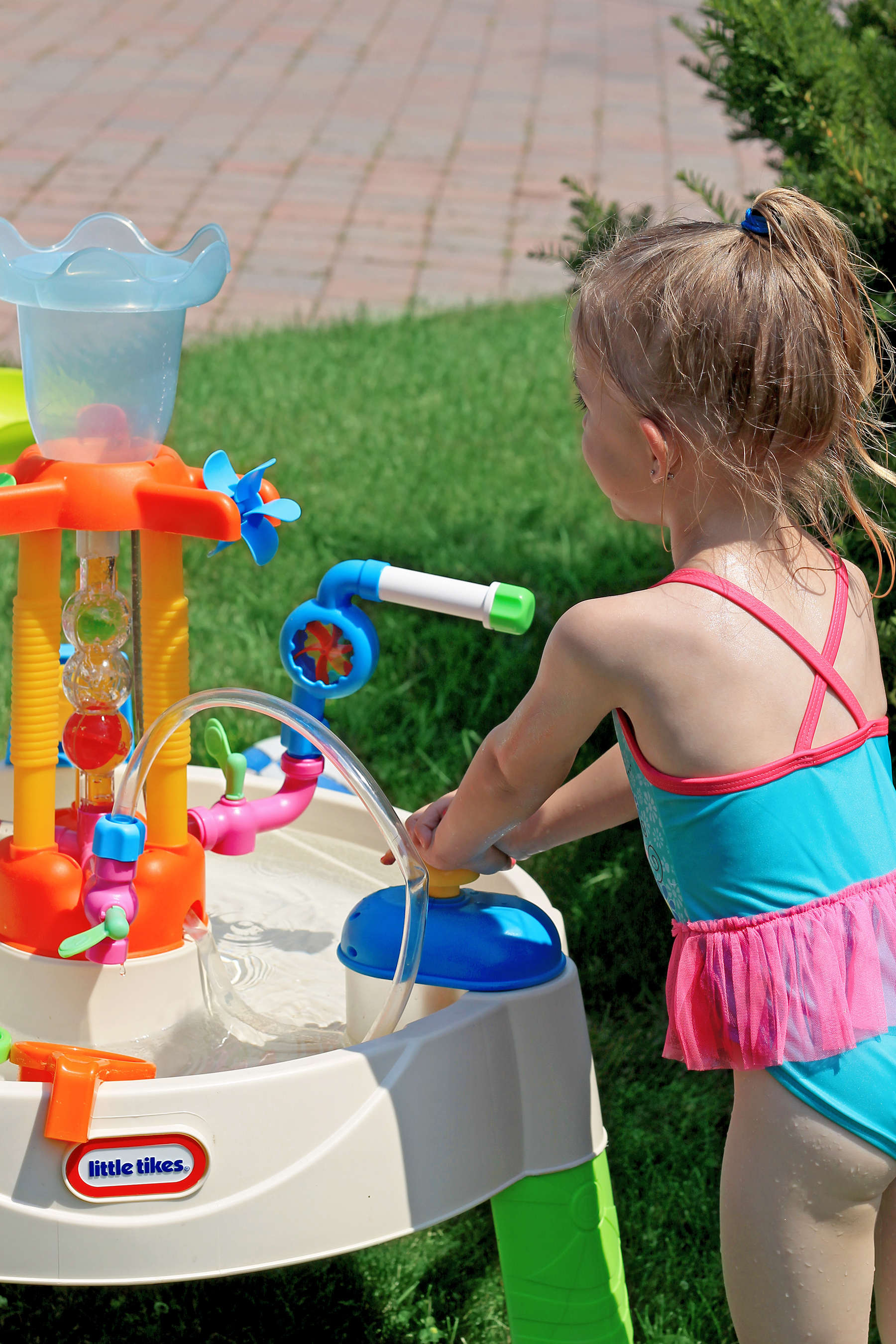 Bella absolutely loves this water table.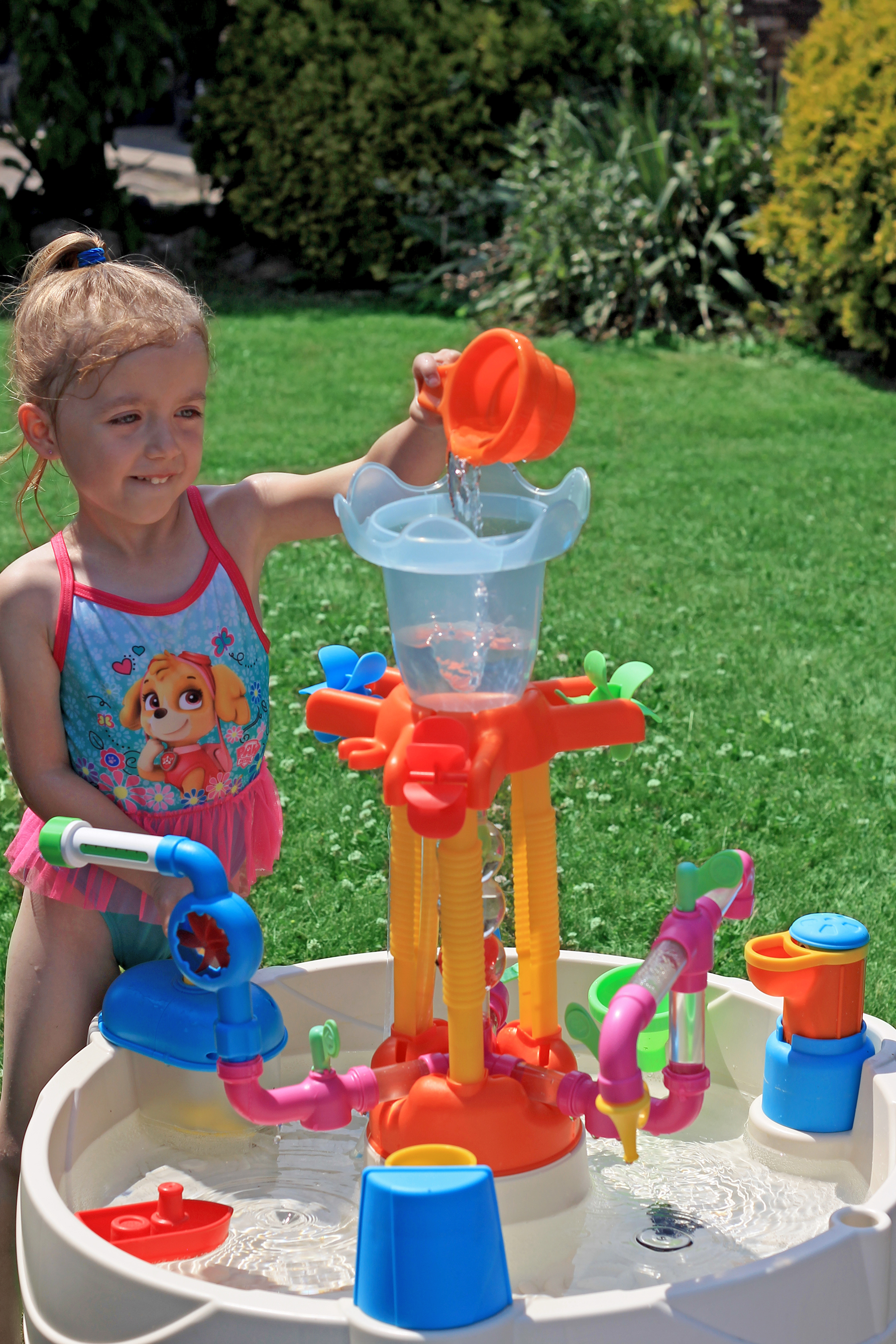 Filling up to have some water fun.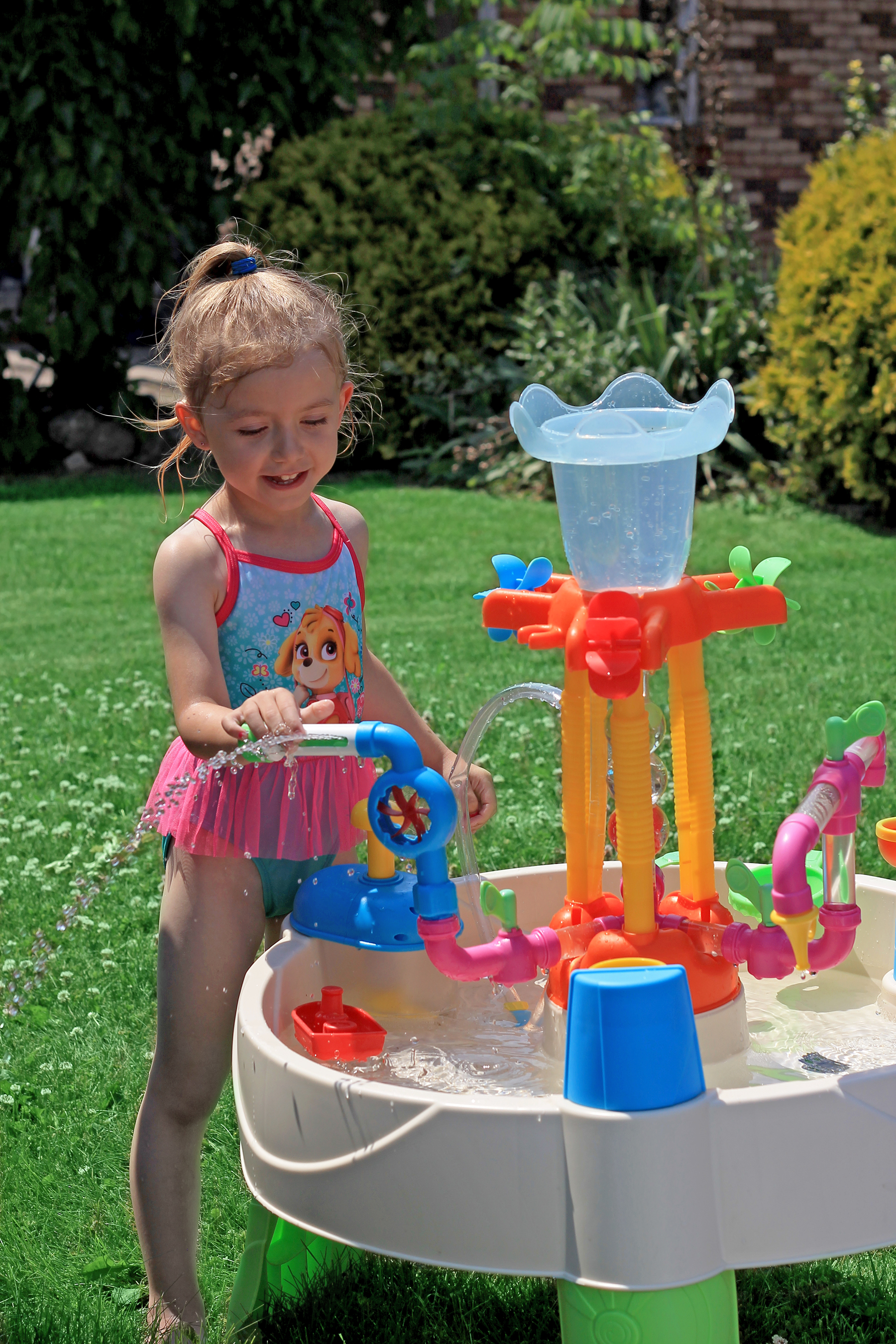 There are so many fun ways to explore water with this table.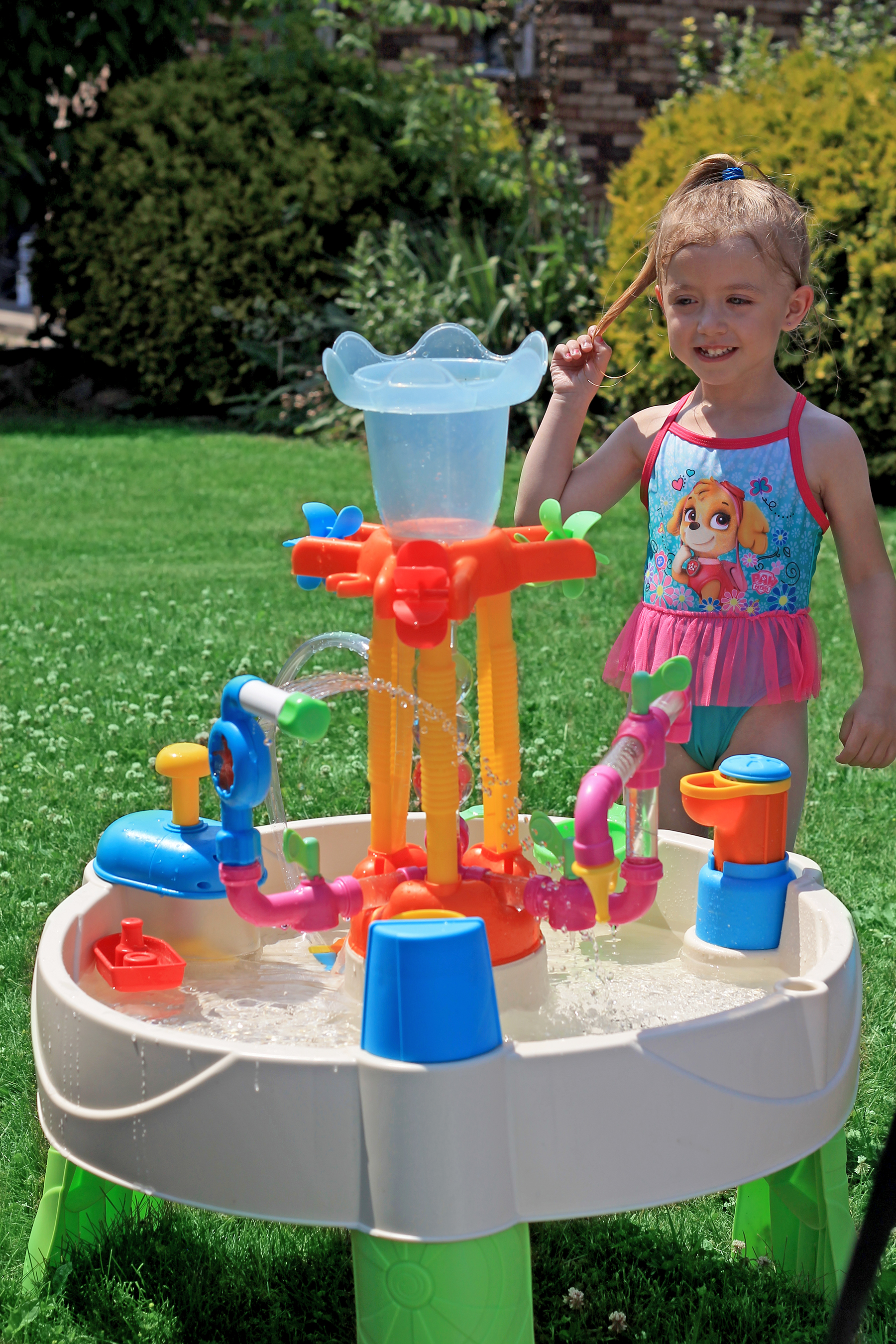 Bella likes to take it apart and rearrange the pipes to see how the water flows change.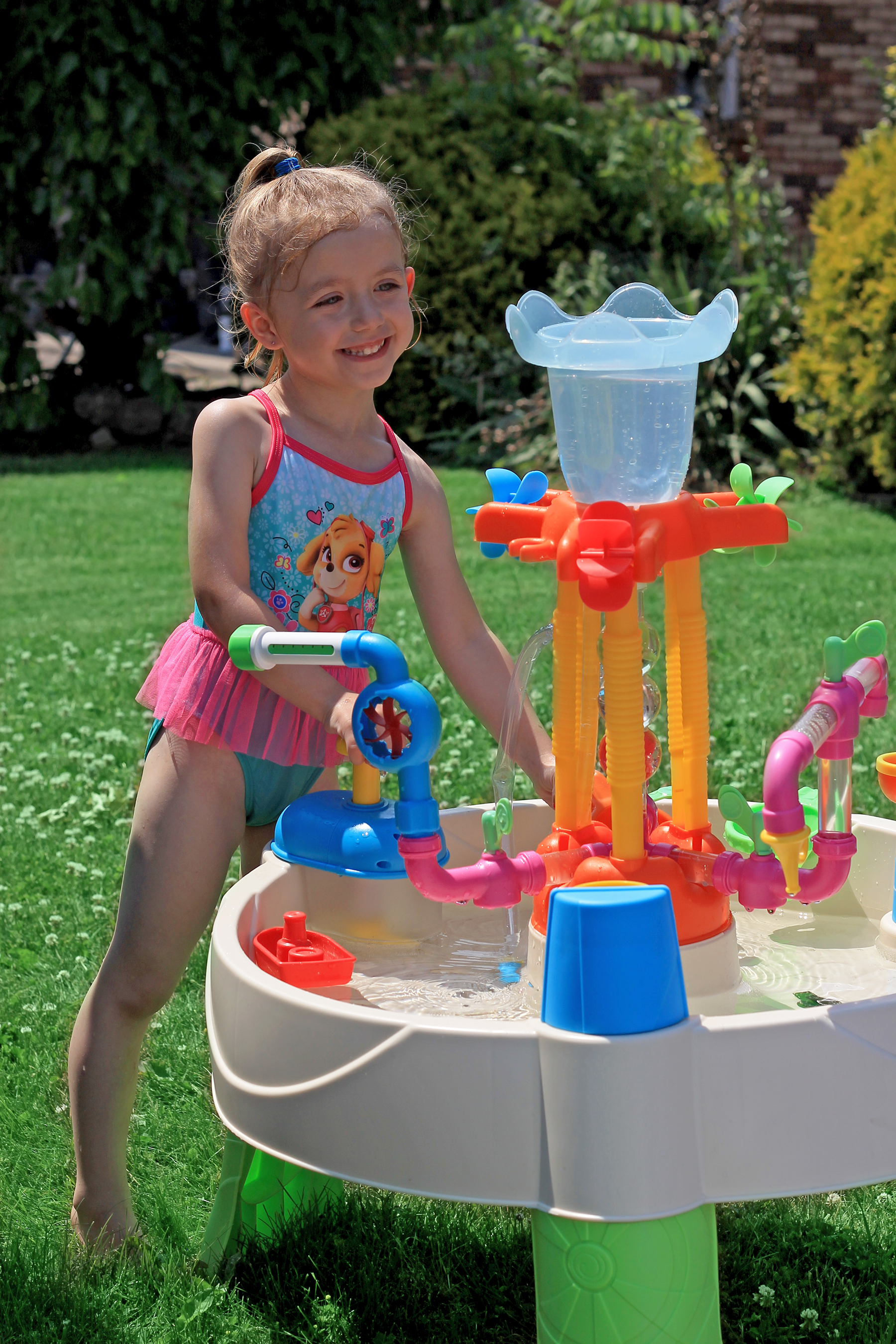 On Mother's Day I had the table set up outside for Bella and her cousins.
Her cousin Olivia was having so much fun soaking herself with all the water from the hose and sprinkler.
I was literally in tears laughing so hard because she thought wetting herself was the funniest thing ever.

Check out just how much fun this table is!
WHERE TO BUY
In Canada you can purchase these Little Tikes Fun Zone toys, and others, on Amazon.
See more great Little Tikes products at Amazon Canada.
In the USA you can purchase these Little Tikes Fun Zone toys, and others, on Amazon.
See more great Little Tikes products at Amazon USA.
STAY UP-TO-DATE WITH LITTLE TIKES
For updates and more follow Little Tikes online via Instagram, Facebook, Twitter, and Youtube!
ENTER TO WIN
MGA Entertainment has generously allowed me to give away ONE of the above products I reviewed, and one lucky reader will be walking away with their choice of one item in this review post!
Prize:
Winners choice of either the Fun Zone Drop Zone, Dual Twister, or Fountain Factory Water Table
This giveaway is open to Canadian residents who have reached the age of majority in their province.
To enter the giveaway complete the mandatory entry options in the giveaway widget below. Once you have completed your mandatory entries you will be able to complete additional non-mandatory entry options. Complete those for additional ballots in the giveaway!
This giveaway will close on June 30, 2018 at 11:59 PM EST. The winner will be drawn from all eligible entries and contacted via email on July 2, 2018. The winner will have 48 hours to respond to the email and claim their prize. If they fail to do so a new winner will be drawn.
Please note that ALL entries are verified and if you submit an entry without completing it you will be ineligible to win
Don't forget to check out our first review in the MGA Entertainment 2018 Spring/Summer Toy Box Program, Num Noms Snackables. PLUS, stay tuned for our last review coming soon for L.O.L Surprise!Disclosure:
Dislcosure: Although we were sent product for review consideration, the opinions and language are all my own, and in no way do they reflect Little Tikes or MGA Entertainment. Any product claim, statistic, quote or other representation about a product or service should be verified with the manufacturer, company, provider or party in question.