Learning To Love And Embrace My Body With Stā Body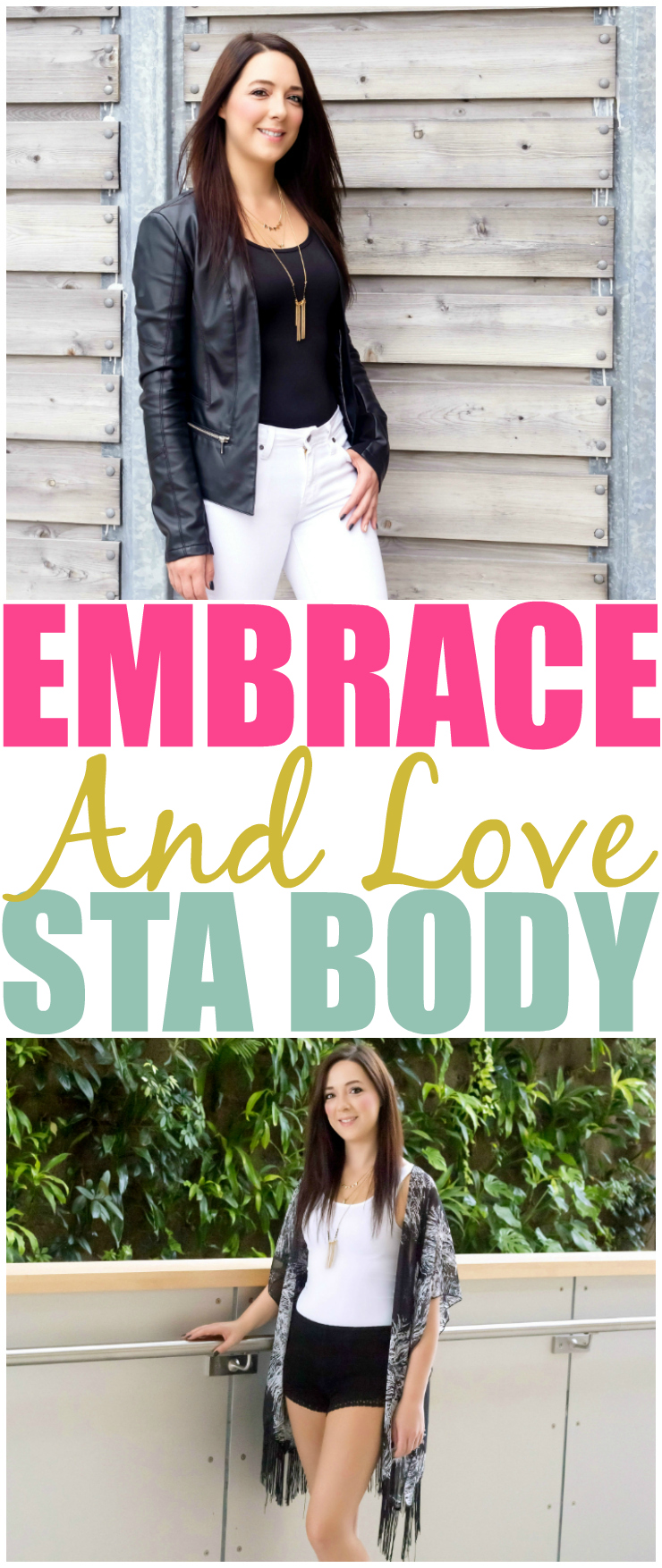 Loving your body, seems like something that should just be, a natural thing right? For many women, myself included, we struggle to love our bodies. We are our worst critics, we judge every inch of ourselves and no matter how many people tell us we are beautiful we don't believe it.
Growing up I was always the smallest person in my class. I was short, petite, and flat chested. I can recall the jokes boys would say about my chest, or lack there of, still as clear as the day they said it. At 35 I still don't have much going on up there. Some days I dream of getting a breast augmentation. Nothing drastic, just enough that I can wear clothing without a bra and actually have something there. Until I win the lottery I will just have to be thankful for good bras that make me look like I am not a 12-year-old girl!
Even after the birth of my first daughter, who I gained 68 lbs with, I went right back down to my pre-pregnancy body. I don't know if it was luck, the fact I was only 20 years old, or good genes. Shortly after Abby's birth I was diagnosed with cervical cancer and had to undergo surgery which left me with dense scar tissue on my cervix. When I became pregnant with Hailee they told me I would likely have to deliver via c section due to the scar tissue.
In February 2005 Hailee was born via c section. I recovered and lost almost all of the weight quickly! Other than changing my pant size from a zero to a three, and a tiny pouch where I was cut, the extra weight wasn't that noticeable. To be quite honest my body needed a bit of meat on its bones anyway.
In June of 2013 I found out I was pregnant with Bella. I was now in my 30's and they say something about that shift changes the way our bodies work to burn fat. I was high-risk with Bella so it wasn't like I could work out to counter the pounds I was packing on. After delivering Bella I struggled to lose the weight I had gained, I lost all but 20 lbs. The second c section also left me with more of a pouch than I had after Hailee. I assume this is from my stomach muscles being cut for a second time and things not "tightening" back up like they did in my early 20's. I struggled to feel comfortable in clothing, I hated how I looked in a bathing suit, and shopping was a nightmare.
In 2015 I decided to quit smoking. While an amazing thing both financially and health wise, it wasn't so nice to me in terms of weight. I packed on another 20lbs and no matter what I ate I couldn't lose the weight. I wouldn't have cared if those extra 20lbs went to my chest, but no, they went straight to my stomach! Unless I sucked my stomach in all day, or wore shapewear that made me feel like I couldn't breath, I would look like I was a good 7 months pregnant.
I hated my body. Just the thought of going out and having to find an outfit that hid my body made me an emotional wreck. I was depressed about the way I looked, the way I looked in clothes. Nothing fit nicely, everything I tried on made my stomach the main attraction, and I couldn't go to events in leggings and a baggy sweater.
Embracing My Body With Stā Body
Over the past year I have lost 10lbs. While I still have a jiggly, far from toned belly, I started to feel more comfortable about my body. Over the past month I have finally began to LOVE my body, like really love it! It's taken me a few years to get here, but I am here. I know I will likely never be a size 0 again, not that I want to be, and I have begun to embrace the body I have.
My body has carried and birthed 3 lives into this world. Two of those births being c sections. It has been faced with two near-death experiences that lead to emergency surgeries. This is my body, the only one I have and I am going to love every inch of it!
I was intrigued when asked to review a new type of shapewear for women, the Stā Body Suit by Stā Body. How would this be any different from what I already owned?
If you were to open my undergarment drawer you would see an array of shapewear. I own both bottom and tummy shapers, to full on shapewear body suits. While they hug in my belly, they are not very comfortable. Often I will end up with little bulges where there once were none. Traditional shapewear, in my opinion, is not comfortable enough for every day wear. I find after a few hours of wearing traditional shapewear I feel nauseous from being compressed.
Shapewear Comfortable Enough To Wear Everyday?
When my Stā Body package arrived I eagerly opened it to check out the body suits. These are not like traditional shapewear that have to be hidden under clothing. They were sleek and didn't have the visible shapewear look and lines. I have been wearing my Stā Body suit as a top almost 90% of the time.
The Stā Body Suit is made from recycled fabric. It is also made with 16% Spandex that gently smooths without suffocating or creating bulges. The fabric is moisture wicking and anti-microbial, this means no more overheating and sweating like with traditional shapewear. It is extremely comfortable, something you can wear every day!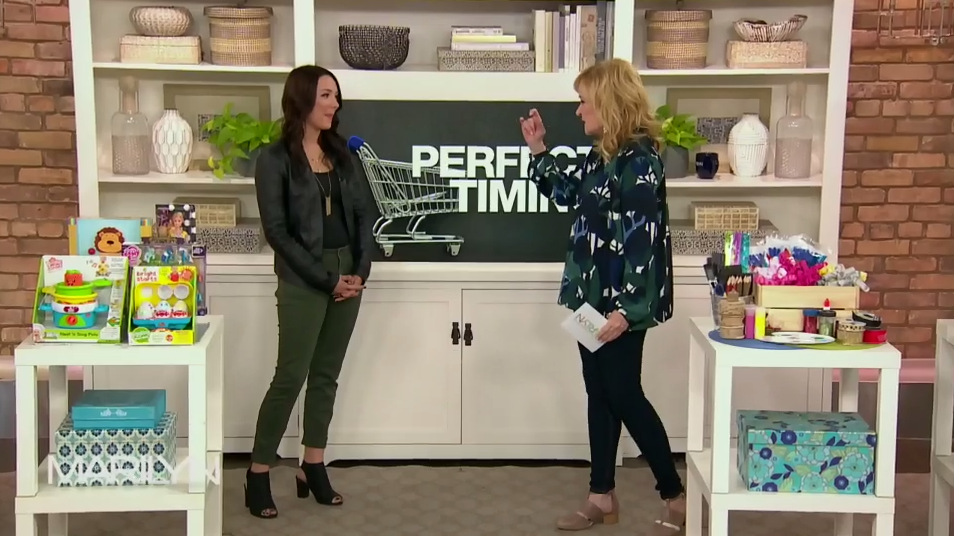 I even wore it on one of my segments for The Marilyn Denis Show, couldn't tell could you?
Innovative Design
Another amazing feature of the Stā Body suit, the bottom is attached to the center in the front which ensures constant tummy concealment. This means no more fighting with your shapewear that constantly is bunching or rolling down!
This feature has me excited to go shopping. I love the look and comfort of maxi skirts, but can never find a top that looks right. Now I don't have to find a top, I can just wear my Stā Body suit!
Whether you choose to wear it solo or underneath other clothing it looks identical to a tank top, including the straps which conceal your bra. The tank band holds and is secure under the tummy. So if your top happens to raise up when you lift your arms, they will see a sleek tank not an embarrassing shaper.
Ready For Your Mind To Be Blown?
I don't know about you but I hate that traditional shapewear is hard to conceal. I either have lines on my thighs from short type shapewear, or panty lines!
If you think Stā Body couldn't possibly get any better you are wrong! Their body suits have a THONG back … ladies rejoice, and sing it with me "na na na na, na na na na, hey hey hey visible panty lines, GOODBYE!".
The Stā Body suits thong is separated from the back, this means it won't ride up. There is nothing worse than bending over and having your thong make an unwanted appearance! The tank also stays put in the back giving your back-end much appreciated coverage.
Now this is where things become heavenly and my mind forever blown. So because the thong is separated from the back you no longer have to disrobe to relieve yourself ladies. Nope, you won't have to fumble around to take up your top and down the suit just to go to the bathroom. You simply pull down the thong from the back and do your business!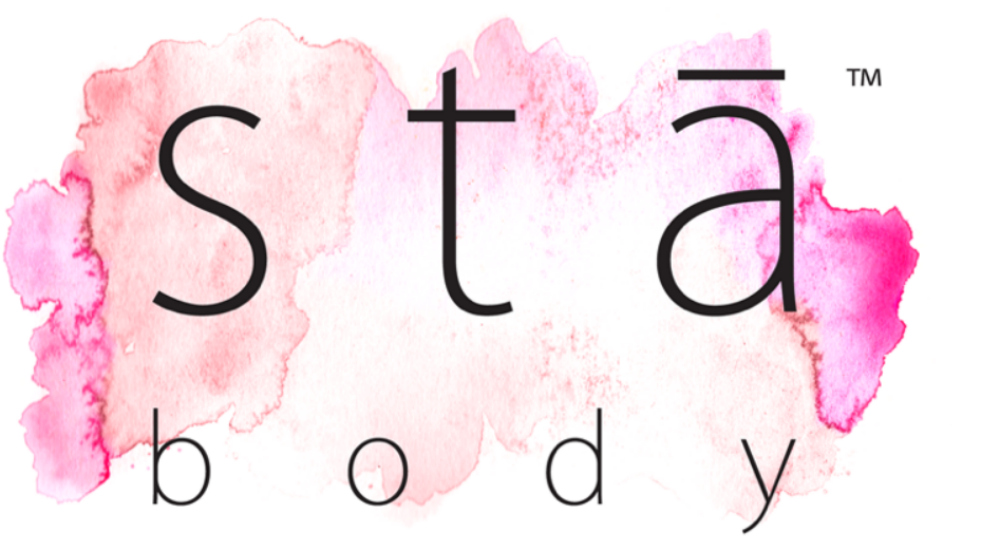 Stā Confident, Stā Beautiful, Stā You!
The Stā Body suit comes in two colours, black and white. It is available in sizes small through XXL. You can purchase them separately or they offer them as a set, the duo. I highly recommend getting the set, that way you have options!
Stefanie, creator and owner of Stā Body has generously provided me with an exclusive discount to offer my readers. Head over to the Stā Body website and during checkout use code XTREME to save 20% off your order!
What feature of the Stā Body Suit do you love the most vs your traditional shapewear? Let me know in the comment section below! 
Connect With Stā Body
Stay up-to-date with all things Stā Body, follow them on Facebook, Twitter, Instagram, and Pinterest!
Disclosure: Although we were sent product for review consideration, the opinions and language are all my own, and in no way do they reflect Stā Body. Any product claim, statistic, quote or other representation about a product or service should be verified with the manufacturer, company, provider or party in question.