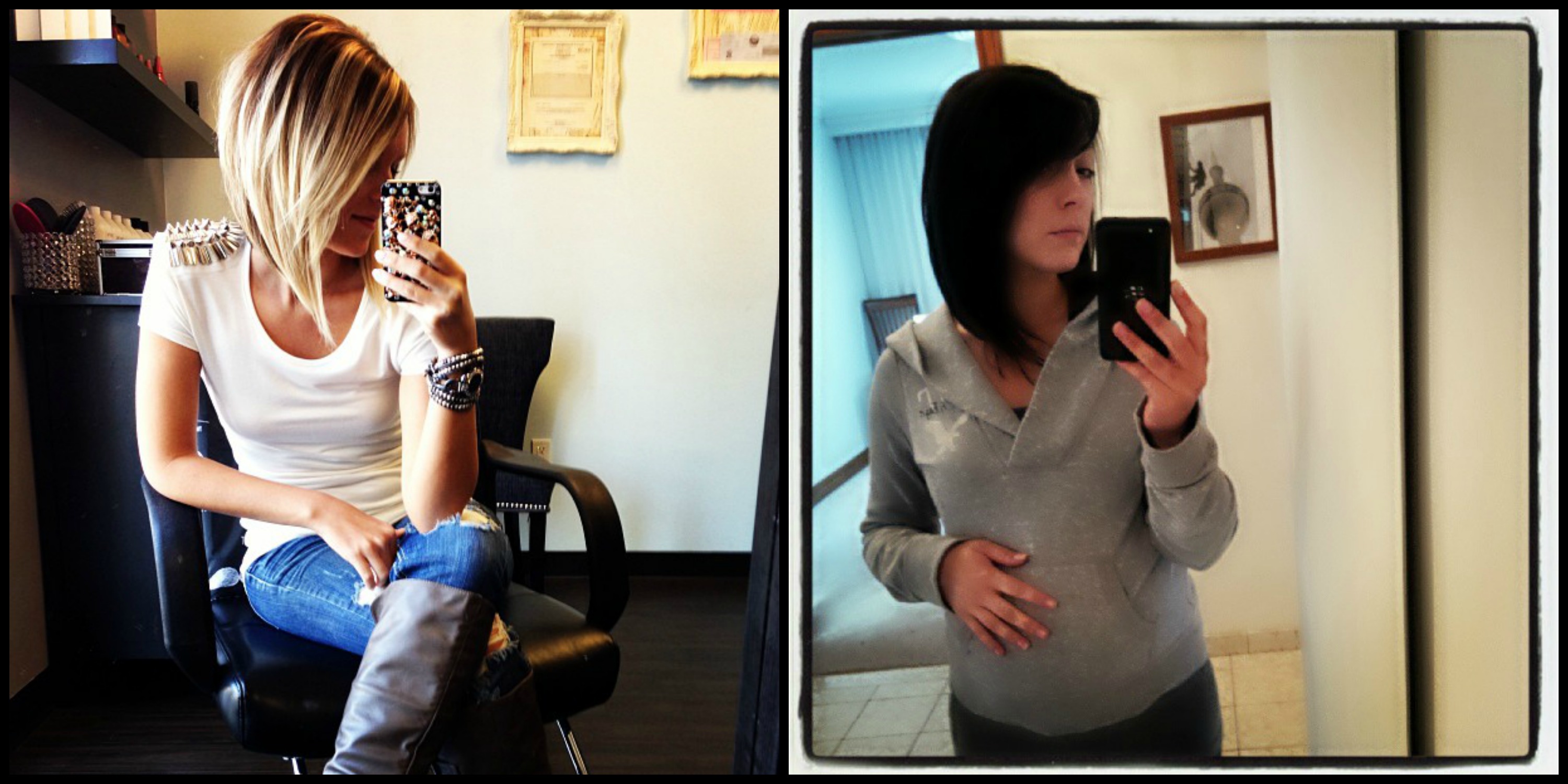 Yesterday I did something I haven't done in almost 2 years … I went to the salon and entrusted some stranger with my hair! Okay I am sure you are saying "Big Deal" right about now but I will tell you just how big of a deal stepping foot into a salon is for me.
You see I will take you back about 9-10 years give or take as my memory isn't the best and to be honest I would just rather forget it ever happened. It was December and just a day before Christmas, me and my sister decided we were going to go and get new do's for the holidays, harmless right? Well we went to the salon we had been going to for YEARS and to my surprise my regular hair dresser was not in, this is when I should have ran for the door and just came back after the holidays but sadly I agreed to let another hair dresser touch my locks. I told her and showed her the style I wanted, I wanted just a bit off my length, not much as I really love long hair and to just add in some layers for volume and texture.
Away we went to wash up my dirty locks and back to the chair, snip, snip, snip, snip, snip. After a while of snipping she was done and began to dry and style my hair, as I looked on into the mirror I began to cringe, to feel sick to my stomach and was holding back my tears, she gave me a MULLET. Yup this hair dresser literally cut my hair in two sections, one length was at my shoulders (much shorter than the picture and MUCH shorter than I told her) and the other "layer" was at my ears. I looked like a complete moron and there honestly was nothing short of shaving my head that could have saved my hair at that point. So I did what any woman would do, I went to the desk, spoke with the manager who I have know since I was a little girl and left without paying. Needless to say I never went back to that salon or any salon for a very very long time as the fear of that hair cut lives inside me and every time I even think of a hair cut I start to sweat!
Well being pregnant, the hormones have really done a number on my hair, it was dull, dry, damaged, falling out and well looking really ratty. Okay maybe we can factor in that I hadn't had a cut in nearly 2 years too! So yesterday I was looking online at some hair cuts as I really needed to shed a bit of dead length and wanted something new. I came across the picture above (left) of a "long aline bob" and having had a shorter version of this in the past thought it was a great way to keep some length but have some style and texture to my hair. Prior to going to the salon my hair was about halfway down my back and just under my boobs in the front so needless to say a lot of locks went on the floor yesterday.
As I approached the salon they had a sweet deal on for a colour, wash, cut and style for $59.99, me being cheap this was great as normally I spend more than that just on a cut. I sat in the chair and told the stylist that I just wanted a deep brown to cover my grey hair and freshen up my already dark brown hair colour. I showed her the picture of the cut I wanted and explained to her that I did not want in any way shape or fashion the front of my hair to be any shorter than just below my collarbone. Away she went dying my hair and that is when I began to sweat, it was happening, someone was touching my hair and there was no turning back. I had to ask her kindly to rinse my hair after 25-30 minutes as she was going to leave the dye on for 45+ she said and well I have never had anywhere leave dye on my hair that long. That was when I thought to myself, does this girl know what she is doing at all?!?!? Well the snipping began, after she was done and dried/styled my hair I wasn't "happy" as the picture to the left was far more angled than what my hair was so I asked her to take more off the back and angle it down to the front once again showing her the picture. She went back to work snipping and when she was done this time I just bit the bullet as my mom was getting annoyed with sitting there (we had now been in the salon for nearly 2 hours) and the girls would be getting home from school soon. So the above (right) picture is what I left the salon with, it is close but the back doesn't look like it should for an aline bob, it isn't angled enough, it needs to be a bit shorter and it is more so straight cut across so I will be heading over to the "expensive" salon in the plaza near me today to ask them if they can fix what yesterday's hair dresser didn't do!
I can honestly say even though it isn't a mullet, I most likely will not be having my hair touched by scissors (other than to fix this to get it to what I wanted) for another 2+ years. I really wish I could just find a stylist who listens to what their client wants, ACTUALLY wants and if they cannot in their heart do it and know that they can't do it say so. I don't want a stylist to say they can give me something they can't because in the end I will be miserable and it will also look bad on the stylist. My hair, all of your clients hair is your walking resume so do what you know and turn away what you don't!
PS: If anyone lives in Richmond Hill and can recommend an AMAZING stylist to me I would be forever grateful!
Do you have any hair cut horror stories? Leave me a comment below and share with me your gut wrenching experience!