Hasbro has been my go-to brand for gift-giving at Christmas and all year round!
With an endless variety of toys and games, there is truly something for every child on your list.
I have been a very proud Hasbro partner for many years now and they always send us the newest toys and games to check out and share with you all throughout the year and during the holidays.
Today I am sharing my top picks from Hasbro + as usual, Hasbro has generously sponsored an incredible giveaway which will be at the end of this post!
My Top Holiday Toy & Game Picks From Hasbro
Check out my top holiday toy and game picks from Hasbro below, then find the giveaway at the end of the post to win an amazing prize pack valued at $215!
To see a full list of amazing Hasbro Holiday Gift Ideas for 2021 head over to my Amazon Influencer page.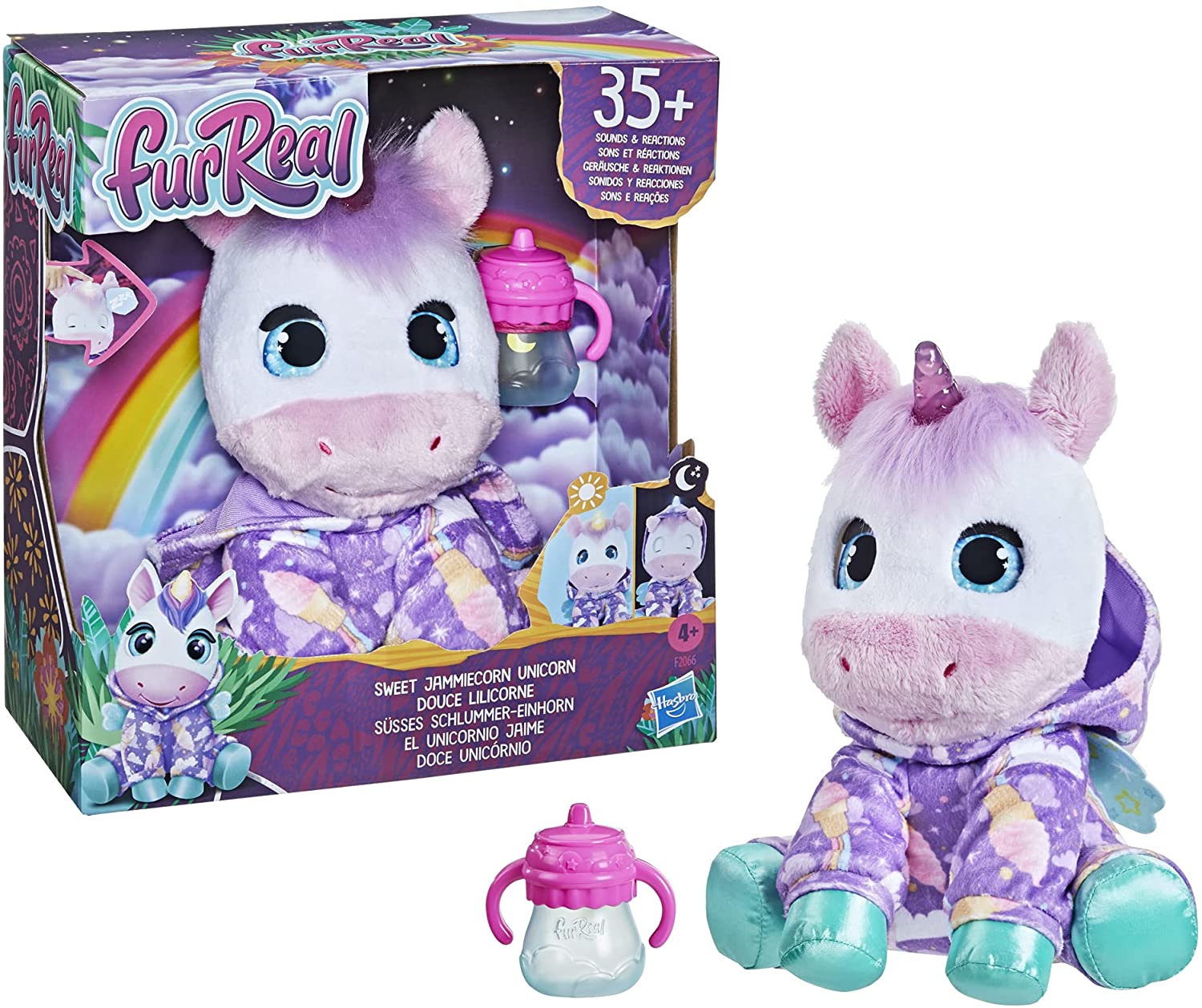 furReal Sweet Jammiecorn Unicorn
Reach for the furReal Sweet Jammiecorn Unicorn light-up toy day and night.
She's soft, snuggly, and kids ages 4 and up can show this plush pet just how much they care.
In day mode, feed her with the included bottle, and she'll make cute eating noises and playful sounds.
What makes this interactive toy even more adorable? Kids can cuddle up with her at bedtime, too.
When it's time for lights out, press her horn to close her eyes. The horn will also change colour from a happy yellow for day to a soothing blue for night.
If kids want to hear lullabies or calming white noise soundscapes, just press the pet's ear in night mode.
This day-to-night friend makes a wonderful gift and a cherished friend.
.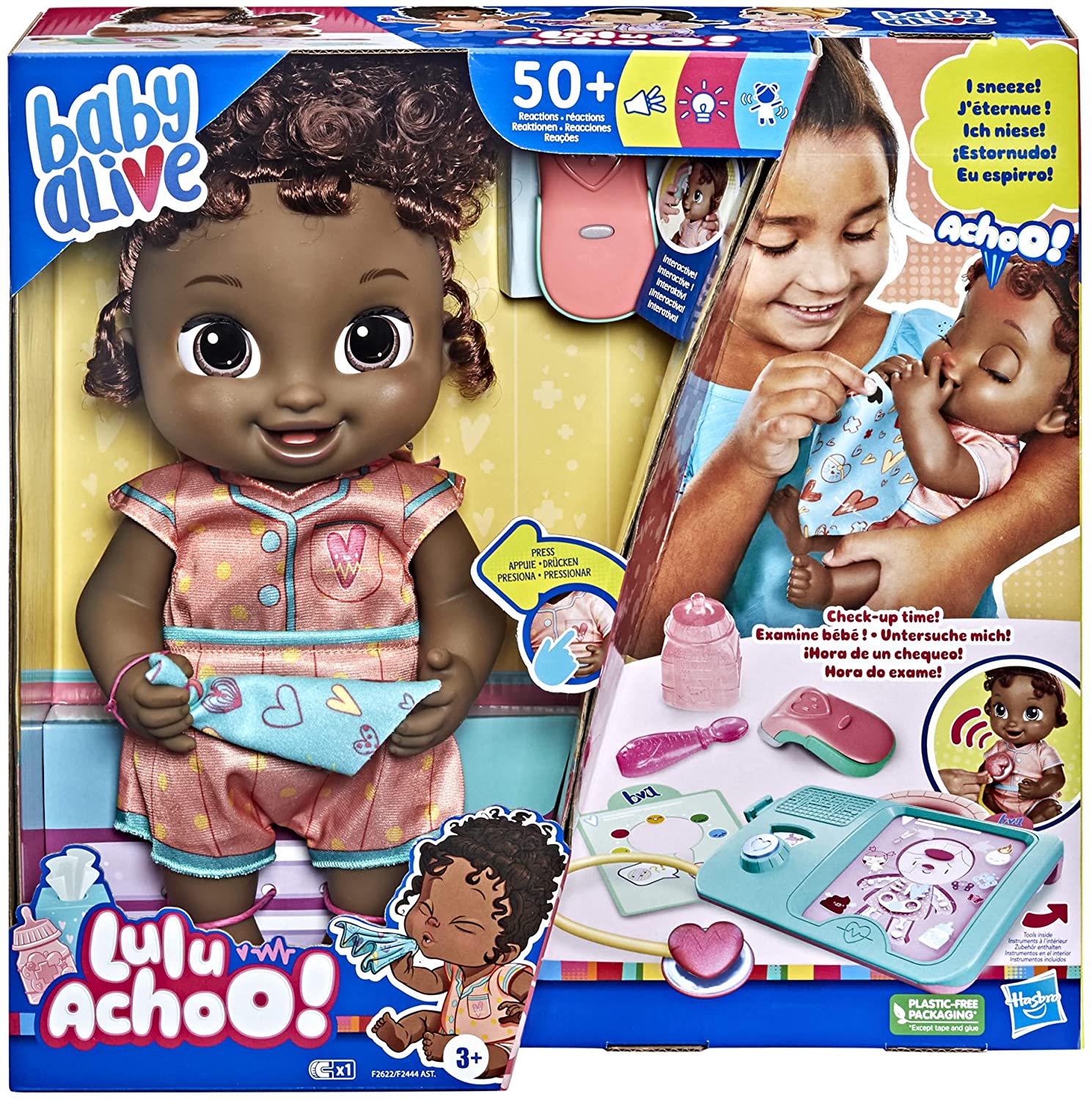 Baby Alive LuLu Achoo
"Sniff, sniff … ACHOO!" Baby Alive Lulu Achoo doll sneezes and actually moves her hands up towards her face!
When she's not well, she makes sounds and her nose and forehead light up red.
The doctor station tells you what's the matter, and how to make Lulu Achoo better.
Does she need her cloth tissue or make-believe bottle?
The doctor playset features toy check-up accessories, including a doctor station with an attached play stethoscope, pretend thermometer, tissue, spoon and bottle.
With eyes that open and close, this 12-inch interactive doll responds to kids' care with 50+ reactions, including lights, sounds and movements.
Her forehead even lights up with the play thermometer!
When Lulu Achoo is feeling better, she giggles and moves her arms!
Lulu Achoo doll is a fun doctor play toy for kids ages 3 and up.
.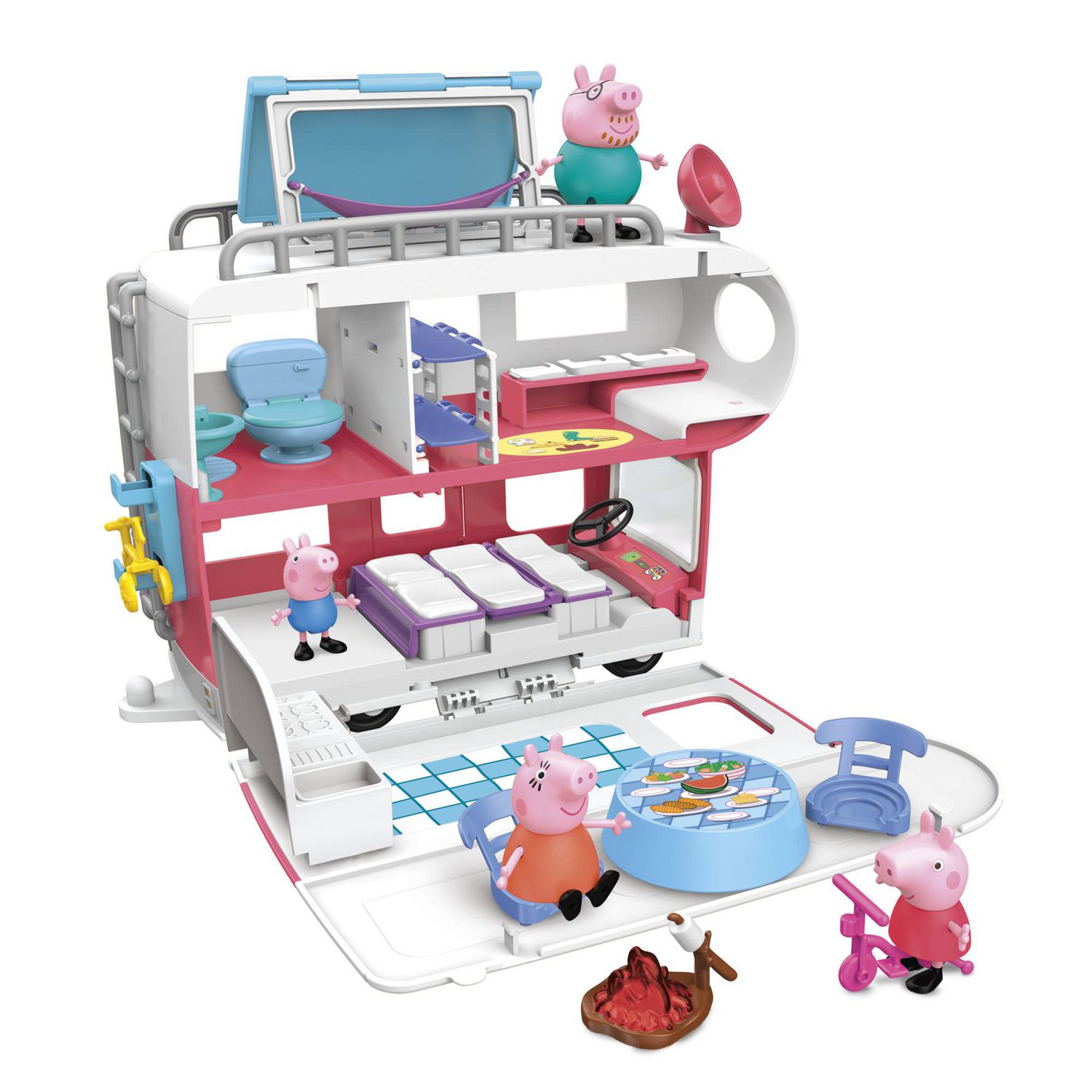 Peppa Pig Convert & Go Motorhome
Kids ages 3 and up will love pretending that they're on holiday with Peppa Pig and her family with Peppa's Family Motorhome toy!
They can imagine being on the road with Peppa as they roll the motorhome in vehicle mode.
Press the steering wheel to hear music from the Peppa Pig show, as well as phrases like "Are we nearly there yet?"
When it's time to camp, kids can convert the vehicle to a multi-level RV playset.
They can imagine the Pig family cooking dinner in their movable kitchen, sitting around the campfire and enjoying the great outdoors.
Trailer hitch attaches to Peppa's Family Red Car toy (Sold separately.)
Other accessories include 2 chairs, 2 bikes, and even a toilet!
Four 3" figures (the whole family) are along for the ride.
Everything stores inside the playset, ready for the next adventure.
.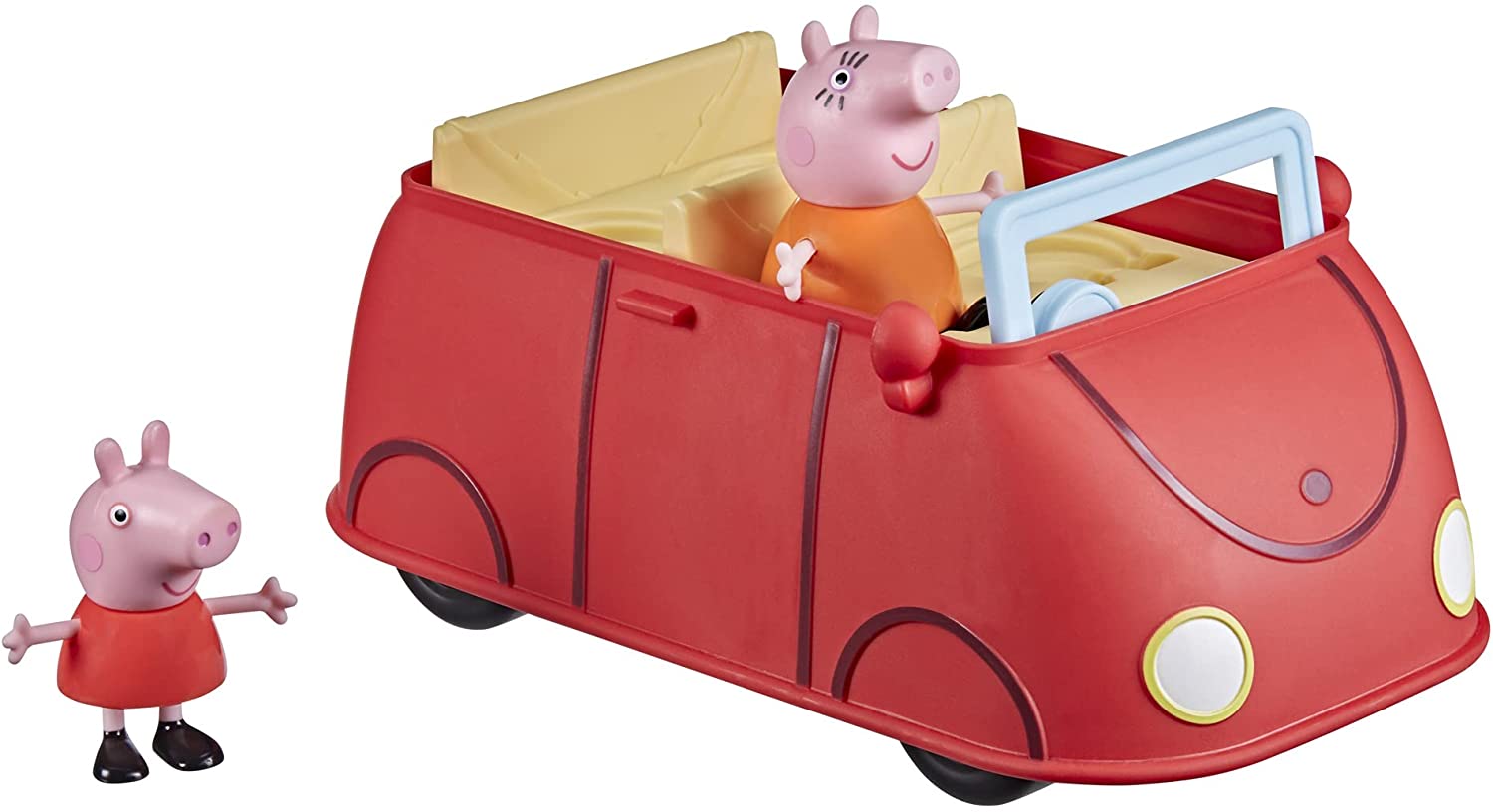 Peppa Pig Family Red Car
The Pig family loves to travel together, and when they do, it's often in their trusty red car.
The Peppa's Family Red Car toy is inspired by the car seen in the acclaimed animated series and comes with Mummy Pig and Peppa Pig figures to ride inside.
Kids can imagine they're out buying cookies for Daddy Pig and little brother George!
A great gift for preschoolers and Peppa fans ages 3 and up, this toy vehicle features rolling wheels for push-to-roll play and a trunk that opens and closes.
And when kids press on the car's steering wheel, they'll hear music from the show, horn noises, as well as laughter and snorts.
It's always a fun ride in the Pig family's red car!
.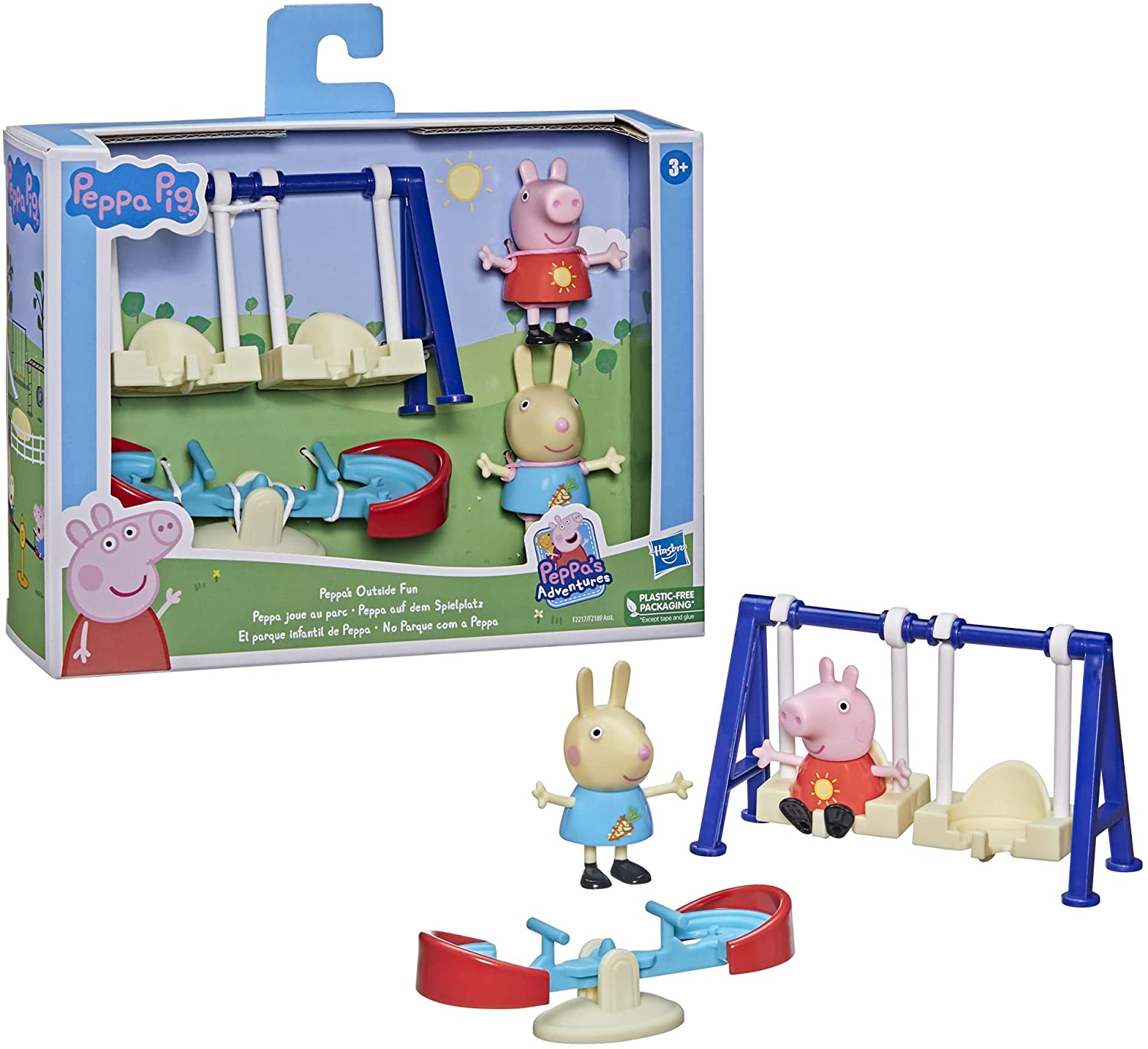 Peppa's Moments Assortment
The Peppa Pig Peppa's Moments Assortment is a great way for preschoolers to add more Peppa Pig inspired fun to their playtime.
Each playset, inspired by those seen in Entertainment One UK's acclaimed animated series, comes with two 3-inch figures and themed accessories.
.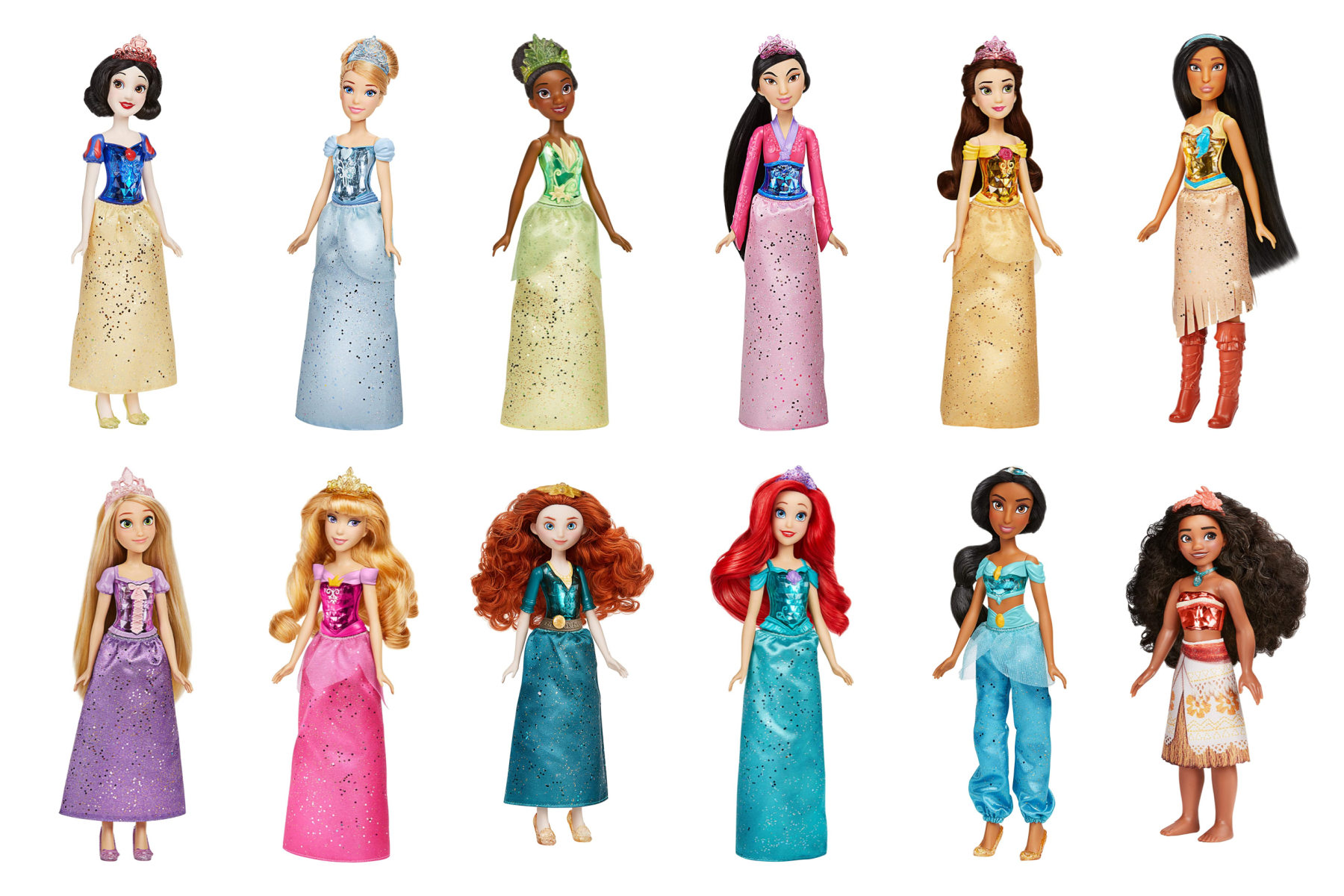 Disney Princess Royal Shimmer Fashion Dolls
Kids can collect their favourite Disney Princess characters with the Disney Princess Royal Shimmer Fashion Dolls!
Each Princess toy shines in a signature colour outfit that sparkles from the top of her bodice to the bottom of her skirt!
Little dreamers will love playing out magical moments from Disney Princess movies and imagining their own fairytales with these gorgeous dolls.
.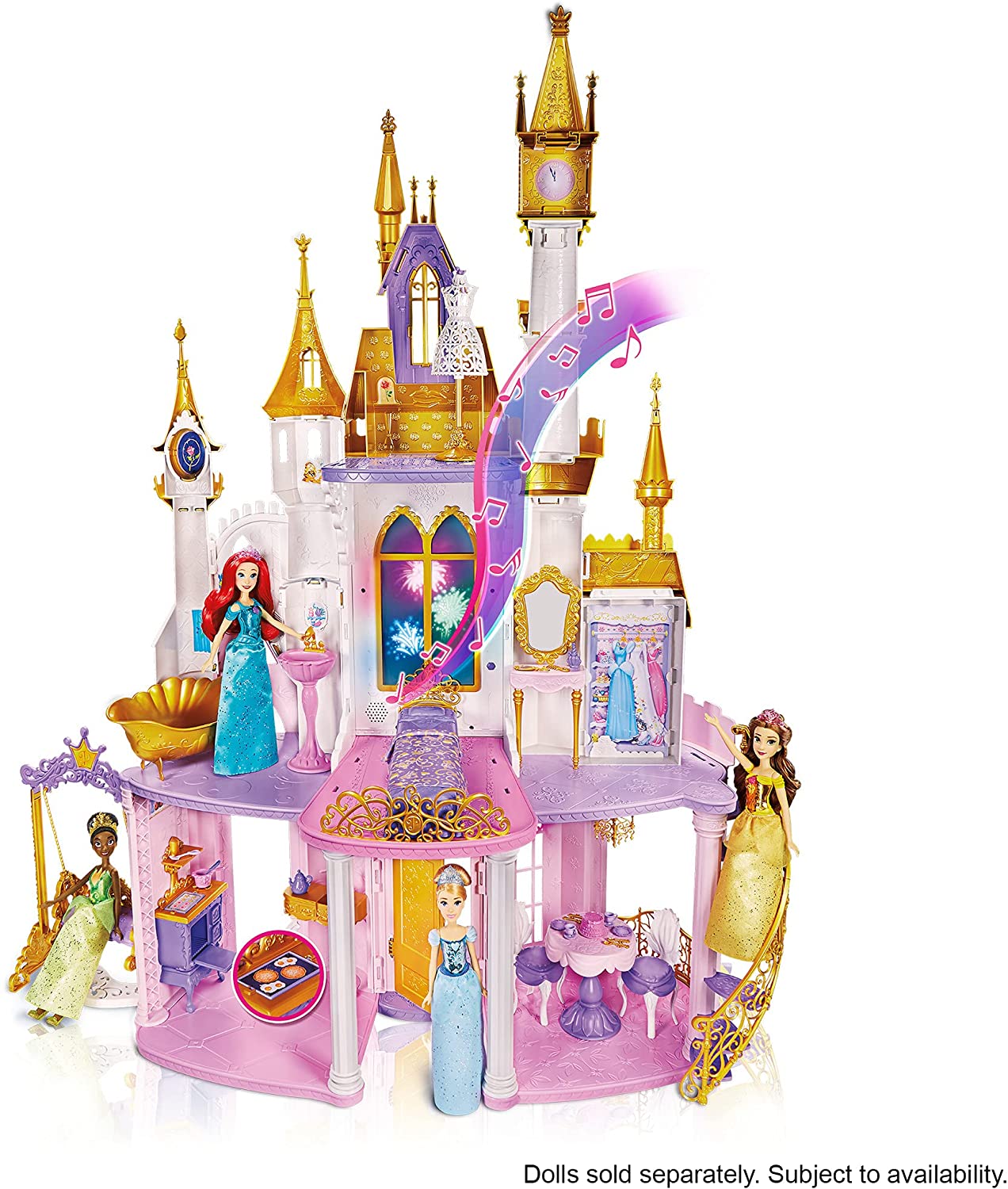 Disney Princess Ultimate Celebration Castle
Celebrate along with the Disney Princess characters in the Ultimate Celebration Castle!
Standing 4 feet tall with its classic silhouette, this dollhouse features 3 stories and 6 rooms, including a bathroom with tub and sink, a bedroom with bed and vanity, a kitchen with stove, and a dining room with table and chairs.
The upstairs window lights up like fireworks while music plays, so kids can imagine the Disney Princess characters watching a spectacular fireworks show.
The set also includes 29 accessories, like forks, spoons, a teapot, teacups, plates, a comb, a mirror, and more to help kids' imaginations come to life.
There's a sofa that converts to a garden swing for outside of the castle.
With its size, furniture, accessories, lights, and music, this Disney Princess castle dollhouse makes a great gift for girls 3 years and up.
It's a great home for Disney Princess dolls (sold separately) and no tools are required for adults to assemble.
.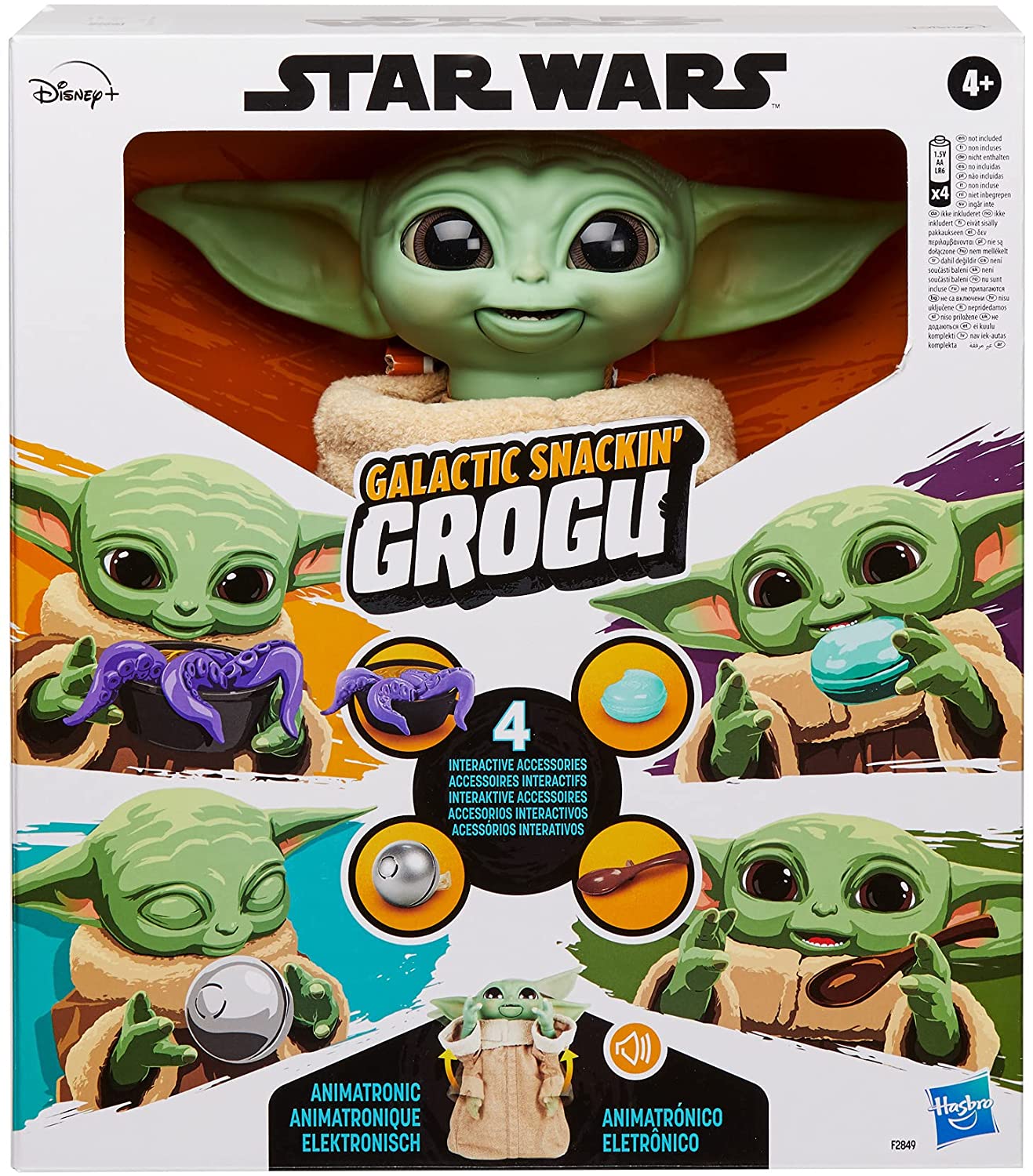 Star Wars Galactic Snackin' Grogu
Grogu (The Child), affectionately referred to by fans as "Baby Yoda," is hungry for Force snackin' fun!
With a galaxy of features, including adorable sounds, fun animated motions, and interactive accessories, this animatronic toy is ready for action and adventure.
Place any of the included entertainment-inspired accessories in his hand and he'll react.
Put an accessory in his mouth, and he'll make eating sounds that let you know if he thinks it's yummy or yucky.
When Grogu (The Child) wants to be picked up and held, he'll reach up with both arms.
And with Force activation, the Galactic Snackin' Grogu toy will perform a 2-handed Force move, inspired by scenes from season 2 of the live-action series The Mandalorian on Disney+.
Additional features include series-inspired sound effects, a premium soft goods robe, moving head, ears, arms, and blinking eyes.
.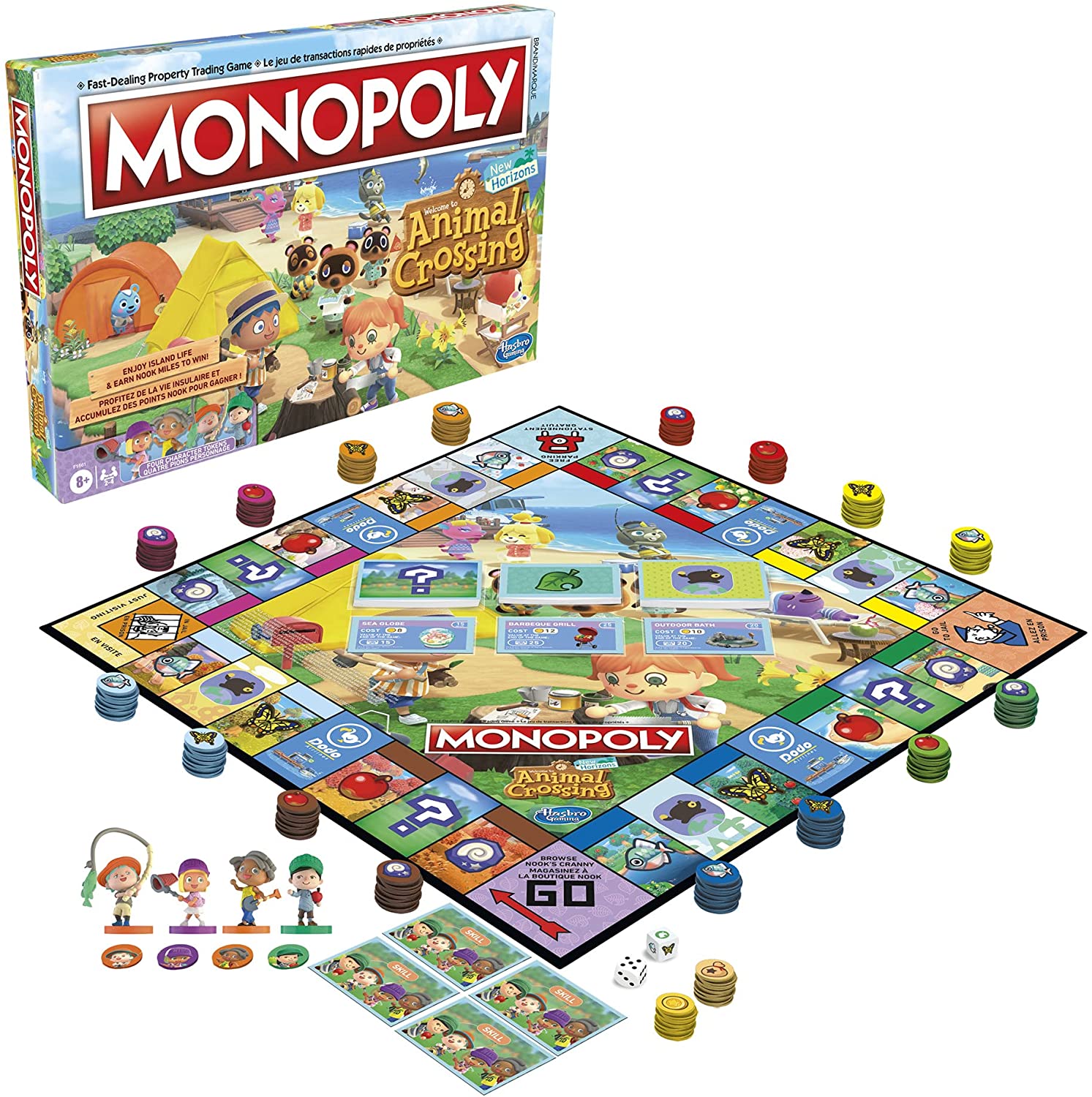 Monopoly Animal Crossing
In this Monopoly board game, players can enjoy island life and immerse themselves in the colourful and creative world of Animal Crossing New Horizons.
Moving around the board with tokens inspired by the video game, players complete island tasks and meet other characters.
Instead of buying properties and paying rent, players collect bugs, fish, fossils, and fruit.
They can also stop at Nook's Cranny and cash in Bells to buy decorations.
Decorations are worth Nook Miles and the player with the most Nook Miles wins the game.
Monopoly: Animal Crossing New Horizons board game is for ages 8 and up and makes a fun indoor activity for kids.
.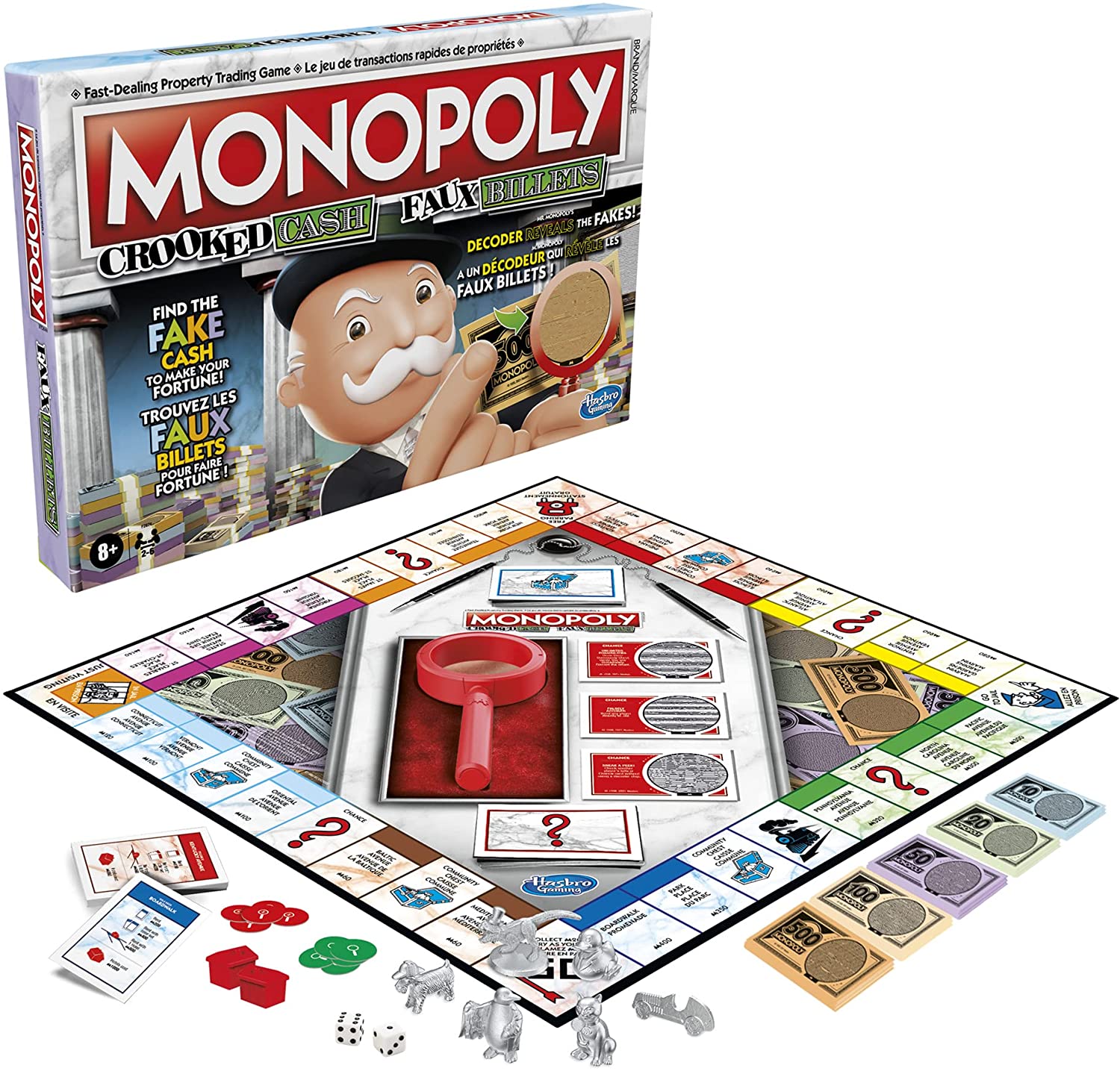 Monopoly Crooked Cash
In the Monopoly Crooked Cash game, things aren't always as they seem.
Someone added fake cash and fake Chance cards! Luckily, Mr. Monopoly is giving players his decoder so they can find the fakes and still make a fortune.
It's an exciting game of hidden reveals, and players get to challenge their opponents for using fakes with accusation coins.
But use them wisely! You only get a few coins to play.
Includes Monopoly tokens that play up the deceptive theme.
The player with the most money at the end – real or fake – wins.
This family board game is a fun game to play and it's a great choice for game night and as an indoor activity for kids 8 and up.
.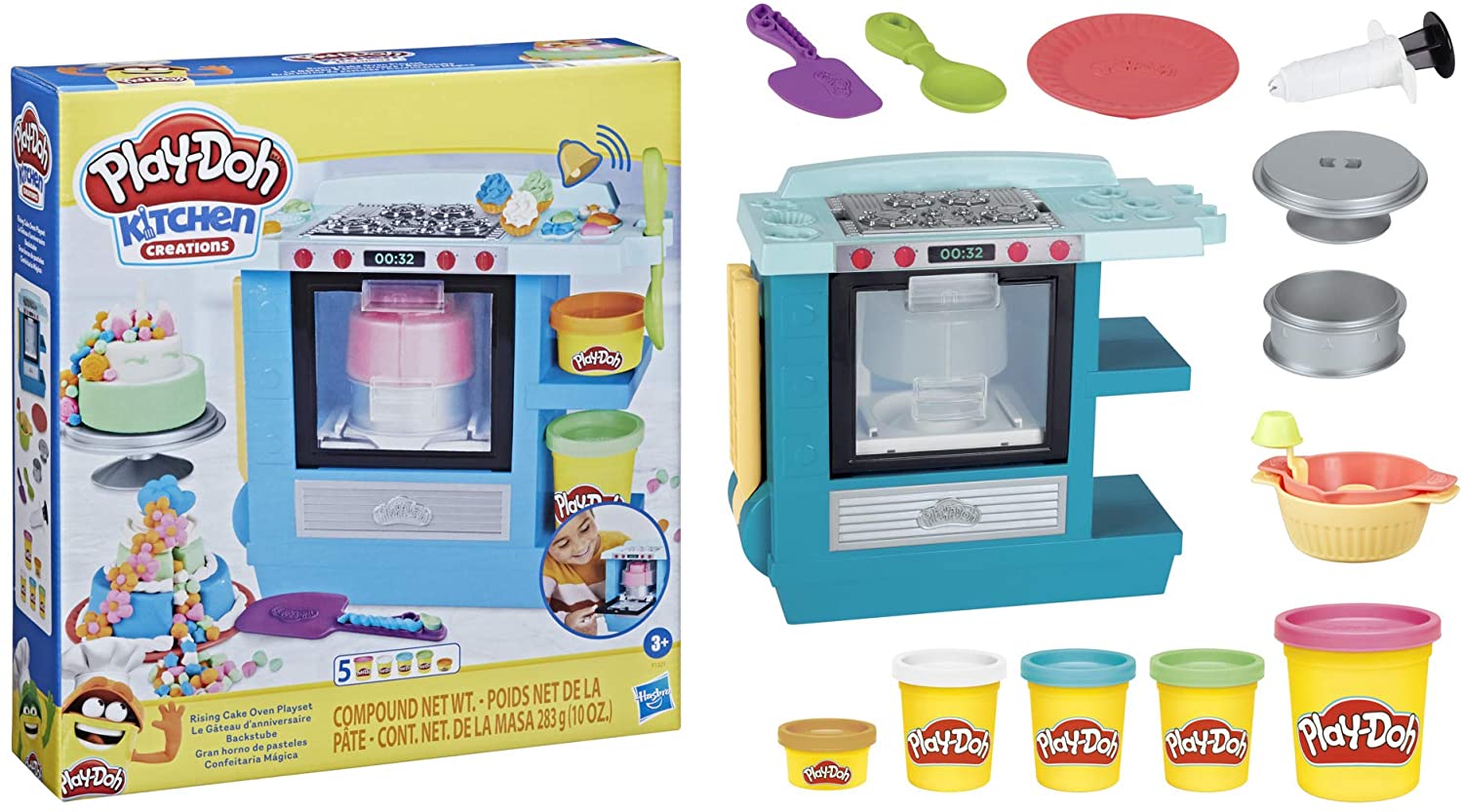 Play-Doh Rise N Surprise Cake Playset
Make incredible Play-Doh cakes rise before your eyes with this toy oven baking playset.
Add Play-Doh modeling compound to the cake pan, pop it in the oven, pull down the handle, and watch it rise.
You'll even hear a "ding" sound to let you know when it's done and it's time to decorate!
Add swirly pretend frosting with the decorating tool and lots of colourful Play-Doh toppings with the half-molds.
There's also a mixing bowl to make 3 different Play-Doh sprinkle shapes.
For more creative fun, each Play-Doh cake has a secret hollow space inside to reveal colourful surprises when you slice them!
.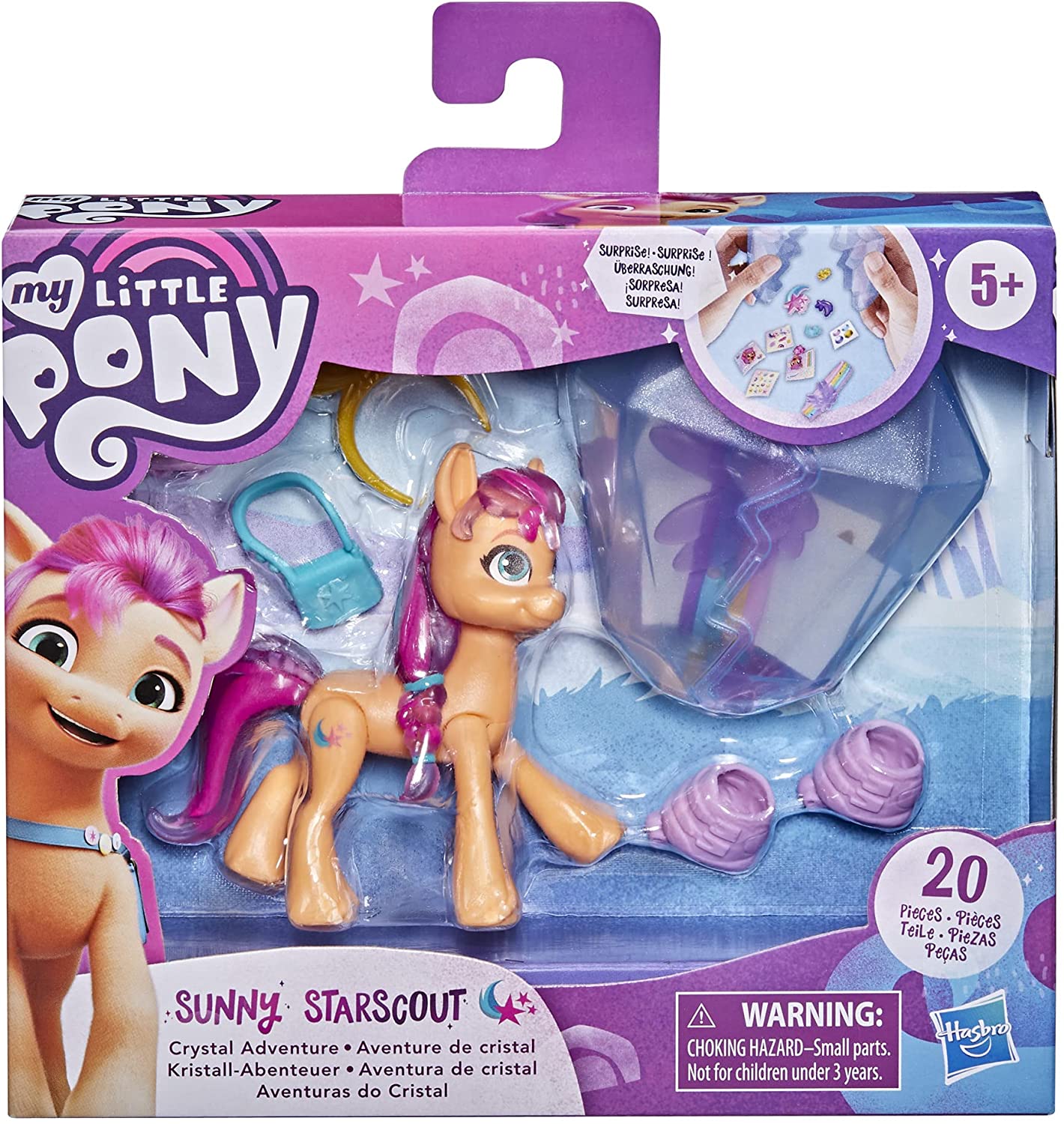 My Little Pony Movie Crystal Adventure Ponies Assortment
Crack open a magical crystal adventure!
Discover the magic of surprises inspired by the My Little Pony: A New Generation movie with surprise character-inspired accessories.
Crystal Adventure Ponies assortment features character packs with 20 pieces, including a 3-inch pony figure, accessories, stickers, charms, and more.
Each figure comes with a themed friendship bracelet that kids can decorate and wear.
Look for Crystal Adventure Sunny Starscout, Princess Petals, Zipp Storm, and Izzy Moonbow toys for kids ages 5 and up.
GIVEAWAY
My lovely friends at Hasbro have generously offered an amazing prize pack valued at $209.96 CAD for one of you to win!
Prize Includes:
(1) Baby LuLu Achoo $72.99 value
(1) Peppa Convert & Go Motorhome $72.99 value
(1) Monopoly Crooked Cash $31.99 value
(1) Play-Doh Rise N Surprise Cake Playset $31.99 value
This giveaway is open to Canadian residents who have reached the age of majority in their province.
To enter the giveaway complete the mandatory entry options in the giveaway widget below.
Once you have completed your mandatory entries you will be able to complete additional non-mandatory entry options. Complete those for additional ballots in the giveaway!
The Giveaway will end on December 5, 2021, at 11:59 PM EST. A winner will be drawn from all eligible entries and contacted via email on December 6, 2021. The winner will have 24 hours to respond to the email and claim their prize.
Please note that ALL entries are verified and if you submit an entry without completing it you will be ineligible to win
Disclosure: Although this post is sponsored by Hasbro, the opinions and language are all my own, and in no way do they reflect Hasbro. Any product claim, statistic, quote or other representation about a product or service should be verified with the manufacturer, company, provider or party in question.