Hasbro Holiday Gift Guide 2022
If you have been following me for a while you will know that Hasbro has always been my #1 go-to brand for gift-giving at Christmas and all year round!
With an endless variety of toys and games, there is truly something for every child (and child-at-heart) on your list.
I have been a very proud Hasbro partner for many years now and they always send us the newest toys and games to check out and share with you all throughout the year and during the holidays.
Today I am sharing my top picks from Hasbro + as usual, Hasbro has generously sponsored an incredible giveaway which will be at the end of this post!
My Top Holiday Toy & Game Picks From Hasbro
Check out my top holiday toy and game picks from Hasbro below, then find the giveaway at the end of the post to win an amazing prize pack valued at $215!
To see a full list of amazing Hasbro Holiday Gift Ideas for 2022 head over to my Amazon Influencer page.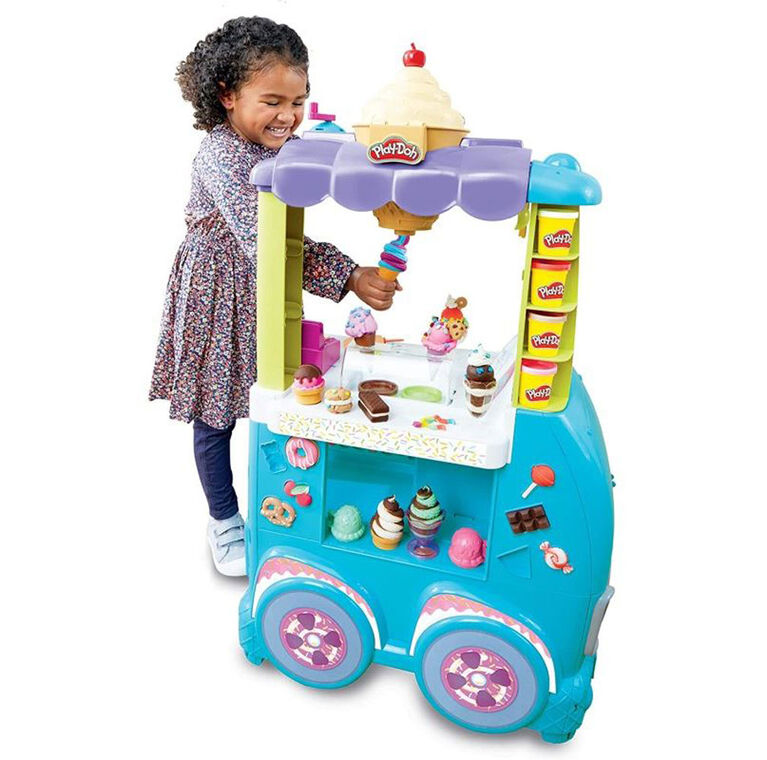 Play-Doh Kitchen Creations Ultimate Ice Cream Truck Playset
Turn your play space into the ultimate Play-Doh ice cream truck party!
This life-size kitchen set gives kids a big space to express their big imaginations.
Create so many pretend treats with the 27 tools and soft-serve station, customize the creations with the Play-Doh sprinkle maker, tools, and pretend candy molds, and check out customers at the register.
Fun music and cash register sounds make kids feel like they're really running their own ice cream truck.
The toy food truck was also designed with parents in mind with lots of storage and easy ways to clean up when the fun is done for the day!
Includes:
12 classic modeling compound colours
2 ice cream scoop molds
ice cream sandwich mold
4 dishes
6 cones
ice pop mold
2 ice pop sticks
credit card mold
2 rollers, scoop
decorating tool
knife
3 spoons
cleaning brush
empty can
.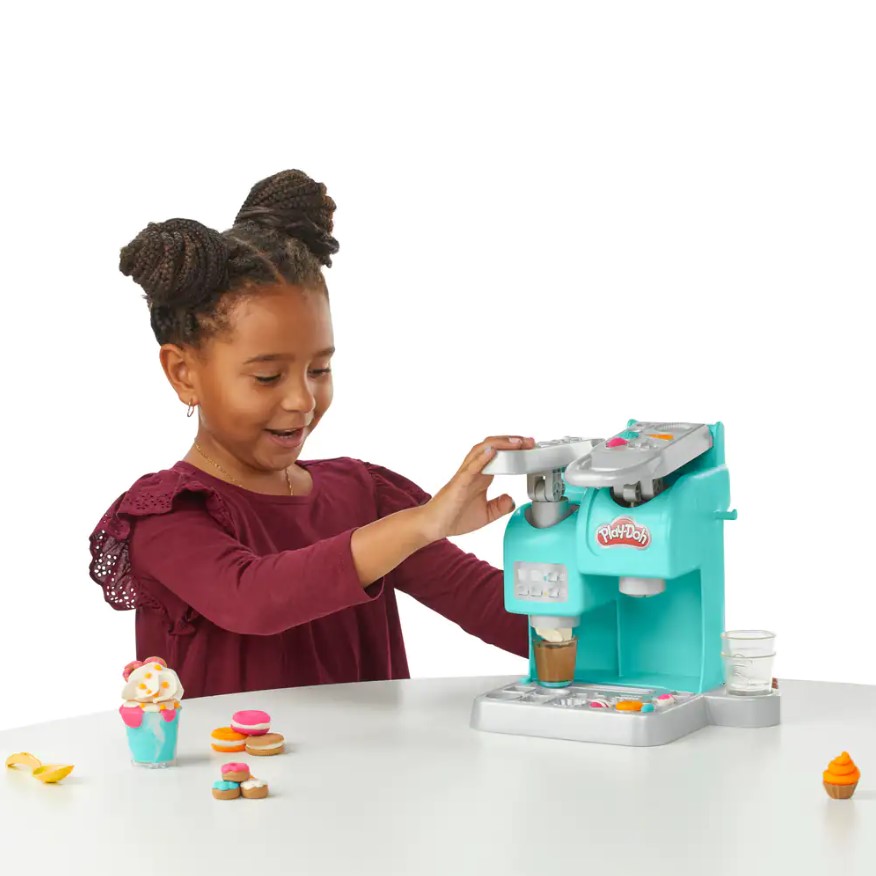 Play-Doh Kitchen Creations Colorful Cafe Playset
Get imaginations brewing with the Colorful Cafe Playset!
This pretend play cafe set lets kids imagine creative Play-Doh drinks their way.
Make the toy coffee maker fill the cups with colourful Play-Doh modeling compound, then spin and slide them to the topping station and add pretend whipped cream.
Whether they're creating Play-Doh coffee, tea, frappes, or pretend smoothies, kids can have fun playing barista again and again.
Includes:
cafe playset
mug
3 clear frappe cups
2 frappe cup lids, spoon
5 cans of modeling compound colours
.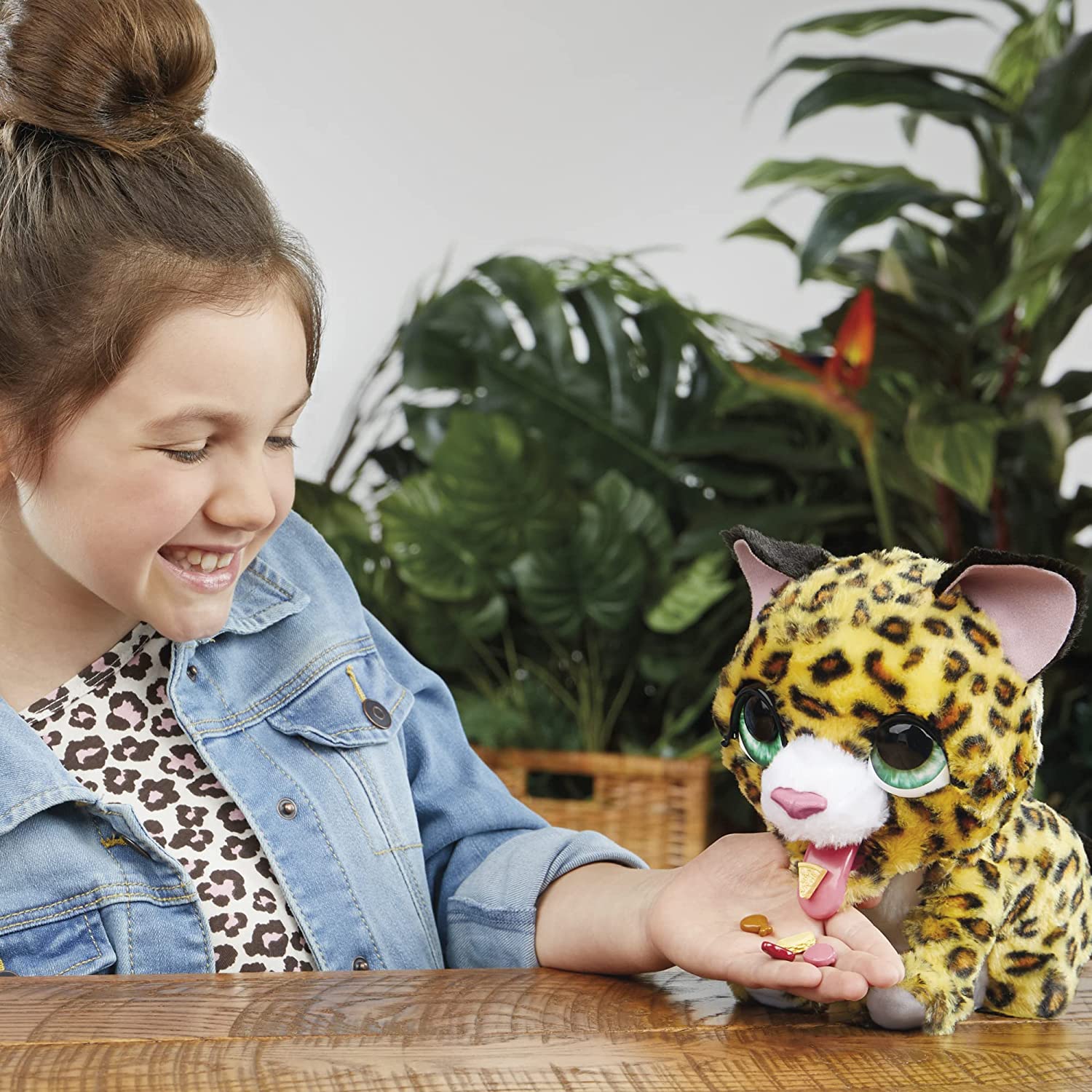 furReal Lil Wilds Lolly the Leopard
The furReal Lil' Wilds Lolly the Leopard Interactive Animatronic Plush Toy is an exotic pet that kids ages 4 and up will love to feed, play with, and snuggle with.
Imagine having a leopard kitty as a pet! Kids can feed her with her 5 treat accessories, which go right down her poop chute – kids just open the back door to retrieve them and start the feeding fun again!
Lolly the Leopard always likes to be petted; kids can pet her for 40+ sounds and reactions, including affectionate licks and playful sounds … not to mention a few ROARS!
In her quieter moments, Lolly is also lots of fun to snuggle and cuddle with. What a wild, oh-so-lovable pal to feed and play with!
Includes:
1 pet
5 treat accessories
.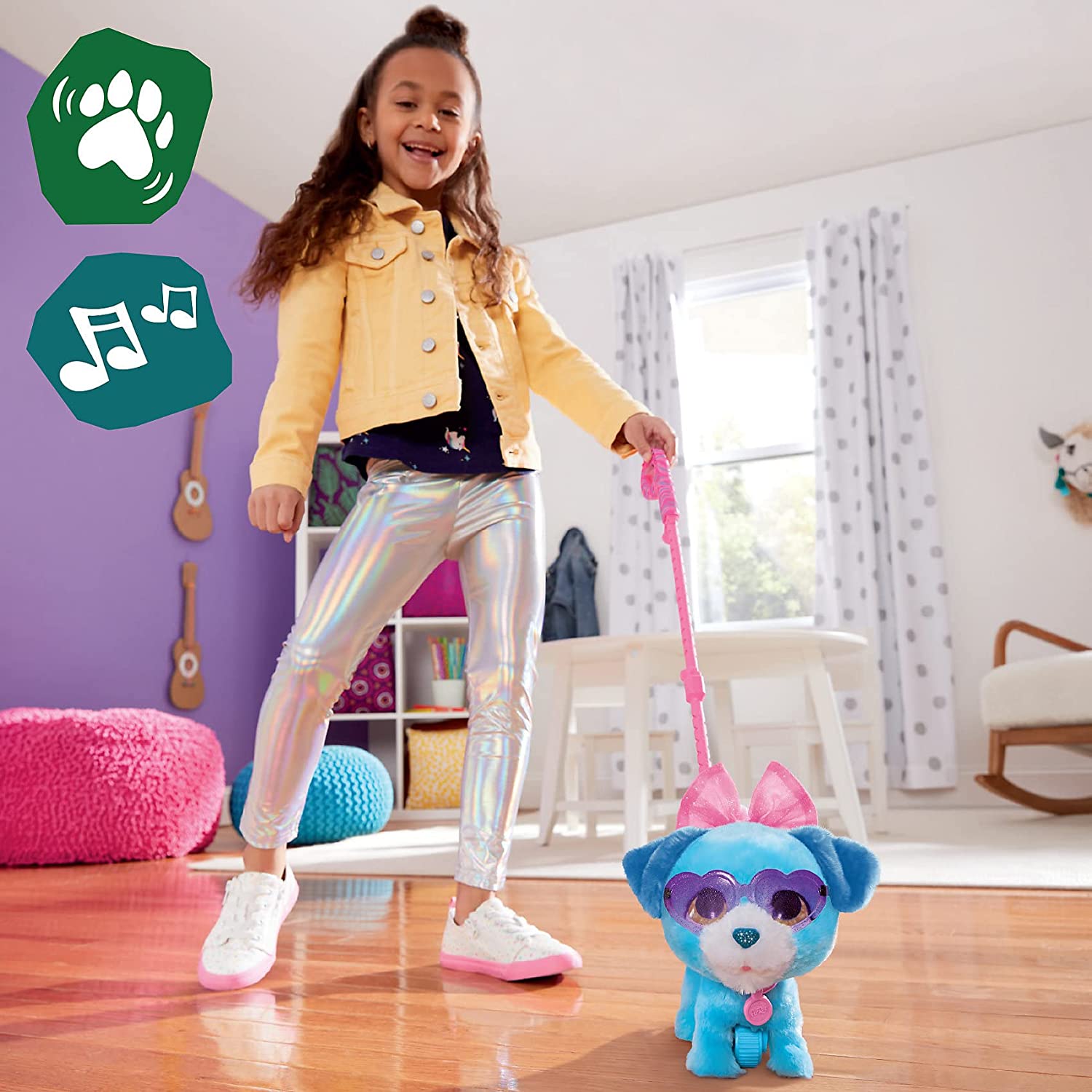 furReal Rockalots
The furReal Rockalots Musical Interactive Walking Puppy is an irresistibly cute, adorably cool pet who rocks as fast as kids do!
When you take her for a walk, she plays her 3 fun songs, and they play faster when you walk faster!
When you slow down, the songs' tempo slows down, too.
This rockin' pup comes with a guitar-shaped brush for grooming her soft fur and heart-shaped sunglasses.
This interactive pet comes with a two-part detachable leash for walking across the floor.
Push her along by the leash and she moves forward with bobblehead motion and happy puppy sounds, as well as her rockin' tunes.
So, let's take a stroll around the house — and pretend it's a stage!
Includes:
pet
unassembled leash (2 rods, handle)
2 accessories
.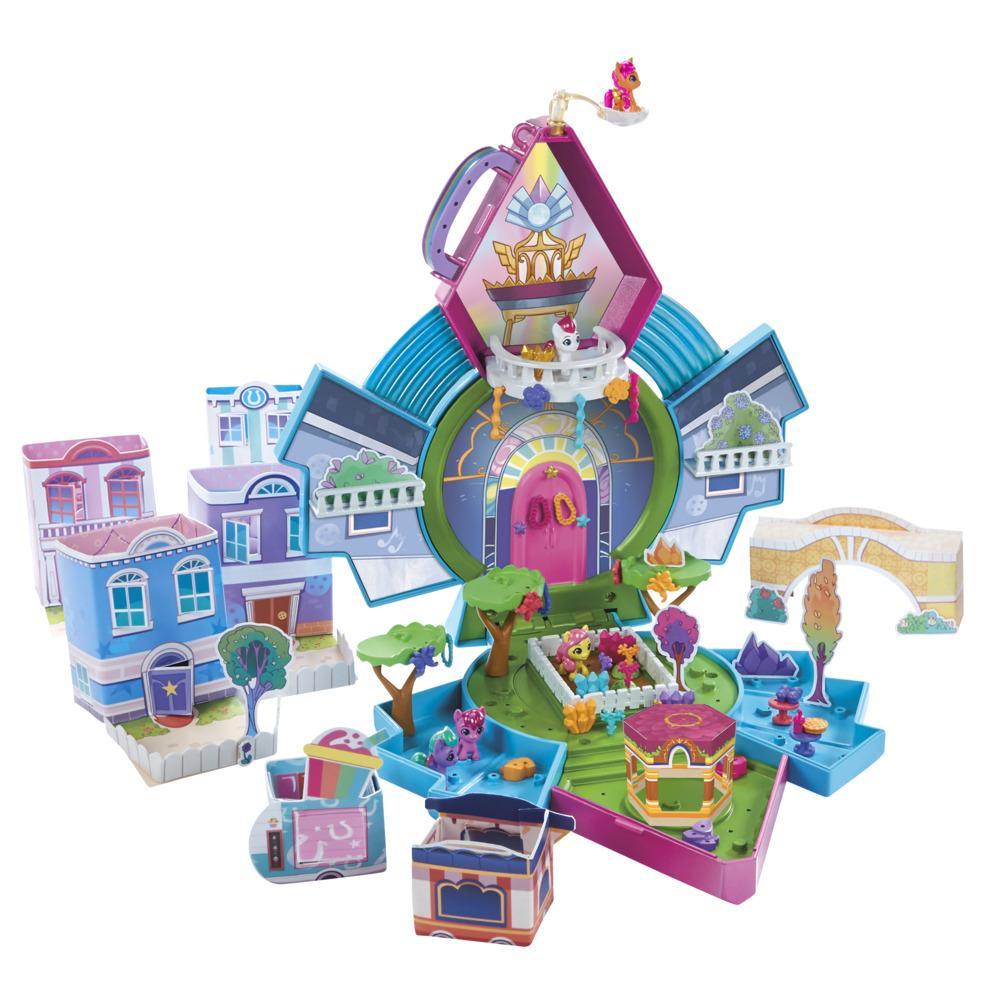 My Little Pony Mini World Magic Epic Mini Crystal Brighthouse
Build a world of magical mini-friends from across Equestria! My Little Pony Mini World Magic sets consist of tiny scenes and adorable characters inspired by the My Little Pony: Tell Your Tale series.
Epic Mini Crystal Brighthouse set comes with 5 adorable figures that are 1 inch tall: Sunny Starscout, Zipp Storm, Posey Bloom, Daring Flare, and Maverick Mauve.
Plug accessories and scene-building pieces into the playset to customize the Crystal Brighthouse. Also comes with paper scenes so kids can build locations inspired by Maretime Bay.
Some accessories have a fun colour-change reveal when kids add water!
Everything fits inside the carrying case for on-the-go fun.
Connect other My Little Pony Mini Magic World sets together to build out the world of Equestria! Each sold separately.
Includes:
carrying case
5 pony figures
55 accessories
.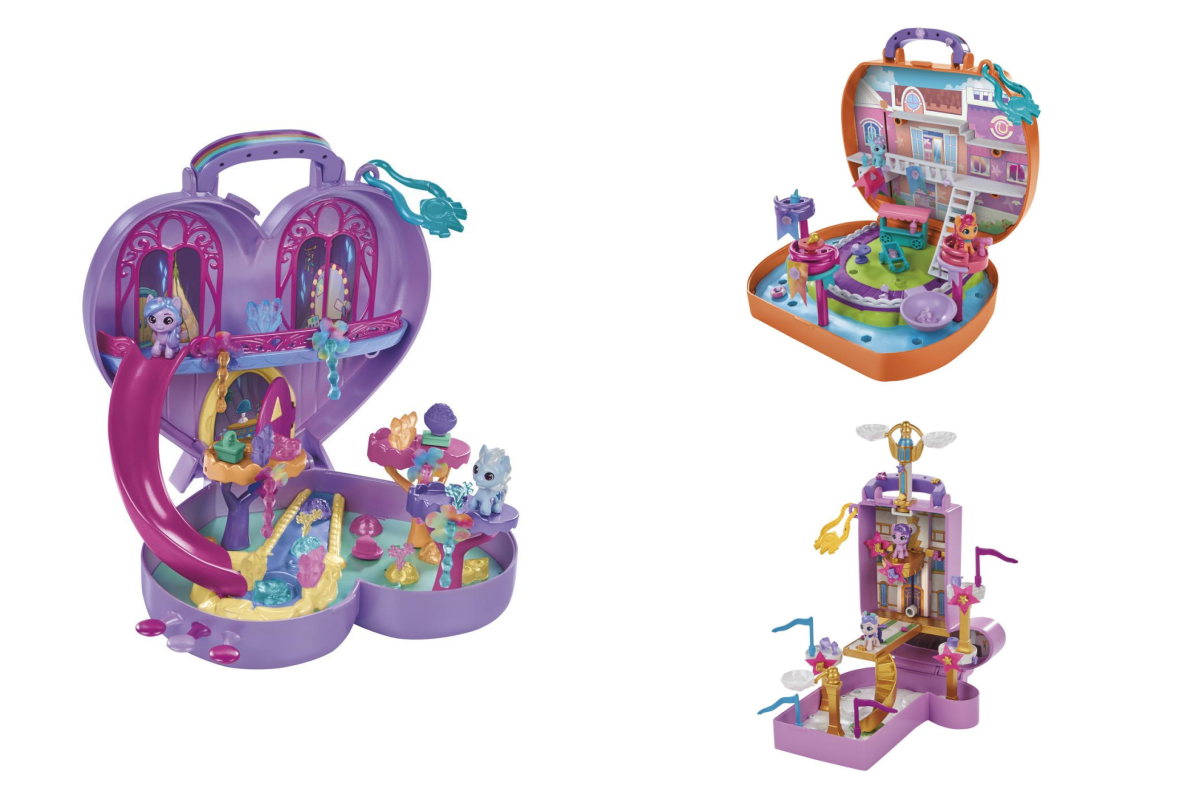 My Little Pony Mini World Magic Compact Creations
Build a world of magical mini-friends from across Equestria!
My Little Pony Mini World Magic sets consist of tiny scenes and adorable characters inspired by the My Little Pony: Tell Your Tale series.
These Compact Creation sets come with various adorable figures that are 1 inch tall and awesome accessories!
Plug accessories and scene-building pieces into the playset to create a mini world.
Everything comes inside the carrying case for on-the-go fun.
Includes:
.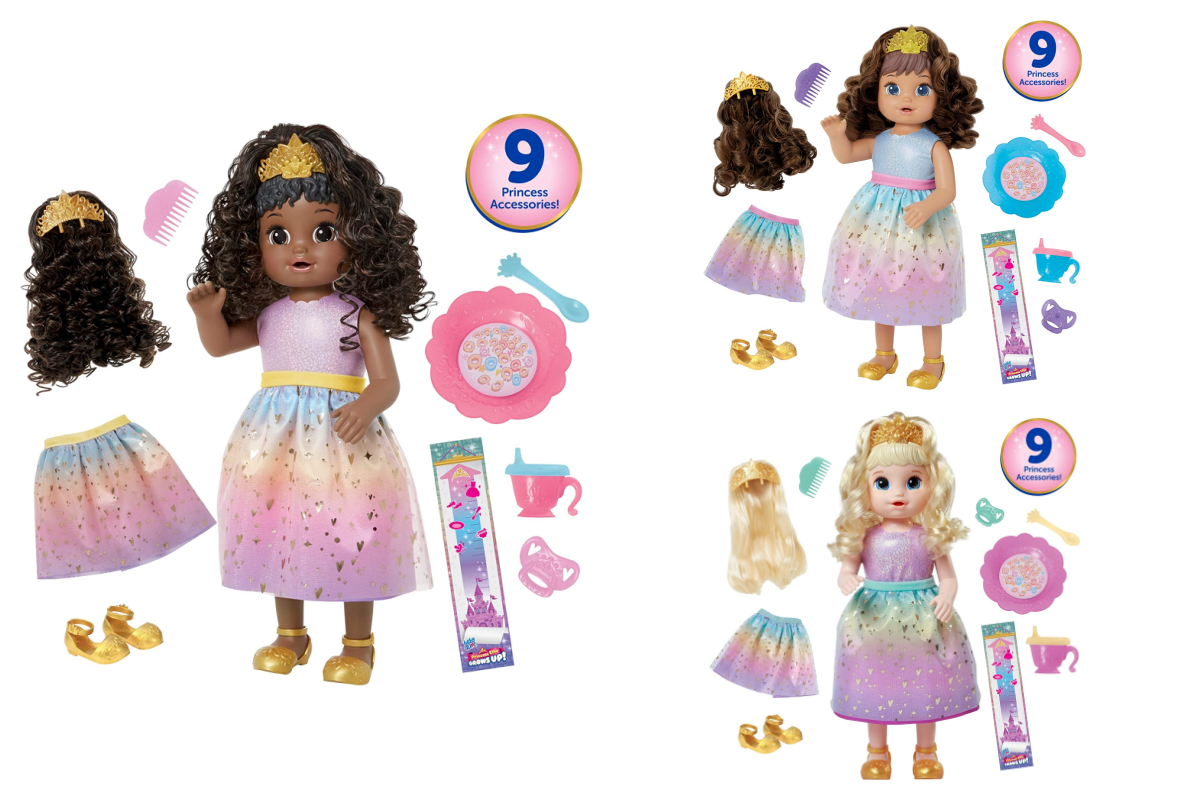 Baby Alive Princess Ellie Grows Up!
Baby Alive Princess Ellie Grows Up! talking doll grows little by little with kids' care and responds with 75+ sounds and phrases.
A twinkly chime plays whenever she grows!
As a baby, she slowly grows with rocking, giving her a pacifier and pretending to feed her with her sippy cup and bowl/spoon.
Bouncing movements and pretend feeding/drinking will help her keep growing as she gets taller.
Kids ages 3 and up will have fun tracking her height with the included growth chart and styling her with dress-up baby doll accessories!
Place her brushable tiara hair extension on her head and put the princess skirt over her outfit to complete her royal look.
Instructions and quickstart guide help kids care for their growing doll and reset her to play again!
This 18-inch (45 cm) Baby Alive doll that grows up is an exciting toy for girls and boys, and a great gift for birthdays and holidays.
Includes:
doll with a removable outfit
9 accessories
.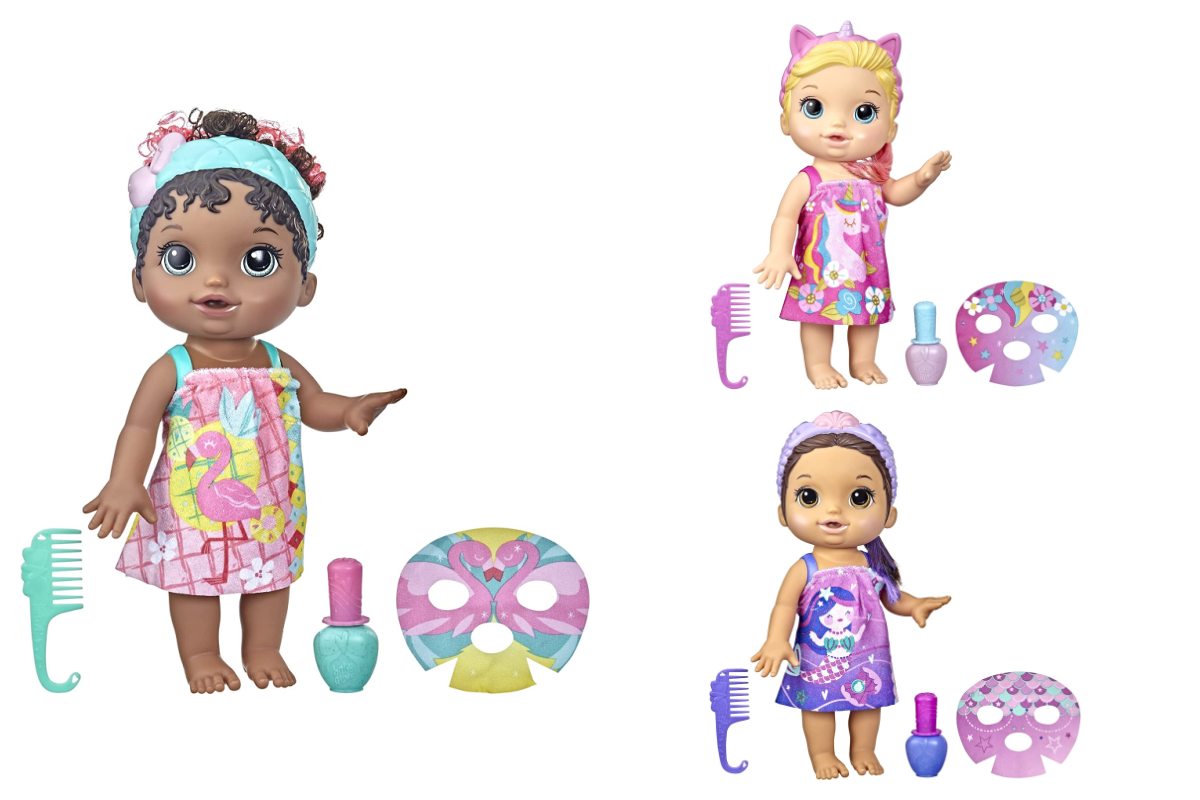 Baby Alive Glam Spa Baby
Pamper baby with spa day accessories to make her feel glamourous!
With ice-cold water, fill the pretend nail polish bottle and give Baby Alive Glam Spa Baby doll a colour reveal mani-pedi.
Then fill a bowl with ice-cold water and soak the doll's mask — apply to her face and remove for a gorgeous eye makeup reveal!
This adorable waterplay doll comes wearing a molded swimsuit and attached themed headband.
She also features themed spa doll accessories, including a towel wrap, doll mask and pretend nail polish bottle.
Plus, she even comes with a comb for kids to brush and style her colour-streaked ponytail!
Includes:
doll
towel
doll face mask
pretend nail polish bottle
comb
.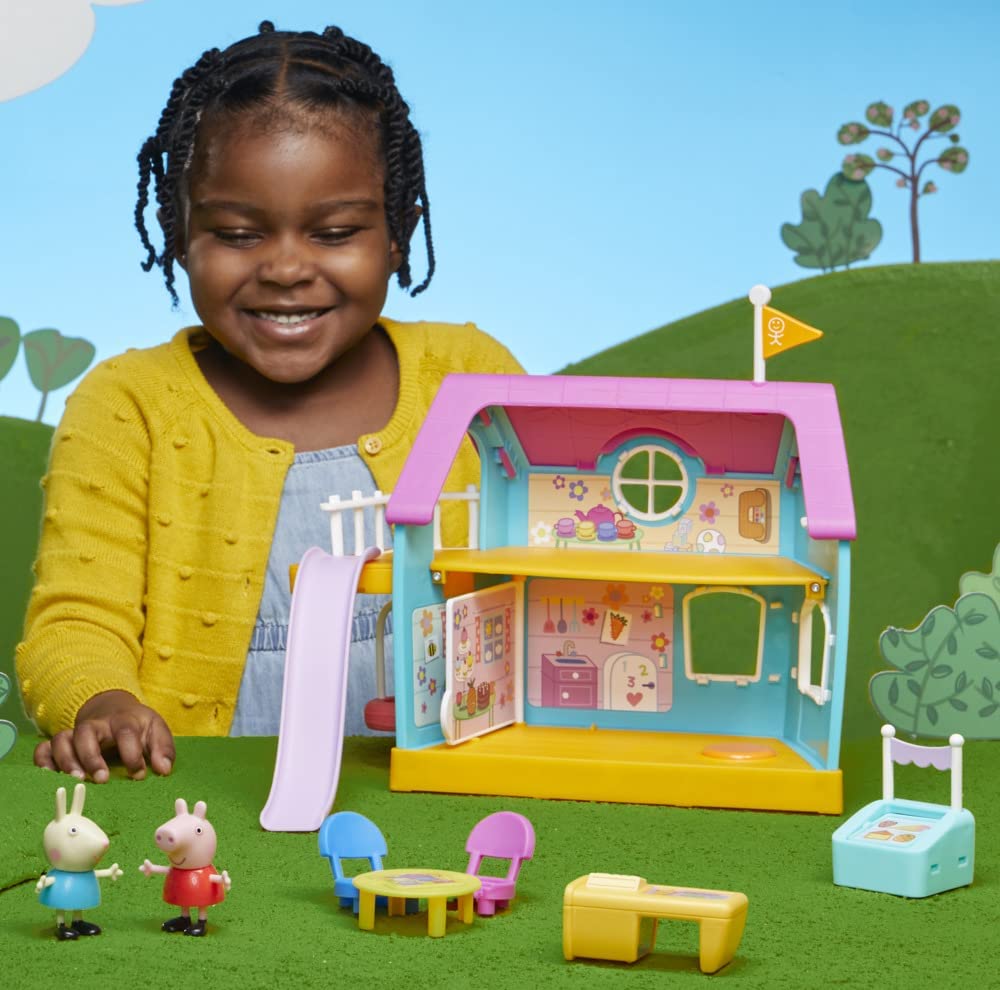 Peppa's Kids Only Clubhouse
Preschoolers and Peppa fans ages 3 and up are sure to feel like real members of Peppa's Club when they're playing with the Peppa's Kids-Only Clubhouse playset.
Inspired by the location from entertainment, the playset features a moveable wall depicting stop and bakery backdrops.
Place a figure on the hotspot to hear clubhouse sounds and phrases from entertainment!
What will Peppa and her friend Rebecca be pretending today? There are lots of fun accessories to help kids decide, including an oven/cash register, 2 chairs with a flippable table, and a concession stand.
There's even a detachable slide and a tire swing for outdoor fun, and a flag for the roof that lets people know this is a 'kids only" clubhouse!
Includes:
playset
2 figures
7 accessories
flag
.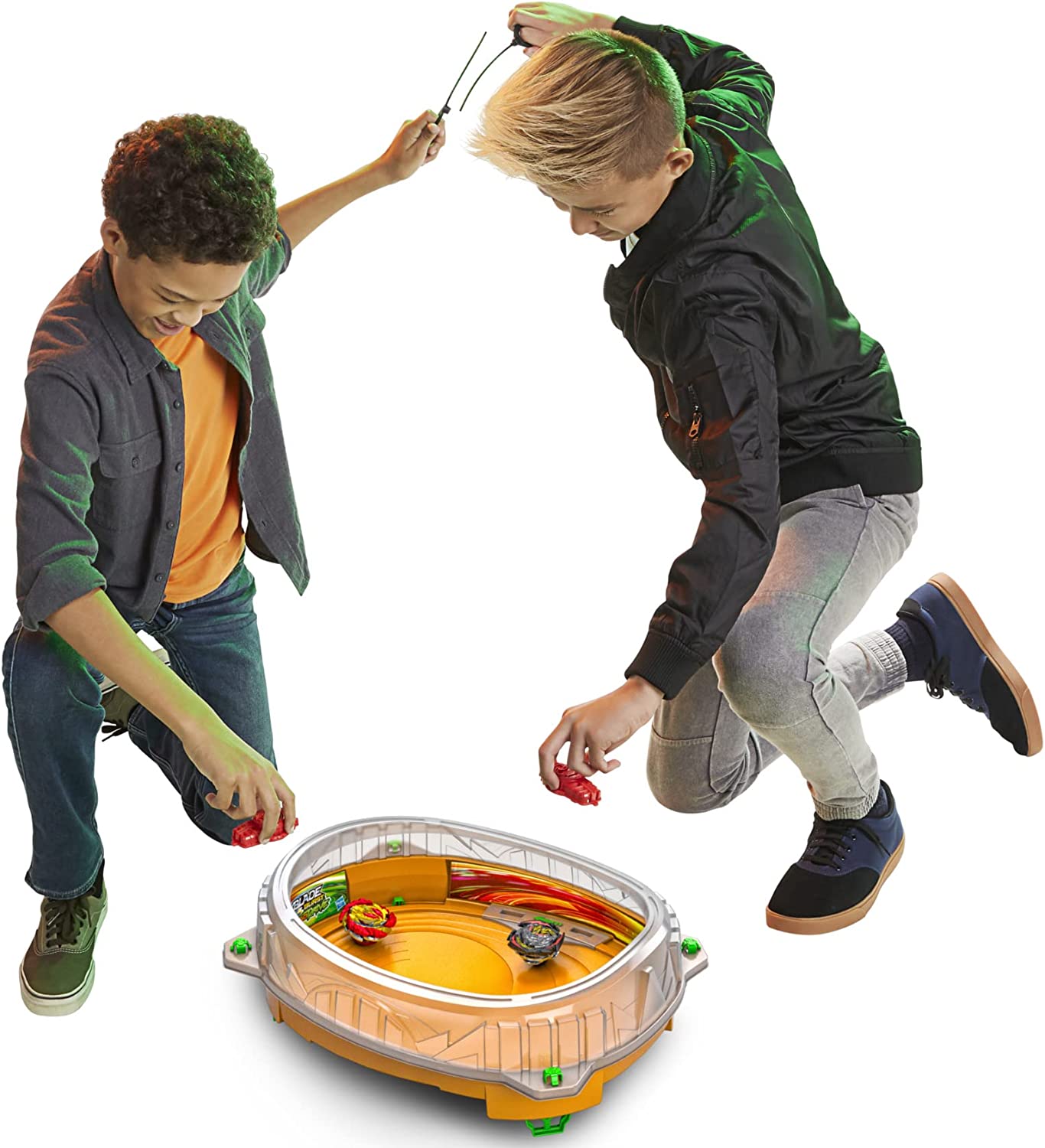 Beyblade Burst QuadDrive Cosmic Vector Battle Set
Beyblade QuadDrive tech puts the future of Beyblade battling in your hands with the first-ever 4-in-1 top!
Each QuadDrive top can be configured in 4 different ways, giving you 4 ways to strategize, 4 ways to customize, 4 modes to battle, and 4 modes to win!
Size up your opponent and modify your QuadDrive top to gain the ultimate battle advantage.
This battle set comes with everything needed to battle: Beyblade Burst Cosmic Vector Beystadium, 2 right/left-spin launchers, 2 Path Diverters, and 2 right-spin QuadDrive tops: Destruction Belfyre B7 G01 QD01 TS18- Q A01 and Magma Ifritor I7 G03 QD06 TA21-Q B01.
Take on the Quad Levels in the Beystadium and ricochet off the Path Diverters for intense takedowns!
Scan code on QuadDrive tops to unleash your top in a virtual battle in the Beyblade Burst app!
Includes:
Beyblade Burst QuadDrive Cosmic Vector Beystadium
2 tops
2 Path Diverters
2 launchers
.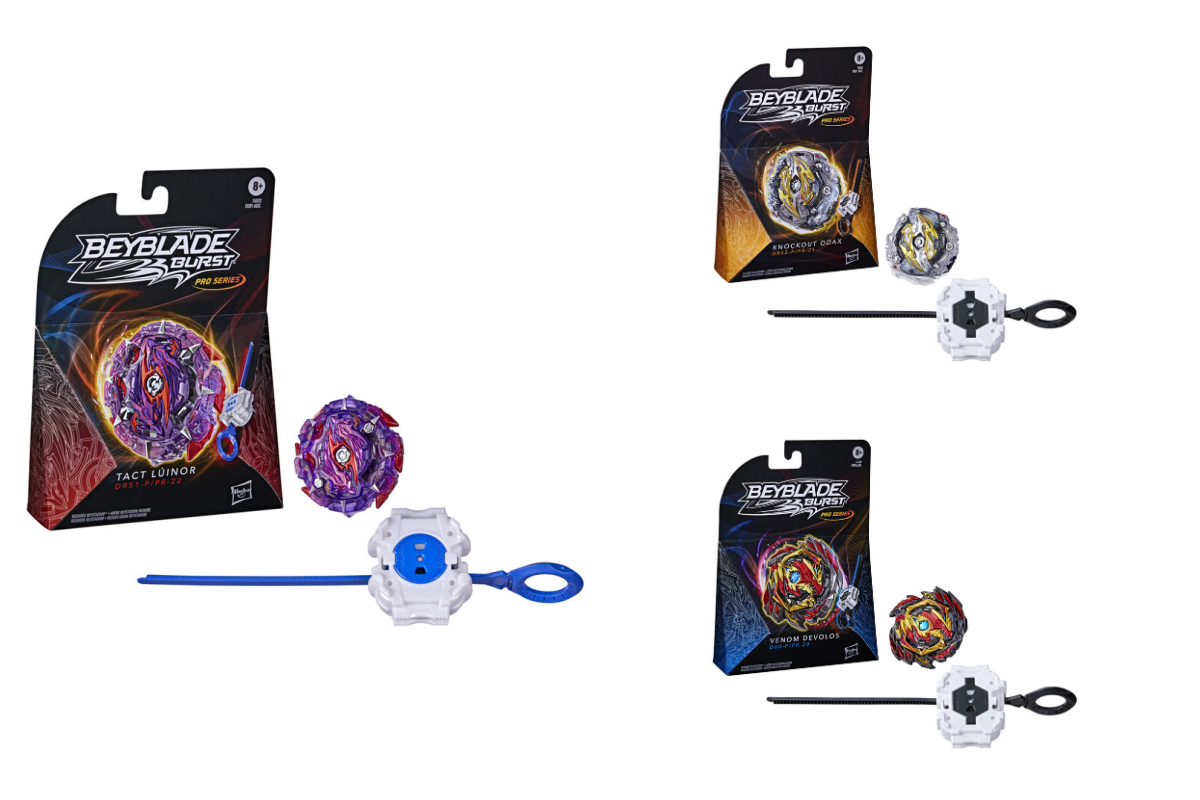 Beyblade Burst Pro Series Starter Pack
Compete with the elite using the authentic Japanese Beyblade Burst battle system!
Each Beyblade Burst Pro Series top and launcher feature authentic components and premium deco.
Tops consist of die-cast parts for weighted attack power, plus unique battle performance features for individualized strengths and strategies.
Use the included sticker sheets to apply the detailed, Japanese-inspired designs to each top.
These tops have a premium look and feel for more intense battles and a competitive edge in the Pro Series Beystadium.
Join a league of battlers with Beyblade Burst Pro Series.
Includes:
1 Beyblade Burst Pro Series right-spin launcher
1 right-spin competitive battling top
Requires Beyblade Burst Elite Champions Beystadium for Beyblade Burst battle games. Sold separately. Subject to availability.
Only compatible with the Beyblade Burst Pro Series system.
.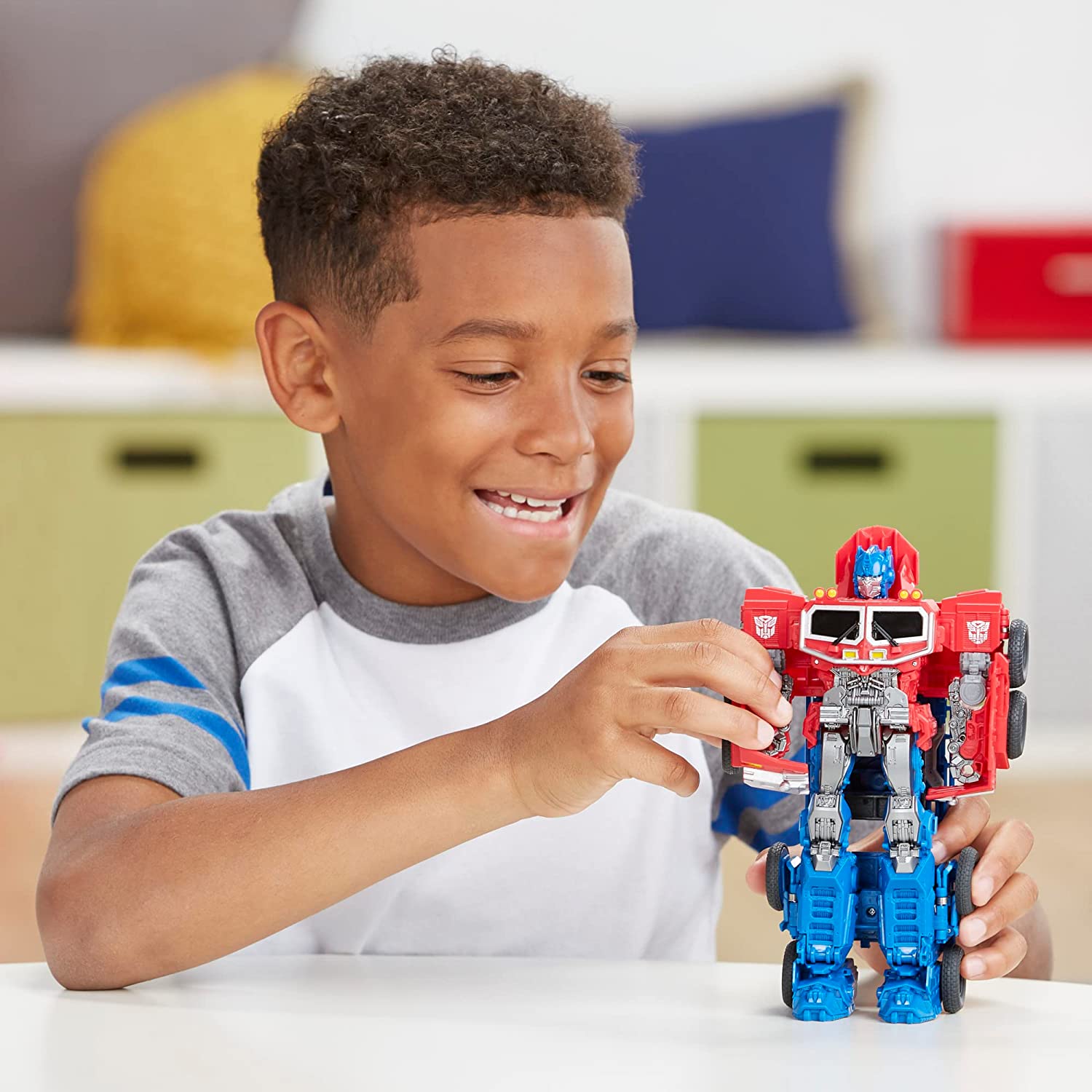 Transformers Cyberverse Smash Change Optimus Prime
The war between heroic Autobots and evil Decepticons continues on the Bumblebee Cyberverse Adventures animated series!
As a powerful new threat targets Cybertron, it is up to Grimlock and his new friends, the Dinobots, to unite and save the planet!
Discover the unique powers and skills of each Bumblebee Cyberverse Adventures character, and see how those powers will be used to defend Cybertron… or threaten it.
Smash into battle with Transformers Smash Changers!
Convert Optimus Prime figure from truck to robot mode in 3 steps by smashing!
Manually convert back to alt mode in 11 steps.
Collect other Transformers Bumblebee Cyberverse Adventures figures inspired by the animated series — one of the best ways to introduce young kids and new fans to the exciting world of Transformers (each sold separately, subject to availability).
.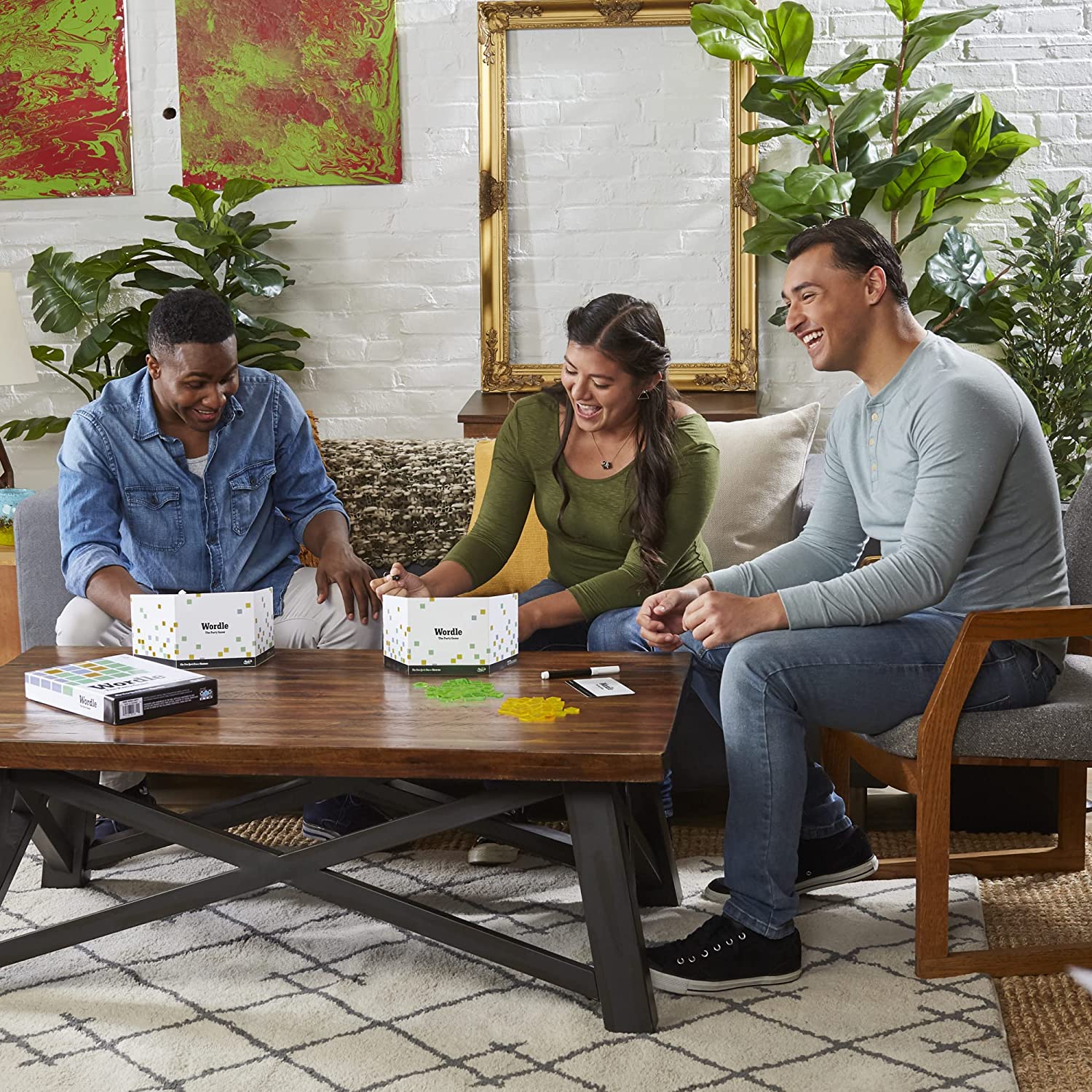 Wordle The Party Game
Love Wordle?
Gather friends and family together to enjoy the favourite word-guessing game in real life with Wordle: The Party Game!
Inspired by the digital version of the Wordle game, this analogue game for 2-4 players delivers the classic Wordle gameplay as an exciting party game.
Each round, a player designated as the Wordle Host writes down a Secret Word.
Just like the original Wordle game, players try to guess it in the fewest tries (six max).
But in this game, players are competing against others. The fewer tries a player needs, the fewer points they score.
The player with the fewest points at the end of the game wins!
Best of all, Wordle: The Party Game can be played more than once a day—the included dry-erase Wordle boards and markers mean unlimited play!
To switch up the gameplay, choose from 3 more variations: fast, timed, or teams.
A great game for game night with friends and family, Wordle: The Party Game makes a fun gift for ages 14 and up.
Includes:
3 Wordle boards
3 shields
1 Secret Word board
3 dry-erase markers
45 green tiles
45 yellow tiles
game guide
.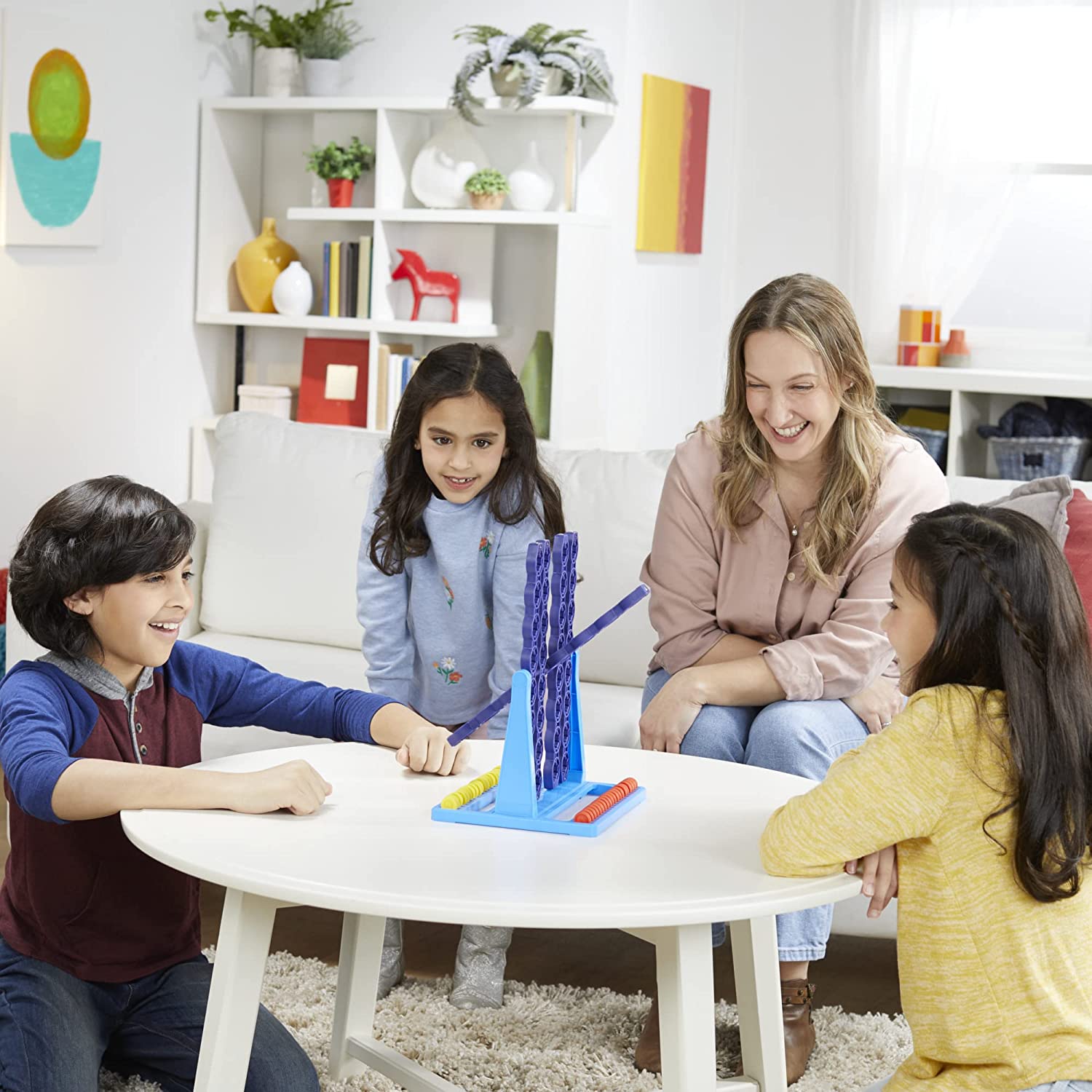 Connect 4 Spin
It's grid-spinning, game-changing fun in this strategic game of weights and balances!
Players choose where to put their disc into the grid, and then spin the column to line them up.
They need to get 4 in a row; horizontally, vertically, or diagonally to win.
But they also need to keep an eye out for their opponent's disc placement before spinning or they might throw them a victory.
Each set of discs includes a weighted disc that can change the game in an instant.
With 2 game modes, Beginner and Expert, the Connect 4 Spin game is a great choice for a family game night and play dates for kids ages 8 and up.
.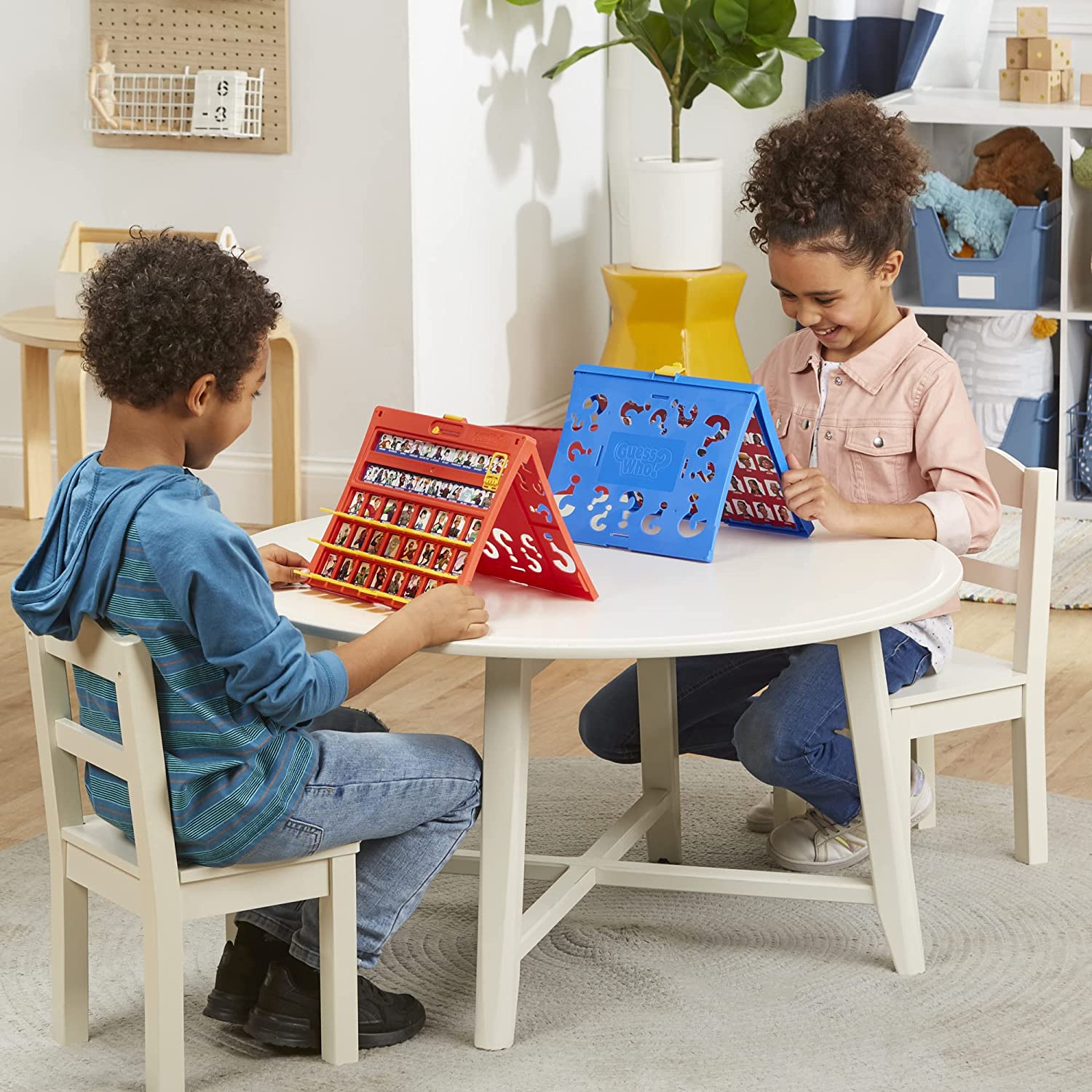 Guess Who
Bring back childhood memories of playing the classic Guess Who? game, and introduce this edition of the original guessing game to your kids and grandkids.
With the Guess Who? board game, each player chooses a mystery character card and then using yes or no questions, they try to figure out the other player's mystery person.
The game features 2 double-sided character sheets including one with superhero characters.
The character sheets easily slide in and out of the frame, making the game a breeze to set up.
And the convenient fold-up case makes it a great choice for on-the-go play.
The Guess Who? 2-player game is a great indoor activity for kids ages 6 and up.
.
GIVEAWAY
My lovely friends at Hasbro have generously offered an amazing prize pack valued at $217.95 CAD for one of you to win!
Prize Includes:
Peppa's Kids Only Clubhouse $69.99 value

furReal Lil' Wilds Lolly the Leopard $49.99 value

Play-Doh Kitchen Creations Colorful Cafe $33.99 value

Connect 4 Spin $33.99 value

Wordle The Party Game $29.99 value
This giveaway is open to Canadian residents who have reached the age of majority in their province.
To enter the giveaway complete the mandatory entry options in the giveaway widget below.
Once you have completed your mandatory entries you will be able to complete additional non-mandatory entry options. Complete those for additional ballots in the giveaway!
The Giveaway will end on December 5, 2022, at 11:59 PM EST. A winner will be drawn from all eligible entries and contacted via email on December 6, 2022. The winner will have 24 hours to respond to the email and claim their prize.
Please note that ALL entries are verified and if you submit an entry without completing it you will be ineligible to win
Disclosure: Although this post is sponsored by Hasbro, the opinions and language are all my own, and in no way do they reflect Hasbro. Any product claim, statistic, quote or other representation about a product or service should be verified with the manufacturer, company, provider or party in question.