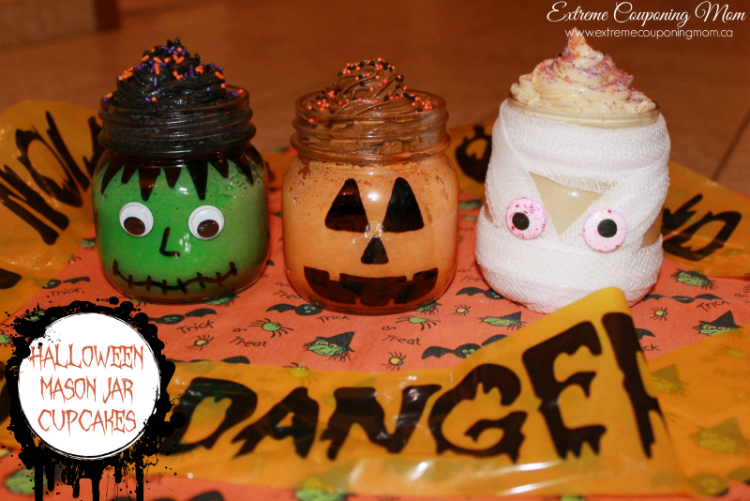 Halloween has always been a big deal in our family. My mother's home was always one of the scariest on the streets, it took lots of convincing from their parents for little kids to come up and get their candy. Those that were scared to come but after some convincing found their bravery were given double the candy!
Things have changed a bit over the years. We use to always get together with the kids, head to "Nanny Laura's" scary house and trick-or-treat in her neighborhood, however now that my mother sold her home and moved with us to Richmond Hill, my sister and brother back in Hamilton, we don't get together on Halloween anymore. So Thanksgiving weekend is jam packed with my sisters birthday, Thanksgiving dinner and getting the kids in their Halloween costumes to have a mini Halloween party.
Halloween Mason Jar Cupcakes
This year I decided instead of making regular cupcakes or buying a cake to celebrate my sisters birthday I would make these super cute Halloween mason jar cupcakes! They were a huge hit with the kids and us bigger kids too.
Print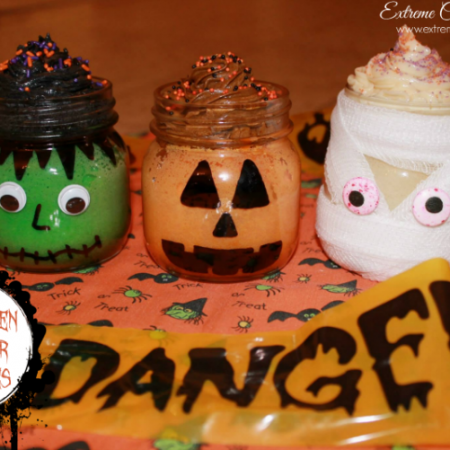 Halloween Mason Jar Cupcakes
---
Author:

Prep Time:

15 mins

Cook Time:

20 mins

Total Time:

35 minutes
Ingredients
250ml Mason Jars (9) – I found the ones I used at Dollarama
Black Sharpie Marker
Hot Glue & Glue Gun (or super glue)
Wilton Food Colouring Gel (brown, black, green and orange)
White Cake Mix (1 box makes 9 jars)
1-2 Jars of Frosting
3 Piping Bags with desired tips
---
Instructions
Preheat your oven to 350 degrees
Prepare your cake mix as per the instructions on the box.
Once your batter is ready divide it equally into three bowls.
Leave one bowl plain white for the mummy cupcakes. Using your Wilton food colouring gel place a small amount of green into one of the bowls and mix well. If not the colour you wish add a small amount at a time as the gel doesn't require a lot to make the colour bright. The kit I linked above does not come with orange however I made it very easily using the golden and red gels. I prefer the gel vs liquid as it doesn't thin out your batter or icing.
Place your mason jars on a rimmed baking sheet and fill each mason jar just under 1/2 way, if you fill them anymore they will overflow (like some of mine did). If it happens it's no big deal you can just scoop out some of the cake once cooked and wipe the rim of the jar with paper towels.
Put in the oven and bake for 20 minutes. Be sure to stay in the kitchen and keep your eye on them as if you over bake them they will turn brown. So as soon as 20 minutes is up or you see them turning brown take them out right away.
Leave them to cool fully for about an hour.
While you are waiting for them to cool you can prepare your frosting. Divide it equally into three bowls. Leave one of them white for the mummy. Using your Wilton food colouring gel place a small amount of black into one for Frankenstein and the other brown for the pumpkin.
When the jars have cooled, decorate the jars and let the glue and ink set for 15 minutes.
Frost the cupcakes using your piping bags (one per colour icing) and desired tip. Then you can garnish with sprinkles if you would like. If gifting them don't fill with as much frosting so you can put on the lids.
Notes
To store them, place lids firmly on and put in your fridge for 2-3 days.