Fall Off The Bone Instant Pot BBQ Ribs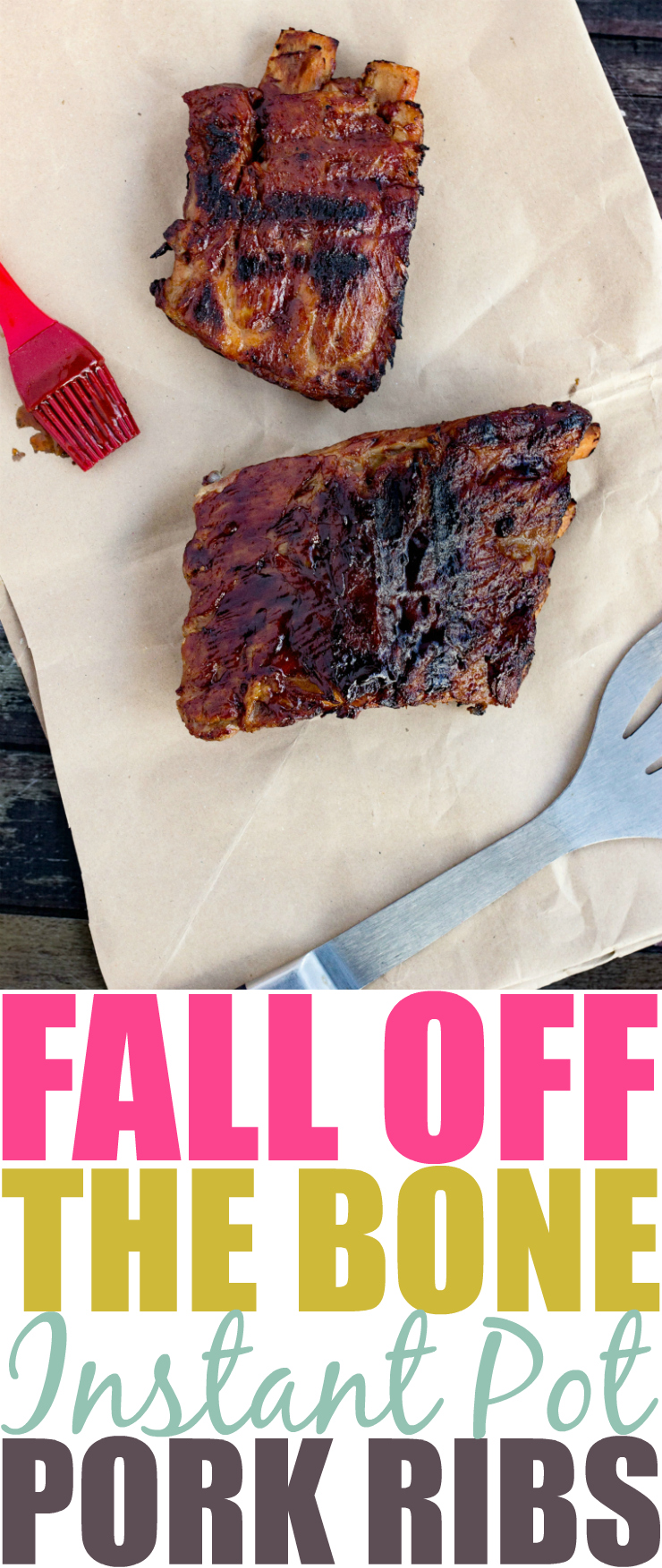 Next to chicken wings, ribs are one of my favourite things to eat. Unfortunately I rarely made them because they took forever to cook in a slow cooker, and cooking on the BBQ from start to finish would waste so much propane.
Have I told you how much I love my Instant Pot? I probably sound like a broken record at this point, but I honestly love it that much. Anyone who will give me the time of day I tell them how much they need an Instant Pot in their life.
Well, I am back with another amazing Instant Pot recipe. It is so amazing and easy that you will be putting ribs on your meal plan more often than before!
I have a freezer full of meat. All different cuts of beef, pork, chicken, and even turkey. I decided back in February that I would place a large meat order to last us the whole year. In February, the first half of our order arrived, and it filled both my large deep freezer and my fridge freezer. We are now in August and we are still working off the first half of our order. My two 8 quart Instant Pots have been pulling double duty cooking us delicious, mouth-watering meals!
Fall Off The Bone Instant Pot BBQ Ribs
If you are like me and love ribs, but hate the amount of time it takes to cook them to perfection, my fall off the bone Instant Pot BBQ ribs recipe is for you. Following my recipe you have finger-licking ribs in a fraction of the time a slow cooker or BBQ would take to make them.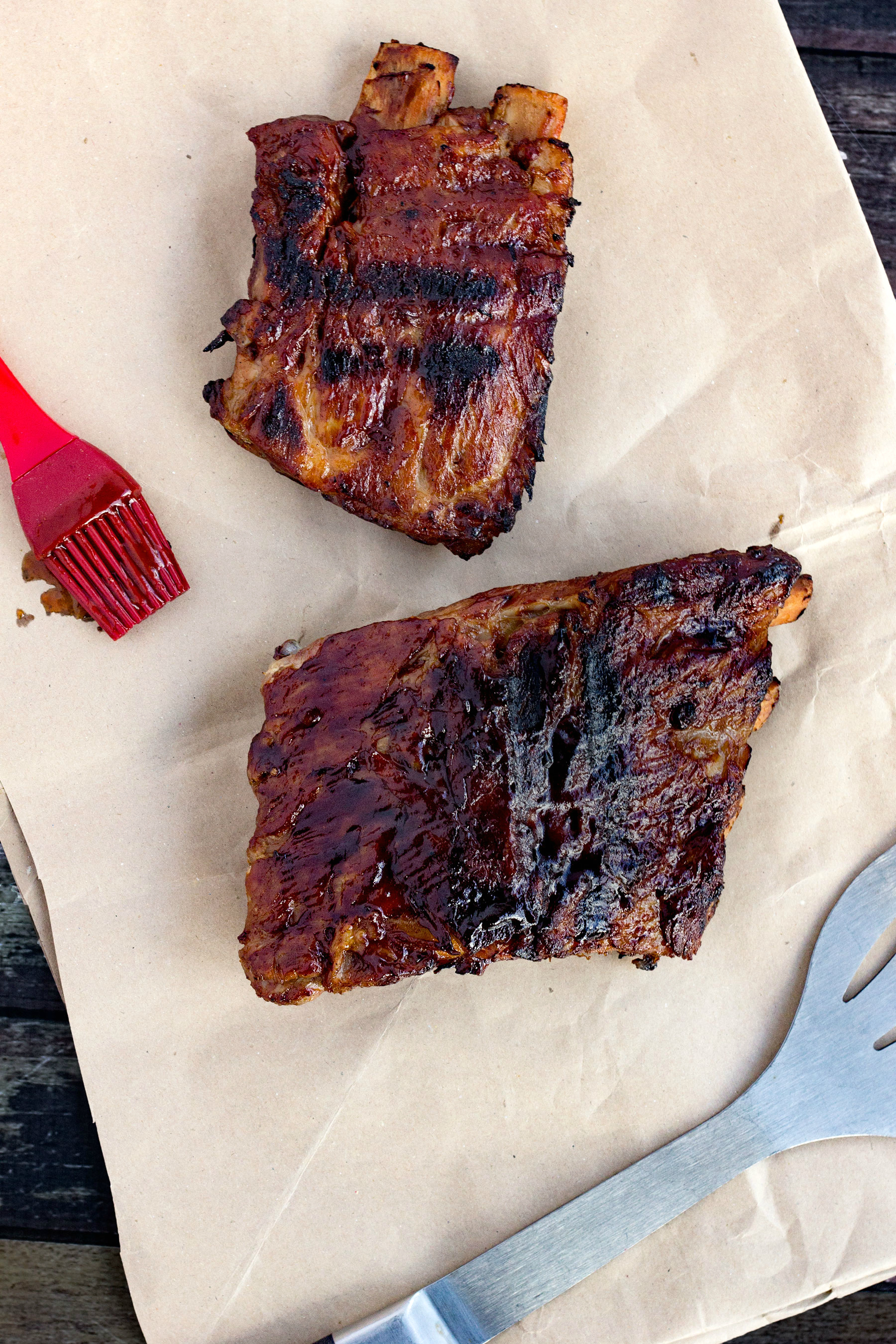 Print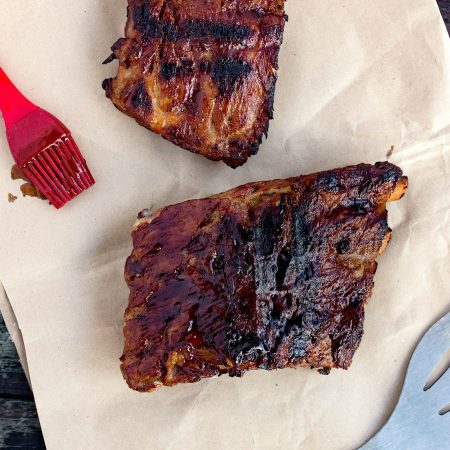 Fall Off The Bone Instant Pot BBQ Ribs
---
Author:

Prep Time:

5 mins

Cook Time:

30 mins

Total Time:

35 minutes

Category:

Main

Method:

Instant Pot
Ingredients
1 to 1 1/2 rack of pork back ribs
3 1/2 cups of apple juice
1/2 cups of lemon juice or apple cider vinegar
BBQ sauce of your choice
---
Instructions
Cut your full rack of ribs in half and remove the membrane from the back of the ribs where the bones are.
In your Instant Pot pour in your apple juice and lemon juice or apple cider vinegar. I used lemon juice as I didn't have apple cider vinegar and it is a substitute for it.
Place your Instant Pot trivet inside your pot and then place your 2-3 half racks of ribs on the trivet.
Using the manual function set the time to 30 minutes. IF your meat on your ribs are not as thick as mine, set the time for 25 minutes.
When the time is up, let the pressure naturally release for 5 minutes. Then quick release the remaining pressure.
While the pressure is releasing put your oven on 500, or pre-heat your BBQ.
Carefully remove your ribs onto a tray. Generously coat all sides of your ribs with your preferred BBQ sauce.
Using an oven, place your ribs on a baking sheet and cook until the BBQ sauce has caramelized, about 5 to 10 minutes.
If using your BBQ, place them on top of the flames and cook for 5 to 10 minutes, flipping half way through, until the BBQ sauce has caramelized
Notes
Remember the cook time does not include the time it takes for your pressure cooker to come to pressure. The time it takes to come to pressure will vary.
This recipe was made using the 8 Quart Instant Pot but can be done in the 6 quart Instant Pot as well.
Also ensure when you are pressure cooking, that your valve is set to sealing not venting or it will not come to pressure.
Will you try my Fall Off The Bone Instant Pot BBQ Ribs? If you do, please come back and let everyone know what you thought in the comment section below!
Don't forget to check out my other delicious and easy Instant Pot recipes!