Bacon French Onion Soup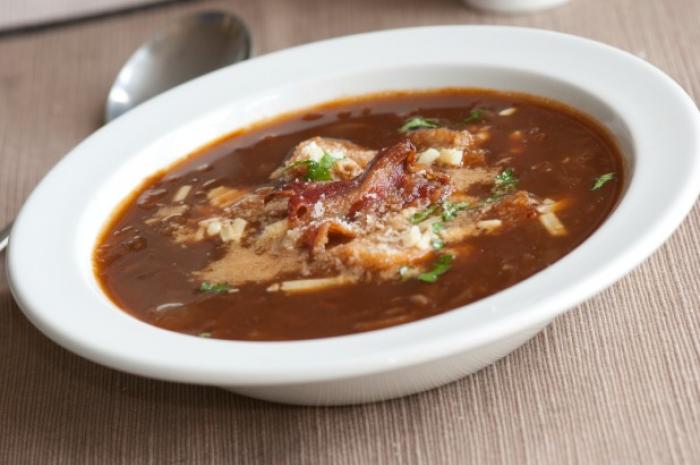 One of my favourite soups has to be French Onion Soup. Although I love to make it, I tend to buy it more than I would like to admit. This is because to make a good French Onion Soup takes time, love, and patience. Lets face it who wants to cook down onions for 3+ hours on a regular basis?
Bacon French Onion Soup
This Bacon French Onion Soup recipe is so worth the time, love, and patience to be rewarded with such a hearty warm bowl of deliciousness on a cold gloomy day! Plus, Bacon – need I really say more?
Print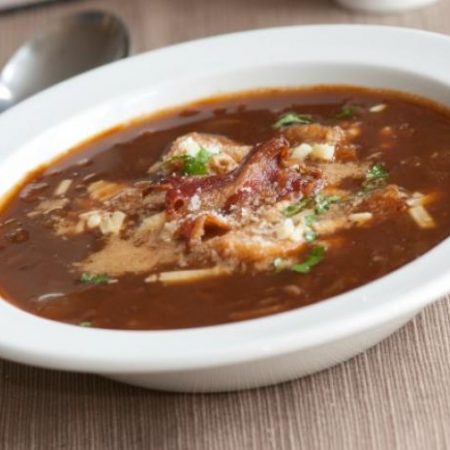 Bacon French Onion Soup
---
Author:

Category:

Soup
Ingredients
3 tbsp unsalted butter
6 large yellow onions
table salt
2 cups water (plus extra for deglazing)
4 cups chicken broth
3 cups beef broth
1 bay leaf
ground black pepper
Gruyère Cheese
12 slices of bacon
---
Instructions
Place your oven rack to the lower-middle position and pre-heat to 400.
Take each large onion and cut in half, then proceed to slice the onions from pole to pole.
Using a large Dutch Oven place butter in pot and add onions and 1 teaspoon salt.
Cook covered for 1 hour, the onions will be moist and will slightly reduced in volume at this point. Remove the pot from oven and stir onions ensuring you scrape the bottom and sides of pot. Return the pot to the oven with the lid slightly open to one side and continue to cook for another hour.
Remove the pot and stir the onions ensuring you scrape the bottom and sides of the pot. Return the pot to the oven and cook until onions are very soft and golden brown, about 30 to 45 minutes.
Carefully remove the pot from the oven and place over medium-high heat on the stove.
Cook the onions stirring frequently and scraping bottom and sides of pot until the liquid evaporates and the onions brown, 15 to 20 minutes. Reduce your heat to medium if the onions are browning too fast.
Continue to cook, stirring frequently, until pot bottom is coated with dark crust about 6 to 8 minutes adjusting heat as necessary. Stir in 1/4 cup water scraping the bottom of the pot to loosen crust and cook until water evaporates and the pot bottom has formed another dark crust about another 6 to 8 minutes. Repeat this process of de-glazing 2 or 3 more times or until onions are very dark brown.
Pour in the two broths, 2 cups of water, bay leaf and 1/2 tsp of salt scraping up any final bits of brown crust on bottom and sides of pot.
Increase the heat to high and bring to a simmer then reduce the heat to low cover the pot and simmer for 30 minutes. Once simmered for 30 minutes remove bay leaf and season with salt and pepper.
As the soup is simmering cook your 12 slices of bacon. Once cooled enough to touch cut the bacon slices into 1 inch pieces and set aside. Grate Gruyère Cheese and place in a bowl.
Adjust your oven rack to the middle position.
Set individual broiler-safe crocks or onion soup dishes on baking sheet and fill each with about 1 3/4 cups of soup. Then place a handful of croutons on the top of the soup and sprinkle evenly with Gruyère Cheese and top the cheese with bacon.
Broil until cheese is melted and bubbly around edges about 3 to 5 minutes and let cool slightly before serving.
French Onion Soup is certainly a labor of love but its deliciousness is the big reward at the end!

Aimee is a suburban mom of 3 and resides in Richmond Hill, Ontario. She enjoys sewing clothing for her small handmade clothing business, baking, DIY projects both big and small, travel, and finding creative ways to save her family money.

Latest posts by Aimee Geroux (see all)