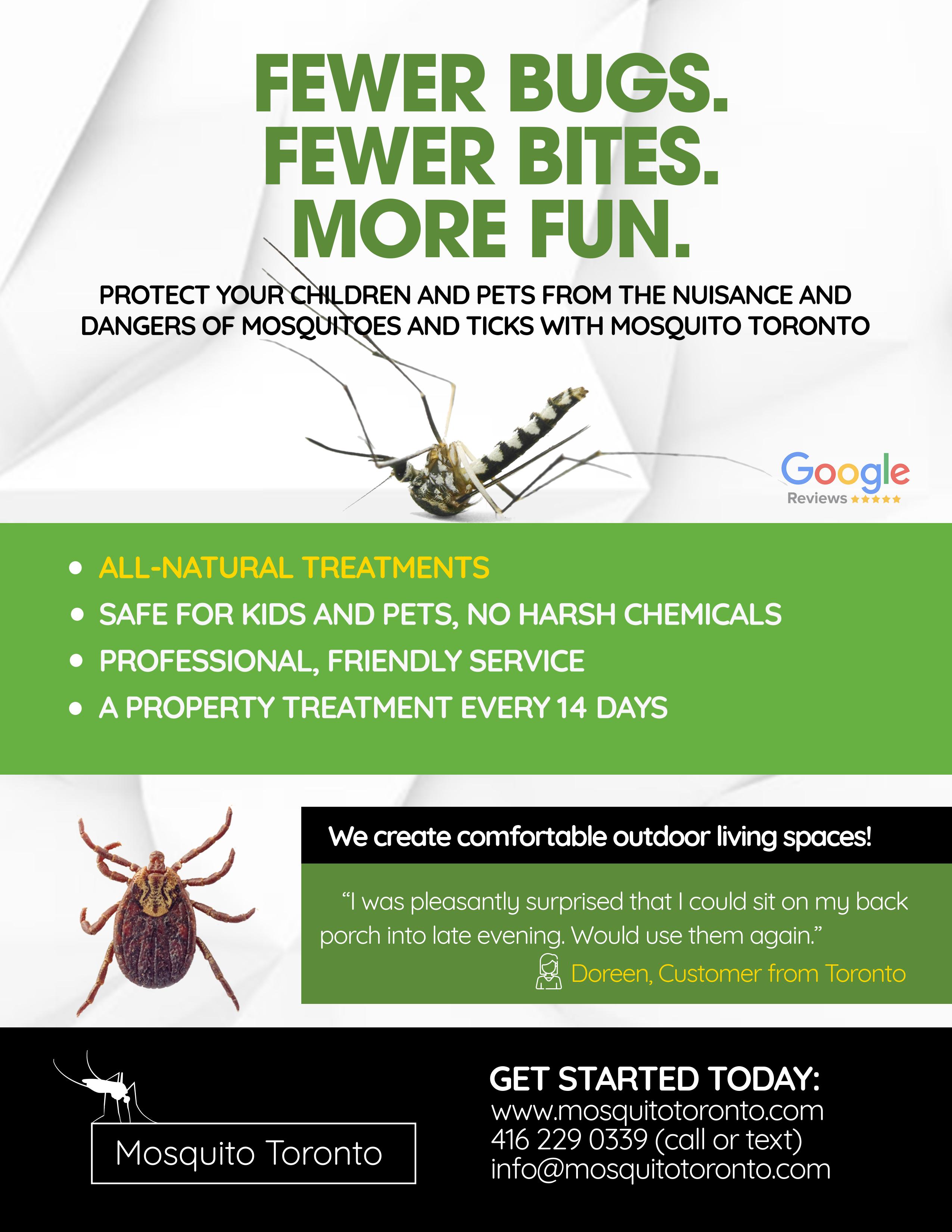 There is truly nothing worse than attempting to enjoy a nice evening in your backyard and getting swarmed by mosquitos, thankfully this year Mosquito Toronto has us covered!
We moved into our home in the summer of 2019 and one of the things I love most about the new house is the backyard.
At our old home, the backyard was not fenced, there was no deck and the landscaping was so bumpy we couldn't put out a patio set to enjoy.
We honestly didn't spend much time in our old backyard in the 5 years we lived in that home.
But at this home, the backyard is fenced in, has a beautiful deck and we replaced the lawn to rid it of all the weeds and prickly things so we could fully enjoy this backyard.
Bella really enjoys our backyard.
Sadly, we didn't really get to enjoy it much the first summer we lived here beyond daytime hours.
As soon as the sun would start to set the mosquitos were out in full force, it was horrible.
We tried some store-bought mosquito repellants and none worked.
Not the rings, candles, nothing!
A Tranquil Summer In Our Backyard – Mosquito Toronto
When we realized how bad the mosquitos were at our new home in 2019 I reached out to Mosquito Toronto, but they were fully booked for the season.
I vowed to never let that happen again and we have had Mosquito Toronto servicing our home for the full mosquito season ever since.
Their motto is: Protect, Monitor, Repel… Repeat!
If there was ever a time to invest in this service, that time is now so you can get outside as much as possible without the annoyance (and pain) from pesky mosquitos.
Tell them AIMEE GEROUX sent you when you book your summer service and you will get $50.00 off your service!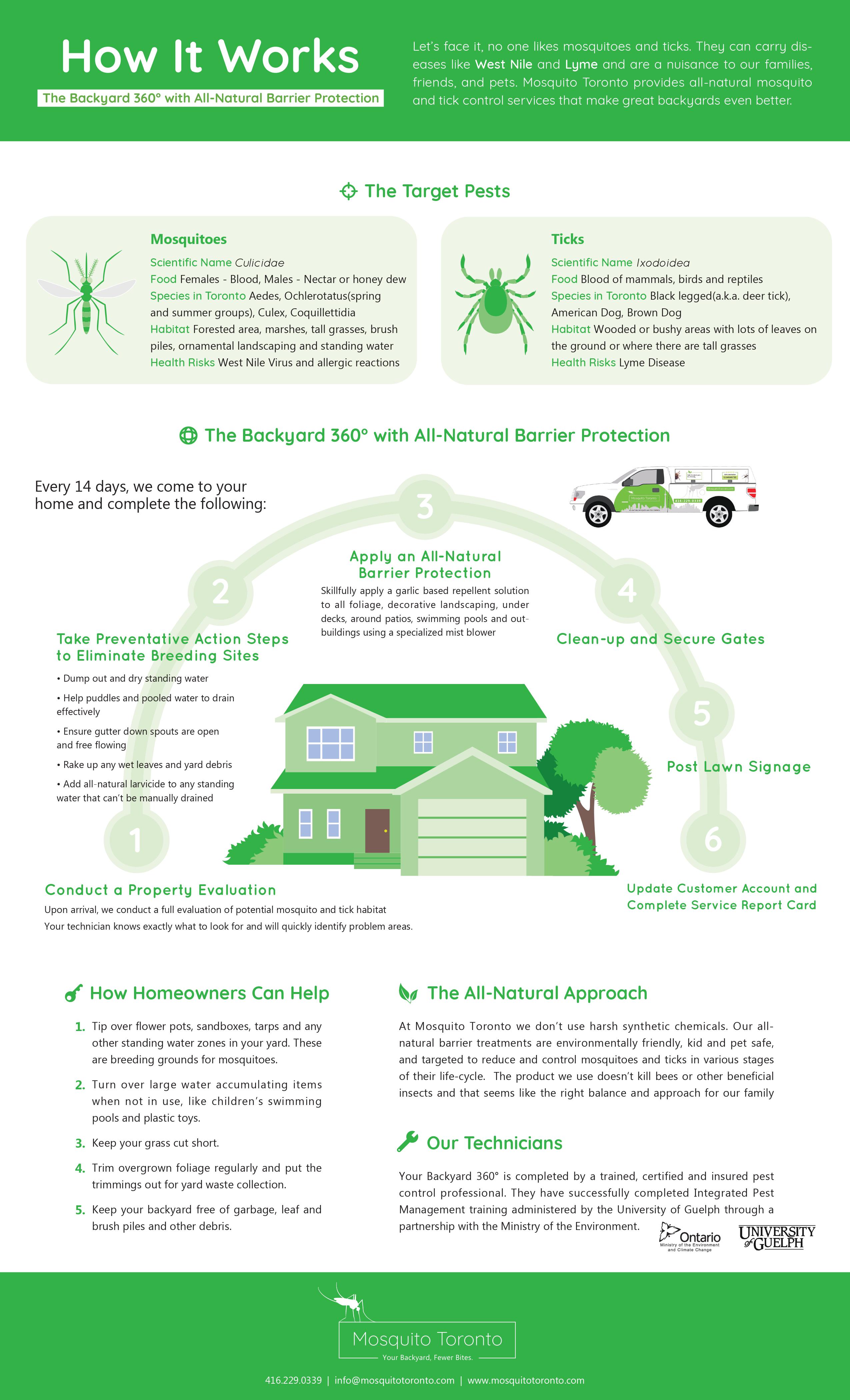 Mosquito Toronto – How It Works
During your treatments from Mosquito Toronto, adult mosquitos are hit and hit hard by their technicians using professional-grade applicator units that disperse the all-natural barrier repellent onto the foliage on your property, including trees, bushes, and plants.
The more foliage you have, the more places mosquitos have to hide out and make themselves at home.
They will also treat under your deck, shed, pool house and other structures that mosquitoes love to call home.
But that's not all folks.
After the natural treatment solution dries, it provides continuous residual protection for up to 14 days.
That's why signing up with Mosquito Toronto all season long is key to keeping those mosquitos at bay.
Their all-season service provides regular treatments, every 14 days.
You can sign-up for a package of 5 (prime time) or 8 (their most effective, full season, mosquito control package) bi-weekly treatments.
Last but not least, as a part of every 14-day treatment visit you get an added bonus, a bonus that makes their great service, even better.
Using their extensive training, your technician will take additional, proactive steps to eliminate mosquito larvae breeding sites on your property.
This is their Mosquito Check-up Inspection that is included with each treatment.
Mosquito Toronto Service Area
Durham
Peel
Toronto
York Region
Don't Miss Out
Sounds amazing right?
Mosquito Toronto's service is highly sought after and they do book up early and fast, so if you want to lock them down to service your home this summer I suggest you reach out to them ASAP!
Tell them AIMEE GEROUX sent you when you book your summer service and you will get $50.00 off!
Tick Control
If mosquitoes weren't enough of an annoyance, another pest that often creeps into your backyard is the tick.
These nasty insects can carry Lyme and other tick-borne illnesses.
Ticks are the last things we want our kids, family or pets picking up when we are trying to enjoy our backyard.
They love to hang out in long grass, brush and foliage around your home, and unfortunately, their population is on the rise in the Toronto area.
Thankfully, Mosquito Toronto's all-natural treatment not only protects against mosquitos, but it also protects against ticks!
My Experience With Mosquito Toronto
My technician arrived at my home for my first of 8 treatments, I am doing the full-season package.
It was a completely contactless service, you do not need to be home for them to service your property.
He did a property evaluation and we passed with flying colours.
We had no puddles, pooling or standing water.
Our gutters were open and clear of any blockages.
He did note that my one neighbour's cedar tree on our fence line and their pool are hot spots for mosquitos, and likely why the mosquitos are as bad as they are.
After the property evaluation, he began the all-natural 360° property treatment application, leaving no corner untreated.
Once the application was complete he placed a sign on my lawn noting the treatment and gave me my service report card.
If their property evaluation finds any areas that are a concern leading to the increase in mosquitos and/or ticks, they will place their recommendations on how to fix those on the back of your report card.
I am looking forward to another summer filled with more backyard fun and less mosquito annoyance!
Tell them AIMEE GEROUX sent you when you book your summer service and you will get $50.00 off!
Mosquito Toronto
Follow Mosquito Toronto on Facebook, Instagram, Twitter and YouTube for great tips and more information on their company. Visit their website to find out more about their services and to book your mosquito-free summer!
Disclosure: Although we were given a discount on our service, the opinions and language are all my own, and in no way do they reflect the mentioned brands. Any product claim, statistic, quote or other representation about a product or service should be verified with the manufacturer, company, provider or party in question.