Creative Gifting Fun With Smooshins Surprise Maker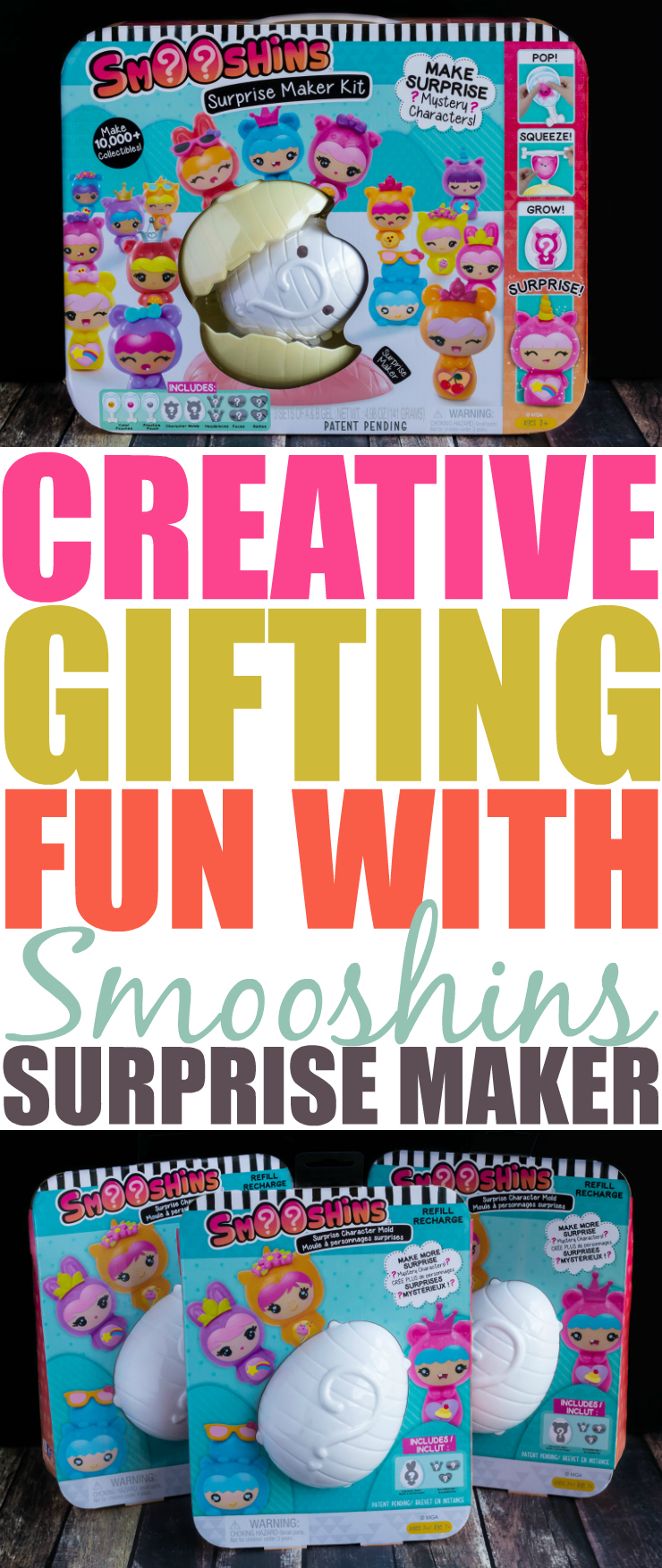 If you have a child it is almost impossible to not know what a blind bag is. These little surprise toys are all the rage and they top wish lists for gifts around the world!
It's funny, I remember when Bella was a baby and reading posts in mom groups about Shopkins. I laughed to myself silently, all these moms going crazy to find the ones to complete their children's collections!
I may have laughed then thinking to myself that I would miss the fad and that it would be a thing of the past by the time Bella reached the age to play with them. Boy was I wrong!
Bella was 2 when she got into watching YouTube unboxing videos, and that is when it all began. My little toddler, who was just barely talking, already requesting blind bags and surprise toys.
Well here we are two years later and not only is this fad still around, her love for all things surprise and blind bags has only grown deeper!
Smooshins Surprise Maker
When I saw that the new Smooshins Surprise Maker was part of the MGA Entertainment Fall/Winter Toy Box program I knew instantly that Bella would love them.
While Bella is a few years under the age range for this product I knew that wouldn't matter. After all, she isn't putting things in her mouth at almost 4, and I would be assisting her in making them.
The new Smooshins Surprise Maker kit allows kids to make cute, smooshy characters and then customize them with the surprise accessories in the included blind bags!
It's as easy as pop, squeeze, surprise!
Pop the color pouch, squeeze it into the surprise maker, let your character grow inside, and reveal which character you made! Customize your characters with the surprise accessories.
Smooshins Surprise Maker & Refills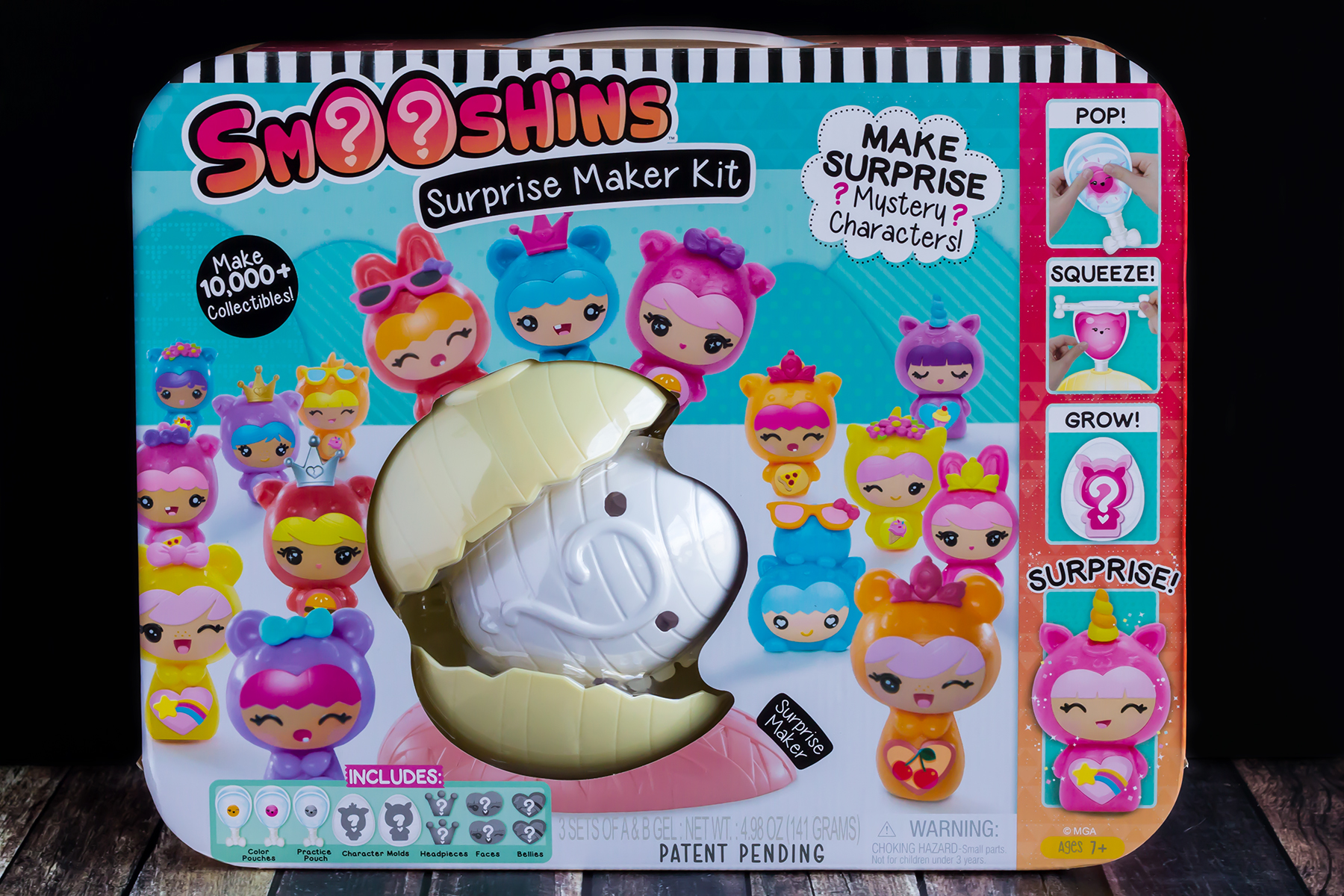 The Smooshins Surprise Maker includes 2 surprise character molds, 2 color pouches – orange and pink, 1 practice color pouch, 2 surprise faces, 2 surprise bellies, 2 surprise headpieces, 2 character stands, and a Squeeze tool.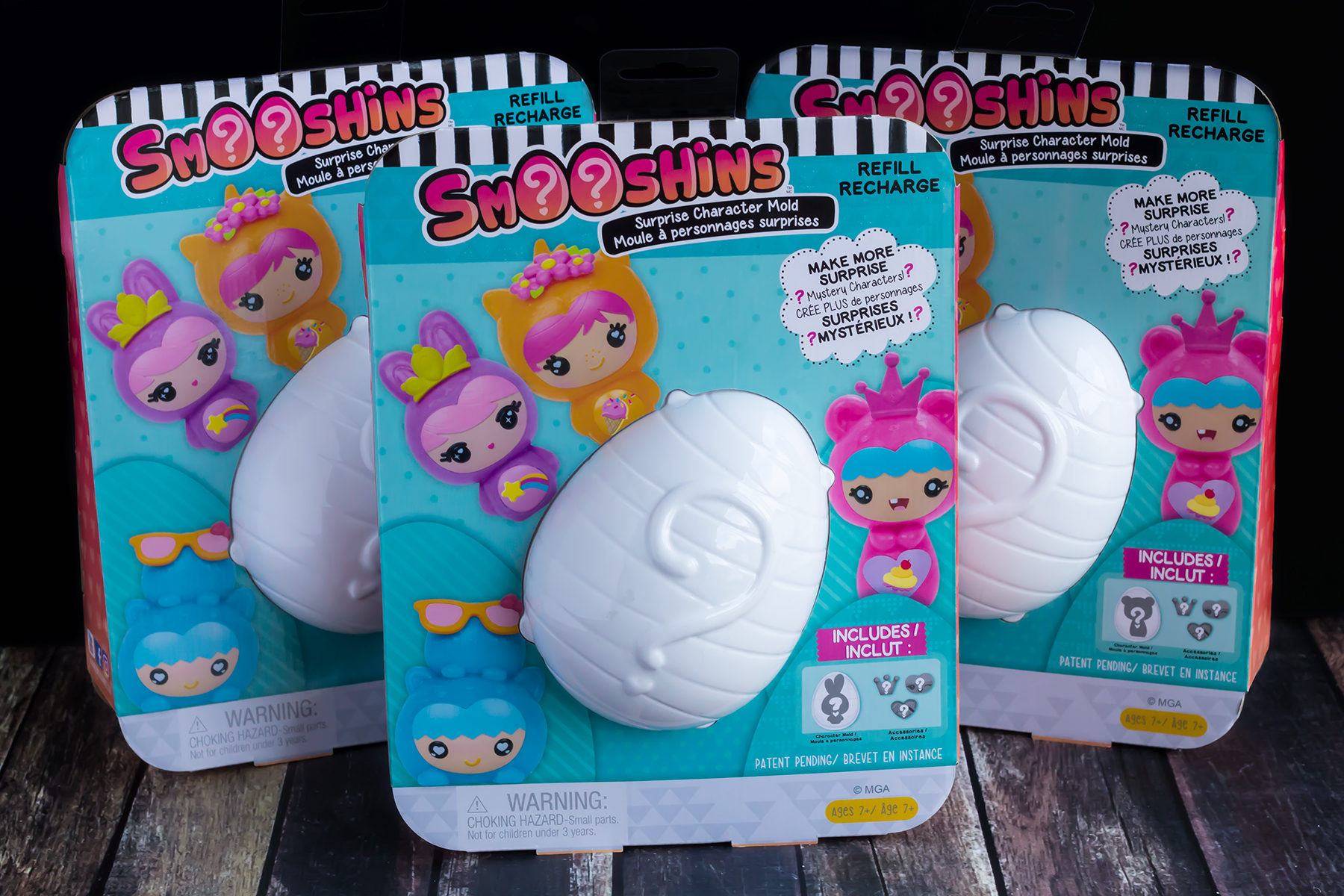 The fun doesn't stop at the Smooshins Surprise Maker, there are tons of refill surprise character molds to make and collect!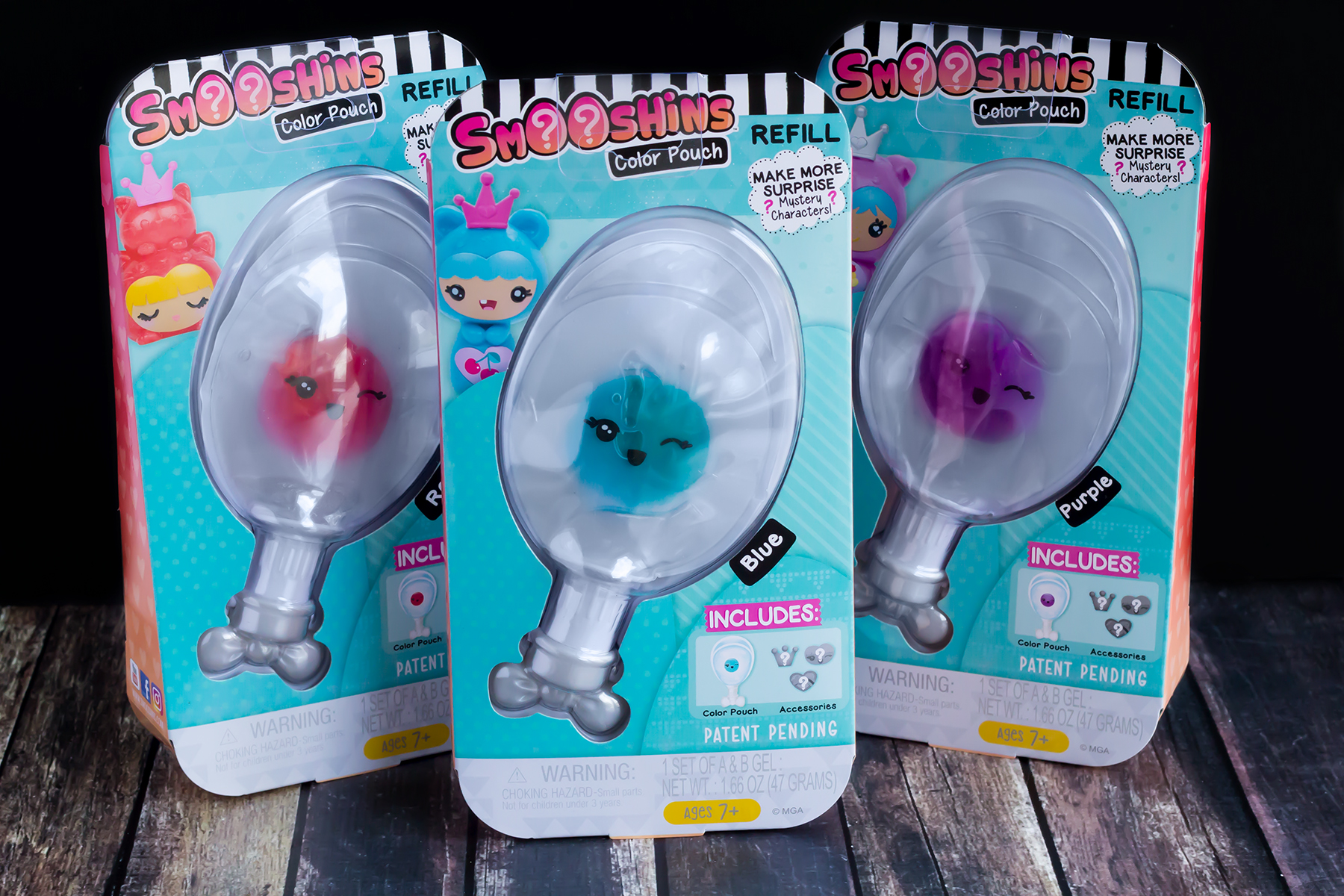 You can also find refill color pouches so your child can pick what colour their Smooshins will be!
How It Works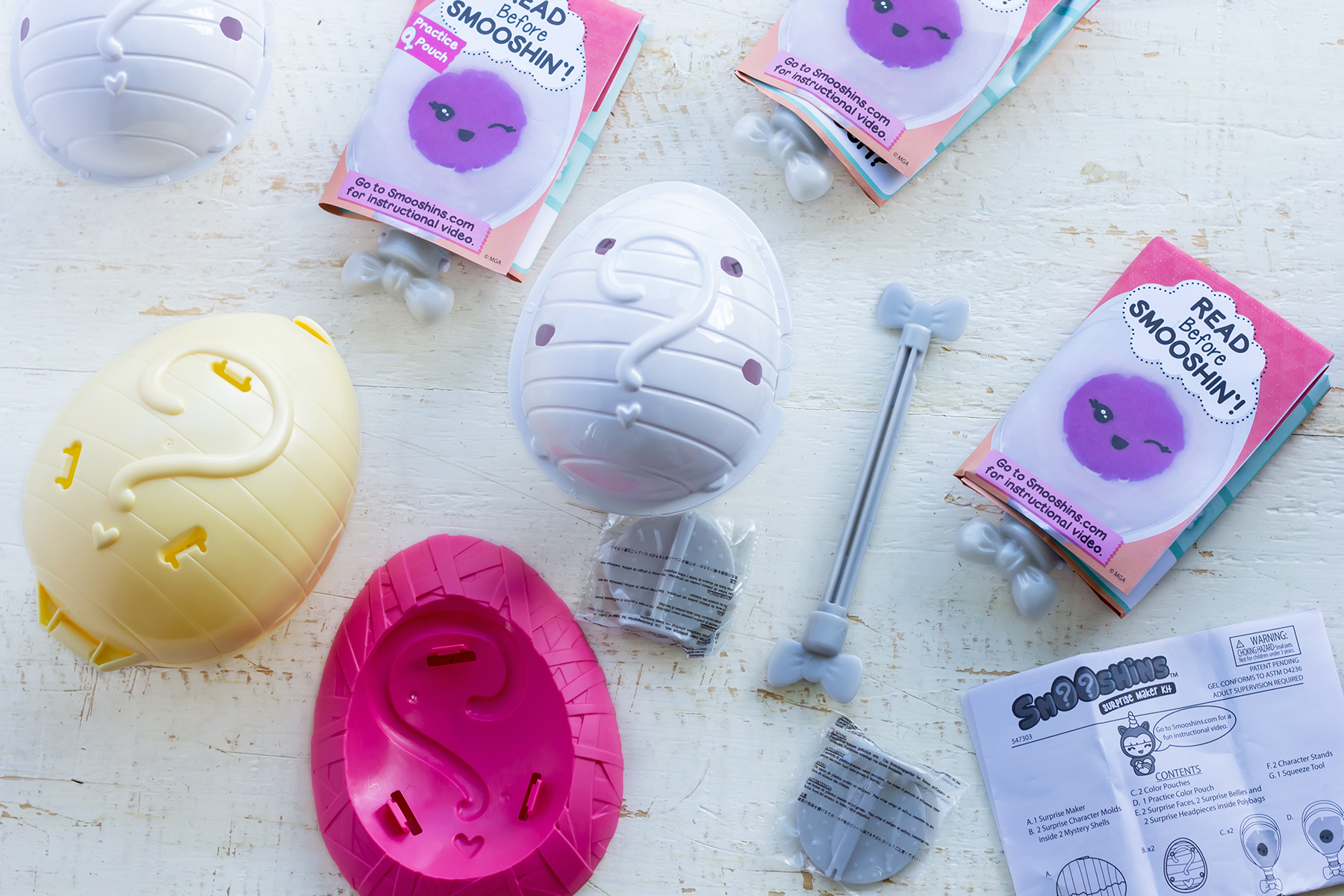 I love that the Smooshins Surprise Maker kit comes with a practice pouch. This will help you get familiar with how the popping and mixing happens as you do have only 1 1/2 minutes to mix that puppy up!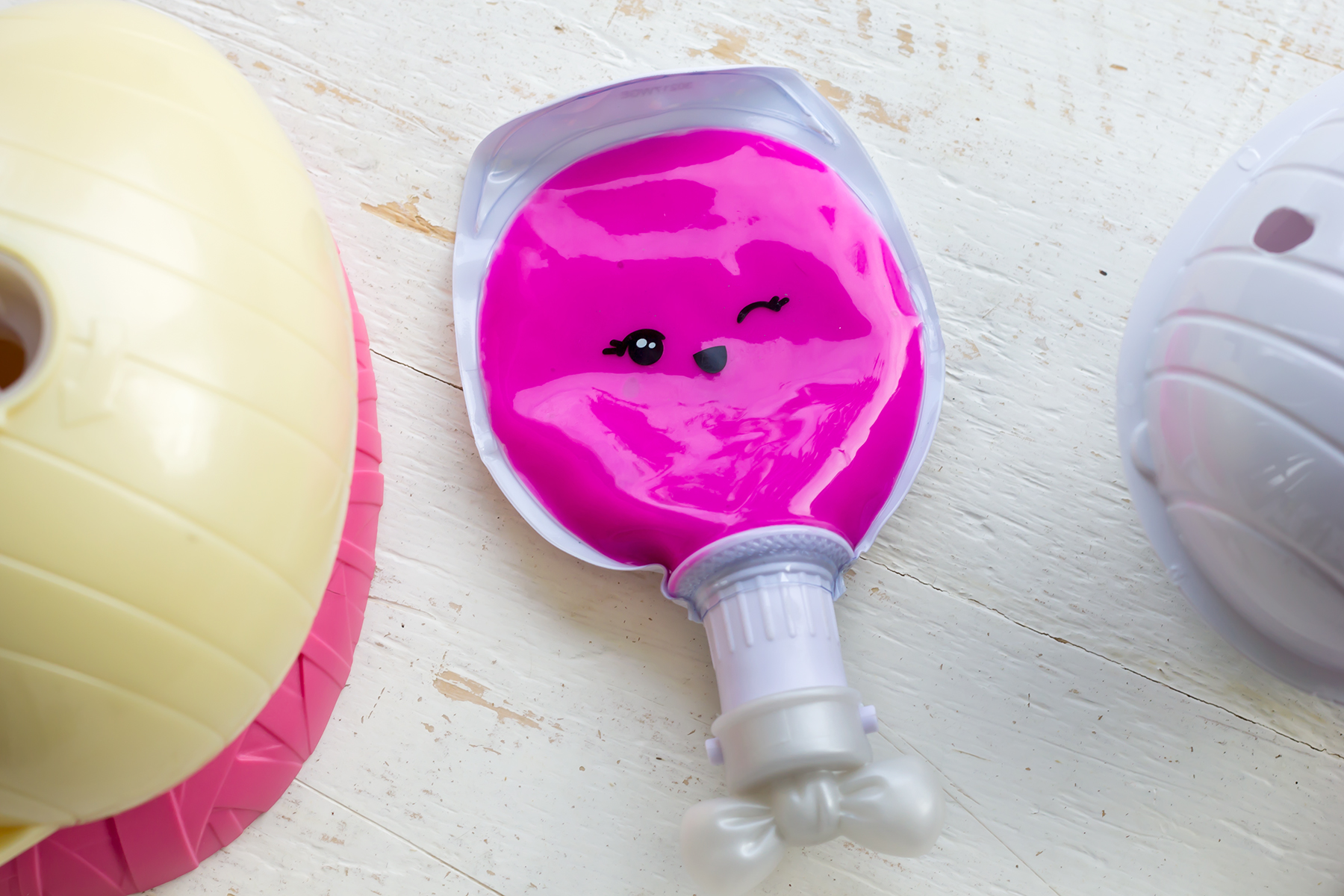 Of course I had to do the popping and mixing as Bella is a little young to grasp that it has to be done quickly. I did the practice pouch and had it fully mixed before my time was up.
TIP: you want to ensure that your color pouch is fully mixed, like fully guys, to ensure you don't get any sticky parts on your finished Smooshins.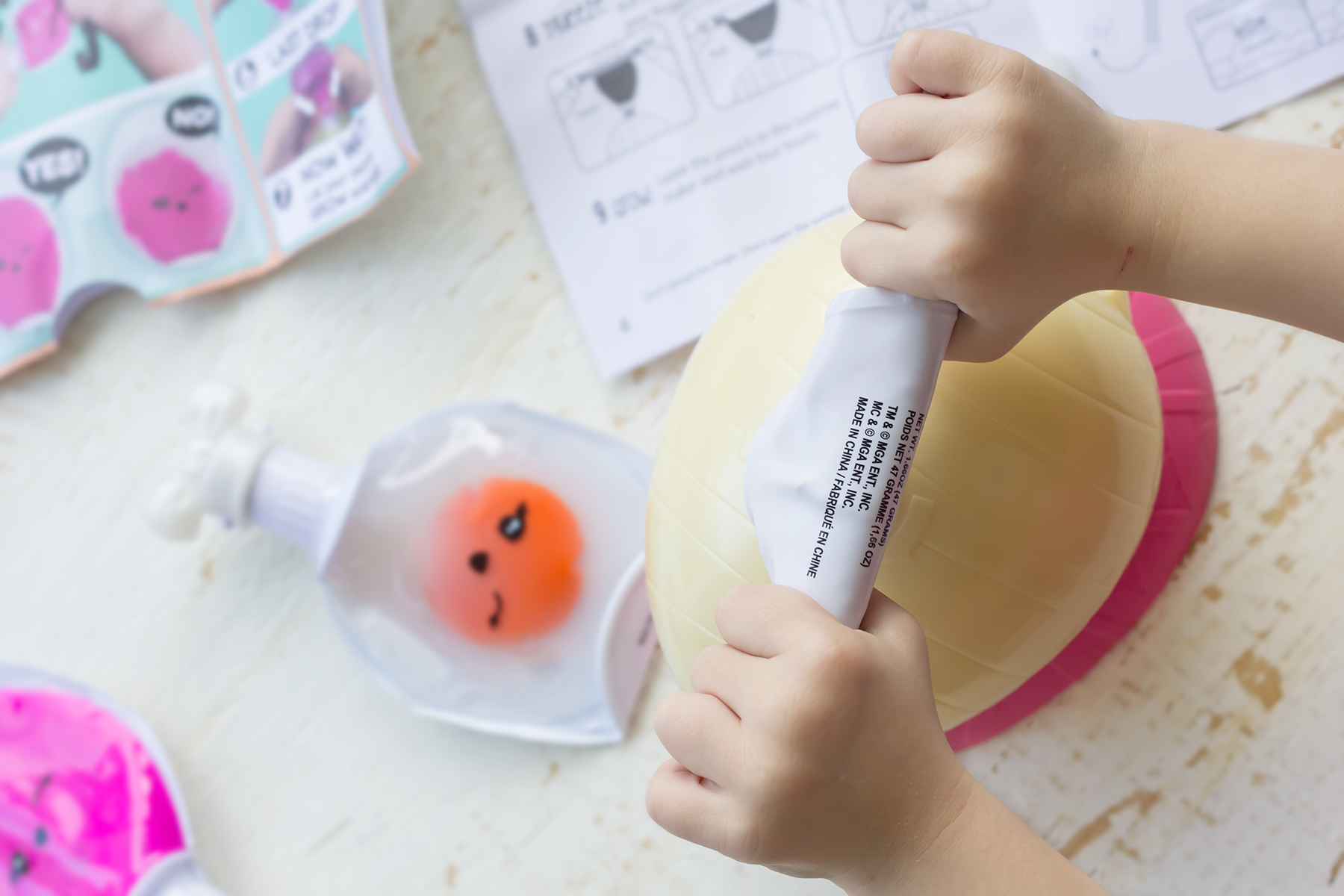 Once you have fully mixed the color pouch you then have 30 seconds to get all the product squeezed into the capsule. Again, I had to do this as Bella doesn't grasp time limits, but I let her pretend she was doing it after I was done.
I will admit, at first I was intimidated by the time limits, but there is no need to be. Just set a timer and go, it really is longer than you think!

Once you have completed the steps to creating your Smooshins, you will want to let that surprise grow and cure for at least 24 hours. I personally left ours for 48 hours to ensure it would be fully complete!
Once the time is up you open the capsule and reveal your surprise Smooshins. Inside the plastic egg capsule is also 3 blind bags. The contain your Smooshins face, belly, and head accessory.
Smooshins
For updates and more follow Smooshins online via Instagram and Youtube!
Where To Buy
You can find the Smooshins Surprise Maker Kit as well as refill products online at both Indigo and Well.ca!
Enter To Win
I have teamed up with MGA Entertainment and Smooshins to bring you the chance to win your very own holiday prize pack valued at $134.93!
Prize:
1 Smooshins Surprise Maker
3 Smooshins Refill Surprise Character Molds
3 Smooshins Refill Color Pouches
This giveaway is open to Canadian residents who have reached the age of majority in their province.
To enter the giveaway complete the mandatory entry options in the giveaway widget below. Once you have completed your mandatory entries you will be able to complete additional non-mandatory entry options. Complete those for additional ballots in the giveaway!
This giveaway will close on December 13, 2017 at 11:59 PM EST. The winner will be drawn from all eligible entries and contacted via email on December 14, 2017. The winner will have 24 hours to respond to the email and claim their prize. If they fail to do so a new winner will be drawn.
Please note that ALL entries are verified and if you submit an entry without completing it you will be ineligible to win
.
Our other reviews from the MGA Entertainment 2017 Fall/Winter Toy Box Program: Num Noms, Little Tikes, and Gel-a-Peel!
Disclosure: Although we were sent product for review consideration, the opinions and language are all my own, and in no way do they reflect Smooshins. Any product claim, statistic, quote or other representation about a product or service should be verified with the manufacturer, company, provider or party in question.