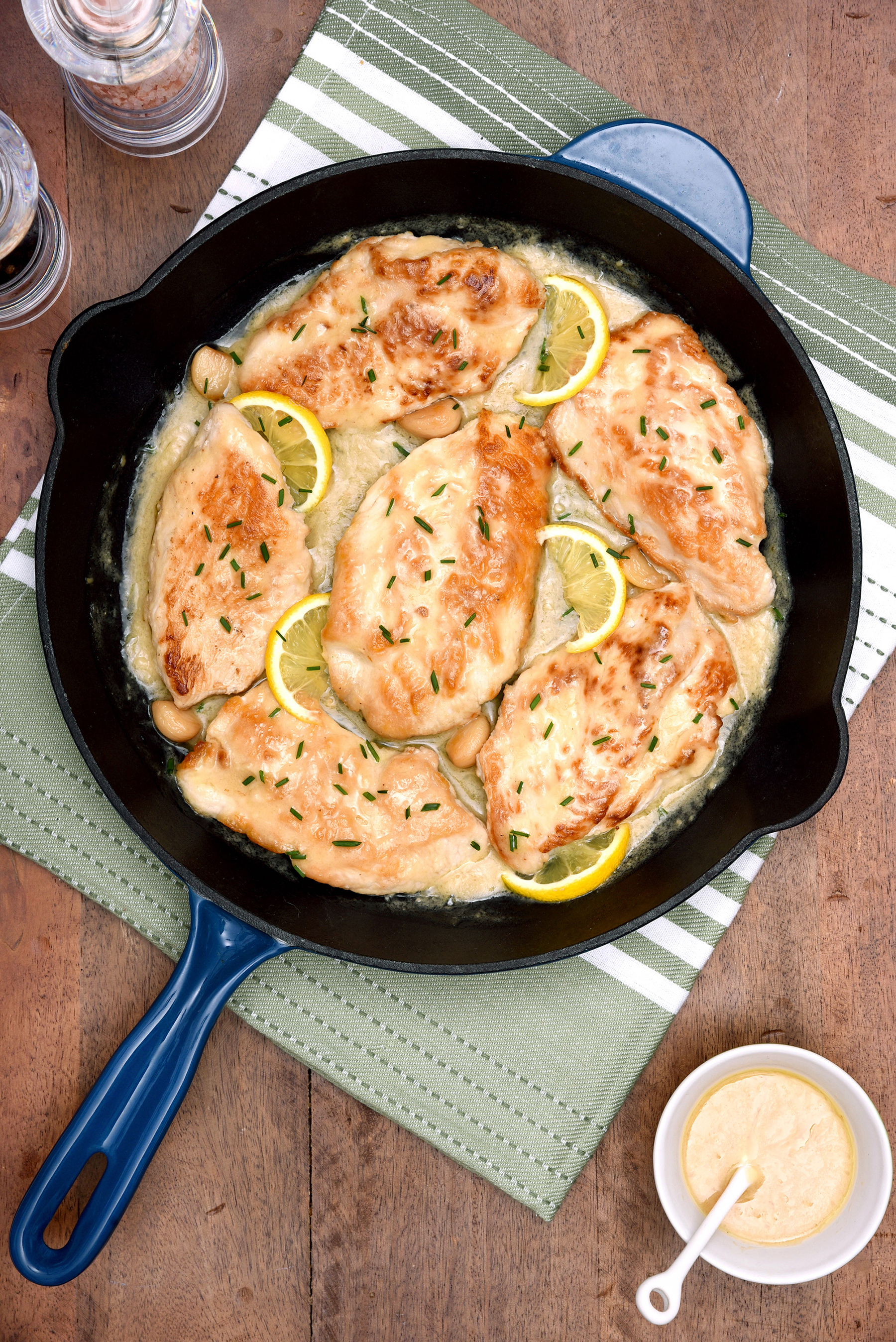 Need a quick and healthy weeknight dinner recipe? This Creamy Lemon Garlic Skillet Turkey recipe is packed with flavour and so easy to make!
How often do you reach for turkey when grocery shopping?
I never realized how my brain was wired to thinking that turkey was a "holiday" meat for so long.
There are unlimited ways to incorporate turkey into your everyday meals.
And with so many good reasons to enjoy turkey, you need to put it on the top of your weekly grocery lists.
Keep reading for the recipe and an awesome giveaway too!
Canadian Turkey Month
October is Canadian Turkey Month and I'm so excited to get Canadians cooking with turkey all month long!
Whether you're planning for weeknight dinners, weekend family nights, or gatherings with special friends, Canadian turkey can be the cornerstone of every meal.
Try swapping turkey for the usual protein in any of your favourite recipes and get ready to be surprised at how delicious and tasty it will be.
This recipe for Creamy Lemon Garlic Skillet Turkey is a perfect serving of pure comfort food, packed with flavour and satisfying protein.
There are so many ways to get cooking with turkey and Canadian Turkey Month is a great time to treat your family to some new and exciting turkey recipes!
Choose Canadian Turkey
Consider reaching for turkey as part of your weekly grocery routine.
Hectic days and packed schedules make it challenging to prepare healthy recipes, and by choosing turkey, you can feel good feeding your family meals packed with protein and nutrients.
For breakfast, lunch, dinner and snacks, make the switch to turkey as part of your everyday meal planning.
Canadian Turkey has endless tips and recipes that can help you choose dishes that will make it fast and easy for you to feed your family every day.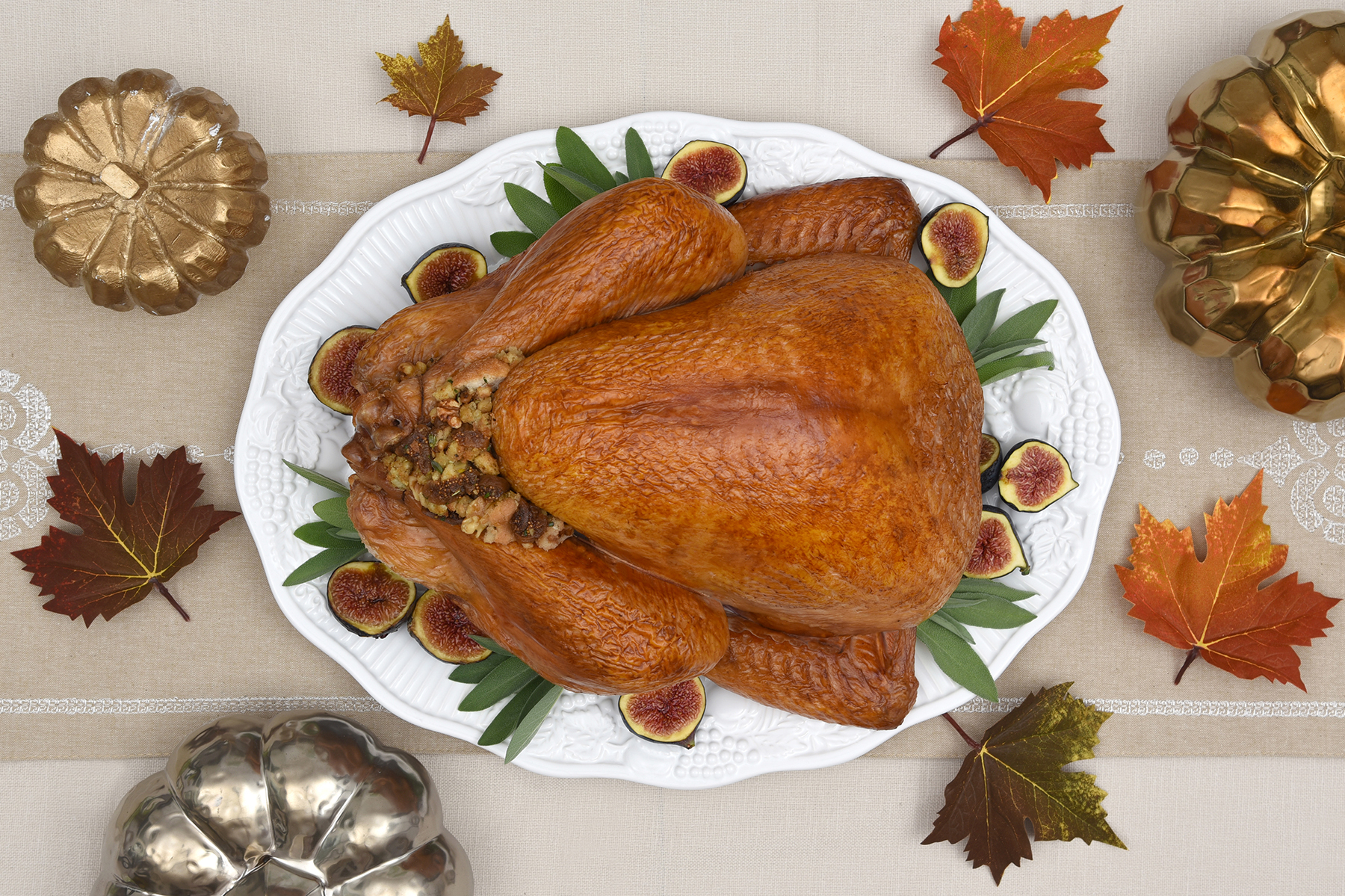 Thanksgiving
Planning for Thanksgiving? Canadians are gearing up to celebrate one of their favourite holidays of the year!
Making memories over a festive meal with family and friends is the greatest way to participate in this Canadian tradition.
Whether you're a novice cook new to feeding a crowd or a seasoned pro in the kitchen, let Canadian Turkey help you create a show-stopping Thanksgiving celebration with a delicious and memorable meal.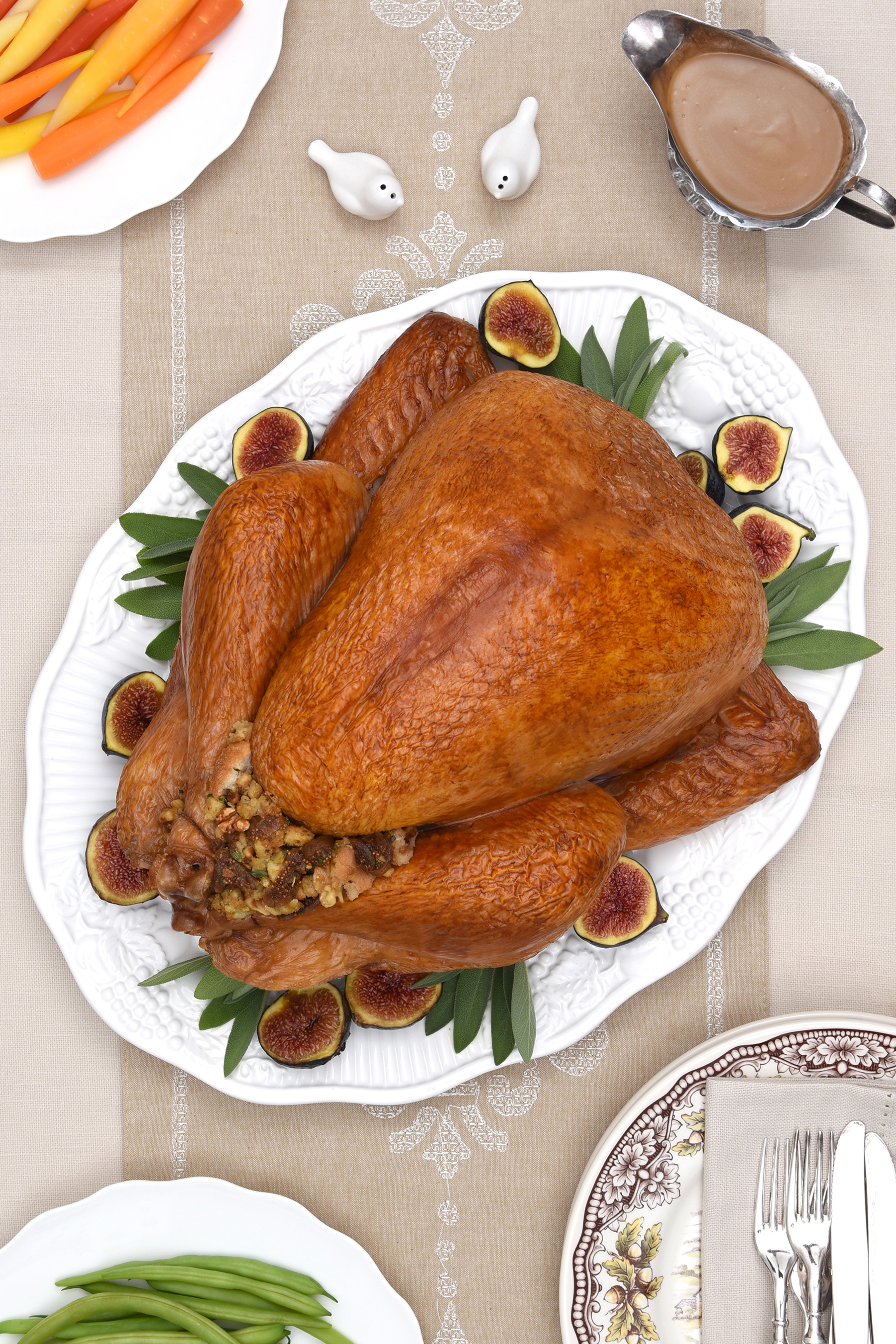 Like this Thanksgiving Turkey with Fig and Walnut Dressing recipe!
Maybe you are planning a smaller meal and looking for inspiration?
For a family of 4 or 6, roasting a half turkey can be a great way to celebrate! A half turkey cooks up just as delicious and festive as a whole turkey.
For single parents, empty nesters, or romantic couples looking for that traditional inspiration, Canadian Turkey has compiled a large library of delicious options.
A turkey breast can be butterflied, rolled and roasted, and served with stuffing on the side to make a gorgeous feast on a smaller scale.
Your local butcher or grocer is an invaluable resource and can help you find a solution that works for you.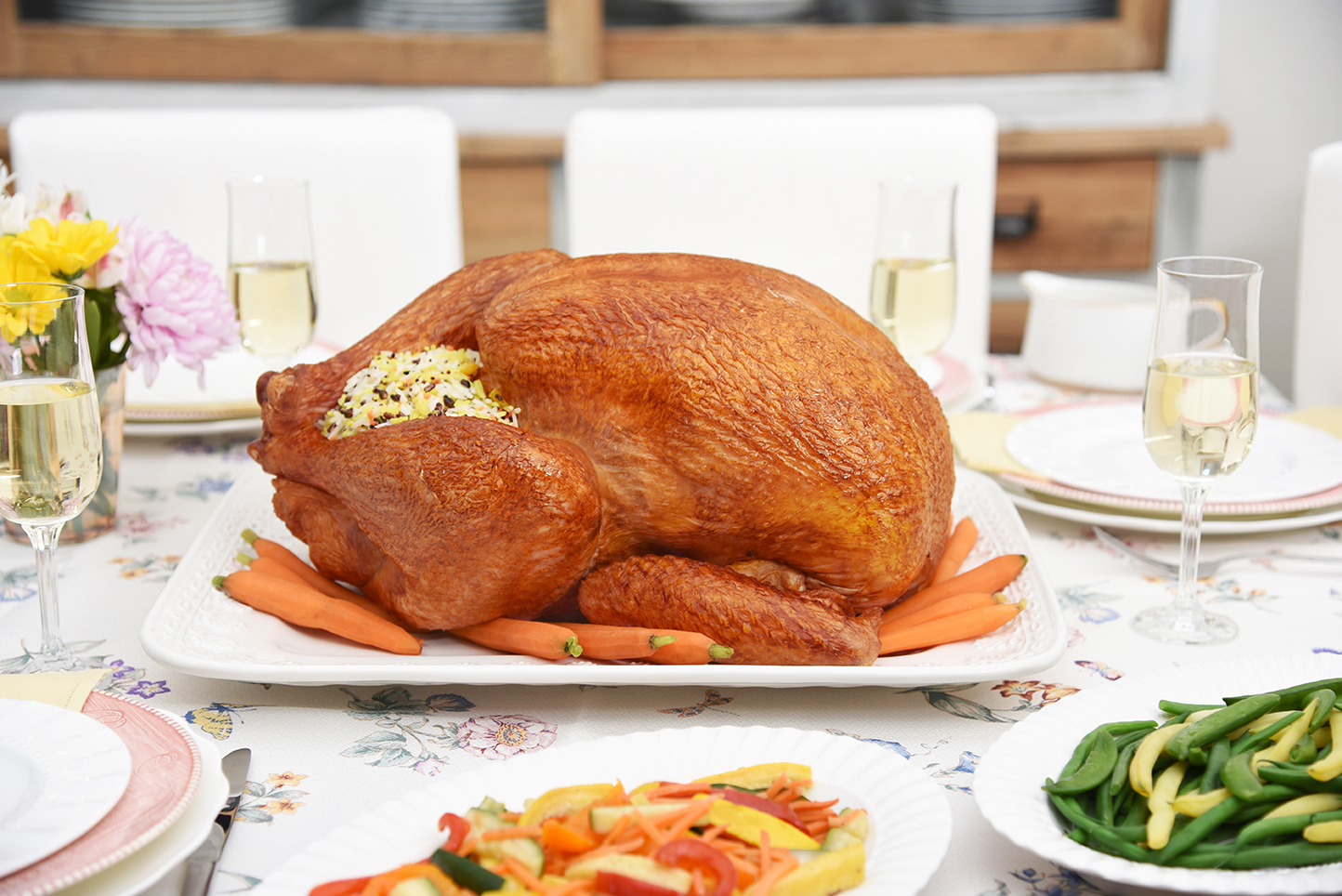 5 Reasons To Reach For Turkey
October is the official month of Canadian Turkey, after all, Thanksgiving for us Canadians is on October 8th!
Here are 5 reasons you should be reaching for turkey during Canadian Turkey month.
1. Easy Substitute
Turkey makes everyday meals delicious and tasty.
It's packed with deep and satisfying flavour and you can easily substitute turkey into any of your family's favourite meals.
Make Canadian Turkey Month the time to sample some new and different recipes.
2. Lean But Juicy
It's hard to believe but with turkey, both white and dark cuts are lean.
That means you can enjoy any cut you prefer and feel good knowing you are choosing a healthy protein without compromising on flavour, tenderness or juiciness.
To find out more about why turkey is a healthy choice for everyday living, visit https://www.canadianturkey.ca/nutrition/.
3. So Much To Choose From
Turkey is such a versatile protein, with so many cuts of both dark and white meat to choose from, including ground meat, legs, drumsticks, breast steaks, breast rolls, breast roasts, thighs, drummettes, wings, sausages, and burgers.
With such a wide selection, you can enjoy turkey at breakfast, lunch or dinner, with leftovers that taste delicious the next day.
Look for a variety of cuts at your local grocer or butcher during Canadian Turkey Month.
4. Pack A Flavour Punch
Turkey plays well with other flavours.
It's hearty taste and texture marries well with bold profiles, making it a perfect partner for spices and rubs.
Make recipes your own by using your family's favourite flavours and change up your everyday dishes using rubs, marinades and sauces.
Need inspiration? Visit https://www.canadianturkey.ca/recipe-category/featured-recipes/!
5. Perfect For Penny Pinchers
Turkeys are generally larger than other poultry options and deliver a lot of meat for the price.
Whole birds can be roasted for pennies per pound, and are a perfect choice for batch cooking meals or freezing leftover meat that can come in handy as an everyday meal starter.
Cuts like drums, breasts and thighs are super-sized, so you need fewer pieces to feed your family and plan for leftovers to stock your fridge.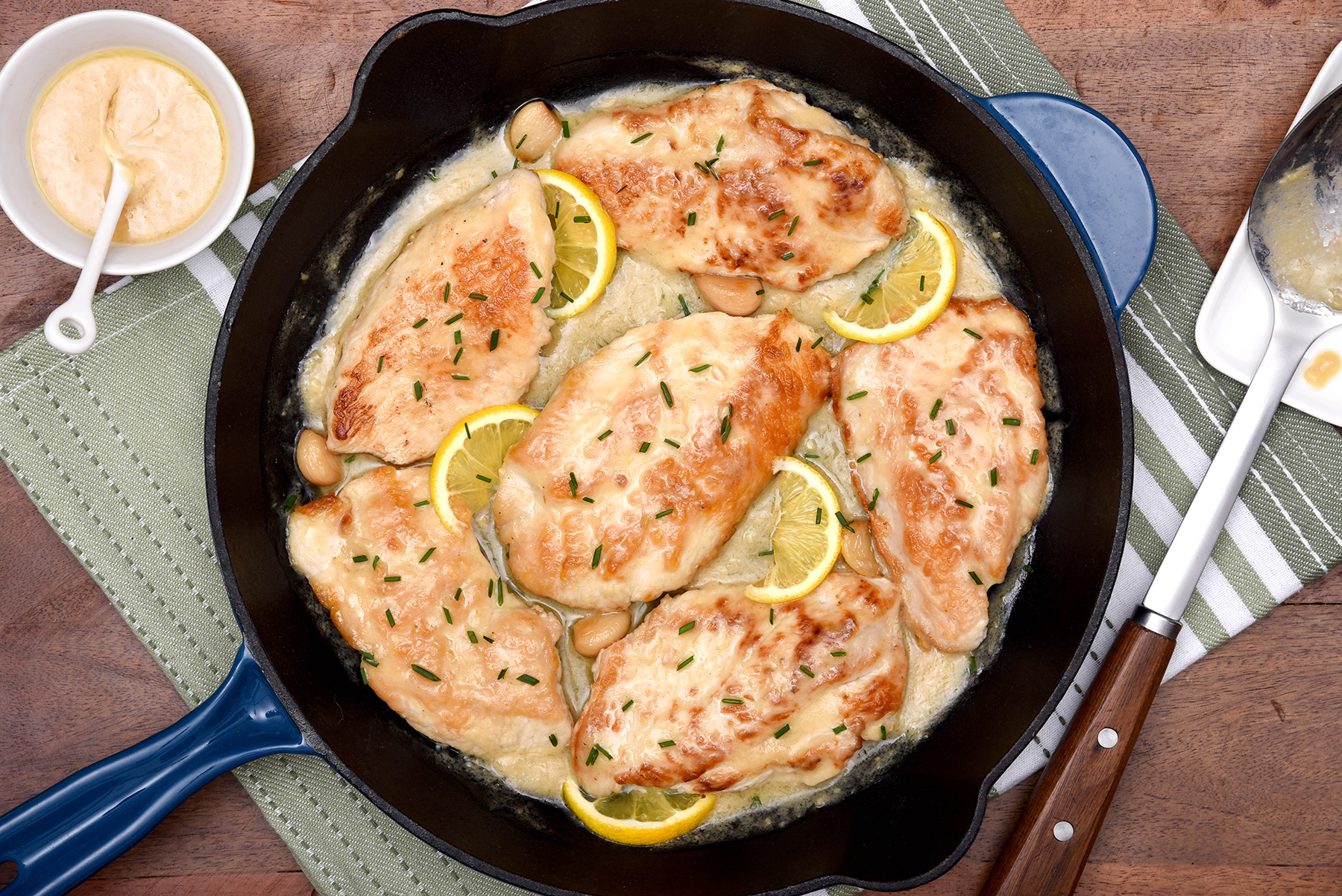 Creamy Lemon Garlic Skillet Turkey
Have a healthy, flavour packed meal on the table in a snap with this Creamy Lemon Garlic Skillet Turkey recipe!
Yield: 4-6
Creamy Lemon Garlic Skillet Turkey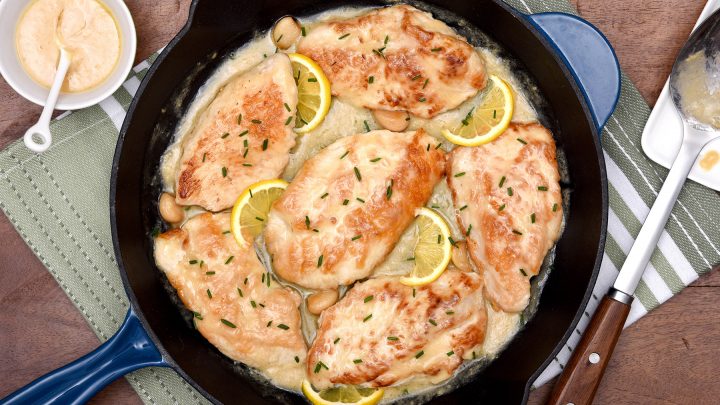 Turkey is a great choice for a weeknight meal. Pencil this Creamy Lemon Garlic Skillet Turkey recipe into your next meal plan and wow your family!
Ingredients
2 lbs. boneless Canadian turkey breast
6-8 cloves garlic
1 lemon; ¾ juiced, ¼ sliced thinly
3 tbsp. olive oil
2 tbsp. flour
Plus salt, pepper, water and garnish
Instructions
Place the garlic into a small saucepan and cover with oil. Cook over low heat until the oil is barely simmering and the garlic is lightly browned and fork tender, 8-10 minutes. Do not overcook or the garlic will taste bitter.
While the garlic is cooking, prepare the turkey. Slice into 1-inch pieces.
Pound between 2 sheets of plastic wrap until thin, about ½ inch.
Season with salt and pepper to taste.
Lightly dredge in flour, shaking off any excess.
Heat 1 tbsp. olive oil in a cast iron skillet. Cook the turkey over high heat, 3-4 minutes per side until cooked through. Cooking time will vary according to thickness of the meat.
While the turkey is cooking, discard all but 2 tbsp. of the garlic-oil mixture.
Mash garlic with a fork until it forms a thick paste. (You can also use a mini-blender). Add lemon juice, any pan juices, a pinch of salt and mix to incorporate.
If the mixture is too thick, add some warm water until you have a sauce of your desired consistency.
When the turkey is cooked, remove from heat. Pour garlic lemon sauce over the turkey, garnish with fresh herbs and serve immediately.
Notes
TIP: Note that poaching the garlic in oil creates a mellow, sweet flavour. Leftovers from this recipe make delicious sandwiches for lunch or a quick meal on the go.
Stay Up-To-Date With Canadian Turkey
Check out all their how to's and amazing recipes by visiting their website. Also follow them on Facebook, Twitter, Instagram, Pinterest, and Youtube.
Use hashtag #TurkeyTime on social media to share your turkey inspired meals, and get inspiration from others!
Enter To Win
I have teamed up with Canadian Turkey to bring you this giveaway where one lucky reader will win an Hudson's Bay gift card.
Prize:
$75 Hudson's Bay e-gift card
This giveaway is open to Canadian residents who have reached the age of majority in their province.
To enter the giveaway complete the mandatory entry options in the giveaway widget below. Once you have completed your mandatory entries you will be able to complete additional non-mandatory entry options. Complete those for additional ballots in the giveaway!
This giveaway will close on October 12, 2018, at 11:59 PM EST. One winner will be drawn from all eligible entries and contacted via email on October 15, 2018. The winner will have 24 hours to respond to the email and claim their prize. If they fail to do so a new winner will be drawn.
Please note that ALL entries are verified and if you submit an entry without completing it you will be ineligible to win.
.
Disclosure: Although this post is sponsored by Canadian Turkey, the opinions and language are all my own, and in no way do they reflect Canadian Turkey. Any product claim, statistic, quote or other representation about a product or service should be verified with the manufacturer, company, provider or party in question.