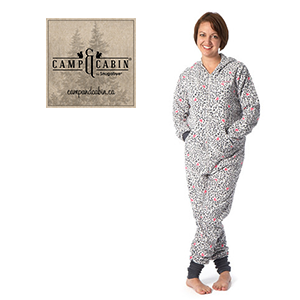 I am going to admit something to you all, it may not come as a surprise to some but I live in pajamas. I mean come on, I work from home and am a mom of 3. Some days I am lucky if I get enough time to splash on some mascara and fix my hair so I don't look like the wicked witch from the west! However I do clean up nicely and when I go out of the house I promise I do not wear my pj's – although I would certainly do it if it was acceptable!
Since Bella's birth I have been uber jealous of her soft and cozy onesies I dress her in every night after her warm bath and have been on the hunt for something cute and comfy for myself. Sadly I hate anything on my feet, yes even in the winter you will never catch me wearing socks! So this problem of mine definitely hindered my onesie shopping choices as many I found in store had the feet built in or they just were not cute enough.
Thankfully Camp & Cabin by Snugabye who have been making cozy and comfy sleep and loungewear for little ones like my sweet Bella for over sixty years decided it was due time to start making some of these comfy, cozy onesies for us moms! Best part for me or anyone else who hates things on their feet, these onesies come with the option of feet or no feet! Don't worry dads, they have some for you too. You can't beat a company who has been dishing out quality and comfort since 1947.
I absolutely love their line of onesies and if you want to deck out the whole family in the same onesie for Christmas they have the Red Plaid style in kids, dads and moms! I just received my onesie which I picked out the Grey Leopard as I love all things animal print and let me tell you I have been blogging my little heart away in it and will only take it off long enough to wash it before throwing it back on!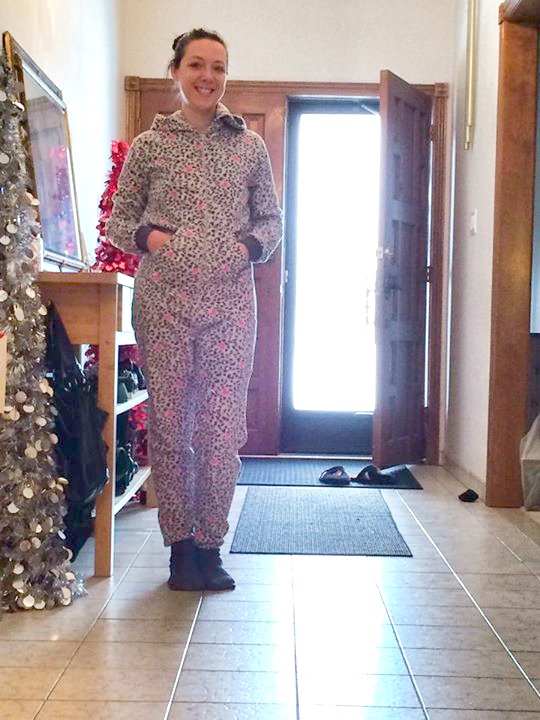 Don't worry you are not too late to order in time to receive before Christmas, just head on over to Camp & Cabin and place your order by the deadline of December 20, 2014 and you will be comfy & cozy just like me in my Grey Leopard onesie in no time!
Oh and best part Camp and Cabin is offering even more savings with promo code HOHOHO, get cozy in a Camp and Cabin adult onesie for only $40! That is $25 off the regular price – Onesies for everyone!
CONTEST TIME ~ Camp & Cabin is running an awesome contest with sweet cozy prizes, details & entry below!
Enter for your chance to win One (1) of Three (3) prize packs, which include the following:
One (1) x Camp & Cabin Onesie of your choice
One (1) x $100 VISA gift card
The contest is open to Canadian residents only, excluding Quebec and it ends on December 15th. You can find the rules and regulations on the contest widget below.
Disclosure: I am part of the Snugabye Blogger Campaign with Mom Central Canada and I receive special perks as part of my affiliation with this group. The opinions on this blog are my own.