Instant Pot Sausage Rigatoni Pasta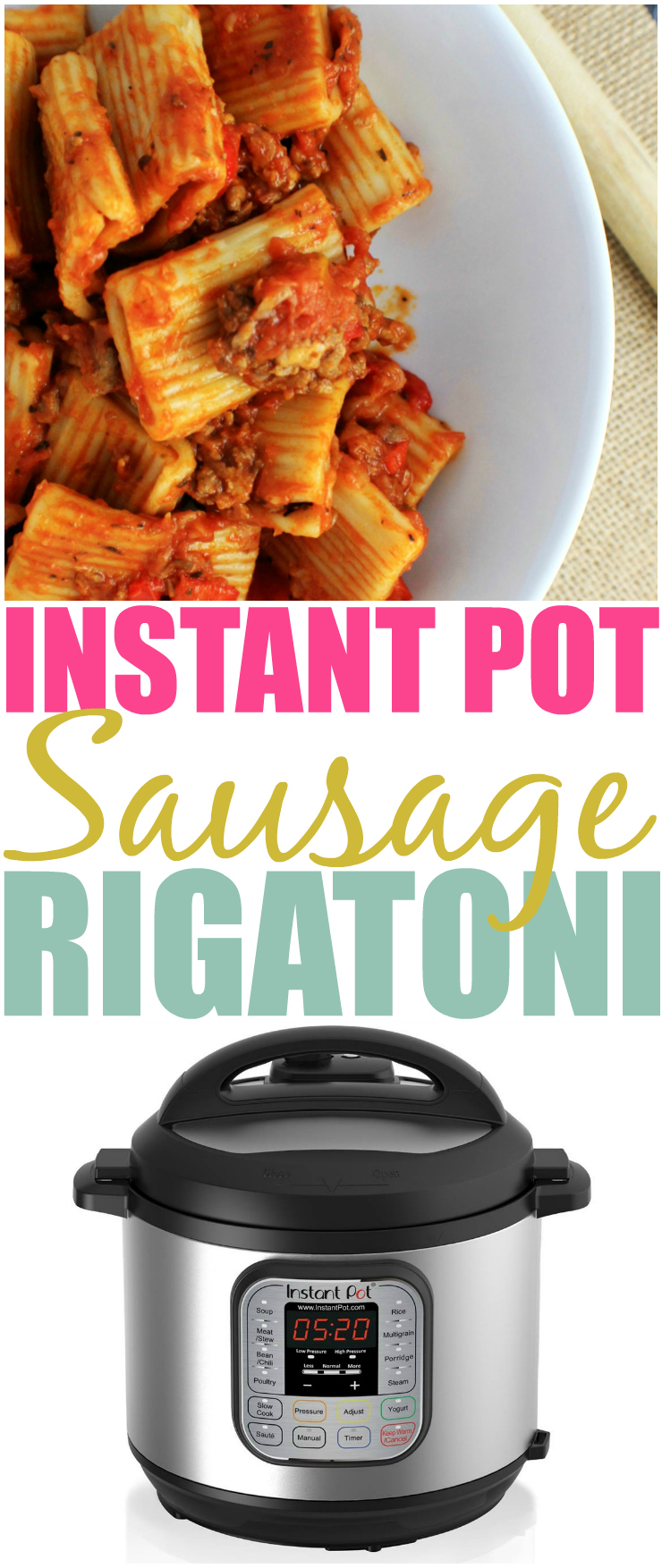 If you have not heard of the Instant Pot you may be living under a rock. This absolutely amazing kitchen appliance is a must-have for busy families and those who hate cleaning a million dishes.
I first heard of the Instant Pot around Black Friday. Amazon was having insane deals on them and they were selling like hot cakes. The response to the deals I posted shocked me so much that I had to investigate more.
Of course I am not one to jump on the bandwagon, so I didn't immediately buy one. I joined a few groups on Facebook, did some research, and watched more videos than I would like to admit.
After researching I decided I would need the 8qt 7-in-1 Instant Pot. Feeding a family of 6 on a regular basis with leftovers calls for a big pot. I also host dinner for my siblings, their families, and my parents often which is an easy 17 people.
I was tempted to just pay regular price because after checking on its sale cycle I noticed it had only ever gone on sale once before. Thankfully the frugal part of my brain calmed down the impulsive side and I waited.
I was very intimidated when it arrived on Monday. Since I had never used a pressure cooker before, neither did my mother, I had no real experience on how they worked.
Even though I was intimidated, I was determined to make this my new favourite way to cook for my family. I quickly unboxed my new beautiful appliance and set it up. The next thing needed to be done is the water test. This is to ensure the machine is in good working order.
I set the bar pretty high for my first meal in the Instant Pot, I chose to make my family's favourite Pot Roast.
To my surprise It turned out absolutely perfect and my family was eating in a fraction of the time. Instead of the 6 hours, low and slow in my oven, it only took me about 2 hours from start to finish in my Instant Pot.
This is magic for me, it means I do not have to think or start my famous Pot Roast dinner at noon hour. Instead I can begin at 3 and be eating around 5!
I will be sharing my Instant Pot Pot Roast recipe on the blog next time I make it as I didn't take any photos. I was too concentrated on it being perfect since it was my first time using the Instant Pot.

Instant Pot Sausage Rigatoni Pasta
Today however, I am sharing my second recipe I made in my Instant Pot. My better half is Italian so pasta is always on the meal plan. Not only is it delicious, it is also a very affordable meal to feed large crowds.
Of course never having made pasta in the Instant Pot I did some research. I looked up liquid levels needed for the amount of pasta I would be cooking and created this insanely delicious Instant Pot Sausage Rigatoni Pasta recipe.
While you can decide what spices, vegetables, and meat you would like in your meal, the liquid ratio to pasta is something that cannot be changed or your pasta will not cook properly.
For the tomato puree in the recipe, I use a basic basil sauce by Romulus and Remus which we get from Badali's Fruit Market in Toronto.
What makes me most happy about cooking pasta in my Instant Pot is not wasting litres of water as I normally would cooking it the traditional way on the stove. I am hoping that using the Instant Pot to cook our pasta will result in a bit of a drop in our water bill.
Print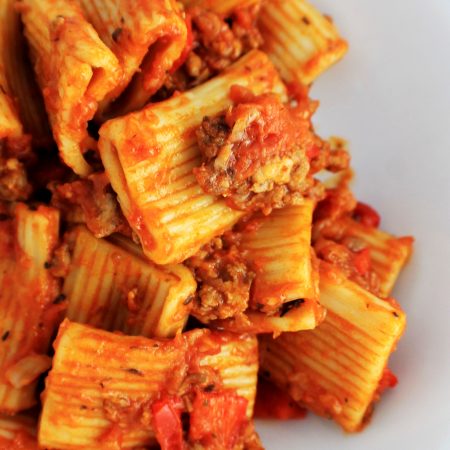 Instant Pot Sausage Rigatoni Pasta
---
Author:

Prep Time:

10 mins

Cook Time:

17 mins

Total Time:

27 minutes

Yield:

6-8

Category:

Main

Cuisine:

Italian
Ingredients
Instant Pot Sausage Rigatoni Pasta
2 tbsp olive oil
5-6 cloves of garlic chopped
1-2 red peppers chopped
1 onion chopped
1 tbsp tomato paste
2 tsp dried basil
2 tsp dried oregano
sea salt and black pepper
4-5 italian sausage (remove meat from casing)
1 can san marzano tomatoes 796 ml (28 oz)
1 3/4 cup tomato puree/pasta sauce
3 1/2 cups water
454g rigatoni
---
Instructions
Instant Pot Sausage Rigatoni Pasta
Using the saute function on your Instant Pot heat oil add in the onions, garlic, sea salt and black pepper to taste. Saute until softened, about 3-5 minutes.
Next add in the oregano, basil and tomato paste. Saute for another minute, constantly stirring.
Now add in your sausage meat, using a spoon break it up and cook until no more pink is showing.
Once your meat is cooked pour in your water and tomato puree/pasta sauce.
Add in your san marzano tomatoes squishing them and adding in the rest of the liquid from the can. Give the pot a good stir to make sure you get up all of the bits on the bottom of the pot.
Using the manual function on high pressure set it to cook for 10 minutes. Once done QR (quick release) and give your sauce another stir.
Lastly add in your red peppers and rigatoni. Give it one last stir and set it to cook for 7-9 minutes on manual, high pressure. 7 minutes for al dente, 8-9 minutes for more tender pasta.
Once done QR (quick release) and open your pot. Give your pasta a good stir and serve.
Notes
Remember the cook time does not include the time it takes for your pressure cooker to come to pressure. The time it takes to come to pressure will vary.
Also ensure when you are pressure cooking that your valve is set to sealing not venting or it will not come to pressure.
If you try my recipe I would love for you to come back and let me know how your family enjoyed it! Stay tuned for more great Instant Pot recipes coming to the blog soon.
You can purchase an Instant Pot and accessories for the Instant Pot on Amazon.ca and Amazon.com.
Do you have an Instant Pot? Let me know what your favourite meals to make in your pressure cooker are in the comment section below.

Aimee is a suburban mom of 3 and resides in Richmond Hill, Ontario. She enjoys sewing clothing for her small handmade clothing business, baking, DIY projects both big and small, travel, and finding creative ways to save her family money.

Latest posts by Aimee Geroux (see all)