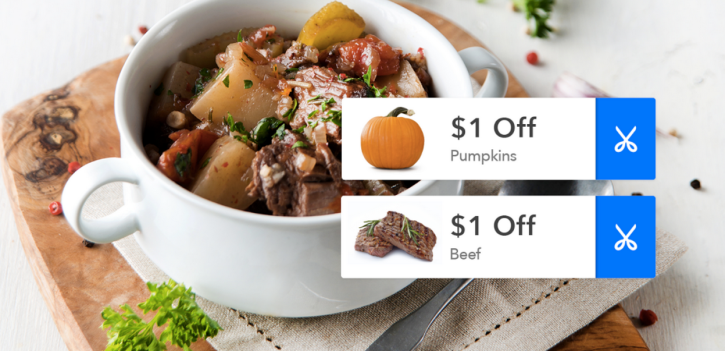 There is nothing better than a hot stew to keep warm during the colder Autumn nights. I probably make a stew at least once every two weeks during the fall and winter months, it is a great way to warm up while feeding my family a great meal. Of course I am always looking for ways to change things up so we don't get bored with the same old stew every other week.
This week Coupgon has offers to save instantly on pumpkins, perfect to create this amazing Slow Cooker Pumpkin & Beef Stew!
SLOW COOKER PUMPKIN & BEEF STEW
This recipe has been tested and approved by Coupgon!
Slow Cooker Pumpkin & Beef Stew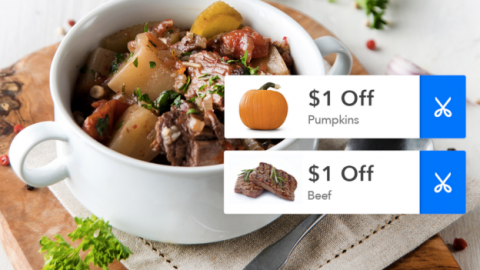 Total Time
6 hours
15 minutes
Ingredients
2lbs chuck beef
2 tbsp. olive oil
salt and pepper
2 tbsp. tomato paste
3/4 - 1 cup water or your choice of chicken or beef broth
1/4 tsp. cinnamon
1 onion
3-4 celery stalks
3 large carrots
2-3 large potatoes
1 small pumpkin
4 cloves of garlic
4 sprigs of thyme and additional herbs to taste if you like
1 dried bay leaf
Instructions
1. First you want to cube your meat and then season generously with salt and pepper. 2. Next you will need to heat oil in a large sauté pan and brown your meat on both sides. This should take about 7 minutes. If you don't have time to brown your meat you can totally skip this step! 3. Once your meat is browned on both sides, set it aside. Using the same pan, add in and combine your tomato paste, liquid (broth or water), and the cinnamon with a whisk. Be sure to scrape the bottom of the pan to pull up all the delicious browned bits of meat as you go. Once you have finished combining that you can turn off the heat. 4. Next you need to prep your veggies, I like to do this the night before. You will need to peel and cube the potatoes and carrots into 1 inch cubes. Then chop your celery and onions. Lastly mince the garlic. 5. Now it is time to prep your pumpkin. Use either a vegetable peeler or a sharp knife to peel away its outer layer. 6. Next you need to cut a hole in the top of the pumpkin and remove the stem, just like you would if you were going to carve it. Next you need remove the seeds. Be sure to set your seeds aside and roast them for a nice snack if you'd like. 7. Once you have peeled and removed the seeds, cut the pumpkin into slices and then into 1 inch cubes. This can also be done the night before with the vegetables to save time. Just be sure to place all your pre-prepped veggies and pumpkin in the fridge overnight. 8. Now it is time to get all of your ingredients into the slow cooker! You want to layer everything in your slow cooker. First put in your potatoes, next layer on your pumpkin, then the carrots, onion, celery, garlic, and meat. Next pour in and stir the liquid. Next you want to lay the thyme sprigs, bay leaf, and any additional herbs you like on top. Lastly season with just a pinch of pepper and salt, you don't need much as we already seasoned our beef generously before. 9. Place your lid on and cook on high around 5- 6 hours or low for about 8+ hours.
The only thing left to do now is relax (or go to work) and then enjoy a delicious meal with the family later!
Disclosure: Although this post has been sponsored by Coupgon, the opinions and language are all my own, and in no way do they reflect Coupgon. Any product claim, statistic, quote or other representation about a product or service should be verified with the manufacturer, company, provider or party in question.