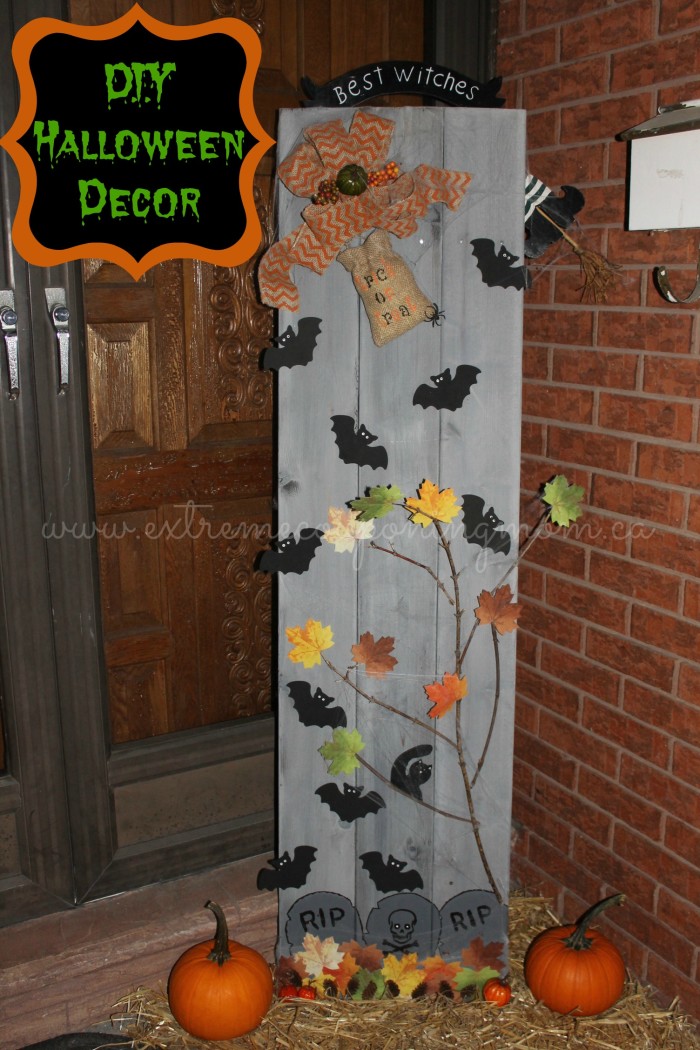 Halloween is a fun time in our home and if I must admit it I will – YES we are totally that house on that block that goes all out! For as long as I can remember my mother's home would be the "scariest" house on the block and any kids brave enough to come all the way up the driveway (especially if they hesitated) would get some extra candy!
I can remember growing up and trick-or-treating until my poor feet couldn't take one more house and it is much the same now with my children. I must admit I LOVE being a parent because it means triple the candy – yay for Bella this year, which I can snack on while the kids are asleep or at school.
My inspiration for this DIY craft came from a good friend of mine Elizabeth from Frugal Mom Eh! She made a stunning autumn decor piece for her porch using old fence boards and you can see her masterpiece here.
When I saw her post I knew almost immediately I wanted to do two of these pieces, one for Halloween and another for Christmas. I did scour the internet and my mom groups for well over a week hoping to score some old fence boards but came up empty so I ended up going to Home Depot and was quite surprised that these boards were under $4 each – SCORE! After that they sat in my garage for some time as Bella has been a teething monster lately and I have not been able to get much done until today thanks to my mama for helping me with the baby and the project!
Supplies You Might Need:
3 Fence Boards (can be old or Home Depot sells cheap boards for under $4 each)
2 2×4 scrap pieces of wood
Nails
Wood Stain (if buying new boards from Home Depot)
White or Beige Paint
Water
Old Rags
Hot Glue Gun and Glue
Cardboard
Stencils
Burlap Bag
Fake Leaves
Acrylic Paints (dollar store sells these for $1)
Plastic Pumpkins
Branches
Pinecones
Foam Bats (dollar store sells these for $1 per pack)
Cobwebs
Plastic Spiders
Hay
Pie Pumpkins
Old Halloween Decorations
Instructions:
If using old fence boards be sure the wood is dry and remove all nails as well as sand down any rough patches. If you are like me and can't get your hands on any old fence boards head to your local Home Depot and pick some up for under $4 a board.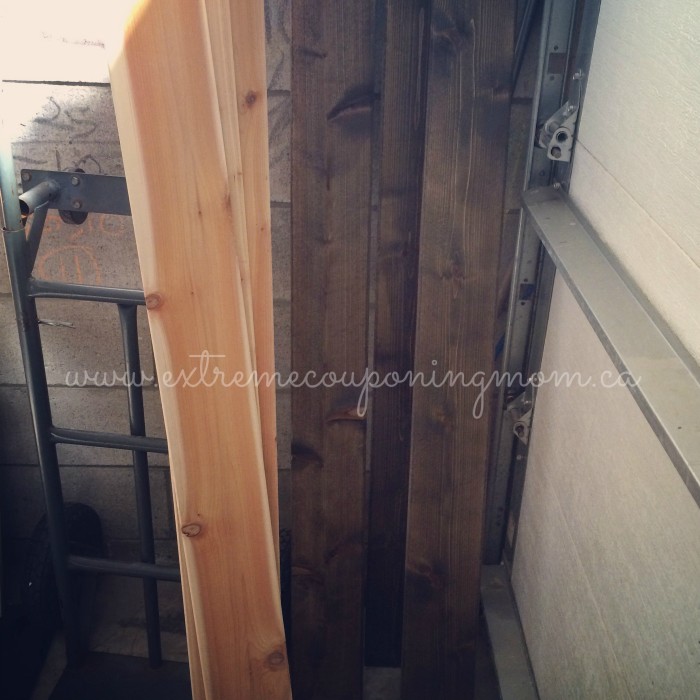 Since I bought new wood I needed to "distress" it to give it that old beat up look. To do this I used Minwax Wood Finish Stain in Ebony. I took each board and stained both back, front and all sides. You will need to let this dry for 24 hours. If you are using old fence boards you can skip this step.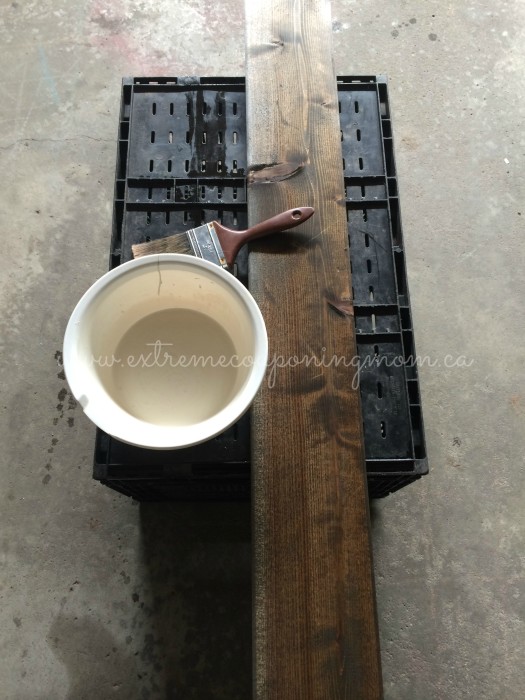 The next step whether your wood is new or old is to give it a white wash. This helps bring out the natural beat up look to the wood. You can use either white or beige paint, whatever you have laying around. I happened to have some light beige from when we painted Bella's nursery so that is what I used. Take 1/2 cup paint and 1/2 cup water then mix well, you want your paint to be watery.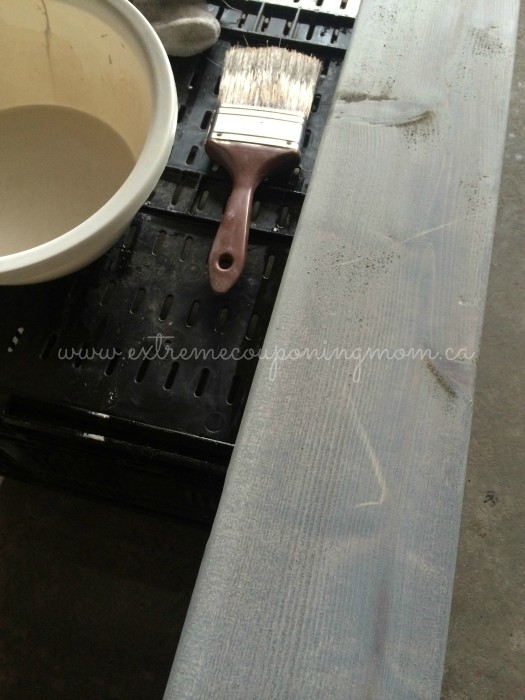 I found that I needed to wipe my paint off a bit so I painted the first side with the watered down paint then took an old rag and wiped the paint into the board to get the effect I wanted. Repeat this for each board on both front, back and both sides then leave it to dry for at least a couple hours.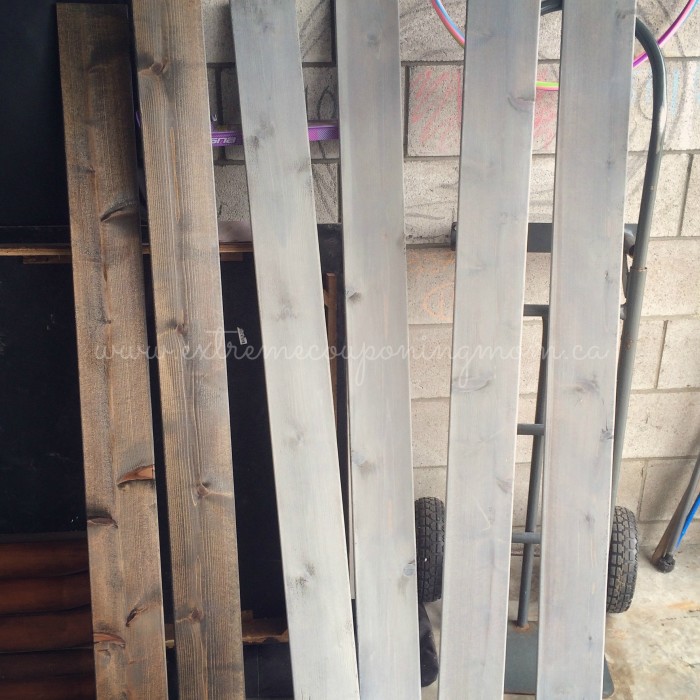 See how much better the distressed, beat up looking boards look, it makes the decor piece look so much better once finished!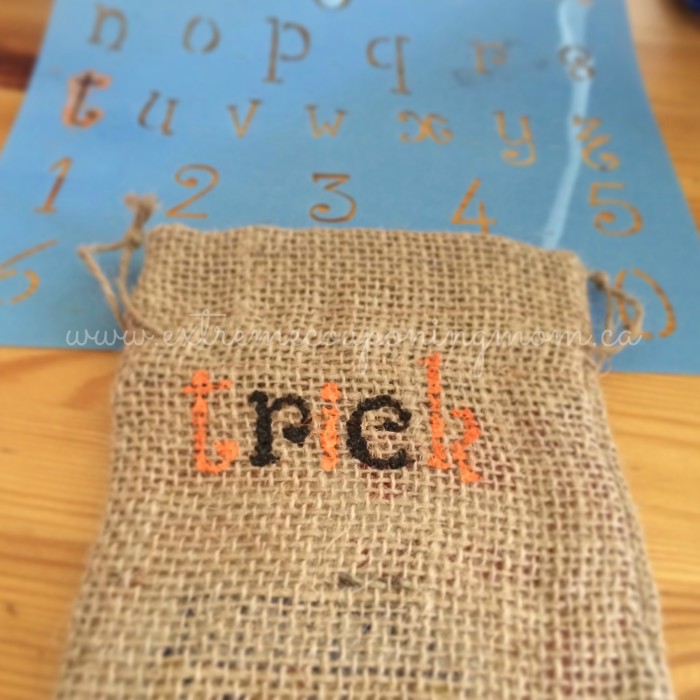 While you are waiting for your boards to dry you can start to think of how you want to decorate your piece. I knew I wanted a trick-or-treat sack on mine. Hopefully you have a burlap laying around or can locate one at the Dollar store because whatever you do don't go to Michael's for them, just trust me it won't be so "frugal" if you do LOL! You could also use an old bed sheet and sew it into a mini pillow case like when we were kids and went trick-or-treating I always used a pillow case.
I took a simple lettered stencil, some orange and back acrylic paint I got at the dollar store and wrote "trick or treat" onto my sack. If using a burlap sack I suggest putting some cardboard inside to keep the paint from seeping through.
Once it was dry I filled it with some Easter basket grass I had laying around but you could use newspaper or anything really.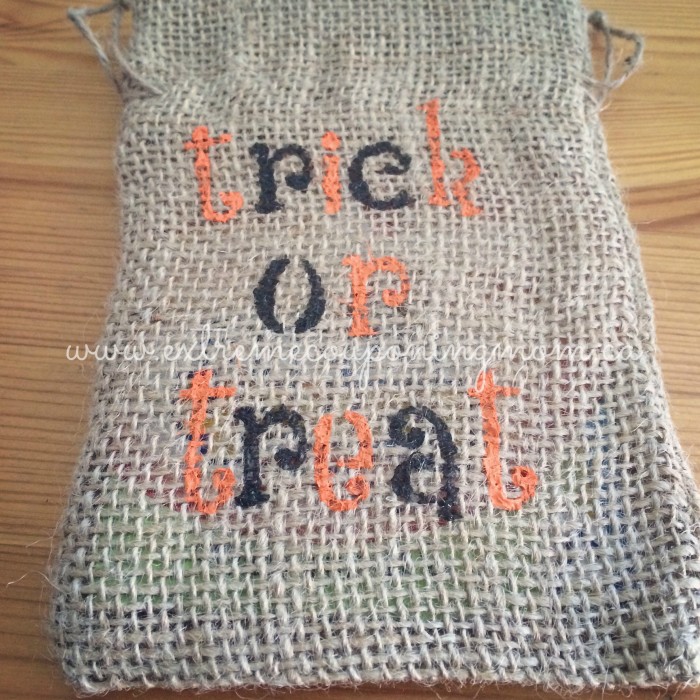 If Michael's bags weren't so expensive and I could find bigger burlap bags elsewhere I would totally make my kids trick-or-treat bags to take out this year because it is so darn cute!
Once your boards are dry you then need to nail them together. I used 2 2×4 pieces of scrap wood, one near the top and one near the bottom to secure the boards together. Having two people to do this step is best as one person can hold the boards secure to lessen gaps while the other hammers in the nails through the boards and 2×4's.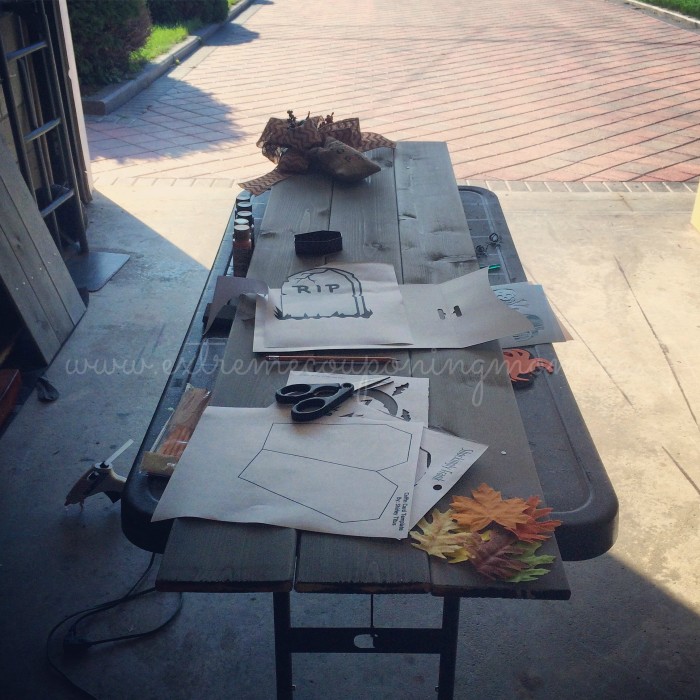 Once your boards are nailed together you are ready to get creative. I placed my boards on a crafting table in my garage so I wouldn't be bending over on the ground and having it lay down helped to plan out my creation as I could place things where I thought I would want them.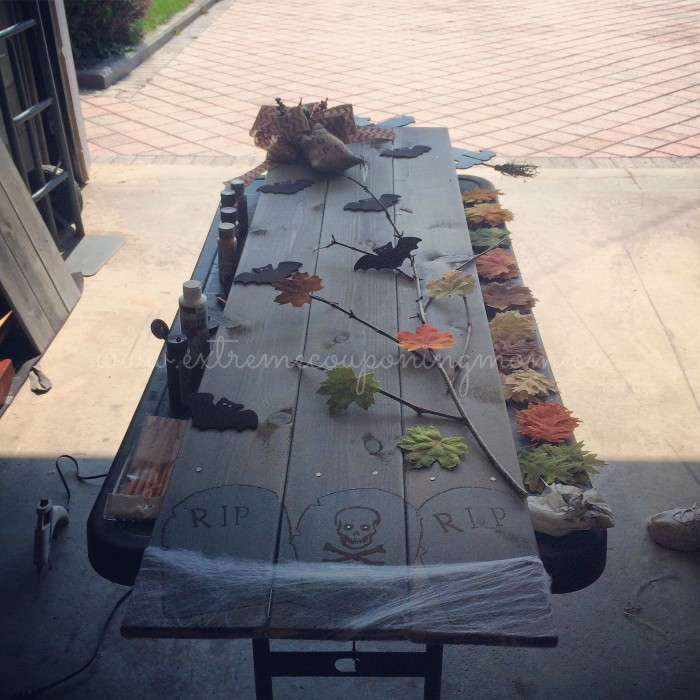 I printed off a tombstone online and then cut the paper out, traced it onto cardboard (for more durability) then traced them onto the bottom of my wood. I used grey acrylic paint to paint my tombstones then outlined them in black acrylic paint. I used stencils to paint on a scull and the RIP letters however I didn't find the stencil letters I had thick enough so I ended up just painting over the letters to make them stand out more. I also used a toothpick (I cut off the tip) to paint white dots in the sculls eyes.
I found a lot of broken branches laying around in my backyard and used them to create a tree. I had some fake fall leaves bought at the dollar store and used them to decorate the tree and bottom of my board. As well as some pine cones my mother found on the side of our road.
I also had some "fall" themed decor from the dollar store on a stick which I cut apart and used the pumpkins and some berry like things from it to jazz up the center of my bow.
The Dollar store had some foam bats that I took the toothpick I used for the skulls eyes, dipped it in white paint then stuck it into the foam a bit to create eyes on the bats.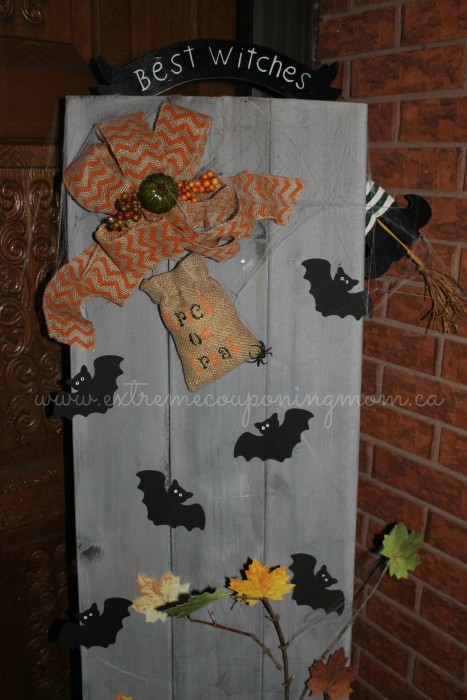 My mom had some old Halloween decorations that were falling apart so she offered them to me to use. I chose a witch decoration which I took apart and used the witch's legs and added on a broom stick she had laying around as well as the "Best Witches" sign to the top of my decor and the wooden cat I placed in the tree.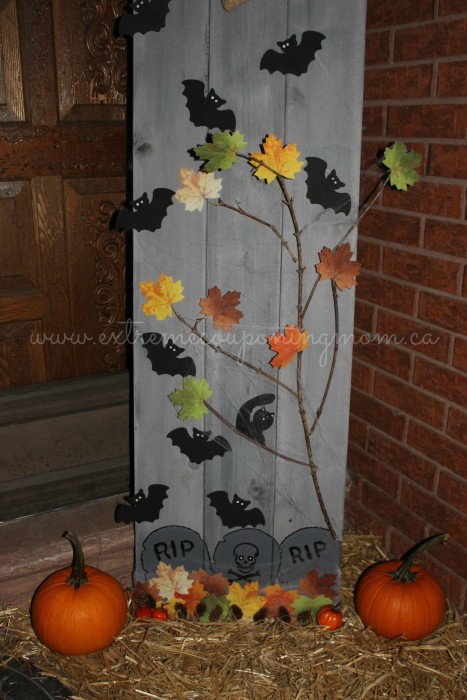 To finish it off I used some hay and two pie pumpkins that I purchased for $1.99 each at my local Longos grocery store.
Really this is your time to get those creative juices rolling, whether you use stencils, old Halloween decorations or things you find at your local dollar store you can make a really awesome decor piece for a fraction of the cost. I don't even want to think what something like this would cost me in a store, probably $50 or more.